Try this syrniki recipe – Russian cheese pancakes – which you can enjoy in both sweet and savory versions. They are extremely easy to make and delicious!
I'm so glad I accepted the challenge to participate in the campaign #MakeLifeDelicious with Electrolux at #TasteOfMoscow! It determined me to discover some really amazing Russian recipes which I can't wait to test!
Right after I accepted the invitation, I headed over to Pinterest for inspiration. I already knew some Russian recipes, as the Russian cuisine is very similar to the Romanian cuisine, but most of them were either soups and salads or meat-based. I wanted to try something new, even though I knew it would be quite difficult considering my situation. Now I am currently in Milan, I don't have an oven and my food props collection is extremely limited.
Finally, I decided to make these Russian cheese pancakes called syrniki (сырники in Russian) or tvorozhniki (творожники). I also discovered some other amazing Russian recipes, which I will surely test soon, such as Kartofelnye Zrazy (some potato cutlets stuffed with mushrooms), Piroshki (meat pies which I can easily "vegetarianize"), or Pierogi (little, stuffed dumplings).
Even though the Russian cuisine is not renowned for its vegetarian recipes, as meat products seem to be a staple food for them (as for the Romanians as well, unfortunately), it doesn't mean us vegetarians cannot enjoy their awesome foods! This campaign has challenged me to discover the Russian cuisine and try to "vegetarianize" some of its most popular recipes. So, stay tuned, more Russian recipes will be posted soon!
Syrniki recipe – Russian Cheese Pancakes
The traditional syrniki recipe is made with a cheese called tvorog. I gave some alternatives as well, in the recipe below. I used ricotta because it was the most suitable type of cheese I could find here.
Syrniki can either be sweet or savory. I opted for the sweet version, with a berry jam topping and fresh strawberries. What kind of toppings will you try this recipe with? Let me know in the comment section below! 🙂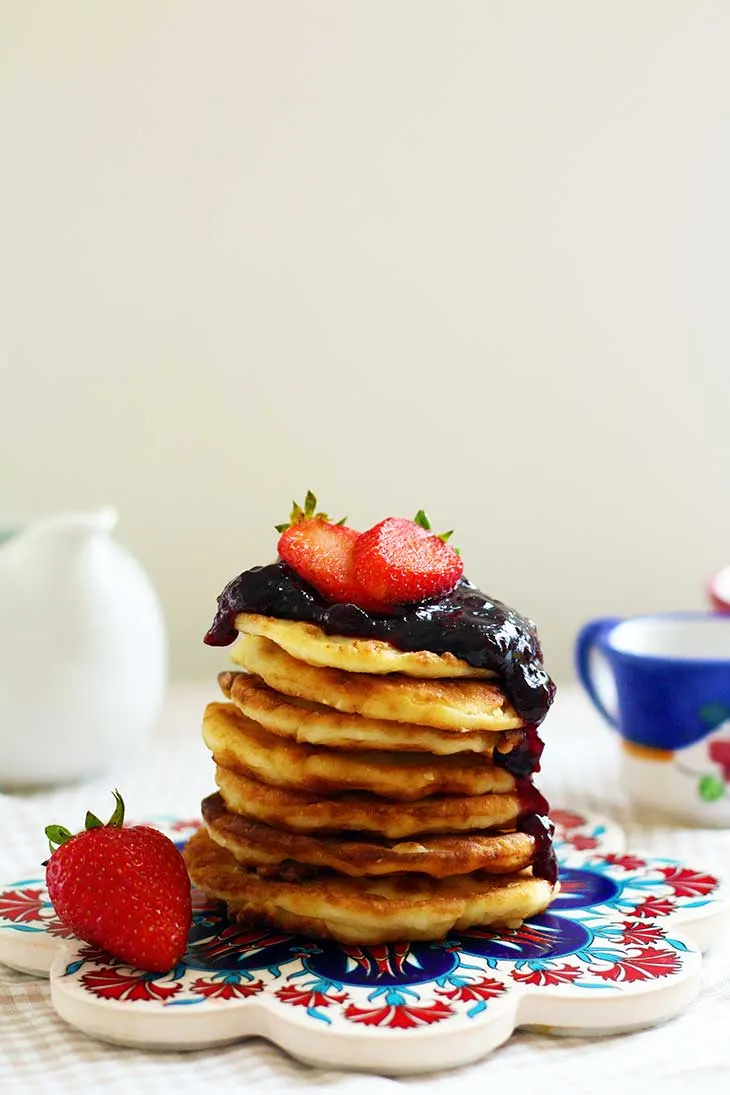 Yield: 10 syrniki
Syrniki | Russian Cheese Pancakes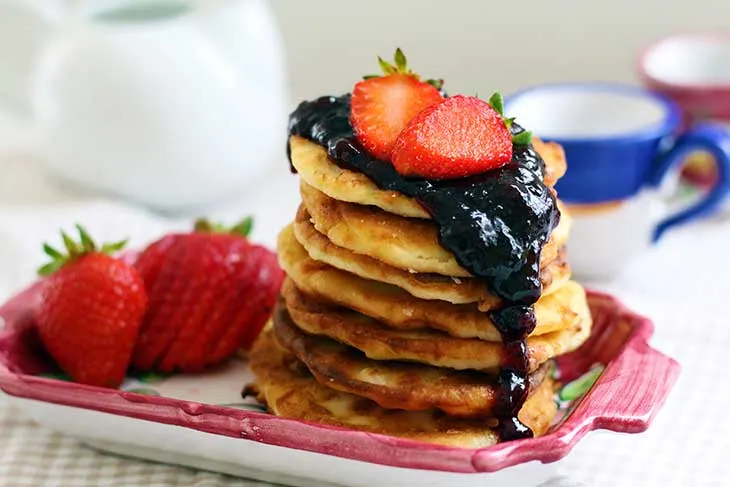 Try this syrniki recipe - Russian cheese pancakes - which you can enjoy in both sweet and savory versions. They are extremely easy to make and delicious!
Ingredients
250g (3 cups) tvorog, alternatives: farmer's cheese, ricotta, or dry cottage cheese
5 Tbsps flour, plus more for coating
1 egg
3 Tbsps sugar
oil, for frying
toppings: sour cream, jam, fruits, honey, etc.
Instructions
Add the cheese in a bowl. Mash it using a fork, until creamy, or alternatively, use a food processor.
Add the egg, sugar, and flour. Mix well.
Heat 1 Tbsp of oil in a non-stick pan.
Add 2-3 Tbsps of flour on a plate.
Take one Tbsps of batter and place it in the flour plate. Dust the batter with flour and shape it to form a small ball. Flatten the ball into a thick, round pancake, similar to American pancakes (~7mm thick).
Repeat the process.
Place the pancake into the pan and fry it on both sides until golden.
Nutrition Information
Yield
10
Amount Per Serving
Calories

137
Total Fat

7g
Saturated Fat

3g
Trans Fat

0g
Unsaturated Fat

3g
Cholesterol

33mg
Sodium

152mg
Carbohydrates

14g
Fiber

0g
Sugar

9g
Protein

6g
I strive to keep the information as accurate as possible but make no warranties regarding its accuracy. I encourage you to make your own calculations using your preferred nutrition calculator.