If you love sweet potatoes as much as I do, then you will definitely fall in love with this recipe for sweet potato muffins! It's vegan, delicious and healthy too!
Wake up, brew some coffee, pour yourself some cereal, repeat every morning. Hey, sometimes this can get boring, and I get it! I think we should all try our best to diversify our breakfast from time to time – and, why not, make it a little more fun!

When it comes to breakfast, relying on store-bought cereal seems to be the easiest choice, though it's surely not the smartest. Most store-bought cereals are highly processed and contain lots of yucky additives that surely don't do wonders to your body. Not to mention their main ingredient: sugar.
So how can we replace those and have something more nutritious instead? Well, these sweet potato muffins make for an amazing option! They hit just the right spot. Incredibly moist and delicious, while still remaining on the healthy side.
They do also contain a lot less sugar than regular muffins, while still being fairly sweet – this is thanks to the natural sweetness of the sweet potatoes. And, in case you were wondering, fruits and vegetables that are naturally sweet also contain sugar, but this is the type of sugar that's good for our bodies when eaten in moderation! 🙂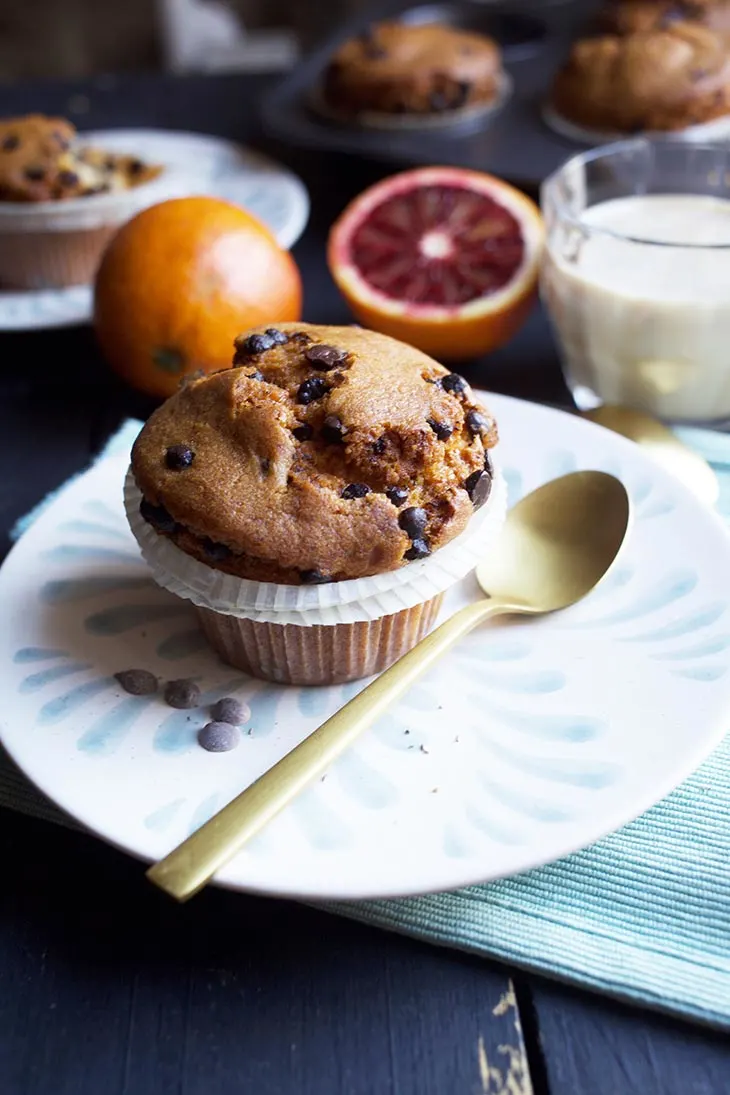 So what exactly are these?
They're basically normal muffins with the addition of pureed/mashed sweet potatoes in their composition. Before you say anything, I know this may sound weird to some people, as sweet potatoes are not exactly the first ingredient that comes to mind when you think of desserts. But, just like carrots, they're amazingly versatile and go incredibly well in lots of recipes – both sweet and savory (remember my recipe for sweet potato pancakes?). They actually taste a bit like carrots too, don't you think? And pumpkin! 🙂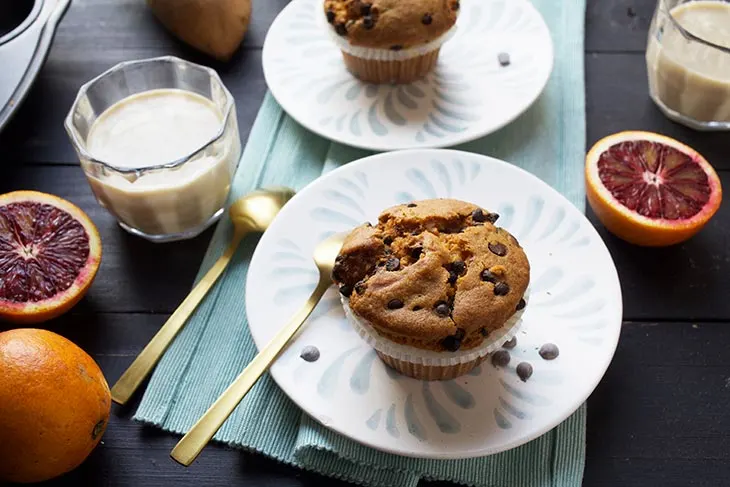 Anyway. The point I'm trying to make is that sweet potatoes offer an excellent base for some sweet meals including smoothies, muffins, and pancakes.
In order to get the best out of them, I suggest you'd cook the sweet potatoes in the oven. They will get a slightly smokey flavor which is to die for! After that, the blending part shall occur quite naturally, leaving you with a smooth, orangey puree.
This, my friend, is a life-changer. The flavor it gives is amazing! And the sweetness is fairly present, as well. But you don't have to stop at desserts.
These muffins can be easily turned into a savory breakfast or snack as well. As long as you've got the base right – that is, muffin mix blended together with the pureed sweet potatoes – you can pretty much go wild with it.
For a savory breakfast, you can add savory ingredients such as spinach, onion or vegan cheese. You can also experiment with loads of spices and seasonings such as chili, salt, pepper, even sriracha – anything that sounds good to you.
As for the sweet ones that I mentioned first, you can either leave the composition plain, or you can add dried fruit (raisins, cherries, papaya, figs), coconut flakes, even chocolate if you're going to turn these into a treat!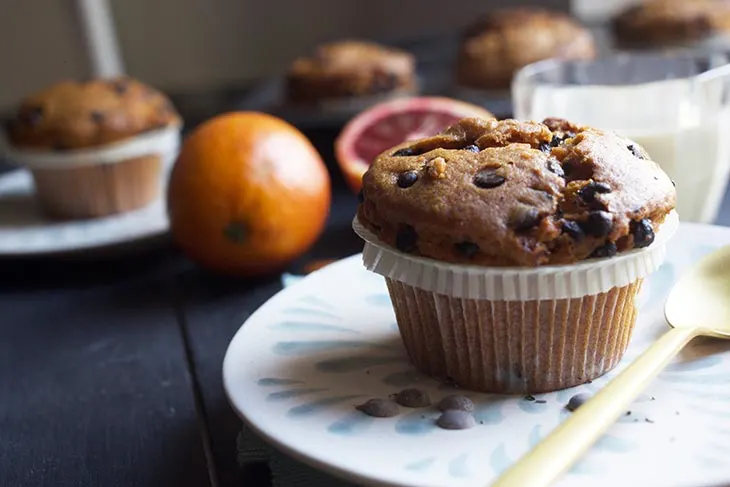 These are not like regular muffins, and by that I mean they're way better because they're pretty healthy as well! 🙂 Sweet potatoes are packed with beta carotene, B vitamins, potassium, and other vitamins and minerals. They should be an essential part of any vegan's diet, in my opinion. Not to mention that they contain a lot of fiber as well, so they're amazing for digestion. Just the perfect thing to start your day with, right?

And they take pretty little time and effort as well. I'd say 30 minutes tops. As this is a vegan recipe, you'll only have to use some carefully chosen vegan ingredients that you're gonna find in the recipe written below – then you're good to go.
They're perfect for baking in advance when you have the time because then you can always pop them in the freezer. They're going to keep well for about three months – and don't worry about them getting dry. They won't. As long as you heat them up a bit after you take them out, the texture is still going to be amazingly fluffy and moist – and the taste is going to be heavenly as well!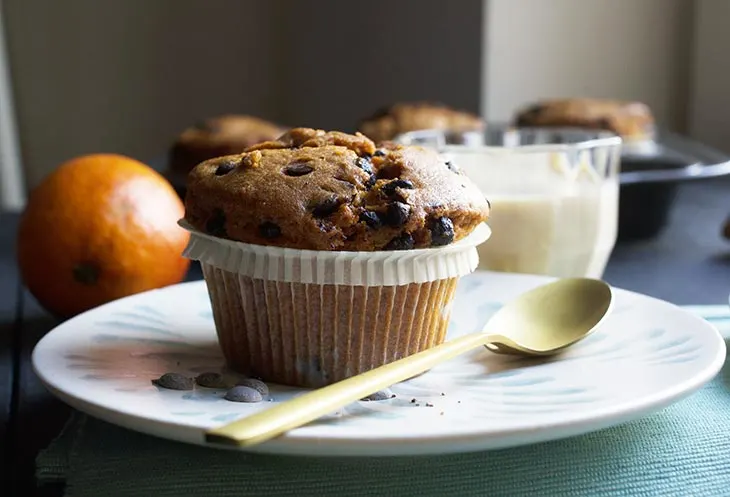 When I bake them, I like to leave a stack in the freezer. This way I know that whenever I'm not sure what to have for breakfast, for a snack or even for dessert, my back is covered. Did I mention that they're amazing to take on the go? I can't count the times I've traveled with a bunch of these in my hands. 🙂
You can serve them in the morning with coffee because muffins and coffee are a match made in heaven, but you can also have them as an in-between-meals-snack or 4 PM pick-me-up for when you have a sweet tooth.
Also, if you've got kids, they make for an amazing school snack – just make sure to pack more, as the other kids are probably going to get jealous at how delicious these are!
You can have them plain, or you can add frosting – though this is going to tune down that healthy factor a notch. You can also serve them alongside yogurt or fruit. Drizzle some agave or maple syrup on top and it's going to turn into a super yummy and instagrammable dish as well!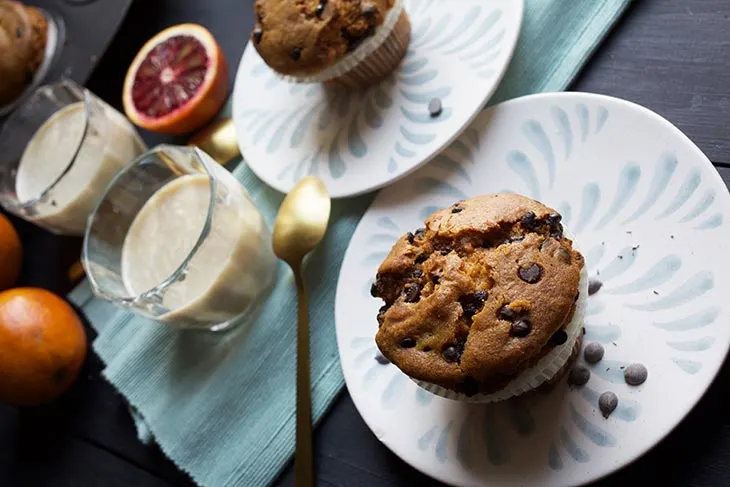 Make sure to try these next time you have a spare half an hour in the kitchen. And if you do, please let me know how you felt about them!
Yield: 6
Sweet Potato Muffins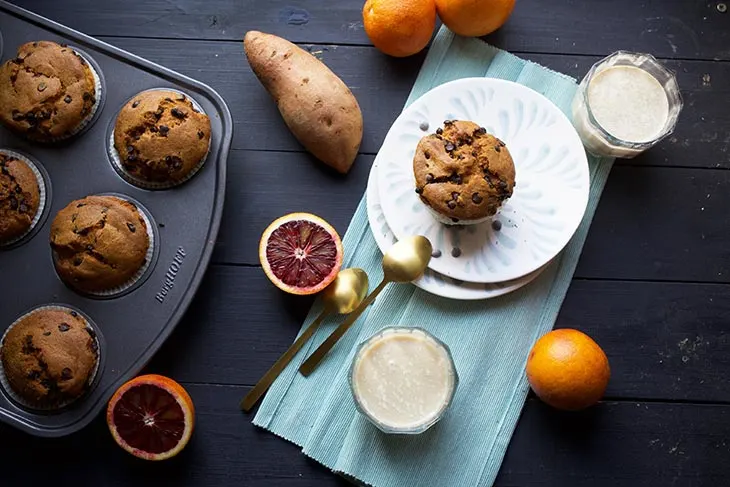 If you love sweet potatoes as much as I do, then you will definitely fall in love with this recipe for sweet potato muffins! It's vegan, delicious and healthy too!
Ingredients
Dry ingredients:
200g (1 1/2 cups) flour
1 tsp baking powder
1 tsp baking soda
½ tsp salt
1 ¼ tsp ground cinnamon
¾ tsp ground nutmeg
¾ tsp ground cardamom
Wet ingredients:
2 Tbsp ground flax seeds
6 Tbsp blood orange juice
100g (½ cup) melted coconut oil
1 tsp vanilla
130g (⅔ cup) coconut sugar
250g (1 cup) mashed sweet potatoes
Topping:
80g (½ cup) mini chocolate chips
Instructions
Preheat the oven to 180 C.
Make the flax egg - mix the ground flax seed with orange juice (or use water). Set aside.
Line a muffin tin with muffin liners.
In a medium bowl, combine all dry ingredients.
In a large bowl, mix all wet ingredients until well combined.
Slowly add the dry mixture to the wet mixture and stir until well combined.
Divide the batter mixture between muffins, about 10 medium ones.
Top each of them with chocolate chips.
Bake for about 20 minutes or until the tops are golden.
Nutrition Information
Yield
10
Amount Per Serving
Calories

249
Total Fat

13g
Carbohydrates

32g
Fiber

5g
Sugar

23g