Dare to experience the taste and tradition of the East with the delicious Turkish eggs recipe, known as "cilbir".
This traditional Turkish recipe combines soft-boiled eggs with a creamy yogurt and a flavored butter sauce, resulting in an explosion of flavors and textures in every sip. With its origins in the Ottoman Empire and a long history, Cilbir is one of the most appreciated dishes in Turkish cuisine and ever since I discovered the recipe it has become my husband's favorite breakfast, or as he calls it "the breakfast fit for a king!". 🙂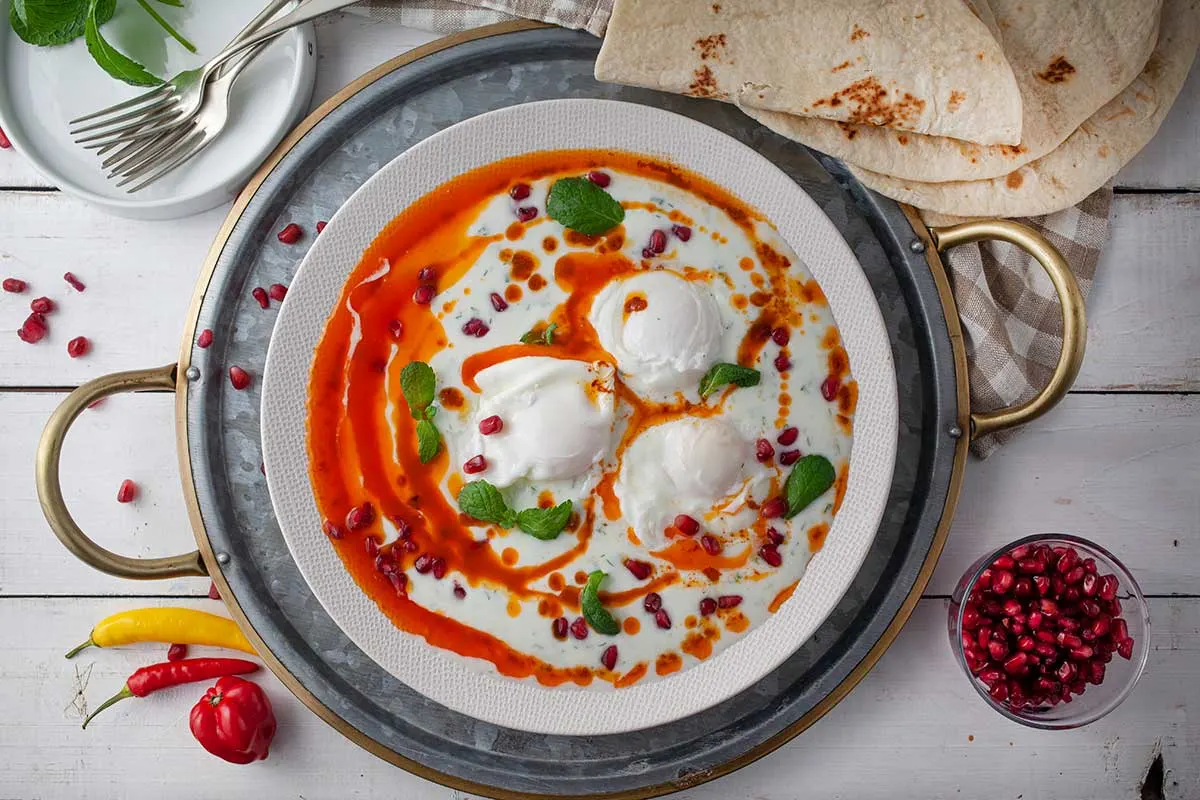 It's time to treat yourself to this delicacy and enjoy a truly memorable breakfast or brunch. So take your pan and put your culinary talents to work to prepare this authentic Turkish eggs recipe, which will take you on a taste journey in the heart of Turkey.
The history and origins of the Turkish egg recipe
Turkish eggs, also known as "cilbir", are a traditional Turkish recipe that dates back centuries. The origin of this recipe can be traced back to the Ottoman Empire in the 15th century. The word "cilbir" comes from the Turkish language and refers to the unique combination of ingredients used in the preparation of this type of food.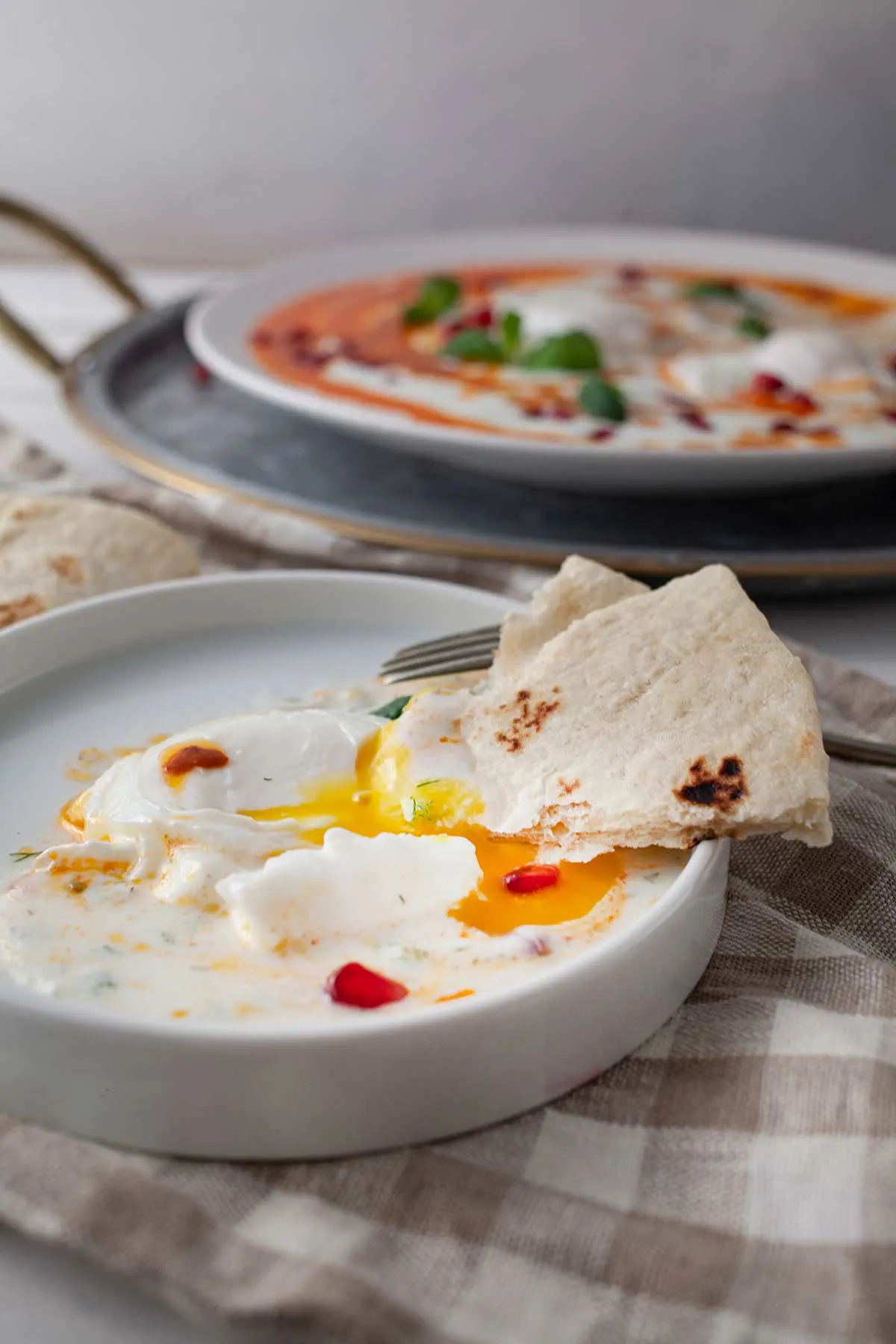 It is said that Turkish eggs were a favorite delicacy of the Ottoman sultans and were prepared to give them energy and vitality. The traditional recipe consists of boiled eggs, usually quail or chicken, served on a bed of yogurt and melted butter sauce flavored with hot peppers or tomato sauce. The aroma and creamy texture of the yogurt is perfectly complemented by soft eggs, and the butter sauce adds a rich and aromatic note.
Today, Turkish eggs are appreciated all over the world and have become popular as a savory breakfast or brunch. The original recipe underwent some changes and adaptations in different regions, including the addition of ingredients such as pepper, garlic, mint or parsley to accentuate the flavors.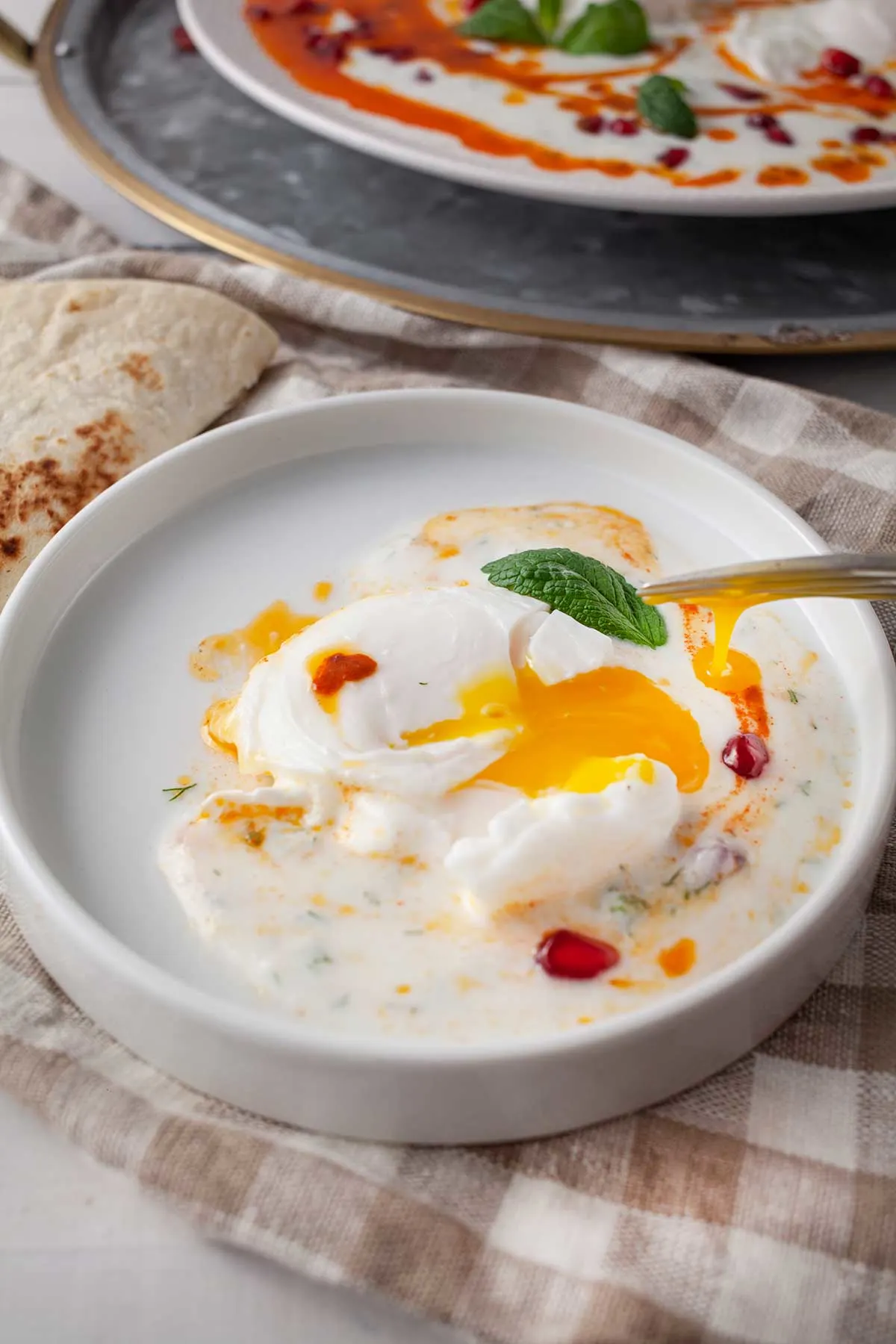 Tips and tricks to make the best Turkish eggs
Use eggs as fresh as possible: You will have to poach the eggs for this recipe (boil them in water), so it is necessary to use very fresh eggs, otherwise there's a high risk of the egg whites spreading all over when boiling and not getting perfectly, firm, poached eggs. If you haven't poached eggs before, you can follow this guide on how to make perfect poached eggs every time. Alternatively, you can cook sunny-side-up eggs with a runny yolk. This is what I usually do when I want to simplify the recipe.
Runny egg yolk is a must! Turkish eggs are often served slightly soft inside, with the yolk still liquid. Make sure not to cook eggs for too long.
Serve right away: Turkish eggs are usually served warm, immediately after cooking. I recommend you serve them with toasted bread or pita, so you can dip it into the runny egg yolk and yogurt.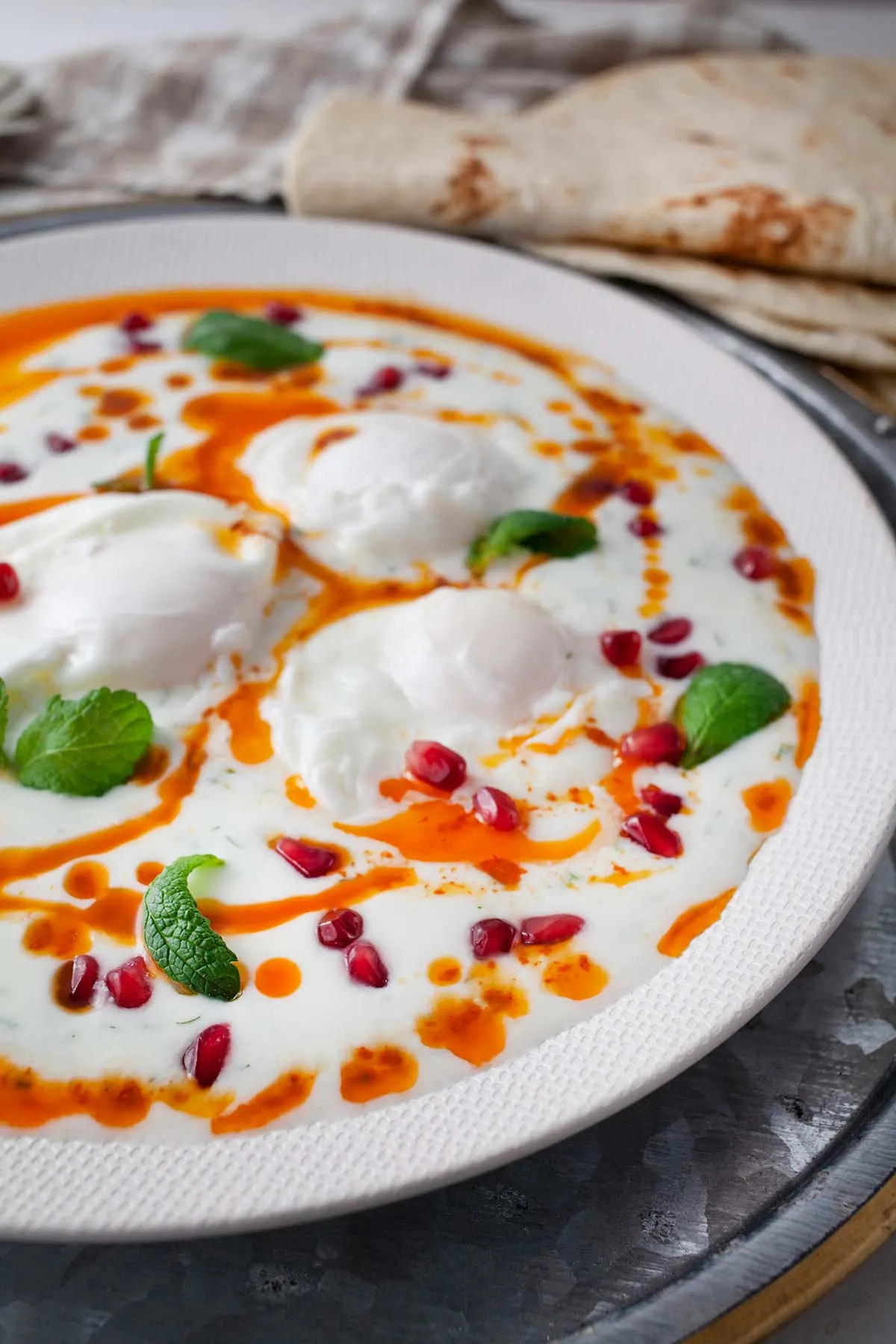 Topping ideas for Turkish eggs
There are a variety of delicious toppings that you can add to Turkish eggs to improve their taste and bring more flavor. Here are some topping ideas:
Mint: Sprinkle finely chopped fresh mint leaves. This combination adds a refreshing flavor.
Olive oil and sumac: Instead of melted butter, sprinkle Turkish eggs with extra virgin olive oil and sumac, a traditional spice from the Middle East, which has a citrus and slightly sour taste.
Hot peppers and aromatic herbs: Cut the hot pepper into thin strips and sprinkle them over the Turkish eggs. You can also add aromatic herbs, such as parsley, coriander or fresh basil.
Roasted walnuts and sesame seeds: Lightly toast the walnuts and sprinkle them over the Turkish eggs together with roasted sesame seeds. They add a crunchy texture and a rich, earthy taste.
Tomatoes and cucumbers: Cut tomatoes and cucumbers into very small cubes and add them over Turkish eggs for a touch of freshness and a splash of color.
Feta cheese: Crumble the feta cheese into small pieces and serve it over the eggs. Feta cheese adds a salty and creamy taste.
Spicy tomato sauce: Do you want a lighter version? Skip the melted butter and prepare a spicy tomato sauce made with hot pepper, garlic and finely chopped parsley. Pour this sauce over the eggs and yogurt for an explosion of flavors.
Choose the toppings that you like and make your own combinations to add flavor and originality to the authentic Turkish eggs recipe. Don't forget to try different combinations to discover what you like best.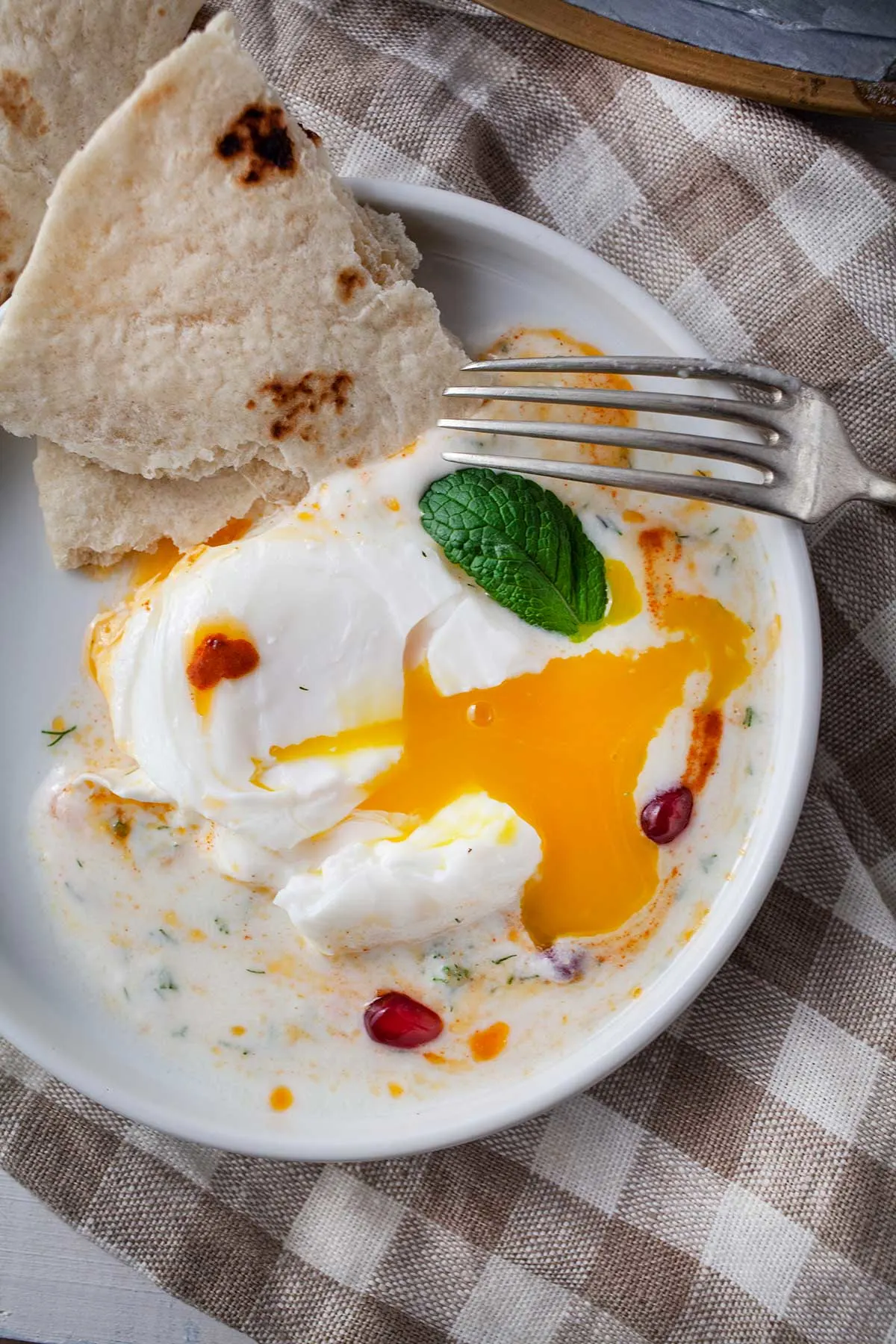 How to make Turkish eggs
Yield: 2 servings
Turkish Eggs - Çilbir | Poached Eggs with Garlic Yogurt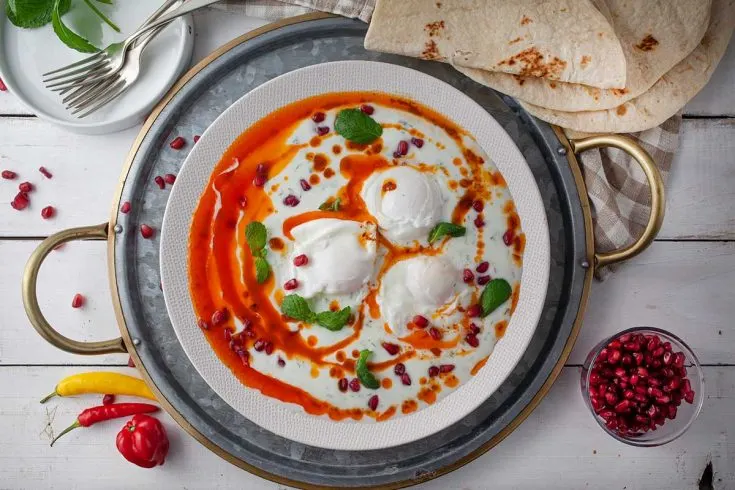 Dare to experience the taste and tradition of the East with the delicious Turkish eggs recipe, known as "cilbir".
Ingredients
1 1/2 cups Greek yogurt
1 tablespoon chopped dill
1 teaspoon finely chopped mint
2 cloves garlic, grated
4 eggs
1 tablespoon vinegar
2 tablespoons butter
1 teaspoon chili flakes
½ teaspoon smoked paprika
½ teaspoon of salt
½ teaspoon pepper
2 tablespoons pomegranate seeds
2 sprigs of fresh mint
Instructions
In a bowl, add the yogurt, dill, mint, garlic, salt and pepper. Mix and set aside.
Fill a pot with water and bring it to a boil. In two small ramekins or bowls, crack open the eggs, two in each one of them.
Add a spoonful of vinegar and create a swirl with the help of a spoon, right before adding the eggs. Slowly pour the eggs from the bowls, right in the middle of the vortex. Let them cook for 3 minutes, so that the yolk remains soft but the whites are firm.
In a small saucepan, on medium heat, add the butter. When the butter is melted, add the chili flakes, paprika, salt and pepper. Simmer for 1 minute, then remove it from the heat and mix well.
To assemble, divide the Greek yogurt in two and transfer it to the plates. Carefully place two poached eggs on each plate. Pour the butter sauce and sprinkle with pomegranate seeds and fresh mint leaves.
Serve with toasted baguette, bread slices or pita.
Nutrition Information
Yield
2
Serving Size
1
Amount Per Serving
Calories

380
Total Fat

22g
Saturated Fat

11g
Trans Fat

1g
Unsaturated Fat

9g
Cholesterol

411mg
Sodium

829mg
Carbohydrates

14g
Fiber

2g
Sugar

9g
Protein

31g
I strive to keep the information as accurate as possible but make no warranties regarding its accuracy. I encourage you to make your own calculations using your preferred nutrition calculator.