Who would have thought that potato on pizza can be this good? Try this authentic potato pizza recipe with a savory twist! Topped with potatoes and served with homemade truffle salsa, this pizza is sure to be a hit.
Today, I want to share with you an amazing and delicious dish from Italy, the authentic potato pizza (Pizza con Patate) with a savory twist – served with my homemade truffle salsa. This dish is one of the most famous and beloved Italian specialties and is an essential staple in Italian cuisine.
The origins of this dish can be traced back to the Neapolitan cuisine, in the southern part of Italy. It's said that pizza con patate was first made by local pizzerias in the city of Naples, and it quickly gained popularity among the people. With its unique combination of soft, creamy potatoes, and crispy, thin pizza crust, this dish became a staple of Italian cuisine and is now enjoyed all over the world.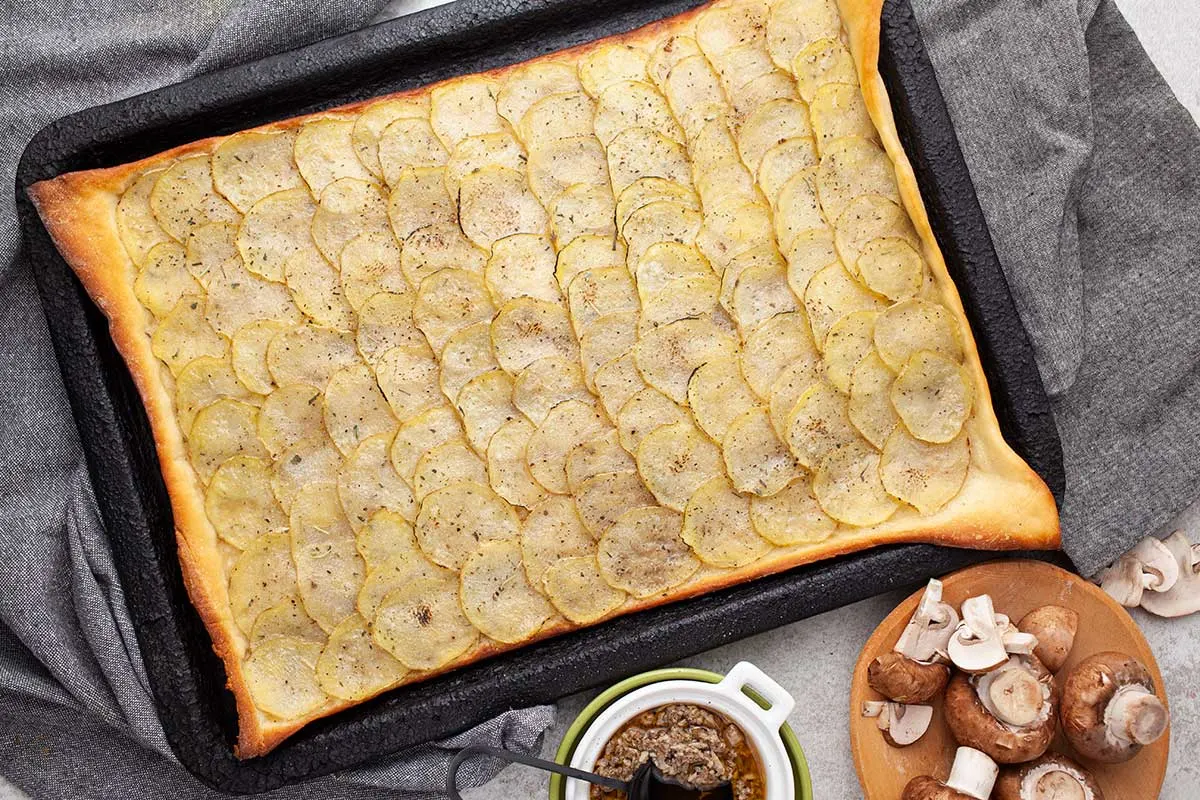 Tips for the best potato pizza – pizza con patate:
Make sure you use high-quality, extra-virgin olive oil in both the pizza dough and the topping. It will give the dish its distinctive, rich flavor.
Use thin-skinned potatoes for the topping, as they will cook faster and become tender more easily.
To get the best flavor, use fresh rosemary in the topping.
If you can't find truffles or can't make your own truffle salsa, you can use truffle oil instead, which will still give the dish an amazing, earthy flavor.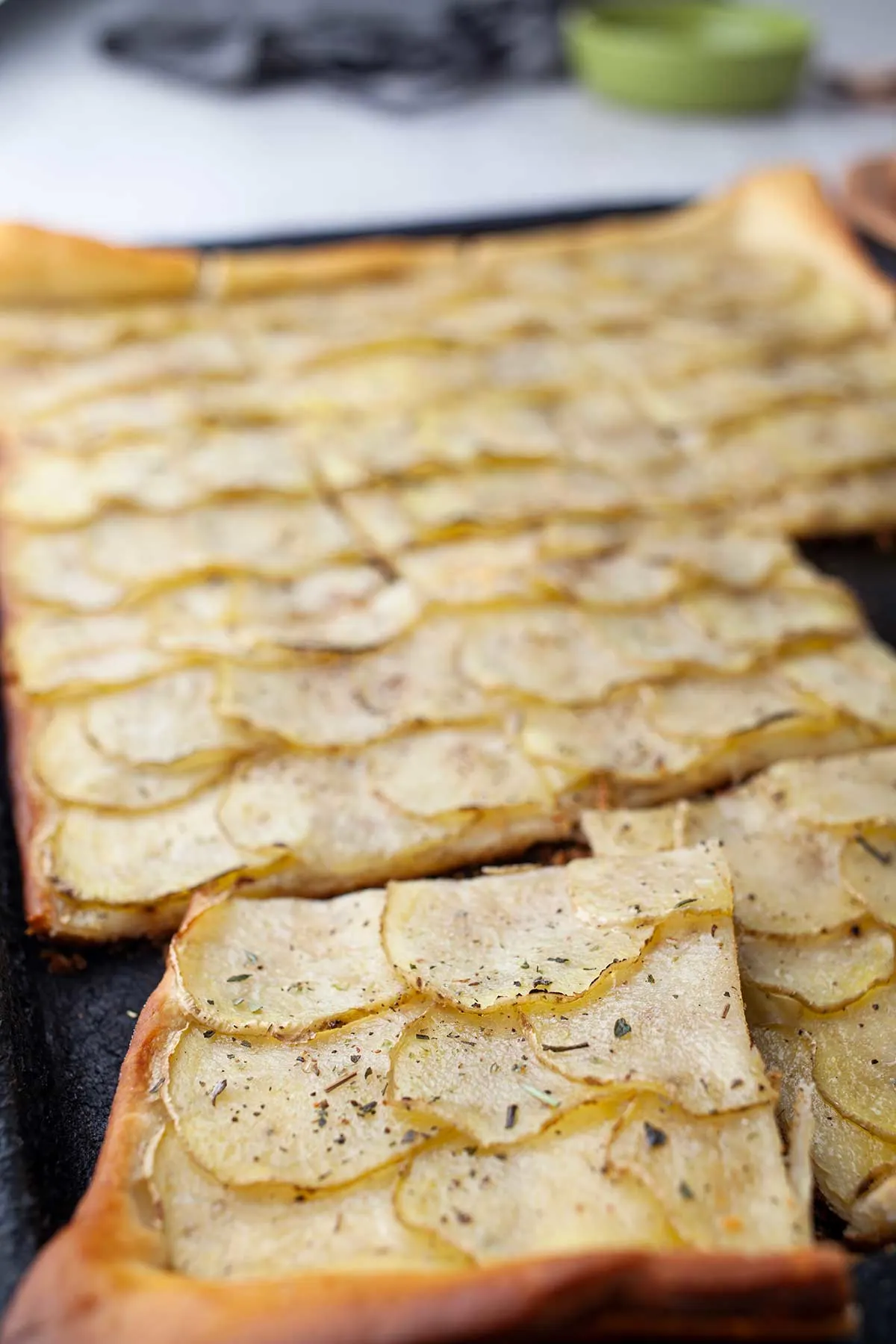 Variations – potato on pizza extra topping ideas
You can use different types of potatoes, such as sweet potatoes, fingerling potatoes, or baby potatoes, to add variety and flavor to your pizza.
You can also add different herbs and spices to the topping, such as thyme, sage, or rosemary, to suit your taste.
If you want a spicy kick, you can add a pinch of chili flakes.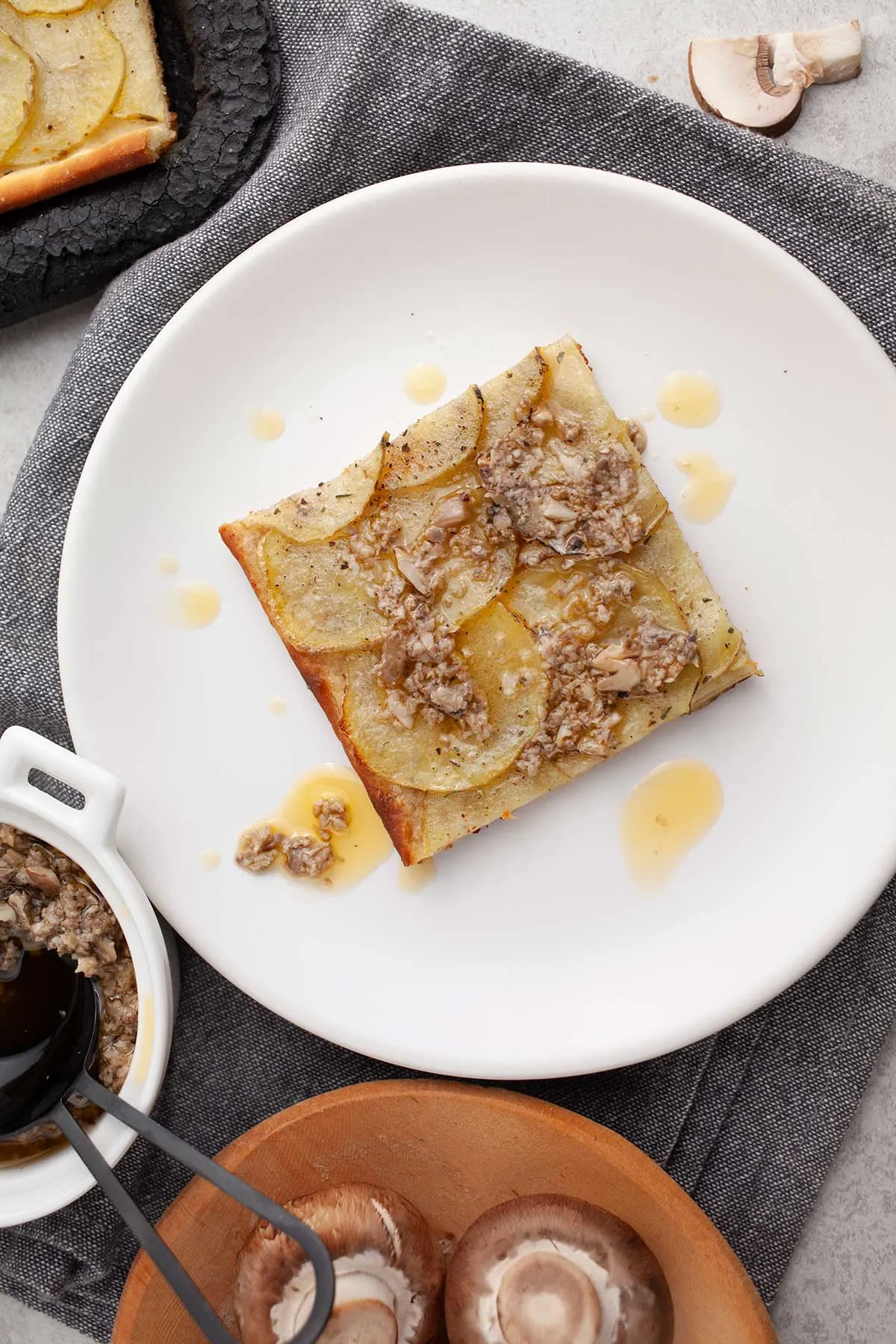 The traditional Pizza con Patate is a simple potato pizza that typically features thin slices of potatoes, olive oil, salt, and rosemary. However, there are many variations, both veg and with meat, that incorporate additional ingredients to enhance the flavor and texture of the dish. Some popular combinations include:
Prosciutto and Arugula – Thinly sliced prosciutto and fresh arugula added to the pizza after it has been cooked for a salty, savory, and slightly bitter taste.
Sausage and Bell Peppers – Diced sausage and sliced bell peppers added to the pizza before cooking for a spicy and sweet combination.
Gorgonzola and Caramelized Onions – Crumbled gorgonzola cheese and caramelized onions added to the pizza after it has been cooked for a rich and creamy flavor.
Spinach and Feta – Fresh spinach and crumbled feta cheese added to the pizza before cooking for a nutty, tangy, and slightly salty flavor.
Garlic and Herbs – Freshly minced garlic and dried herbs such as thyme, basil, or oregano added to the pizza before cooking for a fragrant and flavorful twist.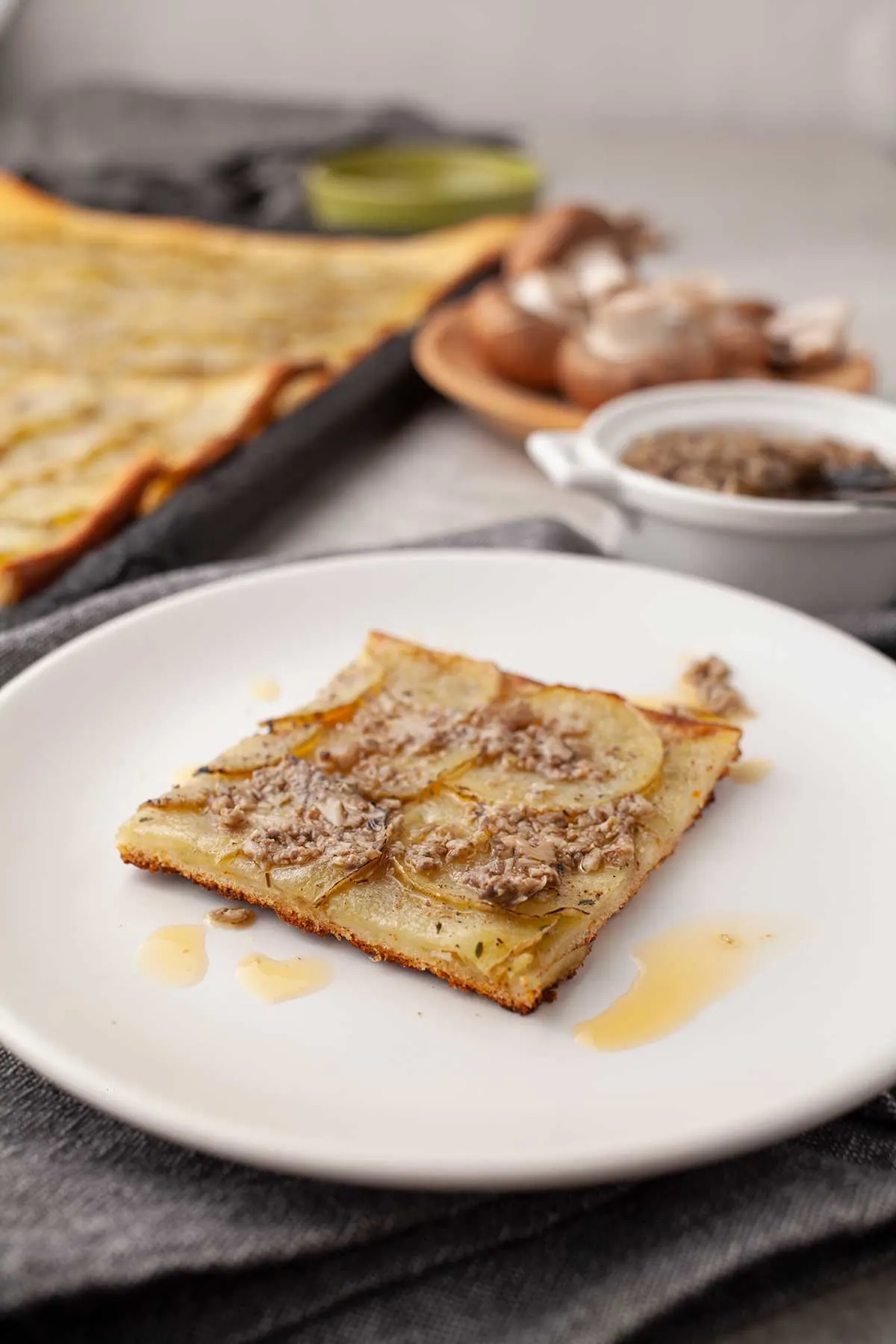 These are just a few of the many variations you can try when making potato pizza. The best way to find what works for you is to experiment with different ingredients and seasonings until you find your perfect combination!
Gluten-free: To make this dish gluten-free, you can use gluten-free all-purpose flour in place of the regular all-purpose flour when making the dough. Here is a gluten-free pizza recipe.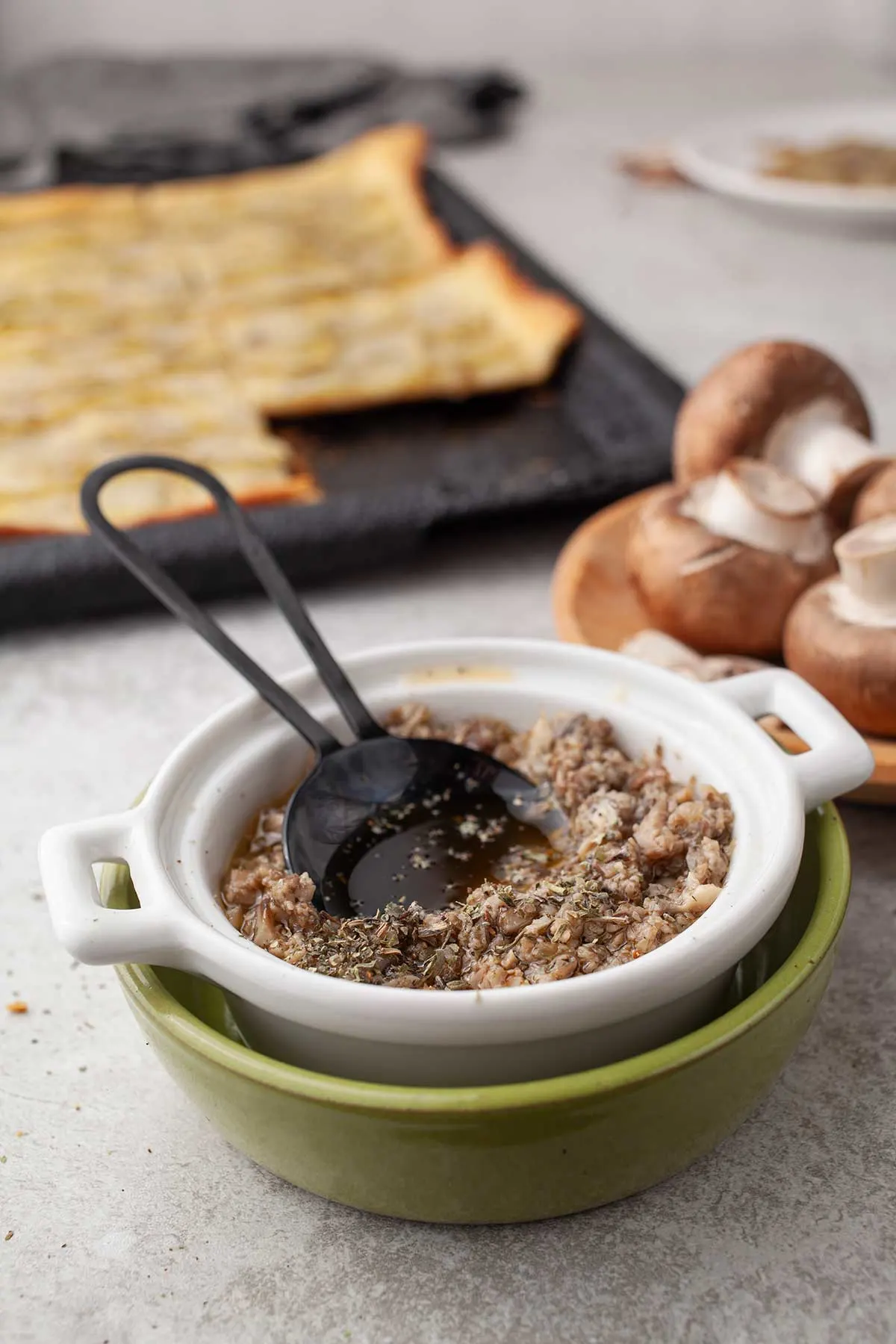 Yield: 6-8
Authentic Potato Pizza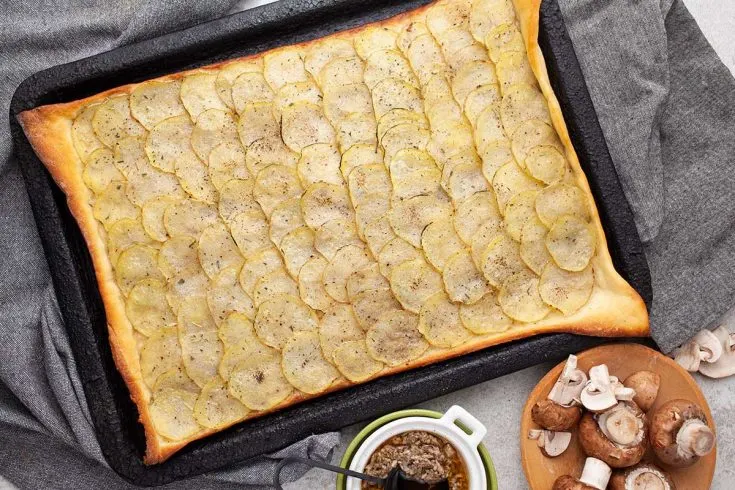 Try this authentic potato pizza recipe with a savory twist! Topped with potatoes and served with homemade truffle salsa, this pizza is sure to be a hit.
Ingredients
For the pizza:
1 pizza crust roll
5 medium potatoes
5 tablespoons of olive oil
1 teaspoon of sea salt
½ teaspoon black pepper
1 teaspoon Italian mixed herbs
For the truffle salsa:
250g brown Champignon mushrooms
1 tablespoon of truffle oil
2 tablespoons olive oil
1 small onion, chopped
2 cloves of garlic, crushed
1/2 teaspoon of dried thyme
2 tablespoons of white wine
2 tablespoons of white wine
salt and pepper, to taste
salt and pepper, to taste
Instructions
Prepare the mushroom truffle salsa:
Clean the mushrooms and cut them into slices.
Add the olive oil to a large pan or saucepan. Sauté the onion, garlic and add the mushrooms and wine.
Add salt, pepper, thyme, and let them simmer with the lid on for about 15-20 minutes.
Move the seasoned mushrooms into the food processor and mix until a fine paste is formed. Add the truffle oil and then move the whole composition into a jar.
Meanwhile, prepare the pizza.
Grease the pan with about a tablespoon of olive oil.
Lay the top over the pan and grease it with another spoonful of olive oil.
Heat the oven to 250 C.
Using a mandolin or food processor, slice the potatoes thinly.
Put the potatoes in a bowl, pour 3 tablespoons of olive oil, salt and pepper over the potato slices. Mix the potatoes in the oil so that all the slices are coated.
Arrange the potato slices over the pizza crust, slightly overlapping the slices until the entire crust is covered.
Sprinkle with a little more oil and even it out with a brush over the entire surface of the potato layer.
Put the pizza in the hot oven and bake for 10-13 minutes, until the potatoes start to brown.
You can move the pizza to the upper grill, for another 3-4 minutes and let the grill function, to make a golden crust. Sprinkle with the mixture of Italian herbs.
Serve hot pizza with truffle sauce over, optional.
Nutrition Information
Yield
8
Serving Size
1
Amount Per Serving
Calories

424
Total Fat

18g
Saturated Fat

3g
Trans Fat

0g
Unsaturated Fat

15g
Cholesterol

0mg
Sodium

631mg
Carbohydrates

58g
Fiber

5g
Sugar

3g
Protein

8g
I strive to keep the information as accurate as possible but make no warranties regarding its accuracy. I encourage you to make your own calculations using your preferred nutrition calculator.