Savor the tradition with every bite! Try these irresistible Dutch Mini Pancakes, aka Poffertjes, made with a secret batter and cooked to golden perfection in a unique poffertjes pan. The perfect bite-sized treat for any time of day.
Dutch Mini Pancakes, also known as Poffertjes, are a popular treat in the Netherlands and are gaining popularity around the world for their light, fluffy, and delicious taste. They are miniature-sized, fluffy, and pillow-like pancakes that are traditionally served with butter and powdered sugar.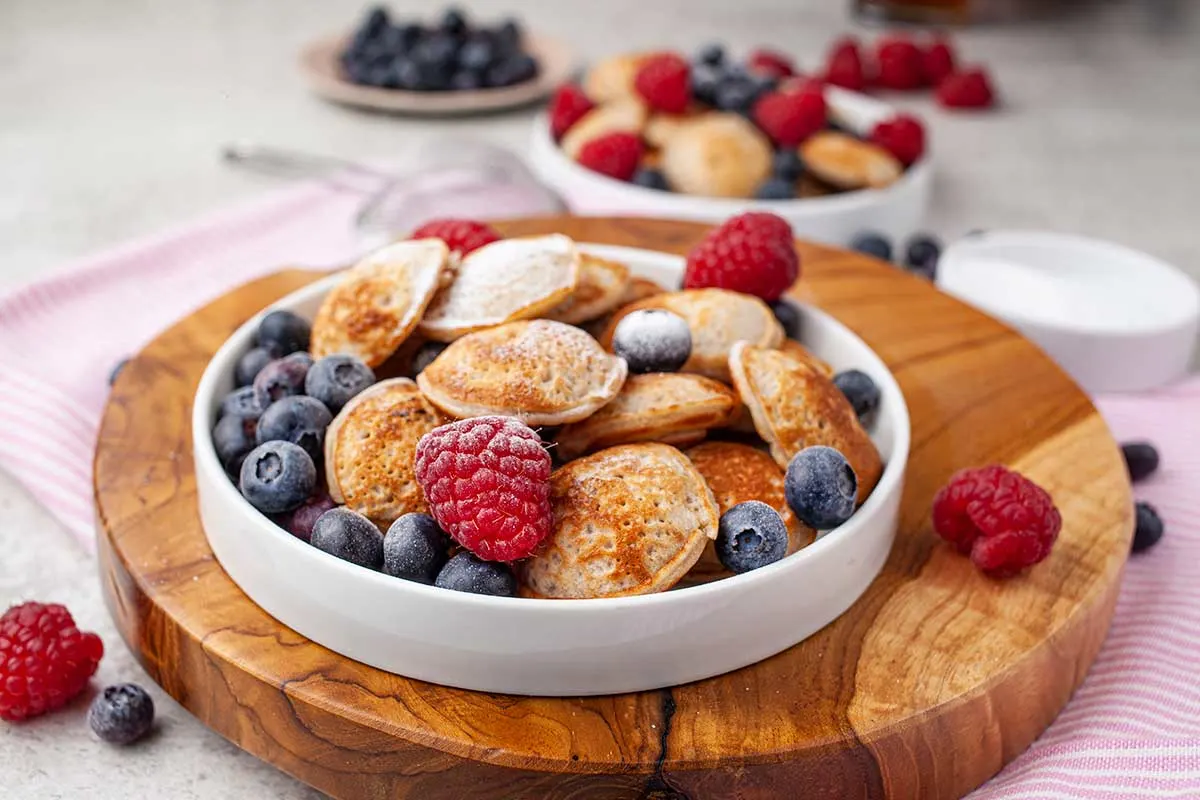 The origins of Poffertjes are somewhat unclear, but it is thought that they have been a staple in Dutch cuisine for centuries. They are typically made with a special batter that is poured into a unique pan with small indentations, creating the signature miniature size. The pancakes are then cooked until they are golden and fluffy, resulting in a delicious and unique texture that sets them apart from traditional pancakes.
There are many different variations of Dutch mini pancakes, with some adding ingredients like yeast or baking powder to create a lighter and fluffier texture, while others use alternative flours like buckwheat or rice flour for a gluten-free option. There are also a number of flavor variations, with some adding ingredients like cinnamon or chocolate chips to create a more decadent treat.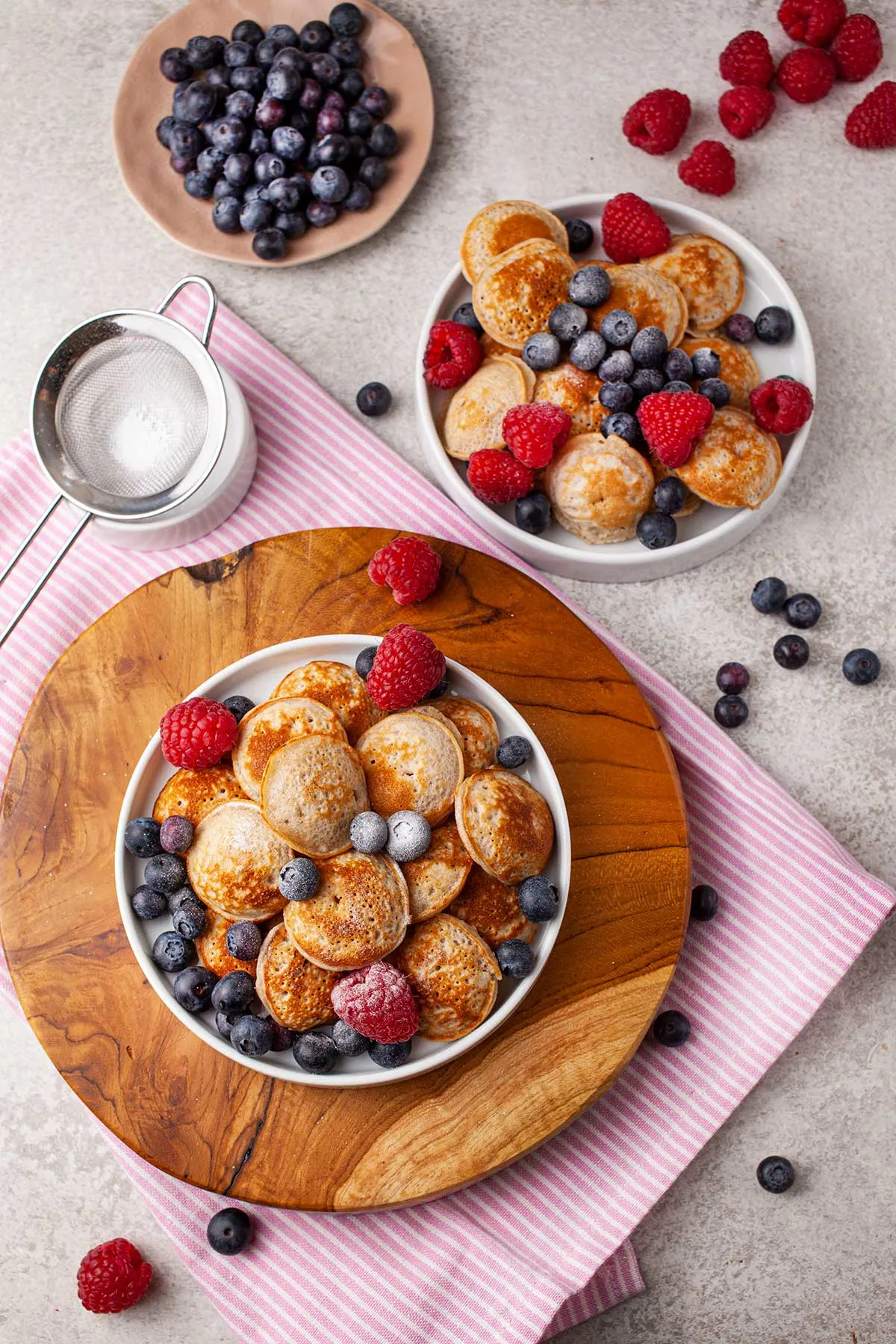 FAQs about dutch mini pancakes
What is the difference between Dutch pancakes and regular pancakes?
Dutch Pancakes are a traditional Dutch treat that differ from regular pancakes in a few key ways.
Size: Dutch Pancakes are much smaller in size compared to regular pancakes. They are usually served in small portions, with around 20 to 30 mini pancakes per serving.
Batter: The batter used for Dutch Pancakes is typically lighter and airier than the batter used for regular pancakes. It is often made with a combination of yeast, flour, milk, eggs, and sugar.
Cooking method: Dutch Pancakes are cooked on a special griddle that is made up of several small wells. This griddle allows each pancake to cook evenly and develop a distinct crispy exterior.
Toppings: Dutch Pancakes are usually served with powdered sugar and butter, and sometimes with syrup or fruit as well. They are often paired with a sweet or savory topping, such as fruit, syrup, cheese, or ham.
What is the difference between Poffertjes and Aebleskiver?
Poffertjes and Aebleskiver are both traditional Dutch pancakes, but they differ in shape, texture and ingredients.
Poffertjes are small, round, fluffy pancakes made from a yeast-based batter and cooked in a special cast iron pan with small wells. They are light and airy, with a slightly crisp exterior and a soft, spongy interior. They are often served with butter and powdered sugar.
Aebleskiver, on the other hand, are ball-shaped pancakes made from a batter similar to a regular pancake mixture. They are cooked in a special pan with spherical wells and are often filled with fruit, nuts, or chocolate before being served. They have a denser and more cake-like texture than poffertjes and are usually sweet, making them a popular dessert option.
So, in summary, the main difference between poffertjes and Aebleskiver is the shape, texture, and ingredients used to make each dish.
What is a poffertjes pan?
A poffertjes pan is a special cast iron or aluminum pan used to make Dutch mini pancakes, called "poffertjes." The pan is characterized by its small, shallow wells or indentations, which are filled with batter to make individual portions of the mini pancakes. The wells help the poffertjes cook evenly and give them their distinctive shape. The pan is typically used over a stove top or campfire and is a common cooking implement in the Netherlands.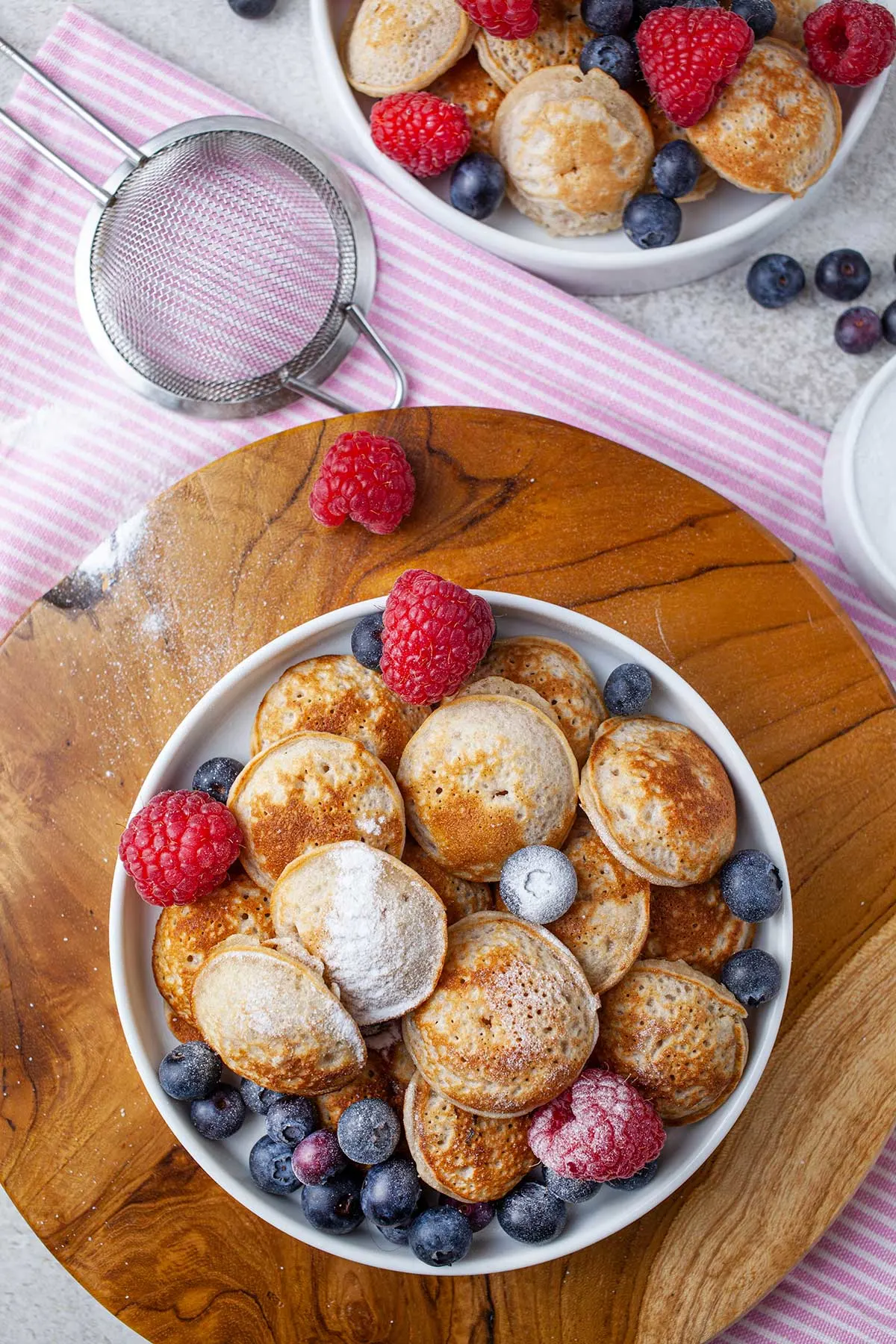 Making Poffertjes is a bit different than making traditional pancakes, but with the right ingredients and equipment, they are relatively easy to make.
Tips for the best mini pancakes:
Be sure to use a Poffertjes pan for the best results.
Don't overcrowd the pan when cooking the Dutch mini pancakes.
Keep the heat at medium to ensure that the Poffertjes cook evenly and don't burn.
For a gluten-free option, try using a gluten-free flour blend in place of all-purpose flour.
For a sweeter option, try adding a small amount of syrup or fruit to the top of the Poffertjes before serving.
For a vegan option, replace the egg with psyllium husks, the milk with almond milk and the butter with oil.
Dutch Mini Pancakes are a delicious and unique treat that are perfect for a special occasion or simply as a fun and tasty treat. With their light, fluffy texture and delicious flavor, they are sure to be a hit with everyone who tries them. So why not give them a try and see for yourself just how delicious these mini pancakes can be!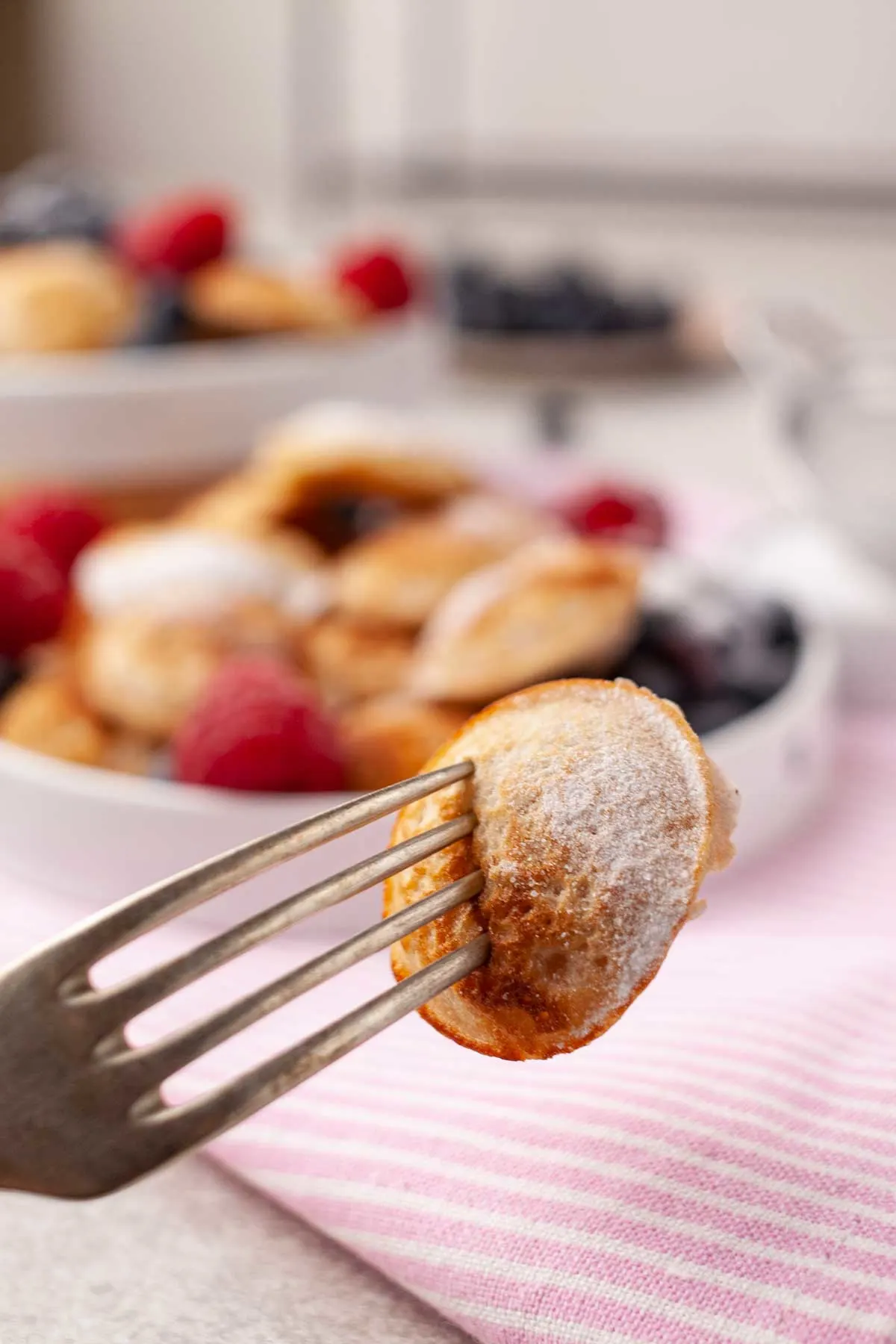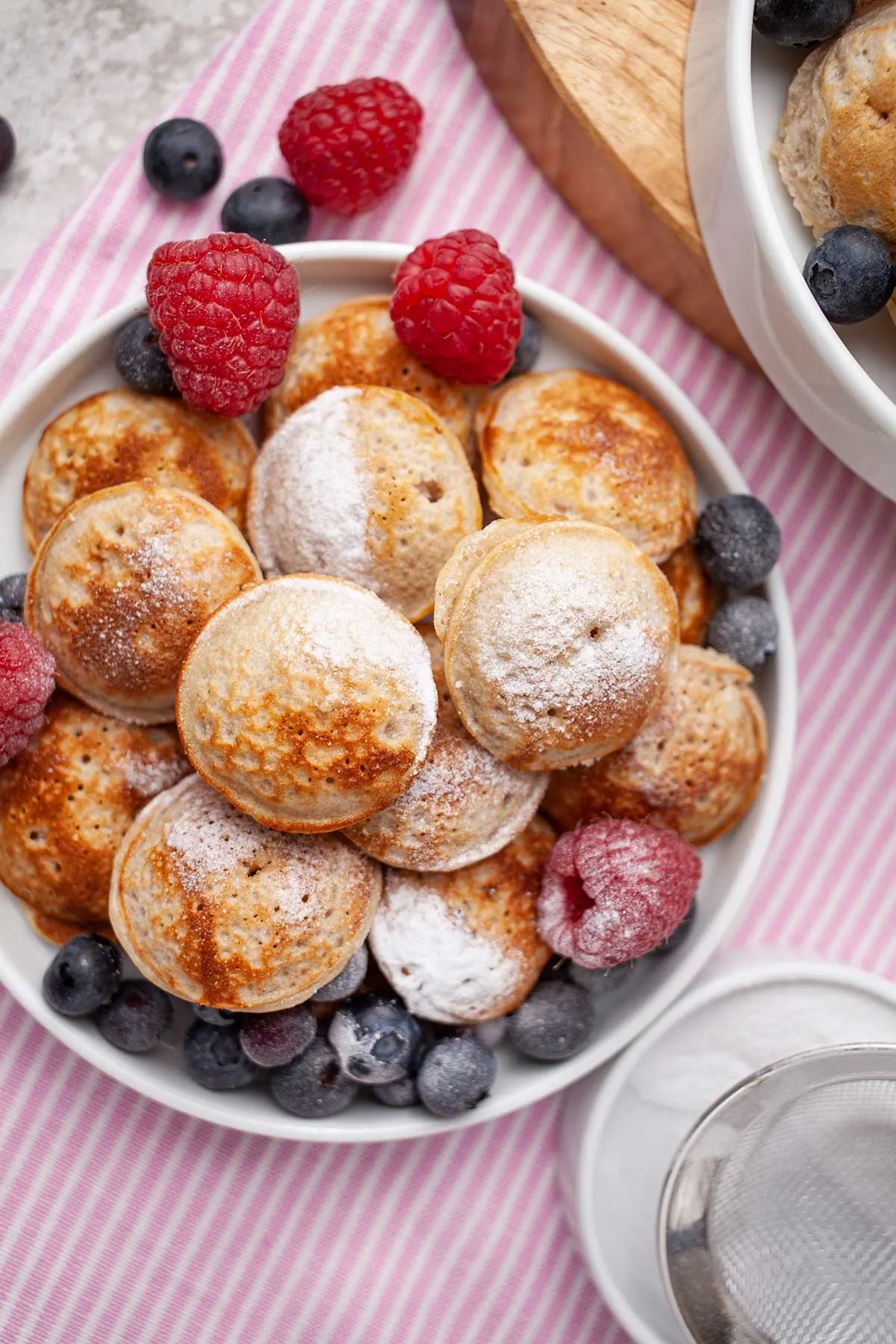 Yield: 2-4
Dutch Mini Pancakes (Poffertjes)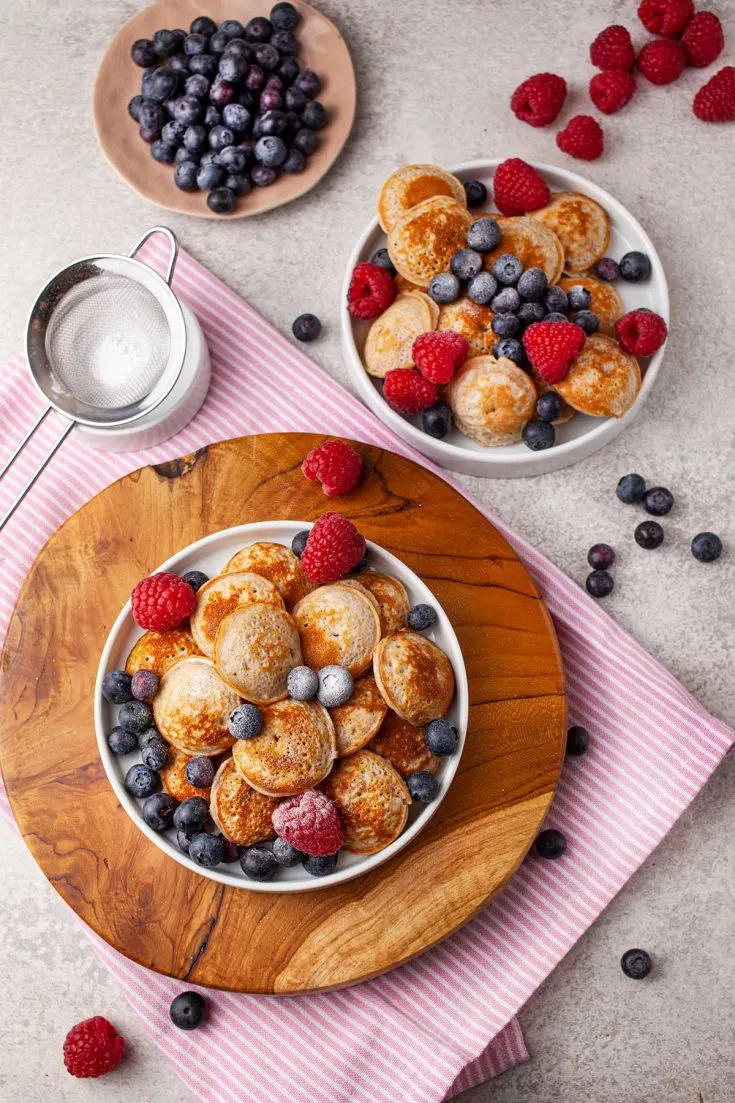 Savor the tradition with every bite! Try these irresistible Dutch Mini Pancakes, aka Poffertjes, made with a secret batter and cooked to golden perfection in a unique poffertjes pan. The perfect bite-sized treat for any time of day.
Ingredients
1 cup (130g) of all-purpose flour
1 cup (240ml) of milk (replace with almond milk for vegan version)
1 egg (replace with 1/2 tablespoon psyllium husks for vegan version)
2 tablespoons of unsalted butter, melted (use oil or vegan butter for vegan version)
1 teaspoon of active dry yeast
2 tablespoons of sugar
1 teaspoon of vanilla extract
½ teaspoon grated orange peel (optional)
¼ teaspoon salt
Fruit and powdered sugar for serving
Instructions
In a large bowl, mix together the flour, sugar, and salt.
In a separate bowl, mix together the milk, melted butter, and egg.
Combine the wet ingredients with the dry ingredients and mix until well combined.
Stir in the yeast and let the batter sit for 10-15 minutes, or until it has doubled in size.
Heat the Poffertjes pan / mini pancakes pan over medium heat and lightly grease each indentation with butter.
Fill each indentation with a small amount of batter and cook for 2-3 minutes on each side, or until golden brown.
Serve the Poffertjes hot with fruits and powdered sugar.
Nutrition Information
Yield
4
Serving Size
1
Amount Per Serving
Calories

385
Total Fat

9g
Saturated Fat

5g
Trans Fat

0g
Unsaturated Fat

3g
Cholesterol

67mg
Sodium

182mg
Carbohydrates

70g
Fiber

2g
Sugar

43g
Protein

8g
I strive to keep the information as accurate as possible but make no warranties regarding its accuracy. I encourage you to make your own calculations using your preferred nutrition calculator.