Are you ready for the ultimate comfort food for autumn? Here's how to make vegan stuffed butternut squash – simple, extremely yummy, and filling!
Why do we love pumpkins so much? That is the question. And yeah, I know that today's article is about butternut squash, but, let's face it… they're pretty much the same thing. Moreover, why do we love autumn so much?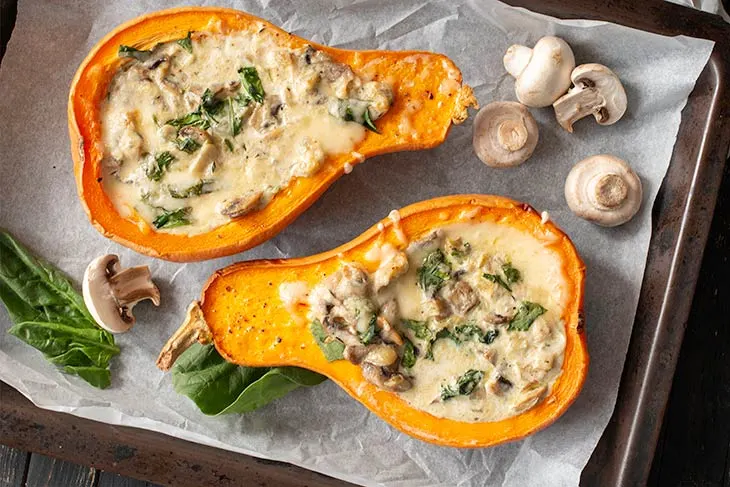 It turns out it has a lot more to do with psychology than we might realize. Autumn is the season of calming down and taking it easy, but it's also a season of new beginnings and fresh starts on a spiritual and mental level. The start of autumn can signify so many glorious things, such as a fresh school year.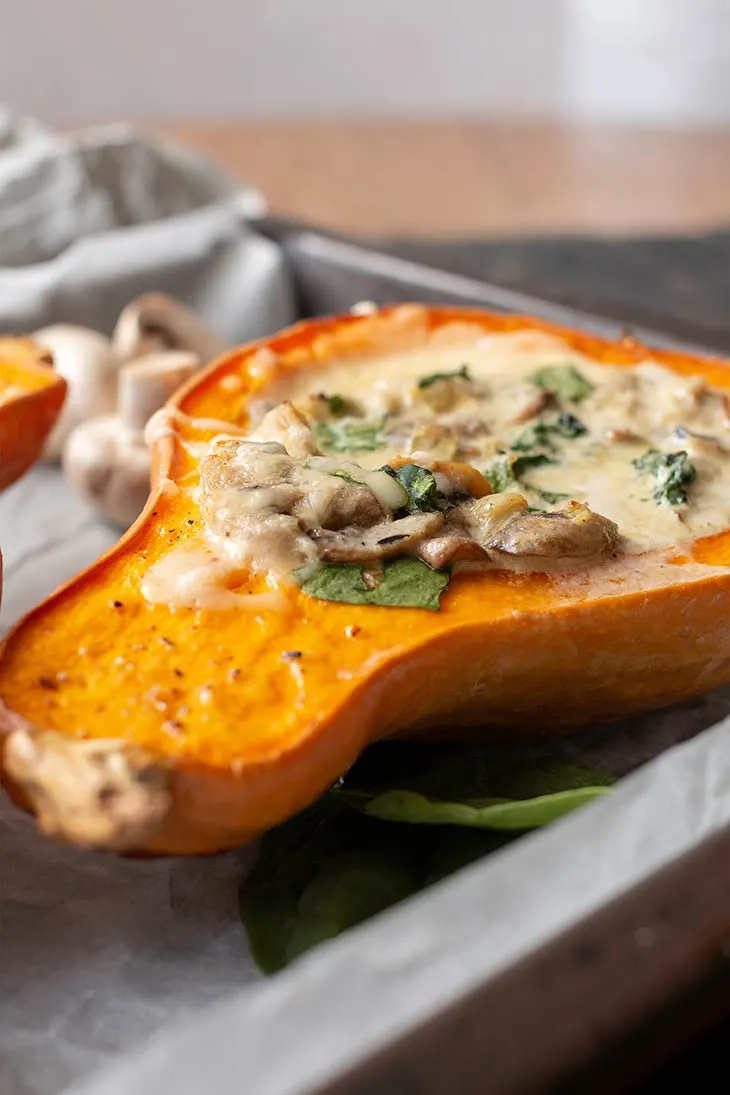 As children, we come to associate this season with going back to school (and later, going to college). And, while school in itself doesn't necessarily sound like fun, we came to associate autumn with its best parts: seeing our friends after a long summer, the joy of buying school supplies, and so on – pretty exciting things.
And even if you've finished school quite a long time ago, leaving memories aside, I truly believe there's something inherently pleasant about autumn. First of all, fashion tends to become all of a sudden and at the same time more comfortable and cuter. I mean, you get to wear big hoodies, comfy sweaters, and nice boots. Then there's all the delicious, warm food that you didn't feel like cooking or eating in summer's scorching sun: hot chocolate and coffee, steaming pies and stews…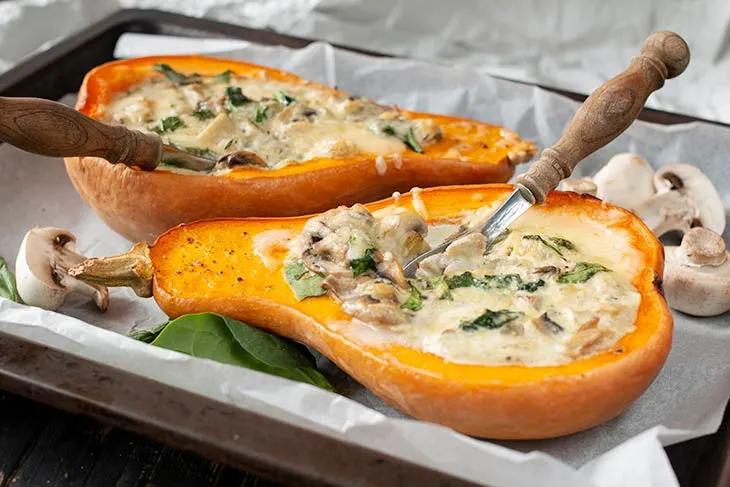 I think we can all agree that autumn is the coziest season of all! 🙂
Obviously, being a food blogger and enthusiast, I cannot write an article about autumn without mentioning its signature object: the pumpkin. Or, in this case, the butternut squash. They're closely related and interchangeable, in my opinion.
If you've followed me in the past, then you know how much I love this vegetable. In fact, I have quite a few butternut squash based recipes, which I consider to be truly delicious. Some are more intricate and require a little bit of attention. But, let's face it. Sometimes the simple things are truly the best. Such is the case with this recipe! 😉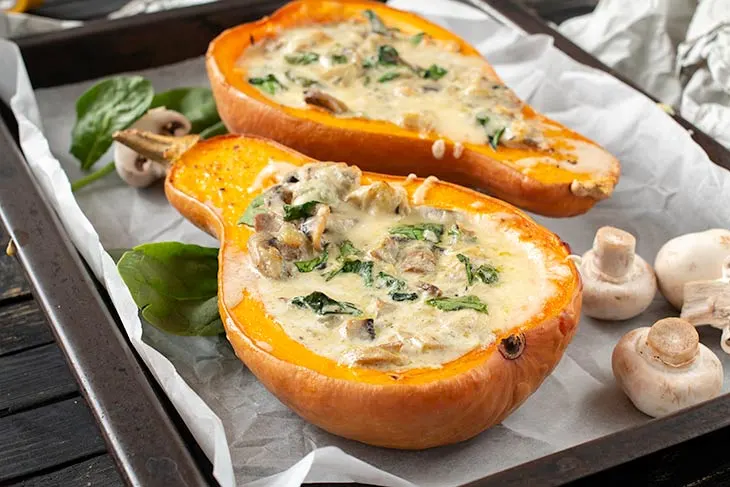 You know I'm all about versatile recipes. I like meal prepping, but not the boring kind, where you schedule each and every meal and neatly stack it in an individual bento box. I think organizing your food in this way tends to get boring really fast. So what I like to do is cook a bunch of staple items, which I can then combine in a zillion ways to make totally different meals.
For instance, I love baking one or two huge trays of roasted vegetables which I can then have throughout the week. I can then throw these in salads, assemble a pasta dish, or even sneaking them in my morning smoothie.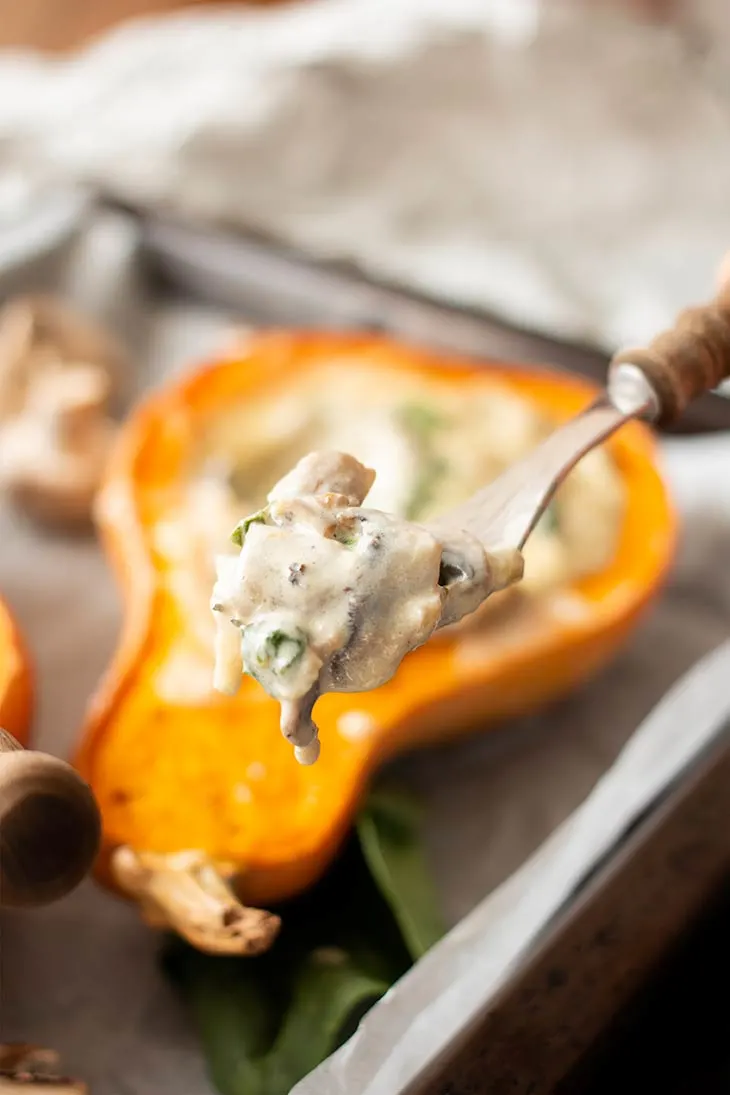 When autumn comes, I really like prepping some baked butternut squash. And lately, I really loved baking it in halves, which I can then either consume on their own or stuff them with all sorts of delicious ingredients. Which is what I'm going to show you today.
The possibilities of this recipe are endless! 🙂 Who's to say what your butternut squash stuffing should be? You can decide that for yourself, based on your preferences. You can make it vegan, or even use meat if that's what you decide. Either way, I can promise you that it will turn out the delicious and super filling.
Butternut squash is a healthy, filling vegetable in itself. It's full of vitamins, minerals, and antioxidants, and packed with fiber.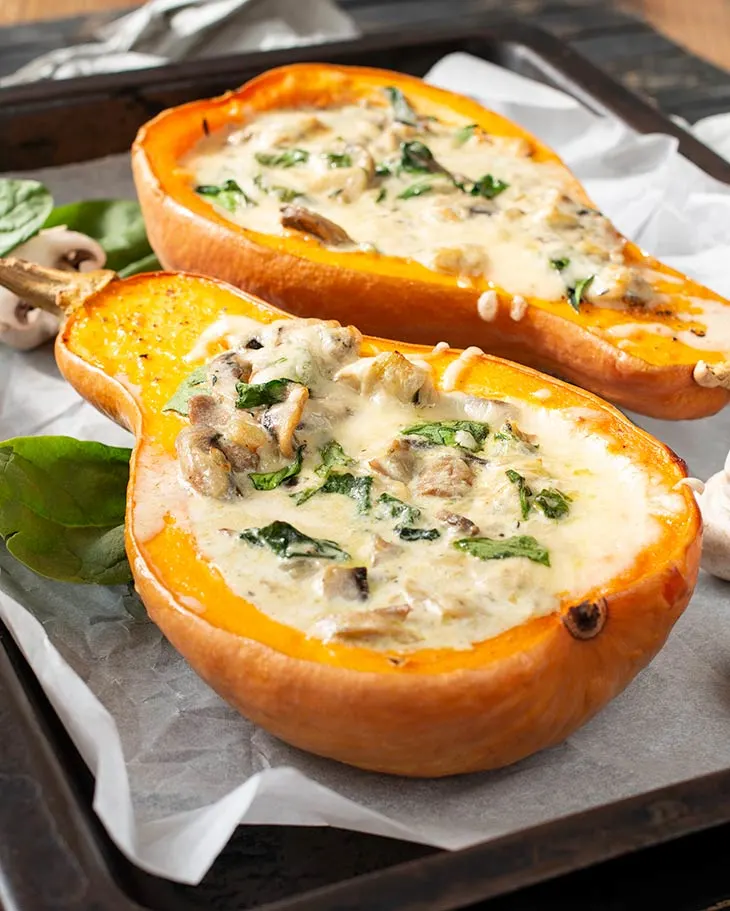 Other than my recommended stuffing that you'll see in the recipe below, what I really like is cooking a nice amount of quinoa at the end of the week and using this to make a filling. You can toss it in the pan a bit, for a more nutty flavor, with a bit of olive oil, garlic, and spices. You can also use a bunch of other vegetables. Red peppers, for instance, go really well with pumpkins and squashes and are super healthy, too.
For a high-protein meal, you can also stuff your butternut squash with chickpeas, beans, or even lentils. Go crazy with the herbs and spices, though. This meal may be vegetable-based, but it does not have to taste bland. Sprinkle some cheese or cheese substitute for a different texture and taste variety.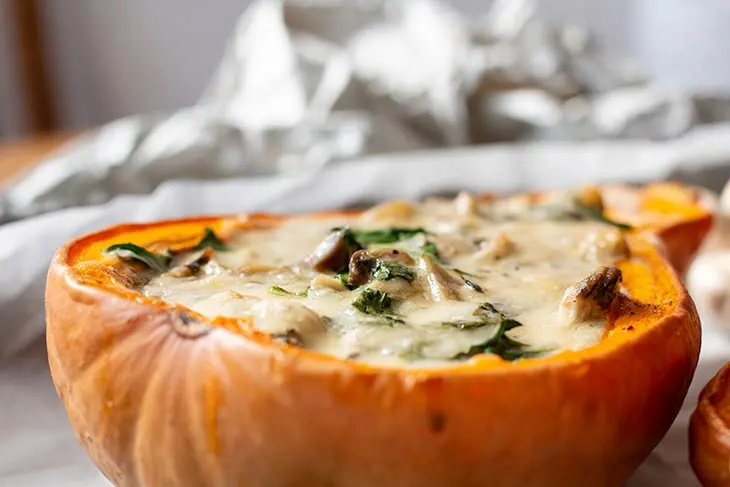 I love this recipe for its versatility and simplicity. It's great for filling up your tummy and keeping you energized until dinner, so I highly recommend trying it this autumn, while butternut squash is still super fresh and easy to find!
Yield: 6
Stuffed Butternut Squash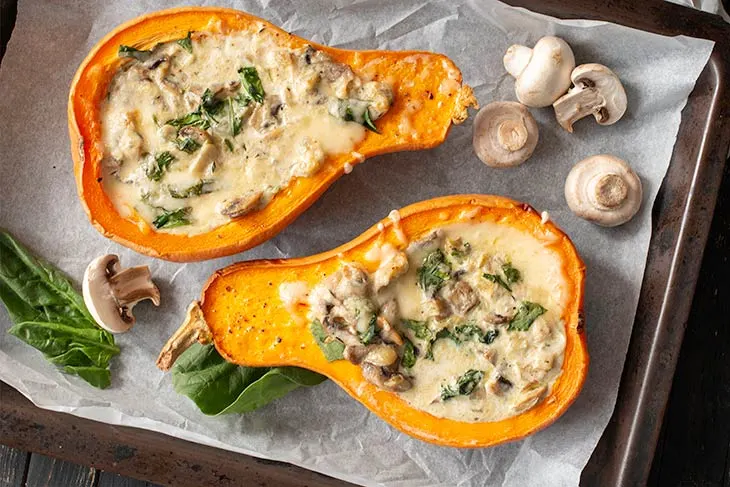 Are you ready for the ultimate comfort food for autumn? Here's how to make vegan stuffed butternut squash - simple, extremely yummy, and filling!
Ingredients
1 medium butternut squash
1 medium onion, chopped
2 garlic cloves, minced
200g (1 ½ cups) mushrooms, sliced
200g (6 ¾ cups) baby spinach
200ml (1 cup) coconut milk
2 Tbsp flour, use GF if needed
2 Tbsp nutritional yeast
2 Tbsp shredded vegan cheese or mozzarella
3 Tbsp olive oil
Salt
Pepper
Instructions
Cut the butternut squash in half length-wise and clean the seeds.
Brush with oil, season with salt and pepper, and bake uncovered for 40-45 minutes at 180 degrees C.
If the edges are starting to burn, cover with aluminum foil.
In a pan, sautee the garlic and onion in olive oil over medium heat for 3-5 minutes.
Add the mushrooms and cook for 5-7 minutes.
Add the spinach, cook for 30 seconds then add the flour and cook for an aditional 30 seconds.
Add the coconut milk, nutritional yeast, and season with salt and pepper.
Simmer on low, stirring constantly until it's creamy.
Stuff the baked butternut squash with the mushroom mixture and grate vegan cheese on top.
Nutrition Information
Yield
6
Amount Per Serving
Calories

202
Total Fat

16g
Saturated Fat

8g
Trans Fat

0g
Unsaturated Fat

7g
Cholesterol

4mg
Sodium

178mg
Carbohydrates

13g
Fiber

4g
Sugar

3g
Protein

6g
I strive to keep the information as accurate as possible but make no warranties regarding its accuracy. I encourage you to make your own calculations using your preferred nutrition calculator.