Change language / Schimba limba:

Română
This is the easiest vegan chocolate cheesecake you can make! No-bake, the preparation takes less than 15 minutes and has an incredibly rich chocolate taste and mousse-like texture that melts in your mouth! Give it a try!
Just 4 ingredients. Yes. This is all you need to make this decadent vegan chocolate cheesecakes! This is the easiest vegan chocolate cheesecake recipe I've ever made and by far the best one! The cream is so rich, chocolatey and has an incredibly smooth, mousse-like texture. It simply melts in your mouth!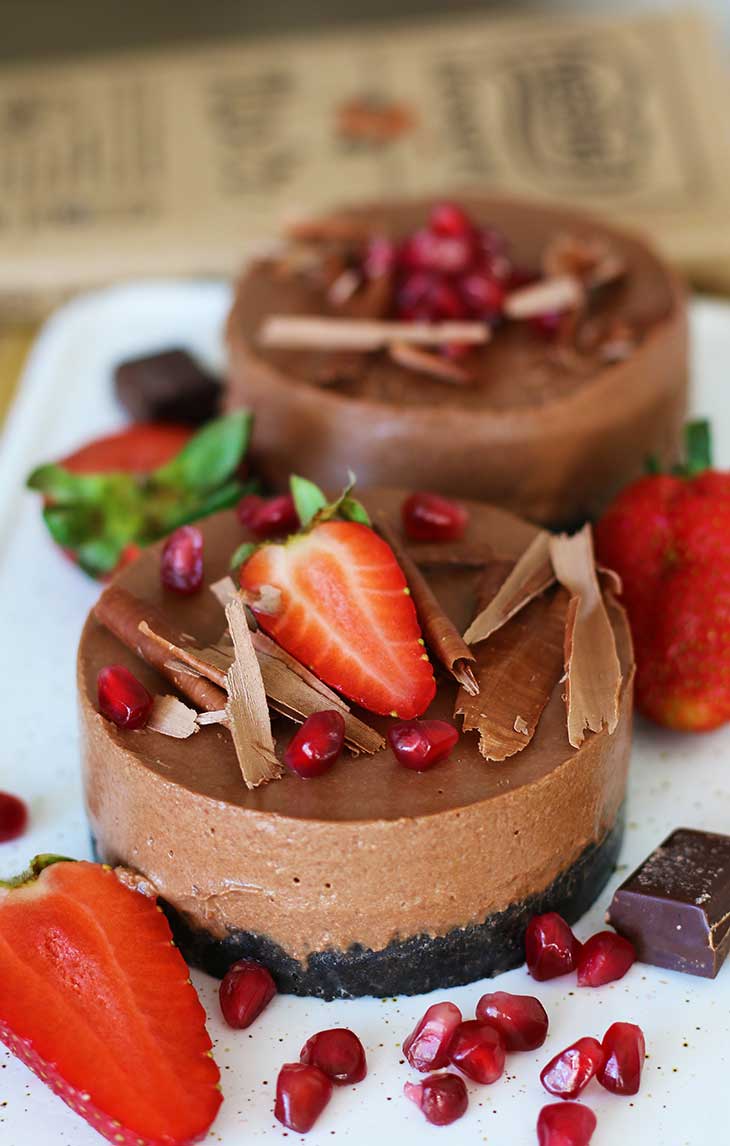 There's no baking required. Just mix some ingredients, put it in the fridge for a couple of hours and that's it. Serve this spectacular vegan chocolate cheesecakes and your guests will be impressed!
For this recipe, I used the Nestle Dessert Noir chocolate. I've heard about it before but this is the first time I tried it and I am impressed! Just like they say on the package, this truly is the best dark chocolate for making perfect desserts every time. It melts perfectly, has a very rich taste and the ideal smooth texture. I love it!
I'm thinking about using it to make some lava cakes too. What do you think? 🙂 Simple chocolate desserts are my favorite! What about you? What's your favorite chocolate dessert? Drop me a comment below!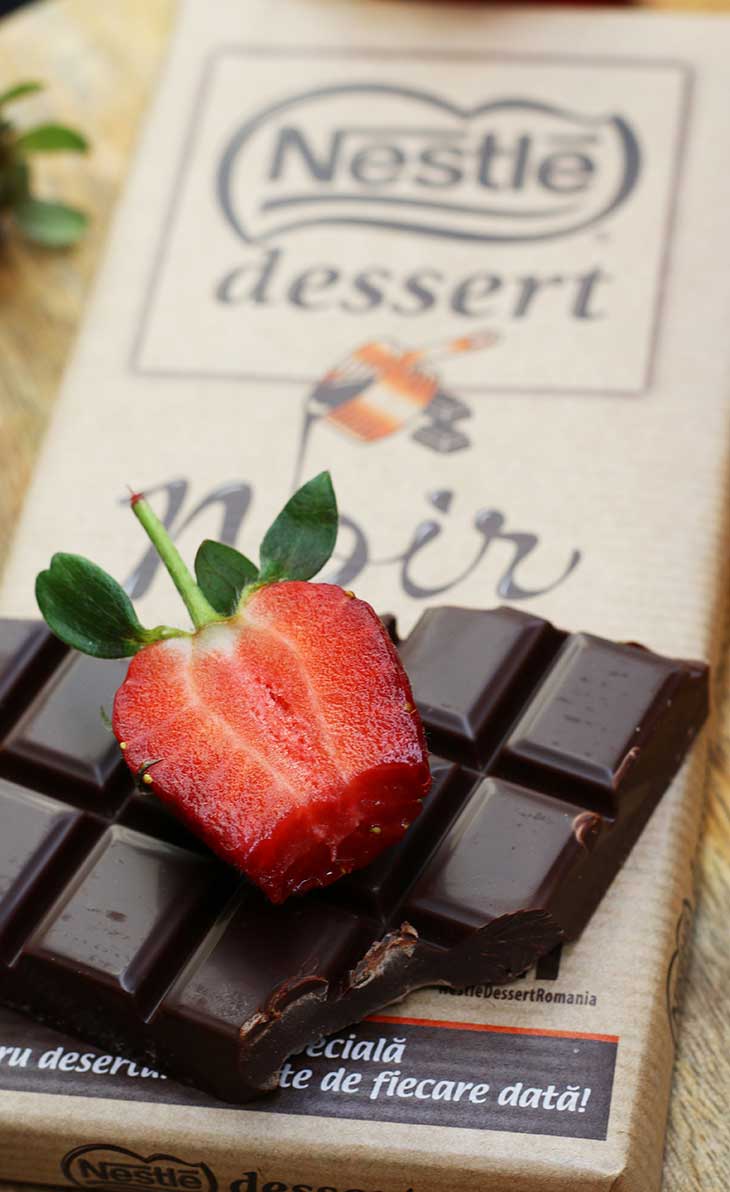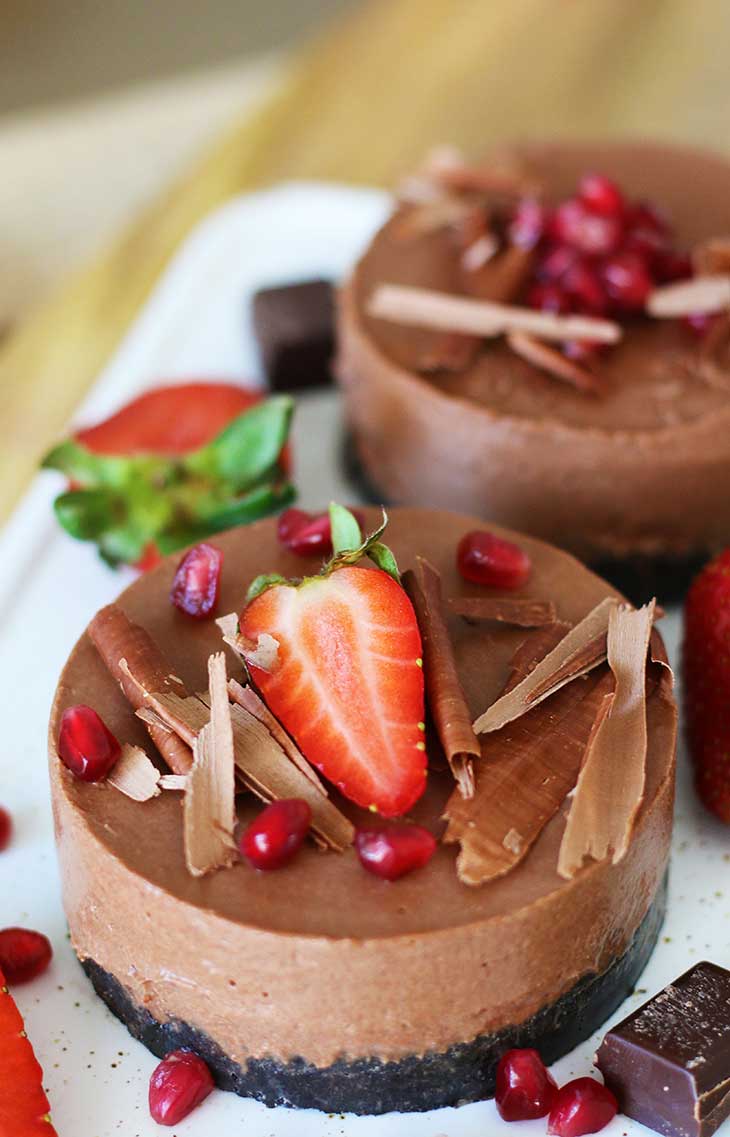 Vegan Chocolate Cheesecake – VIDEO RECIPE BELOW
Yield: 3 mini-cheesecakes (about 6 servings)
Vegan Chocolate Cheesecake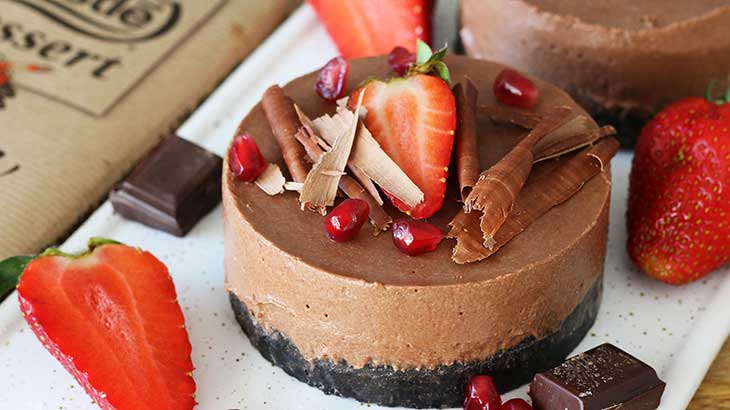 Ingredients
Crust:
120 g cocoa biscuits
3 Tbsps coconut oil or vegan butter, melted
Cream:
400 ml coconut milk , canned, full fat, the thick kind not the beverage
200 g dark chocolate , I used Nestle Dessert Noir
Topping:
berries of choice, chocolate, pomegranates, mint, whatever you like
Instructions
Put the biscuits in a food processor or blender and pulse 2-3 times until they have the consistency of breadcrumbs.
Move them to a bowl and pour the melted coconut oil or coconut butter. Mix.
In a large bowl, add the coconut milk. Mix well using a hand mixer, for about 5 minutes.
Melt the chocolate. You can simply melt it by putting it into an oven-proof bowl and placing it into the heated oven.
Pour the melted chocolate over the coconut milk. Mix well.
Use some mini-cake tins or metal rings like I did (See video above). Place these on a plate and add 2-3 tablespoons of the crust mixture. Press it gently on the bottom.
Pour in the chocolate cream.
Place in the fridge for 1-2 hours, until it gets firm.
Serve with strawberries, pomegranates and more chocolate on top.
Nutrition Information
Yield
3
Serving Size
1 grams
Amount Per Serving
Unsaturated Fat

0g