Here's how to make a quick and easy vegan Pad Thai. Enjoy a flavorful, vibrant Asian meal in under 30 minutes!
The journey through the amazing Asian cuisine and the exploration of the most popular Asian recipes for this year's challenge continues with this delicious vegan pad thai recipe.
Pad Thai is a world-known recipe, originating from Thailand. Pad Thai means stir-fried in Thai and it's basically a vibrant, colorful, flavorful stir-fry with noodles, lots of veggies and meat in most cases.
Of course, I made the vegan version with bean sprouts, peas, yummy sriracha sauce and rice noodles. It was delicious and the best thing about this meal is that it's ready super-fast, like most other stir-fry recipes.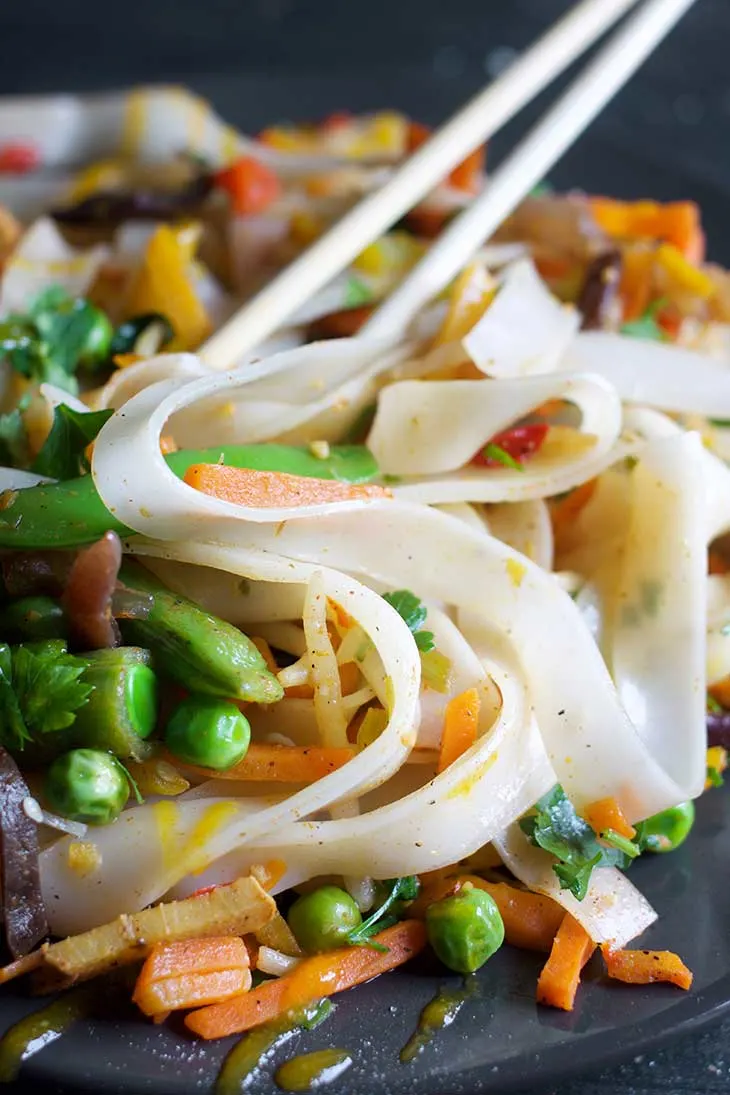 Did you know that pad thai is listed at number 5 on the list of World's 50 most delicious foods readers' created by CNN Go in 2011? This awesome dish increased in popularity during World War II when it was a shortage of rice in Thailand and now is one of the most popular recipes of the Thai cuisine. Pad Thai is served as a street food at almost every corner of the street. It is promoted as a cheap and healthy dish.
I love Pad Thai with wood ear mushrooms. These are usually sold dry and you can rehydrate them. They have an awesome texture and I always have some brown wood ear mushrooms in my pantry to add in the stir-frys I'm making. Besides being delicious, they also have some great health benefits, being used in alternative treatments for lungs, stomach and liver problems, according to the Institute of Chinese Medicine.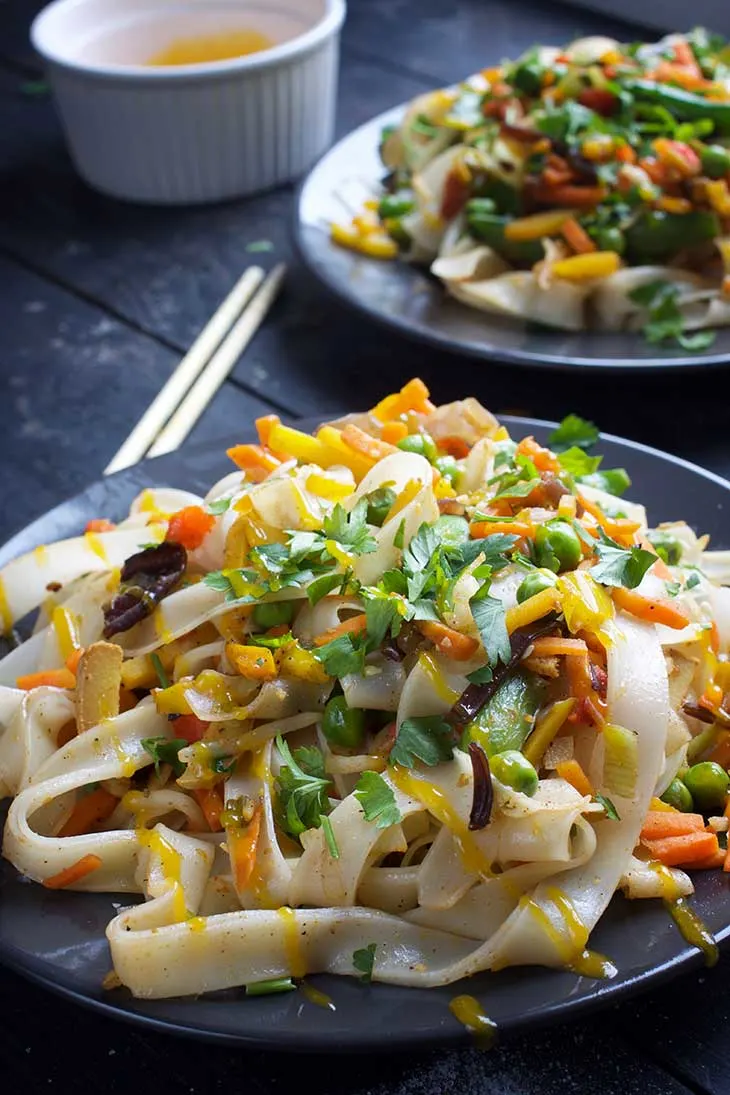 For me exploring the Asian cuisine through "veganized" recipes is a wonderful way of discovering new ways of cooking, interesting ingredients and unique flavors. I hope you enjoyed this journey too. In 5 days I will end this month's Asian cooking challenge and proceed to the next one – Middle Eastern cuisine. Can't wait! I have so many new recipes I want to test. Stay tuned. 🙂
P.S. If you're looking for other delicious vegan stir-fry recipes, check out my macrobiotic stir-fry and vegan lo mein recipes. 🙂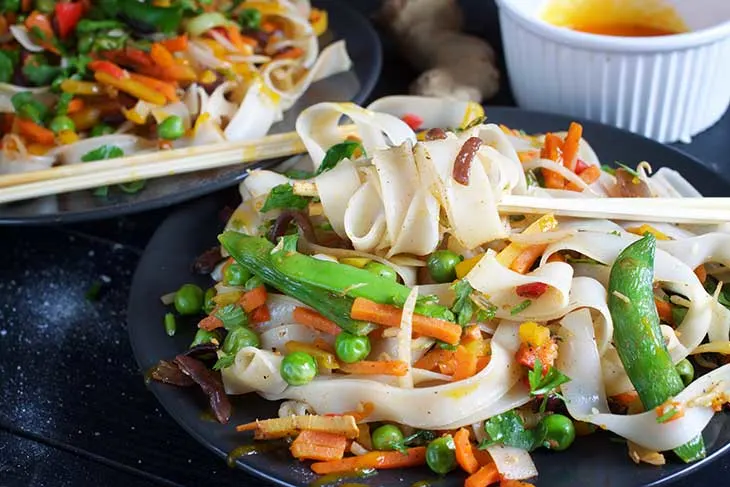 Hope you'll like this vegan pad thai recipe! Don't forget, if you give my recipes a try, take a photo and tag me on Instagram @gourmandelleblog and use the hashtag #gourmandellerecipe. I will feature you on my Facebook page and/or Instagram Stories! 🙂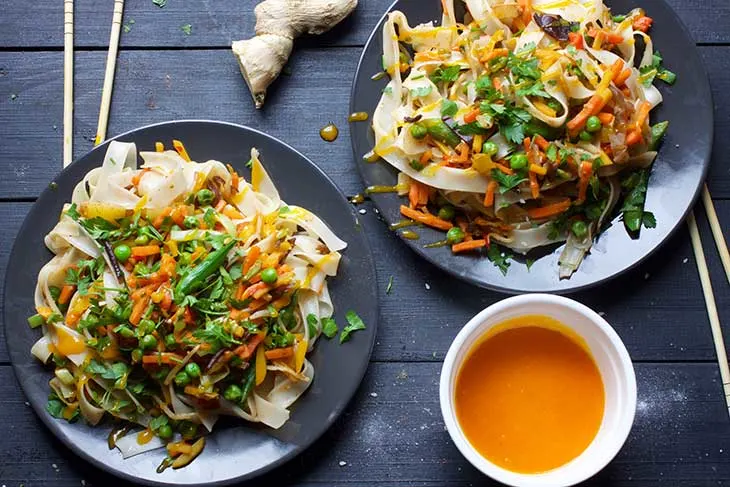 Here's how to make a quick and easy vegan Pad Thai. Enjoy a flavorful, vibrant Asian meal in under 30 minutes!
Ingredients
1 large carrot, julienned
½ onion, julienned
½ bell pepper, julienned
10g (⅓ cup) wood ear mushrooms, hydrated and sliced
70g (½ cup) green peas
100g (1 cup) rice noodles
25g (⅓ cup) bean sprouts
some fresh parsley, chopped
1 garlic clove
For the sauce:
2 Tbsp soy sauce
1 Tbsp Sriracha
1 Tbsp lime juice
1 Tbsp oil
1 Tbsp brown sugar
Instructions
Soak the rice noodles and wood ear mushrooms in hot water until fully hydrated.
In a wok pan, heat some oil over medium-high heat. Sauté the onions, bell pepper, green peas, garlic, and carrots for 5 minutes.
In a small bowl, mix the sauce ingredients and pour over the veggies in the wok.
Slice the wood ear mushrooms once they're hydrated and add them to the wok.
Add the rice noodles, bean sprouts and continue to stir-fry for a couple of minutes more.
That's it! When serving, sprinkle with chopped parsley and some extra sriracha. You can also use sesame seeds, roasted peanuts, and chili pepper flakes.
Nutrition Information
Yield
2
Amount Per Serving
Calories

553
Total Fat

9g
Carbohydrates

104.3g
Protein

13.3g