Change language / Schimba limba:

Română
This fresh apple cake recipe is moist, full of strong flavors and most importantly, extremely easy to make! Just mix and bake!
What to do with 20kg of golden apples? Juice them? Sure… but when you have a slow juicer you know that it's very important to have crisp, juicy fruits instead of extra-ripe ones. If you use very ripe fruits you'll end up with a thick smoothie rather than a juice.
So, that's what I did. I slow-juiced over 20kg of golden apples, drank part of them as smoothies, made a crazy-good applesauce (I have enough applesauce in my pantry to last me for an eternity :)) ) and the rest I used for this delicious fresh apple cake, which I already made three times by now.
When I got the idea to make this recipe, I actually wanted to make a sponge cake with an apple filling, but because I added a lot of apple smoothie in it, it transformed in an extra-moist, delicious fresh apple cake.
So I used my go-to recipe for sponge cakes as a base for this recipe and turned it into something even more delicious! This dessert was so much better than I expected! It melts in your mouth, it has a sticky-sweet coating (because I sprinkled some brown sugar on top of it) and smells amazing!
I made this fresh apple cake gluten-free too, using Mix It! from Schar. If you're not a celiac and don't have gluten sensitivity either, you can use regular flour as well.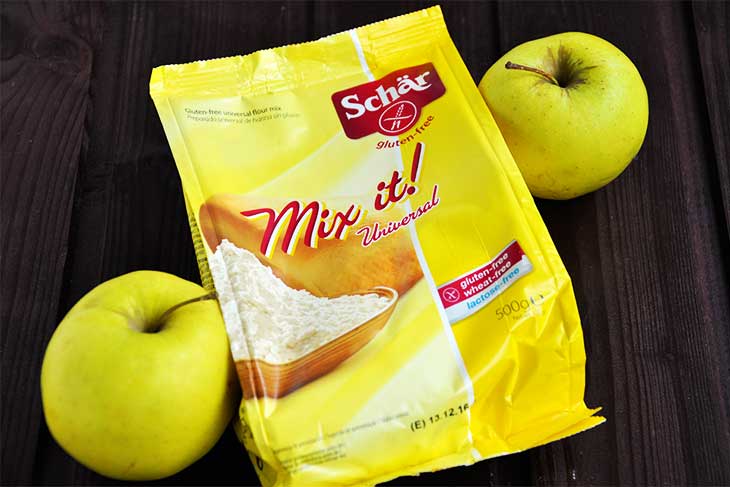 I hope you'll give it a try. 🙂 This fresh apple cake recipe is really easy to make. If you don't have a slow juicer, you can use a blender as well, in order to make the apple puree/thick smoothie. For the slow juicer, I just cut each apple in 4 and juiced them using the smoothie option which leaves in more pulp. I can't remember exactly how many apples I used because I juiced 20kg at once, but for 700ml of apple smoothie, I think 2kg should be more than enough. Alternatively, if you use a blender, remove the apple cores and chop the apples before blending. This will help you create a smoother puree. Add a little bit of water too.
Don't forget to leave me a comment if you'll give this a try. I'd love to hear from you! 🙂
Try now the recipe for fresh apple cake!
Yield: 12
Fresh Apple Cake
This fresh apple cake recipe is moist, full of strong flavors and most importantly, extremely easy to make! Just mix and bake!
Ingredients
100 g brown sugar + 30g for coating
700 ml apple puree/smoothie, made from very ripe golden apples
4 eggs, whites and yolks separated
1/2 Tbsp cinnamon
1 Tbsp rum
10 g baking soda
1/2 Tbsp vanilla extract
4 Tbsps sunflower oil
a handful of raisins
Instructions
Whisk egg whites in a large bowl., until stiff.
Separately, whisk egg yolks until creamy and mix them with sugar, oil, vanilla and rum.
Slowly add flour and baking soda into the egg whites bowl. Blend in using a spatula.
Add the egg yolk mix and blend some more.
Add apple puree and raisins. Mix.
Cover a ceramic pan with some parchment paper. I used a 35x20cm pan. Grease it.
Pour in the composition.
Sprinkle brown sugar on top.
Heat oven at 180C/375F.
Add the pan in the oven and let it cook for about 35 minutes. Turn off the oven and let it cool inside.
Cut and eat when it's at room temperature.
Nutrition Information
Yield
12
Serving Size
1 grams
Amount Per Serving
Unsaturated Fat

0g