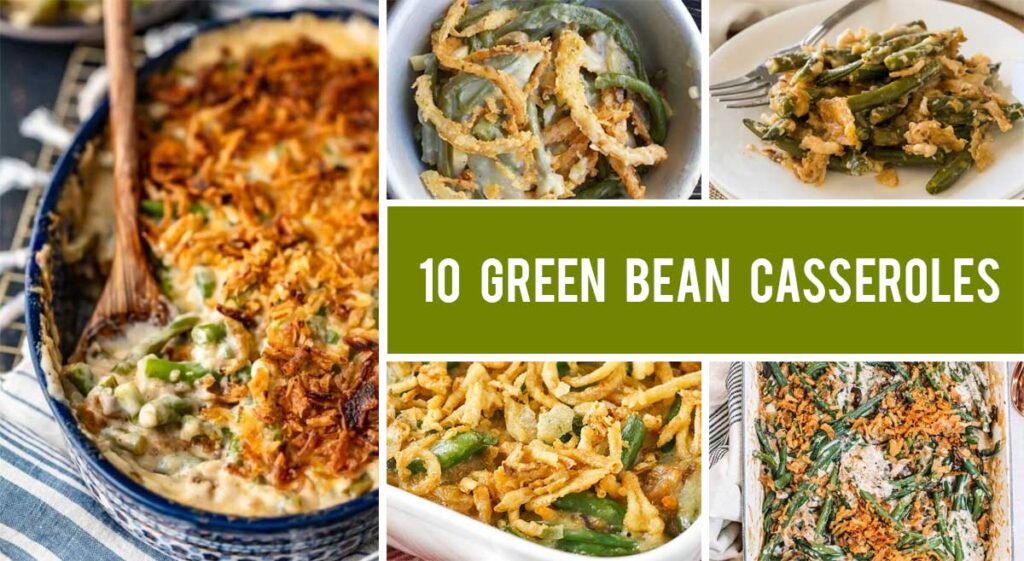 Looking for some comforting casseroles to lift up your mood? Here are 10 green bean casserole recipes that are definitely NOT boring!
A green bean casserole, the quintessential Thanksgiving side dish, is so much more than a pile of mushy vegetables and canned cream of mushroom soup.
A green bean casserole is one of those dishes that are so easy to make, you almost don't need a recipe. It's creamy and comforting, and it's been around for decades.

The dish has become an iconic part of American cuisine and I think we can all agree that a green bean casserole is always delicious — and with these 10 recipes for making your own delicious versions at home, you'll have plenty to choose from next time you're craving a little something special during the holidays!
A green bean casserole is a dish that is traditionally served at Thanksgiving or Christmas time. It's a casserole made with green beans, cream of mushroom soup, and French-fried onions. In short, it's a classic side dish!
But why do people love green bean casserole so much? Well, for one thing, it has two ingredients that many people consider to be comfort food: cream of mushroom soup and green beans. Add some fried onions on top, and you have yourself a pretty tasty side dish that almost everyone loves!
A green bean casserole is an all-time classic, and it's easy to make. It's also good for serving your guests because you just can't go wrong with the ingredients — it's a crowd pleaser!
Fresh green beans are best, but frozen will work too. You can make your own cream of mushroom soup or use store-bought; if you're using store-bought, look for one without MSG (monosodium glutamate).
MY TIP: If you are having trouble finding canned cream of mushroom soup in your grocery store, you can always make your own. It may take longer, but it's definitely worth it!
Alternatively, you can also try adding cheese to your casserole or using bread crumbs instead of fried onion for an extra crunchy twist on this recipe. For an extra garlicky flavor boost, add some garlic powder or freshly chopped garlic cloves!
The original version of green bean casserole was invented in 1955 by the Campbell Soup Company. The company wanted to promote canned green beans and created this recipe as a side dish for Thanksgiving dinner.
However, many people have tried to make this dish their own by adding different ingredients, such as cheese and bacon.
A green bean casserole can be an excellent addition to any meal, but there are a few occasions that are better than others. You should absolutely make this dish for Thanksgiving, Christmas, and other holiday dinners. You can also make it anytime you want a warm and comforting meal.
If you have leftover green beans from another dinner (or if you just want to use up some leftovers), consider making green bean casserole! It's a great way to get rid of those extra veggies in your fridge.
If you're looking for a new way to enjoy green beans, this is it! The creamy, cheesy sauce is delicious and will make your taste buds dance. You'll never want to eat plain green beans again after trying this dish.
If your family loves green bean casserole (or if they've never tried it), tell them about this recipe — it'll be sure to become one of their favorites! And if you decide to give it a try, make sure to choose from one of the hand-picked green bean casserole recipes below. Regardless of what you'll choose, I'm sure you'll love it. These green bean casseroles are a great way to add some new flavor and variety to your holiday meal. They're also delicious in their own right, so don't be afraid to serve one up just because it's not Christmas!
Happy cooking! 🙂
10 Green Bean Casserole Recipes That Are Definitely NOT Boring
Looking for some comforting casseroles to lift up your mood? Here are 10 green bean casserole recipes that are definitely NOT boring!