This is the basic raw vegan halvah (halva) recipe – world-known oriental dessert, made healthy and raw! The taste and texture are almost the same as for the real halvah recipe!
I've been making more and more raw vegan dessert recipes lately. I stopped eating unhealthy sweets and replaced them with delicious raw vegan desserts. What I love about raw vegan desserts, is that they're not only 1000 times more delicious, but they're healthy too! Last week I craved for something sweet and decided to make the world-known oriental dessert – halvah (halva) – in a raw vegan version.
If I tell you that you'll only need 3 ingredients for this recipe, will you believe me? Yes, it's that easy! And the prep part takes only 10 minutes! This is the basic recipe for raw vegan halvah dessert. You can experiment and maybe add other ingredients, like chopped pistachios, dried fruits, and spices! The possibilities are endless!
Hope you'll like it!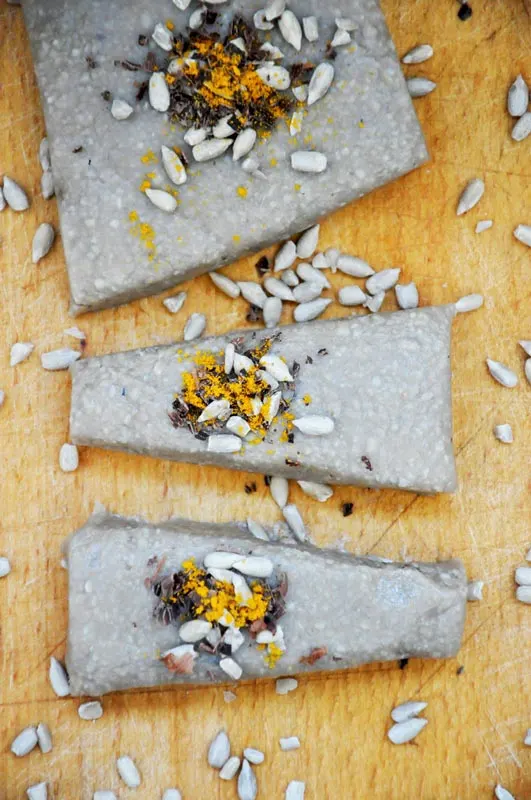 Yield: 6 servings
Basic Raw Vegan Halvah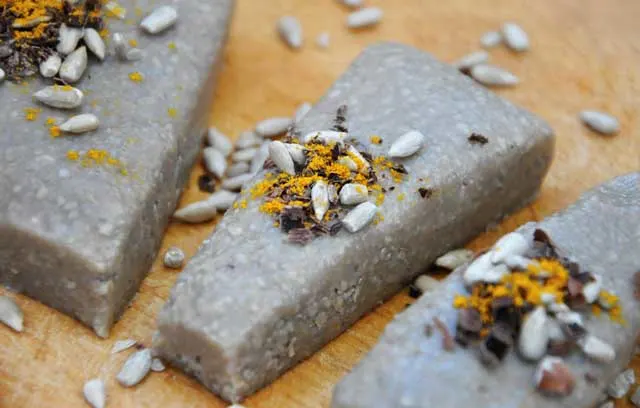 Basic raw vegan halvah (halva) recipe – world-known oriental dessert, made healthy and raw!
Ingredients
200g raw sunflower seeds
3 Tbsps healthy sweetener of choice, I used honey, but you can use agave or maple syrup
2 Tbsps coconut or cocoa oil, left at room temperature to reach a creamy consistency
1 Tbsp tahini
½ Tsp vanilla extract, optional
Instructions
Put the raw sunflower seeds in your blender and blend well until they have a flour consistency.
Add the other ingredients and pulse until well blended together.
Cover a form (I used a rectangle tart form) with a plastic wrap. Add the composition and spread evenly.
Put the halvah in the fridge and leave it there for at least 40 minutes.
Notes
Note: The raw vegan halva will have a more creamy and moist consistency, than the classic halvah recipe. This didn't bother me at all. It is easy to slice and its taste is very similar to the real halvah dessert.
Nutrition Information
Yield
6
Amount Per Serving
Calories

266
Total Fat

19g
Carbohydrates

16g
Protein

7.4g