Are you looking for a super quick recipe that will offer you a quick fix for those extra busy days? You're in luck! Here's how to make 15-minutes quinoa fried rice!
This is a recipe for busy times! 🙂 We all have those crazy weeks when we feel like we don't even have time for breathing. This is a really vulnerable time for our dietary habits, as the first idea that pops into our heads in days like this is fast food or takeaway. But that's either unhealthy, either expensive or both.
I don't know how it happens for you, but whenever I eat at a fast-food or get some takeaway food, I feel terrible afterward. I feel like I've made a decision without putting too much thought into it, and I end up with some food I didn't even want or like!
It took me some time, but I did come to realize that those are not the only two options available. But when that happened, it was a revelation! There are actually plenty of super quick recipes out there, both delicious and healthy!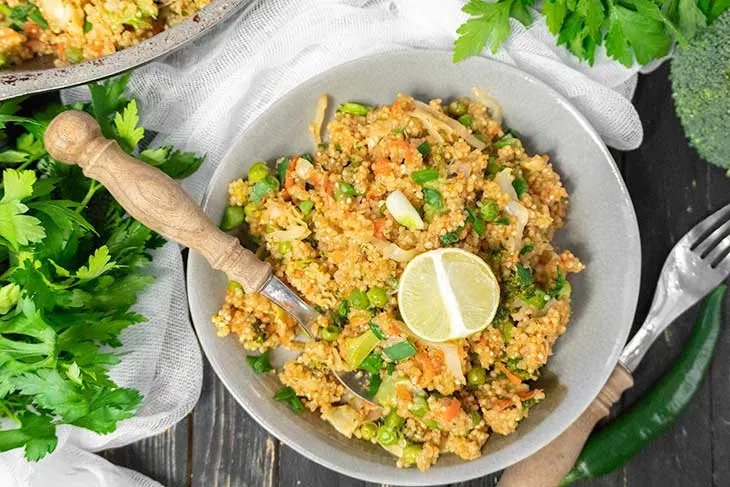 For example, today we are going to prepare a 15 minutes quinoa fried rice. 15 minutes! That's less than waiting for your takeaway to arrive and probably less than driving to the nearest fast food! It's something that is really ready in no time, and on top of that, it is both super nutritious, giving you a much-needed energy boost to get you through the busy, busy times! 🙂
This recipe turns out so delicious, that you will probably end up making it quite often. And that's no wonder, since it's so convenient AND delicious. It is a great alternative to fried rice, which you've probably got a little tired of. Don't get me wrong – I love rice and it's super easy to use in a lot of recipes, but I can get tired of it. And besides, it's not that nutritious. Quinoa, on the other hand, has quite some health benefits!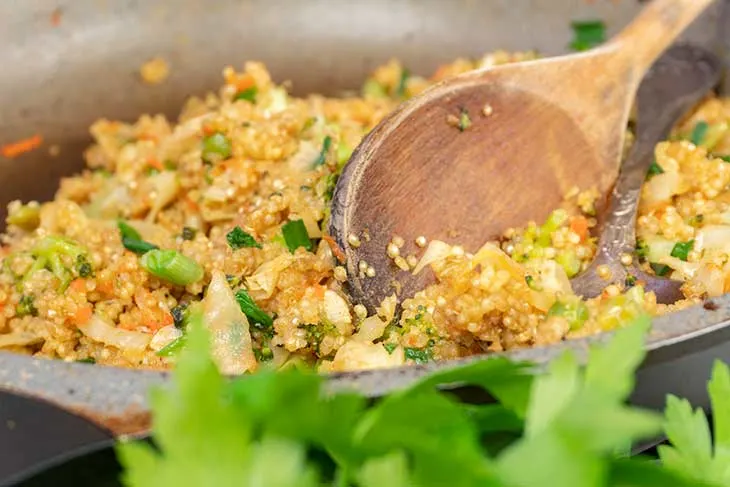 Here's what we know about quinoa. It's a grain-like seed that has been consumed by humans for thousands of years! The Incas were the first to cultivate it and they used to call it "the mother grain". Here are some health benefits for quinoa:
It's a great source of protein! Quinoa is a complete protein, meaning it is one of the few proteins that contain all nine essential amino acids.
Quinoa contains twice the protein most of the other grains contain. This means that it's super good for digestion!
Lots of Iron. Iron is a key ingredient for our circulatory system, helping with blood oxygenation and even boosting brain energy.
Quinoa is high in Magnesium, which helps lots of our body functions. Among others, it relaxes the blood vessels, helping relieve migraines.
It is high in B2 vitamins. Riboflavin, also known as B2, improves energy metabolism within the brain and muscle cells. Great for fighting fatigue and stress!
Manganese. Quinoa is high in manganese, which is an antioxidant that prevents cell damage.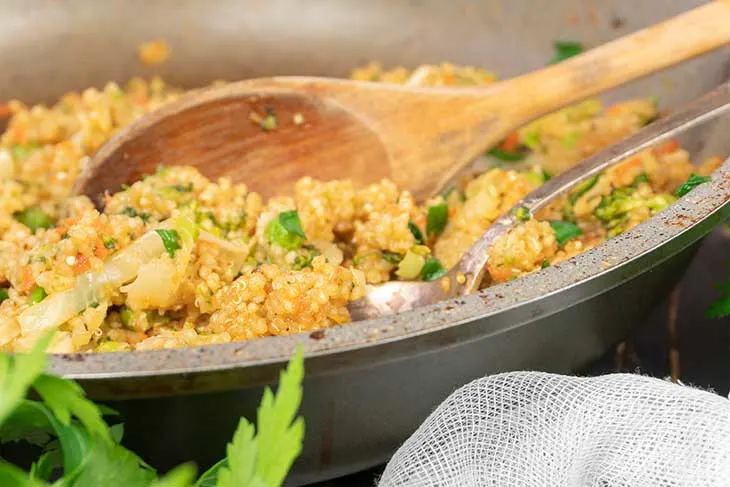 As you can see, there are quite a lot of benefits of quinoa consumption! This makes this recipe a complete win! 🙂
Not only is it ready in 15 minutes, it is also a super healthy and nutritious vegan meal. Because besides the quinoa, we are going to add, of course, other stuff. Just imagine the nutritiousness of the quinoa combined with lots of veggies!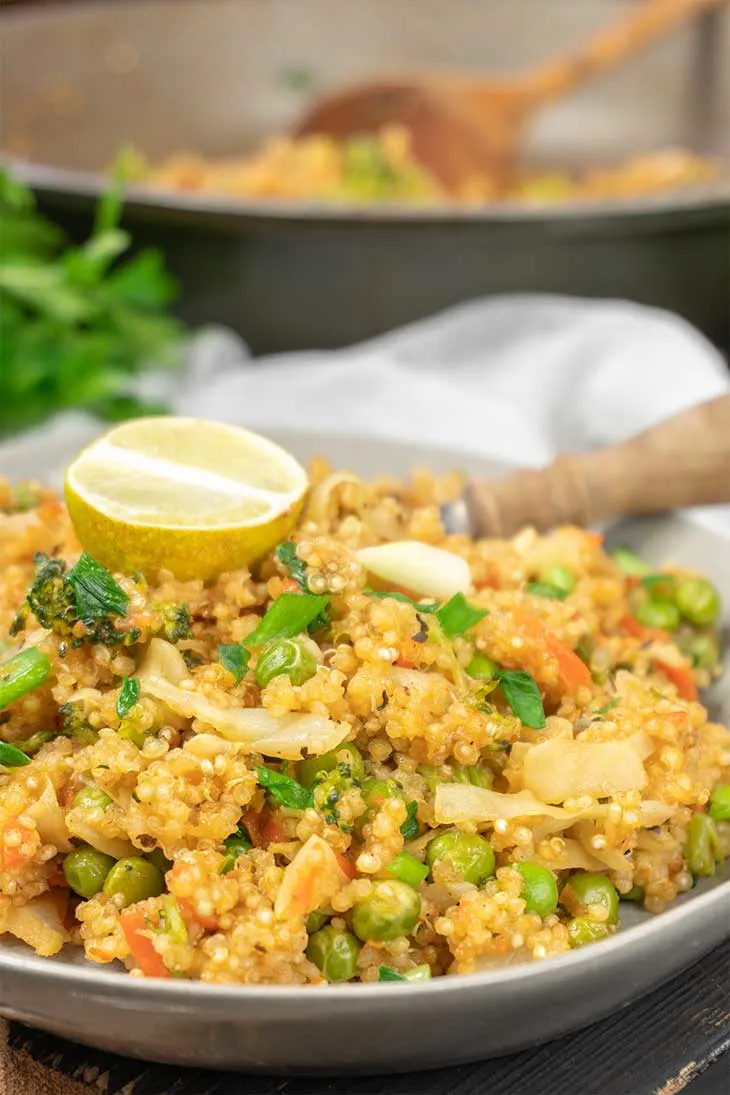 When I created this recipe, I had in mind maximum efficiency. I wanted to be quick, healthy, nutritious and tasty. And I think I got it right. It's so good I could eat it at any time. And I think that you will enjoy it too. But this recipe is completely adaptable to your taste. If you feel that one ingredient is not really your cup of tea, you can skip it. Or if you feel that there are some other veggies that could go with this fried quinoa recipe, throw them in there!
I am positive that this recipe will turn out great for you. A recipe that's this easy doesn't need much intro, so without further descriptions, let's head to the kitchen!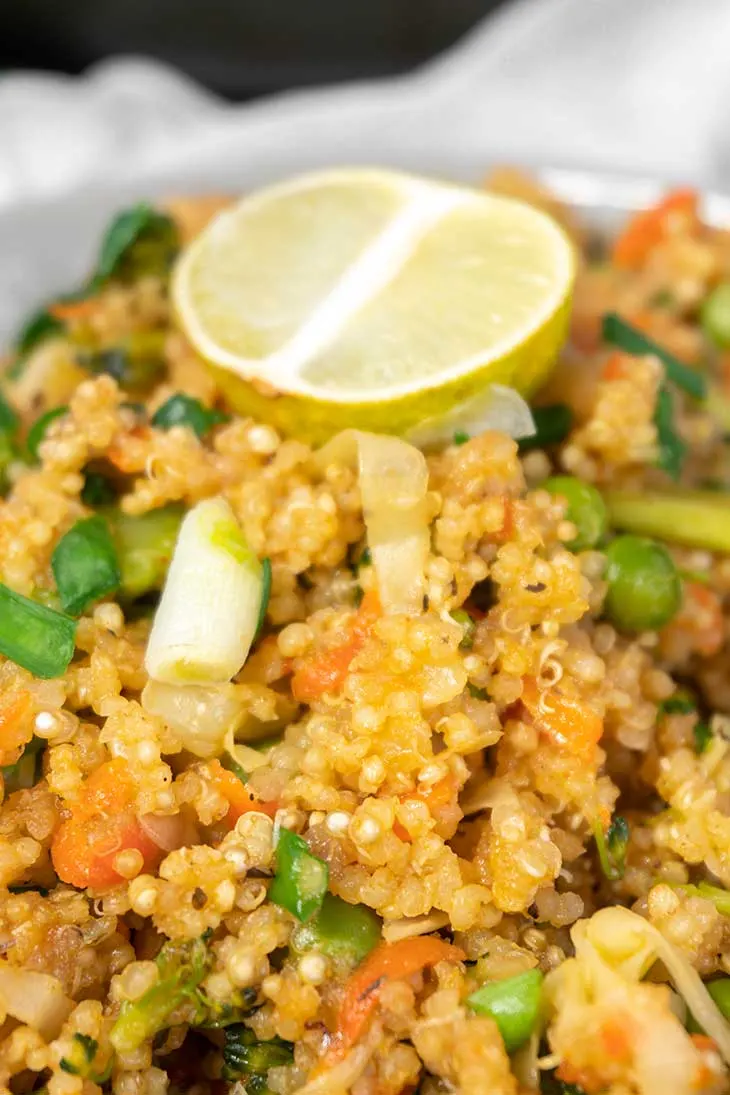 Gather the ingredients, which you most probably have already in your cupboard, and let's start! And when you are done, don't forget to leave a comment and tell me how you liked it! As you know, I am always eager to hear from you!
---
Personalized meal plans and workout videos | Get your customized meal plan today! [x_button shape="square" size="mini" float="none" target="blank" href="https://shop.gourmandelle.com/?utm_source=mainsite&utm_medium=site&utm_campaign=inpost" info="none" info_place="top" info_trigger="hover"]I WANT A MEAL PLAN![/x_button]
---
Yield: 1
15-Min Quinoa Fried Rice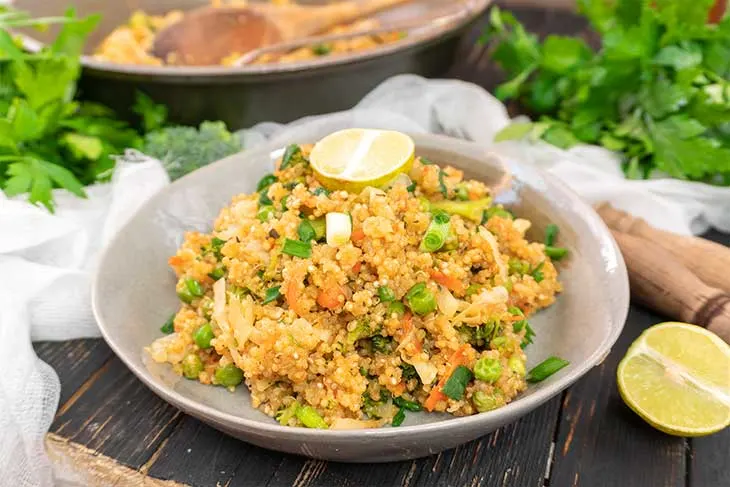 Are you looking for a super quick recipe that will offer you a quick fix for those extra busy days? You're in luck! Here's how to make 15-minutes quinoa fried rice!
Ingredients
190g (1 cup) quinoa
360ml (1 ½ cup) veggie broth
70g (½ cup) frozen peas
60g (⅔ cup) cabbage, chopped
½ medium carrot, chopped
50g (½ cup) broccoli, chopped
2 green onions, chopped
2 garlic cloves, minced
3 Tbsp soy sauce
1 Tbsp olive oil
salt & pepper
Instructions
In a pan, add the olive oil and garlic.
Heat up together.
Add the carrot and cabbage, season with salt and pepper.
Cook for 3-5 minutes, stirring constantly.
Add the peas, broccoli, and quinoa.
Stir until the quinoa absorbs all the liquid, for about 1 minute.
Add the veggie broth, cover, lower the heat to low and simmer for 15 minutes.
Remove from heat, add the soy sauce and cover back up for another 2-3 minutes.
Add the green onions before serving.
Nutrition Information
Yield
1
Amount Per Serving
Calories

552
Total Fat

17g
Carbohydrates

77.7g
Protein

21.7g