Have you ever tried making gnocchi before? It's so easy! But here's a new take on the classic recipe: vegan cauliflower gnocchi with spinach!
This recipe is going to turn your day straight into a complete delight! I don't know what time of the year you are going to be reading this and (hopefully) preparing this recipe, but whatever it may be, this recipe will be hit!
Holidays are a time of the year when we let ourselves make a couple of bad choices health-wise. We ease up with the exercising and the food we eat is not exactly junk but it sure is heavy, quite fatty and overall somewhat unhealthier than what we usually eat. So January and February are a time for getting our healthy habits back. And the recipe that I prepared for you today will help you achieve exactly that! 🙂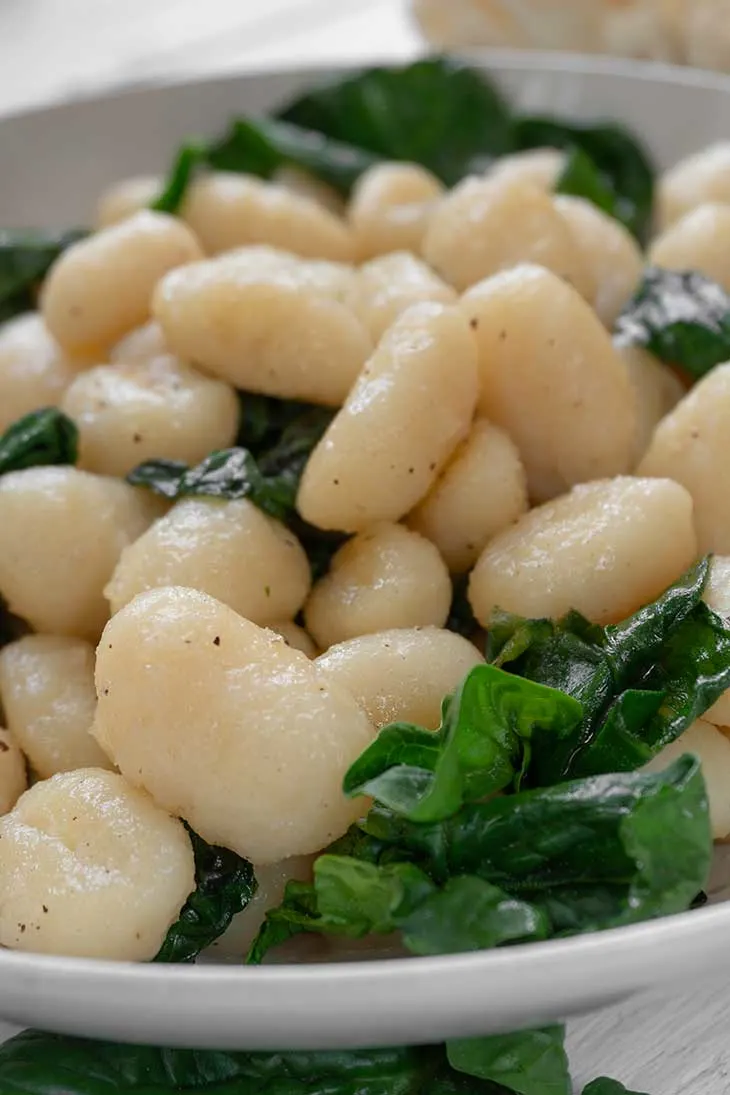 Today we are going to learn how to make the tastiest and the best vegan cauliflower gnocchi with spinach! It's a recipe that will surely win you over!
Maybe you're somehow reticent when it comes to making foods out of different foods (in this case, gnocchi out of cauliflower). But just trust me with this one, because the result is really surprising. I made gnocchi with wild garlic before and they were amazing, but these ones are something different! The taste is absolutely fabulous, while the texture is still chewy and nice. Add the right sauce and spices and you will get yourself a meal that will be hard to forget.
What's even better is that this recipe is super quick, so you can totally prepare it during a working day and it won't take you too much of your time. Healthy, tasty and super quick – it's a win-win situation!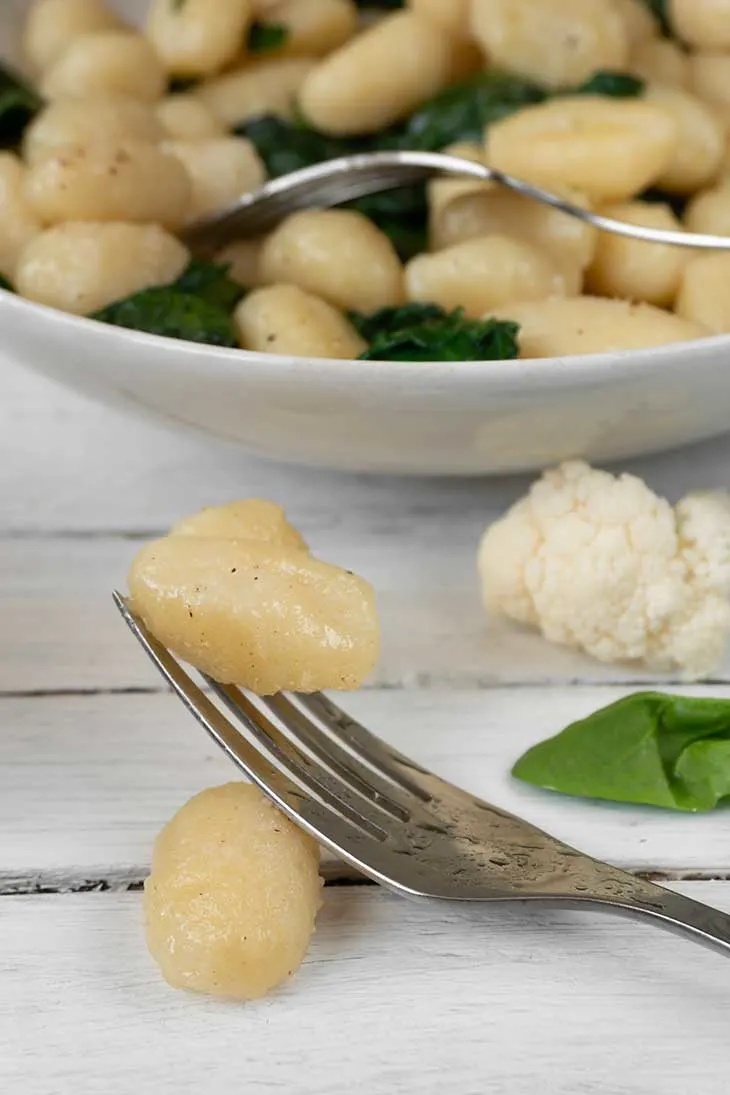 Now let's talk a little bit about gnocchi, these small bundles of joy and goodness. The history of gnocchi goes way back. Before Christ kind of all back! What we know for sure is that gnocchi is a recipe with Italian roots.
The first written recipe for gnocchi comes from the first Century BC in Marco Gavius Apicius' cooking book The Re Coquinaria. Back then, gnocchi was made out of semolina flour combined with milk or water. They were then fried and seasoned with honey and pepper. Even like that, it sounds delicious to me! Actually, this ancient recipe is quite similar to what the contemporary Gnocchi Alla Romana looks like now.
I need to make a note on the fact that gnocchi is one of those foods that have dozens of variations across their homeland. So depending on the place in Italy you find yourself, it's likely that you will be served some different variation of gnocchi.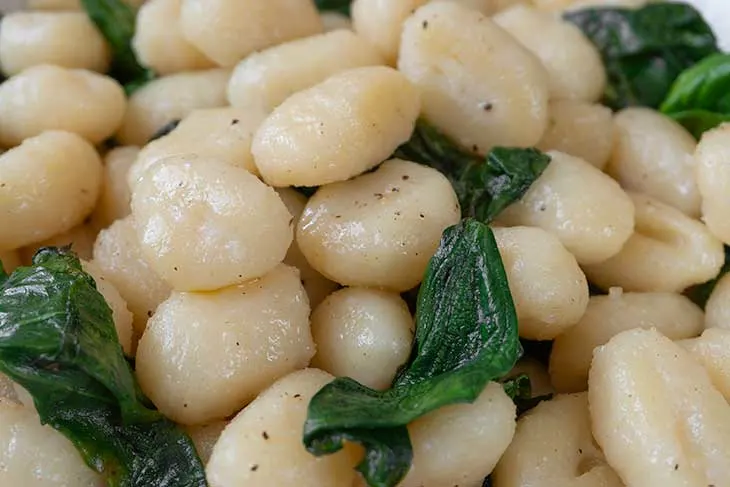 The most popular kind of gnocchi known abroad is potato gnocchi. But interesting enough, Italian gnocchi didn't contain potatoes up until the XVIII century. Fun fact: when the potato was first introduced in Europe around the XVI century, people strongly believed that it was the vegetable of the devil. Therefore, it was only used for animals and prisoners. Happily enough, potatoes are no longer a source of superstition and are widely available.
You've probably tasted yourself potato gnocchi and you saw how delicious and addictive they are. But today, I wanted to take things to a different level. Both tastewise and healthwise! And the result was this amazing recipe for vegan cauliflower gnocchi with spinach. No question about it, it's delicious! Once you try them, I am sure this recipe will become a regular in your kitchen!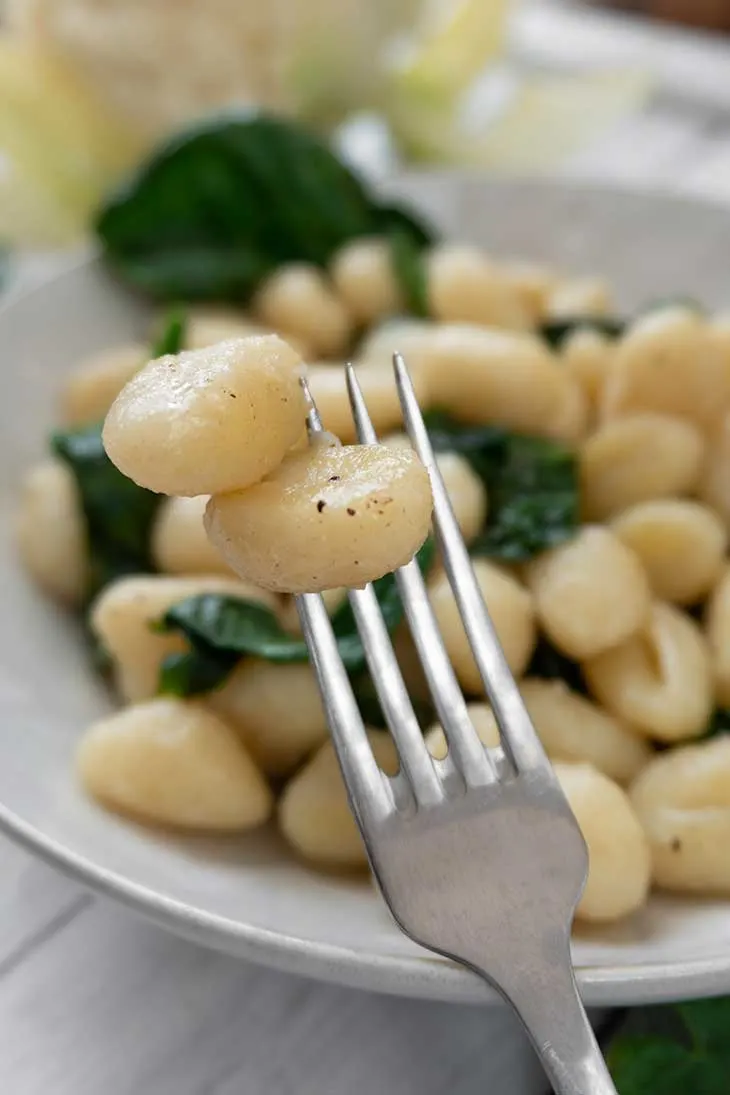 No matter the circumstances, this recipe is up for the challenge! It's 100% vegan, so you can enjoy it no matter what your food choices are. Moreover, you can safely swap regular flour for gluten-free flour and the result will be just as good.
And once you get the hang of how cauliflower gnocchi is made, you can experiment with them in many ways! You can try different seasonings and sauces and maybe invent your own recipe! Don't be afraid to have fun in the kitchen!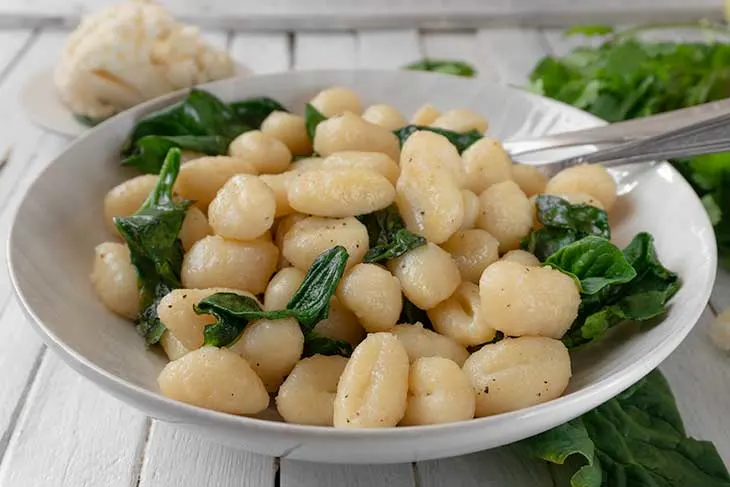 All this being said, I declare that it's time to start the cooking part. Luckily, that will be really short! Follow my instructions below and you will end up with the most amazing vegan cauliflower gnocchi with spinach. When you're done, don't forget to tell me how this recipe worked out for you! I am anxious to read all your comments about it!
Yield: 2
Vegan Cauliflower Gnocchi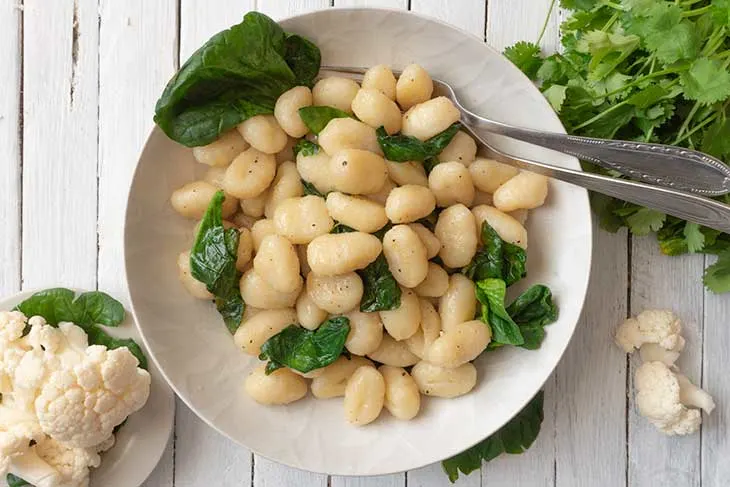 Have you ever tried making gnocchi before? It's so easy! But here's a new take on the classic recipe: vegan cauliflower gnocchi with spinach!
Ingredients
1 cauliflower
120g (1 cup) all-purpose flour
60g (2 cups) spinach
1 garlic head, minced
½ tsp salt
1 Tbsp olive oil
Instructions
Break the cauliflower into florets.
Boil or steam them it for 10 minutes (I steamed it).
Transfer to a clean towel and squeeze to get rid of as much moisture as you can.
Combine the cauliflower, flour, salt and olive oil in a food processor and blend until the dough is formed.
Knead the dough for 3-5 minutes.
Shape the gnocchi and roll them on a fork to create the lines.
Boil in well-salted water until they rise to the surface.
Heat the oil in a pan. Add the garlic.
Add the spinach and it until it gets soft.
Add the gnocchi and take off the heat.
Nutrition Information
Yield
2
Amount Per Serving
Calories

396
Total Fat

13g
Carbohydrates

55.3g
Protein

14.5g