Try the best Minestrone soup recipe and explore the authentic taste of Italian cuisine with a hearty soup combining fresh vegetables, beans and pasta.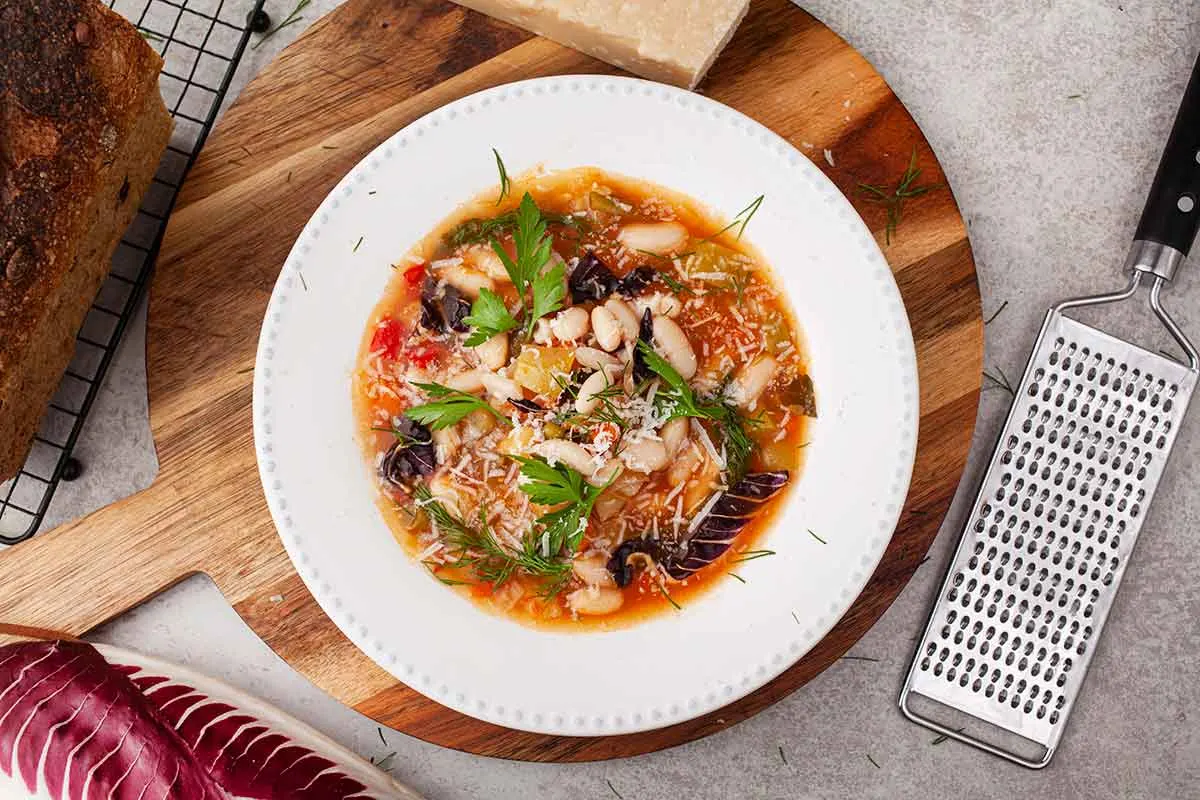 The origins and history of Minestrone soup
The origins and history of Minestrone soup are closely related to the culture and traditions of Italy, bringing an authentic touch to Italian gastronomy. This beloved soup has roots since the Roman period, when it was considered a food of the poor, because it used vegetables and locally available ingredients, without the need for expensive meat.
Over time, the Minestrone soup recipe developed and improved as various regions of Italy added their own specific ingredients, reflecting the diversity of their territories and agricultural resources. Thus, each region has developed its own style and variant of Minestrone, with characteristic vegetables and special spices.
Over the centuries, Minestrone soup has become a true emblem of Italian cuisine and has been appreciated both in Italy and throughout the world. Its savory taste, rich aroma and refined combination of fresh vegetables make this soup a symbol of Italian joy and hospitality.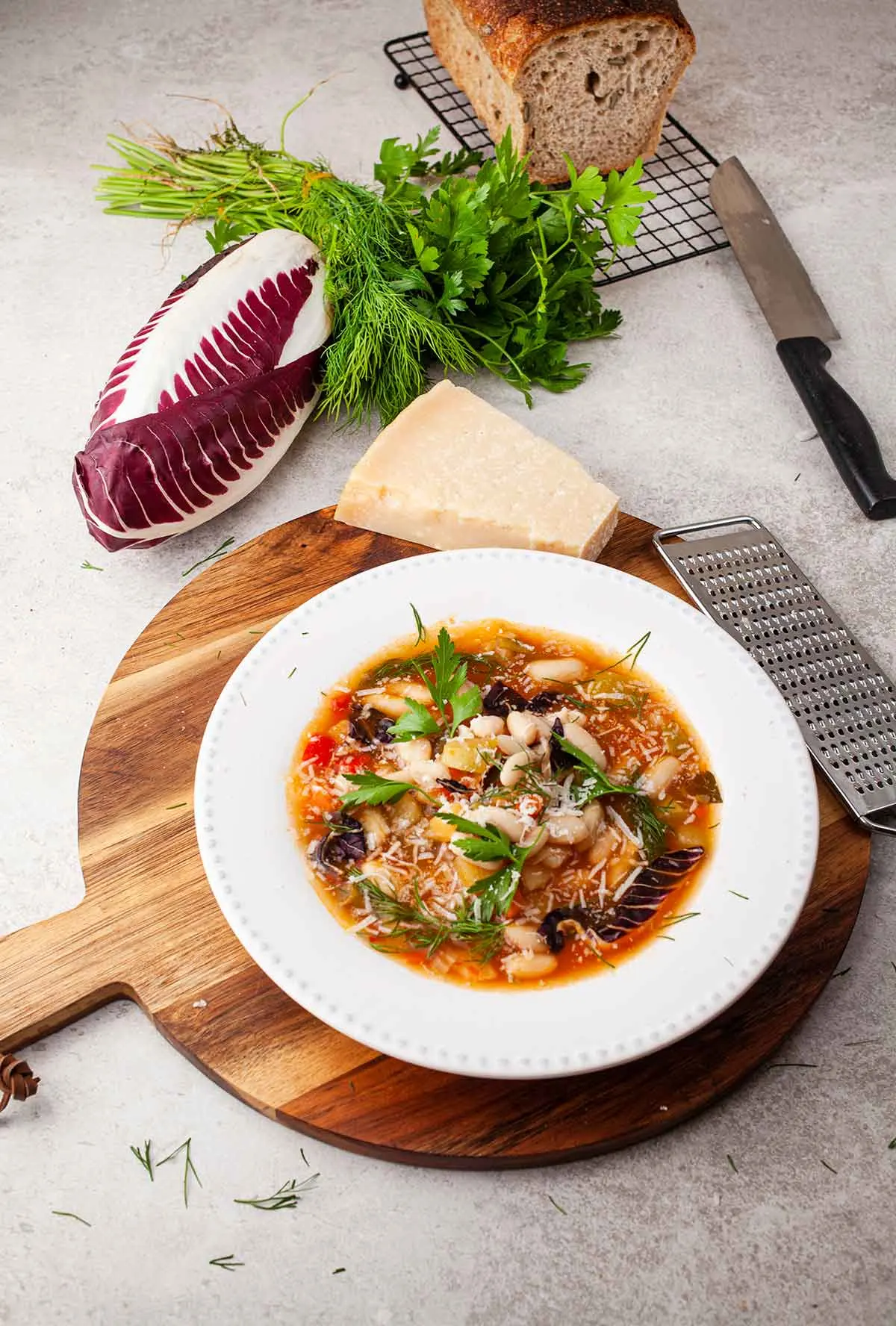 Ingredients
What makes minestrone soup, minestrone? Minestrone soup is a traditional Italian dish, known for its variety of vegetables and legumes, but also for its rich flavors and consistency. There are several distinctive features of this recipe:
Varied mix of vegetables: Minestrone soup contains a variety of vegetables, such as tomatoes, carrots, zucchini, green beans, peas, celery, potatoes and others. These vegetables give the soup a rich texture and a variety of flavors.
Legumes: Another important characteristic of Minestrone soup is the presence of legumes, such as beans, lentils or peas. They add proteins and nutrients, and their texture contributes to the consistency of the soup.
Pasta or rice: Minestrone soup can also contain pasta or rice, which add carbohydrates and give the soup a thicker consistency.
Tomato sauce: Minestrone soup is usually based on a tomato sauce or tomato paste, which gives the soup a vibrant color and a delicious tomato taste.
Spices and herbs: Spices and aromatic herbs, such as thyme, oregano, basil and bay leaves, contribute to the intense and characteristic flavors of Minestrone soup.
Grated parmesan and fresh parsley: Minestrone soup is often served with grated parmesan and fresh parsley leaves, which complement the taste and add extra flavor.
All these combined elements make Minestrone soup a kind of comforting food, full of authentic flavors and nutrients, being a delicious and filling option for any occasion.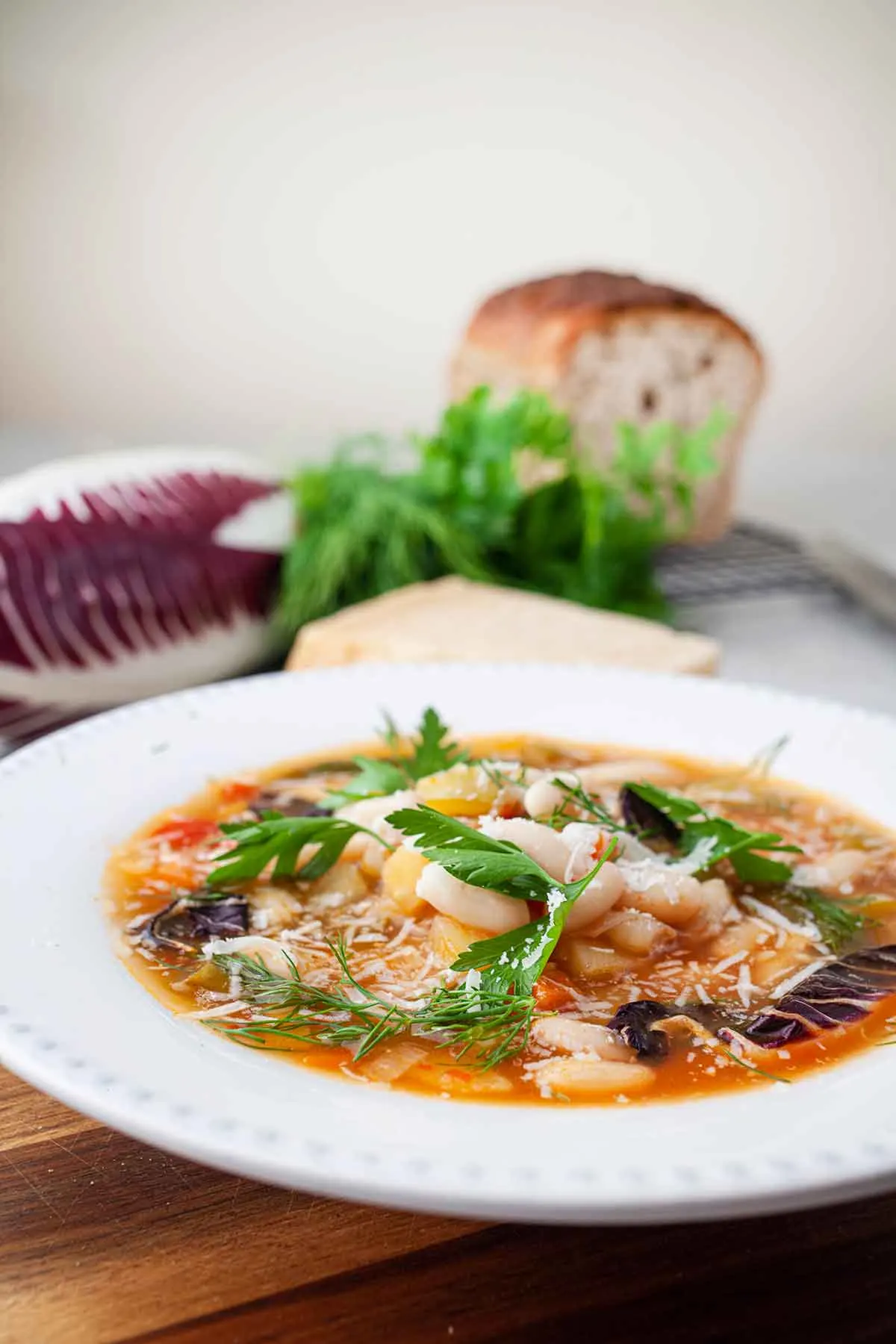 Tips to prepare the best minestrone soup recipe with an authentic taste
To prepare an authentic and tasty Minestrone soup every time, here are some tips that will help you get delicious results:
Choose fresh and quality ingredients: Minestrone soup is based on fresh vegetables, so make sure you choose the best seasonal products. Add ripe tomatoes, crunchy carrots, juicy zucchini and other fresh vegetables to enrich your soup with authentic flavors.
Use homemade vegetable soup: The basis of an authentic Minestrone soup is a rich and aromatic vegetable or meat (chicken) stock. If you have time, prepare the soup at home to get an authentic and intense taste.
Experiment with flavors: Add various spices and aromatic herbs to give this soup a rich and complex taste. Thyme, oregano, basil and bay leaves are just a few options to enrich the flavors.
Add tomato paste: To get a beautiful color and a distinct tomato note, add a little tomato paste to the soup. This will intensify the taste of the tomatoes and complement the flavors of the other ingredients.
Give it time to aromatize: By letting the soup boil slowly and the flavors merge, you will get a Minestrone soup with a complex and balanced taste.
Add legumes and pasta: If you want to enrich the soup with proteins and carbohydrates, add beans, peas, lentils or pasta. These ingredients will make the Minestrone complete and filling.
Serve with cheese and parsley: Minestrone is usually served with grated parmesan and fresh parsley leaves. They add a touch of flavor and freshness and perfectly complement the taste of Italian soups.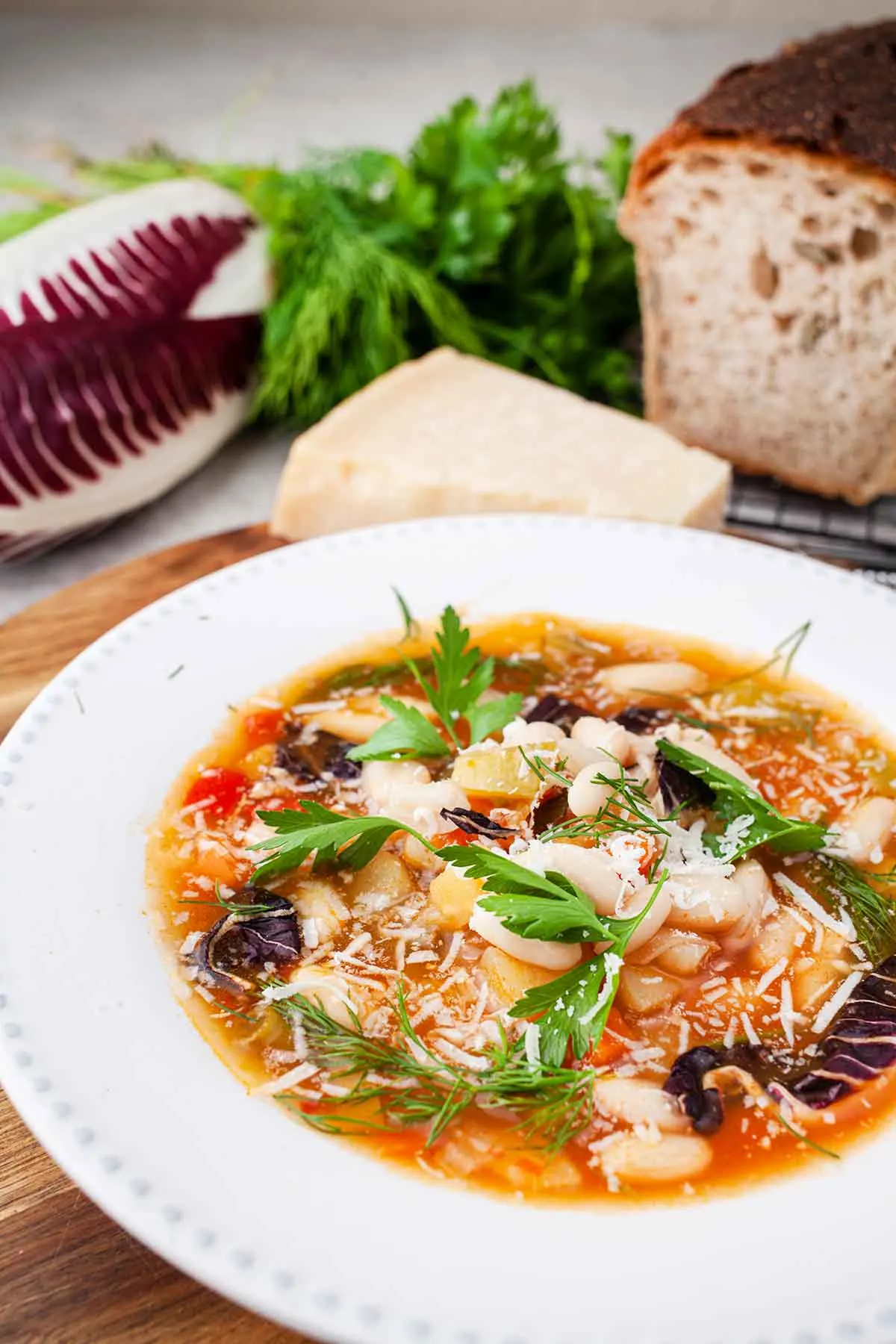 Slow cooker Minestrone soup
If you don't have time to sit by the soup pot, you can use a slow cooker to prepare Minestrone soup. It is a convenient and simple way to cook this tasty and filling food. To use the slow cooker for Minestrone soup, follow these steps:
Prepare all the ingredients – vegetables, legumes, pasta or rice, tomato sauce, spices and herbs.
Put all the prepared ingredients in the slow cooker. Add enough water or stock to cover all ingredients.
Set the slow cooker to the right temperature and time. Most slow cookers have settings for cooking at a low (Low) or high (High) temperature and a cooking time of several hours to several hours.
Let the soup boil in the slow cooker for the necessary time, until the vegetables and legumes are cooked and have released all the flavors.
At the end of cooking, you can add grated parmesan and fresh parsley for extra flavor.
Using the slow cooker for Minestrone soup, you will get a tasty and healthy meal, full of authentic flavors, and cooking will be much easier and effortless. You can let the slow cooker work while you deal with other activities, and at the end you will have a delicious and satisfying soup.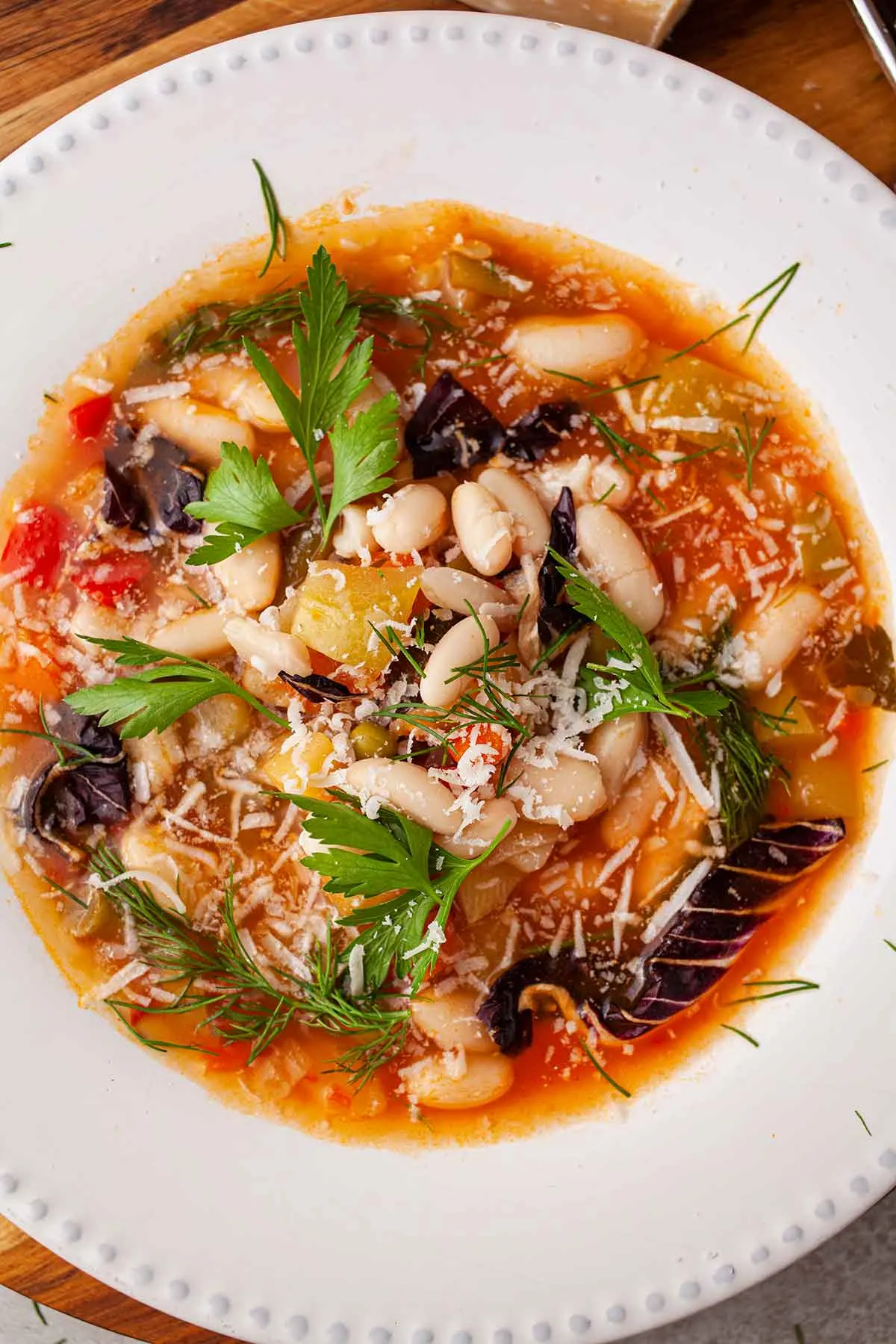 Tips for storage and reheating
Here are some helpful tips for storing and reheating Minestrone, especially if it's part of a meal prep plan:
Freezing: If you want to keep the soup for a longer period, freeze it. Put the soup in individual portions or in a large container, and when reheated, you will be able to take out exactly the amount you want.
Reheating: If you have frozen the soup, you can let the container thaw in the refrigerator overnight, then reheat the soup on the stove in a covered dish.
Heating on the stove: If you reheat the soup on the stove, add a little water or soup to maintain the initial consistency. You will notice that it can thicken in the refrigerator. Heat the soup over low heat until it reaches the desired temperature.
Make sure that the soup does not boil excessively, so as not to compromise the texture and taste of the fresh vegetables. To keep the freshness and nutritional qualities, avoid repeated reheating of the soup.
Add fresh greens and grated Parmesan at the end of reheating to refresh the taste of the soup.
Want more Italian hearty soup recipes? Try these Hearty Beans Soup, Gnocchi Soup, Vegan Lasagna Soup, Vegan Tuscan Soup / White Bean Soup, and Vegan Tortellini Soup.
Yield: 8
Best Italian Minestrone Soup Recipe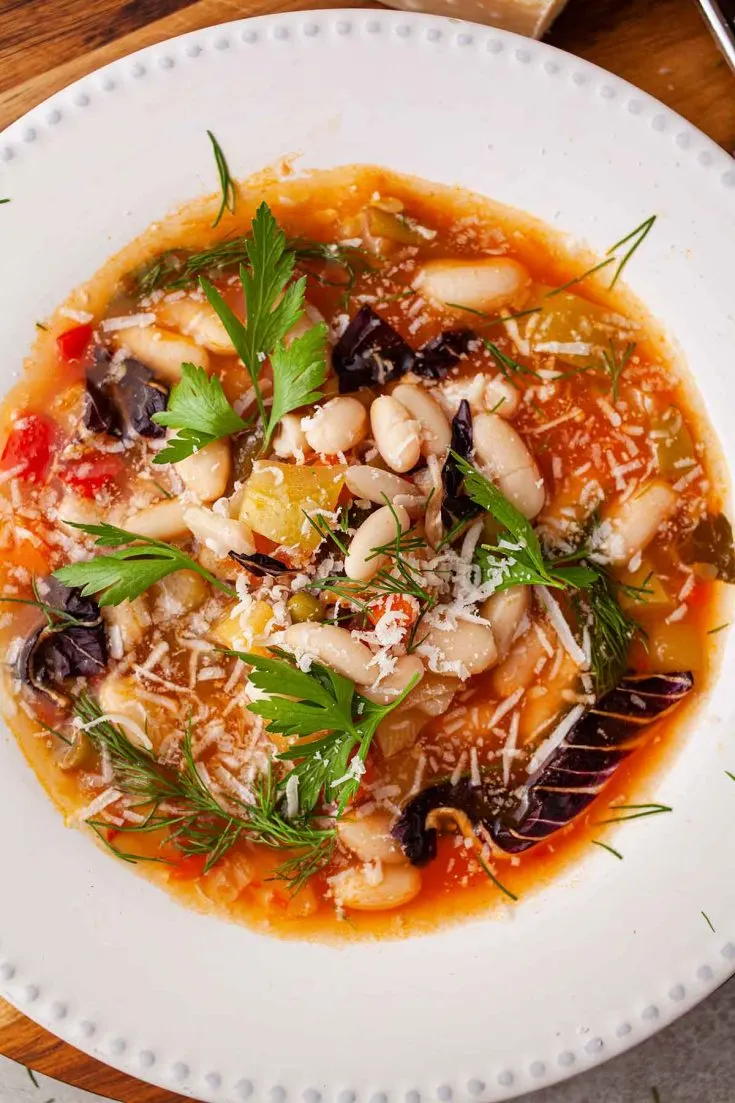 Try the Minestrone soup and explore the authentic taste of Italian cuisine with a hearty soup combining fresh vegetables, beans and pasta.
Total Time
1 hour
20 minutes
Ingredients
2 tablespoons of olive oil
1 clove garlic, crushed
1 yellow onion, finely chopped
2 carrots, chopped
2 stalks celery, sliced
1 small zucchini, finely chopped
½ cup green beans
1 large potato, diced
1 can of white cannellini beans, drained
½ teaspoon of oregano
1 bay leaf
2 cans of peeled tomatoes
5 cups of organic vegetable soup
1 cup of fresh radicchio leaves
4 tablespoons small pasta (anellini or other types of similar size)
fresh parsley and dill
parmesan for serving
Instructions
In a large pot, on low heat, add two tablespoons of olive oil.
When the oil is hot, add the garlic and onion.
Sauté for a minute, then add carrots, celery, spinach, green beans, oregano, bay leaf.
Sauté the vegetables on low heat for 10-15 minutes, stirring occasionally.
Add the potato, white beans and peeled tomatoes. Then add the vegetable soup and mix.
Cover with a lid and let it cook for around 30 minutes or until the potato is soft.
Then add fresh radicchio and noodles.
Cover and let it cook for another 5-10 minutes.
Serve with greens, grated parmesan and fresh bread.
Nutrition Information
Yield
8
Serving Size
1
Amount Per Serving
Calories

189
Total Fat

5g
Saturated Fat

1g
Trans Fat

0g
Unsaturated Fat

4g
Cholesterol

2mg
Sodium

416mg
Carbohydrates

30g
Fiber

5g
Sugar

4g
Protein

7g
I strive to keep the information as accurate as possible but make no warranties regarding its accuracy. I encourage you to make your own calculations using your preferred nutrition calculator.