Learn how to make this delicious green vegan gnocchi and pair it with an incredibly delicious, smoky-flavored sauce! Get the recipe below!
The first time I made homemade pasta was last week. I don't even know why I didn't try this any sooner! I am now hooked! Homemade pasta is AMAZING! I don't have a pasta machine and I wanted to start with something easy and practically fail-proof, so I chose to make gluten-free gnocchi.
Also, because Spring is finally here, I wanted this dish to taste an look like Spring on a plate. I guess I succeeded, right?! 🙂 I added wild garlic (my love) in the vegan gnocchi composition, created a kickass tofu pasta sauce and topped everything with tasty, fresh arugula leaves. The perfect blend of flavors.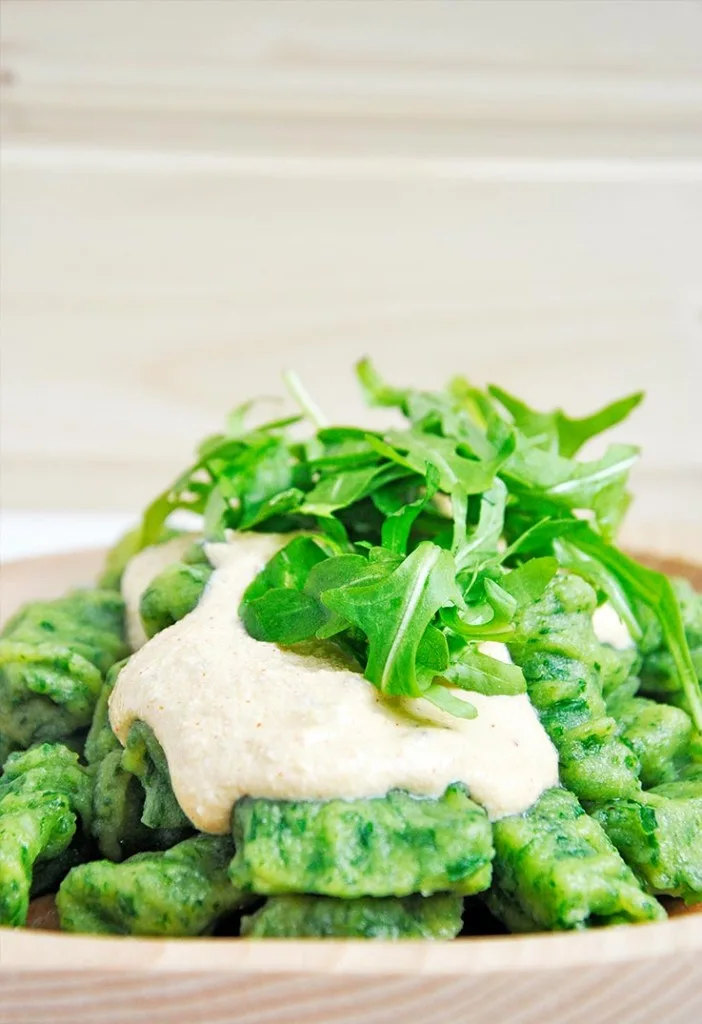 I've been eating tofu like crazy lately. Tofu is super good for you (if it's non-GMO of course). I usually eat plain tofu or tofu mixed with dill and/or peppers. Sometimes I eat smoked tofu too, which is my absolute favorite, but I tend to avoid it because smoked stuff isn't that good for anyone. This wild garlic vegan gnocchi recipe called for a smoked tofu pasta sauce, so I made an exception. I'm glad I did. It was just perfect.
The sauce is quite simple and it's ready in 2 minutes. Even though the sauce ingredients may sound like they won't go well together at first…trust me… they're a match made in Heaven!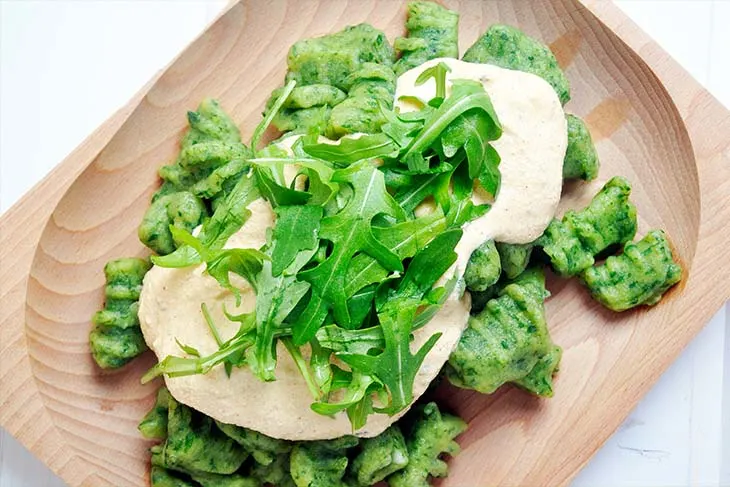 You can find the vegan gnocchi recipe below. Hope you'll give this a try! 🙂
Yield: 4+
Gluten-Free Wild Garlic Gnocchi with Smoked Tofu Pasta Sauce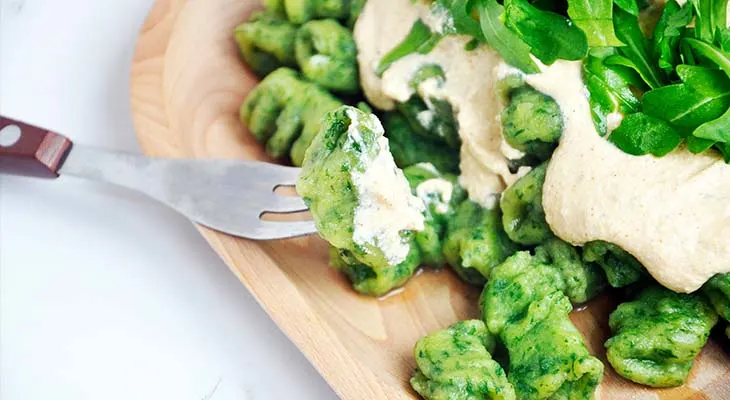 This gluten-free wild garlic gnocchi with smoked tofu pasta sauce is a perfect vegetarian recipe for Spring! It has vibrant colors and strong, fresh flavors!
Ingredients
homemade gluten-free wild garlic gnocchi, for four (Click for recipe)
arugula, as much as you like
Smoked Tofu Pasta Sauce:
125g (½ cup) smoked tofu, crumbled
2 Tbsps mustard
3 Tbsps nutritional yeast
⅓ tsp white pepper, ground
water, as needed
Instructions
Make gluten-free wild garlic gnocchi.
Tofu Pasta Sauce:
Put all sauce ingredients in your food processor. Start by adding 1/2 cup of water. Process until smooth and add more water until the sauce reaches the desired consistency. Don't add any salt. You'll see that smoked tofu is already salty enough.
Pour sauce over gnocchi and add fresh arugula leaves on top. Perfect!
Nutrition Information
Yield
4
Amount Per Serving
Calories

205
Total Fat

10.5g
Carbohydrates

14.3g
Protein

13g