Make these spring roasted veggies and enjoy them just as they are, with a sauce on top, or serve them as a rich, flavorful side dish.
Today we're talking about one of my absolute favorite ways to enjoy seasonal produce: roasted veggies! Roasting is a great technique that brings out the natural sweetness and depth of flavor in vegetables, and it's a super easy way to prep a big batch of healthy and delicious food for the week ahead.
I couldn't wait to eat baby potatoes this year and today I finally bought some from the farmer's market. They were great! I combined them with some other veggies and came up with this basic, very simple spring roasted veggies recipe.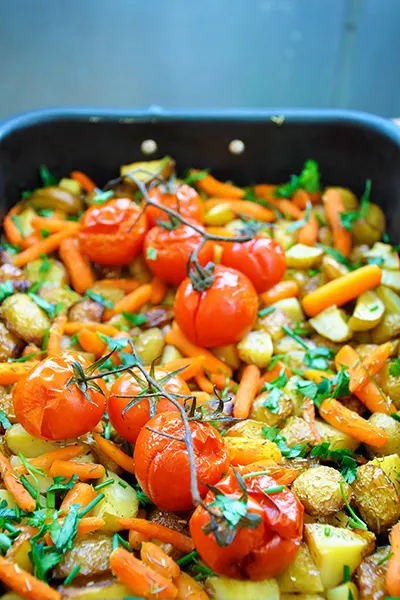 For this recipe, I like to use baby potatoes and frozen baby carrots as the base, but you can easily customize the veggies to whatever you have on hand or whatever's in season. Cherry tomatoes add a burst of juicy sweetness, and I like to toss in plenty of fresh herbs like parsley, dill, thyme, and rosemary to add extra flavor and aroma.
Tip! Choose really small baby potatoes. They're a lot better than the bigger ones. Also, if you want some extra crunchiness, you can fry them a little in some extra virgin olive oil in a frying pan.
The key to getting perfectly roasted veggies every time is all in the prep. Make sure to cut the veggies into evenly sized pieces so that they cook evenly, and spread them out in a single layer on the baking sheet so that they can roast and caramelize without steaming each other. A drizzle of olive oil and a sprinkle of salt and pepper is all you need to bring out the natural flavors.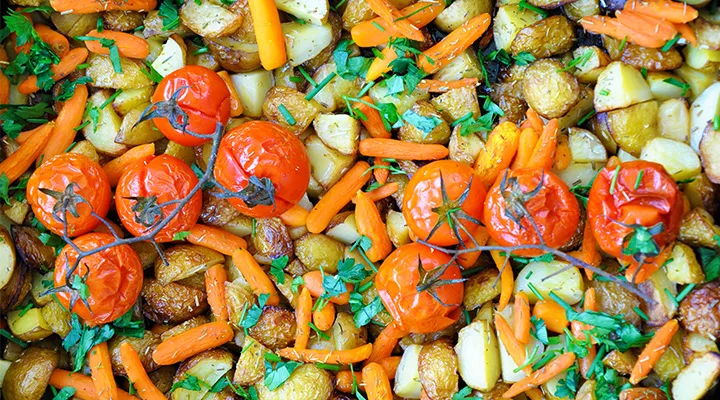 For an optional creamy sauce, I like to mix together some sour cream, chopped parsley, and sweet paprika. It's a cool and tangy complement to the warm and savory roasted veggies, and adds an extra layer of flavor and richness.
Roasted veggies are a great side dish for any meal, or you can enjoy them on their own as a healthy and satisfying snack. I love packing them up for work lunches or picnics, or using them as a base for bowls or salads. The possibilities are endless, and the flavors are always fresh and delicious.
So go ahead and give this recipe a try, and don't be afraid to experiment with different veggies and seasonings to make it your own. Roasting is a simple and satisfying way to enjoy the best that spring has to offer, and I can't wait to hear how it turns out for you!
I can't wait to make this again! It was a success 🙂 Looking forward to reading your comments! 😀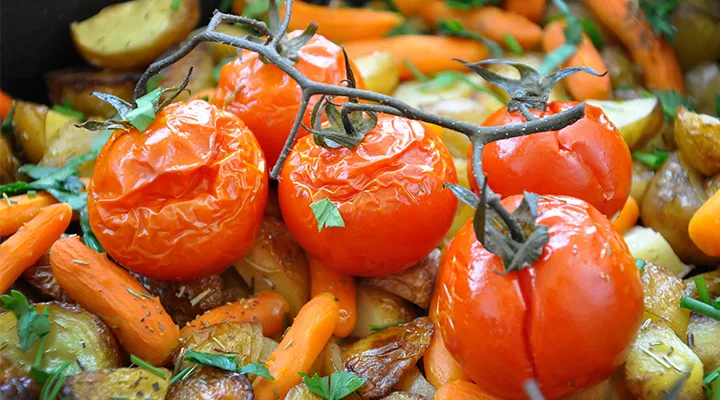 Yield: 6
Spring Roasted Veggies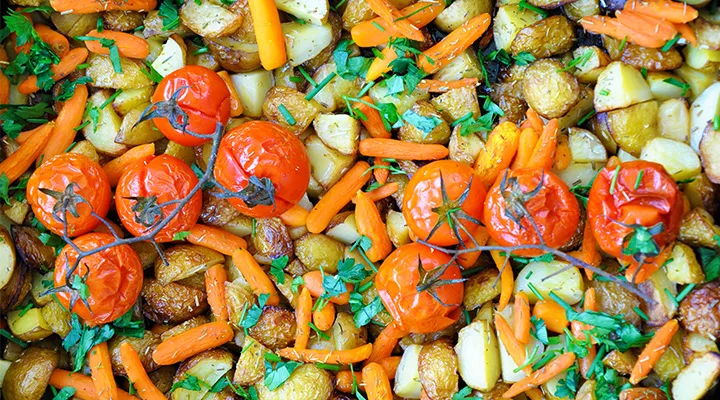 Make these spring roasted veggies and enjoy them just as they are, with a sauce on top, or serve them as a rich, flavorful side dish.
Ingredients
1,5kg (52oz) baby potatoes
180g (2 cups) frozen baby carrots
greens – parsley and dill
cherry tomatoes
salt and pepper, to taste
olive oil
1 tsp thyme
rosemary, fresh or dry, about 1 tsp if you use dry
Sauce, optional:
240g (1 cup) sour cream
half a bunch of parsley, chopped
1 tsp sweet paprika
Instructions
Rinse the baby potatoes very well and cut them in 4 or 2, as needed.
Coat the oven tray in some olive oil.
Optional: This step is not really necessary! If you want some extra crunchiness you can fry the potatoes a little bit in some olive oil (10 minutes) and then put them in the tray,
Put the potatoes in the oven tray. Add baby carrots and cherry tomatoes.
Season with salt, pepper, rosemary and thyme.
Add more olive oil on top and place in oven at 200C for about 35 minutes.
When ready, add chopped herbs on top.
For the sauce:
Mix the sour cream with the chopped parsley and sweet paprika. Serve on top of the roasted veggies.
Nutrition Information
Yield
6
Amount Per Serving
Calories

132
Total Fat

11.3g
Carbohydrates

5.5g
Protein

2g