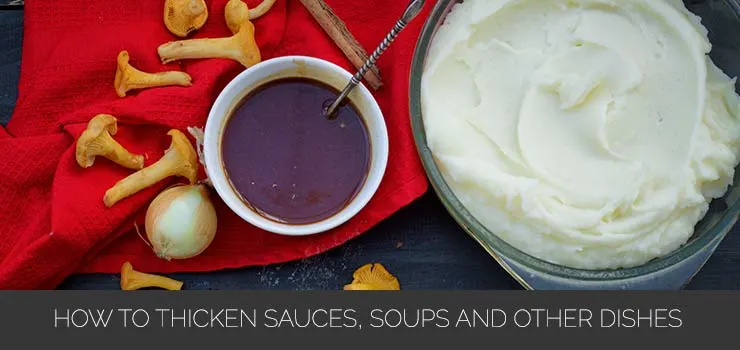 Find out how to thicken sauces, soups and other dishes, following the tips in this article. Here are the recommended products and techniques!
---
I use cornstarch most often. I don't always have white flour in my pantry as I rarely cook with it, so when I want to thicken a sauce, cornstarch is the best.
Keep in mind: When you thicken a soup with starch or flour, the procedure I use so that it does not have lumps is the following: I put the starch or flour in a coffee cup and add 2-3 tablespoons of hot liquid from the soup. Mix well. I add more liquid little by little and mix again. When the lumps are gone, pour the mixture from the cup into the soup pot. In a few minutes after boiling, the soup is already thickened. I usually use this procedure for "white" soups (without tomato sauce).
If you want the texture of the sauce you make to be sticky, use tapioca flour/starch. I use this when I want to make "cheesy" sauces in vegan recipes. In contact with heat, tapioca starch not only thickens the sauce but also makes it sticky, like melted cheese.
Recently, due to some sponsored campaigns with Herbalife Nutrition, I tested their protein shakes with vegan ingredients. I haven't used protein powders too often because I'm not an active person or dieting, but among those tested I use Formula 1 Gourmet with mushrooms and herbs quite often. Ever since I have it, I add 1 tablespoon to almost every dish I make, because I also like the taste and I noticed that it thickens the food, creating a very pleasant creamy texture. So far I have used it in: cream soups, pasta sauce, risotto. The risotto, although I made it vegan, had an excellent creaminess, as if I had put grated Parmesan cheese in it, due to adding this protein shake. I think it's a healthier version of the classic starch/flour and adds more protein and minerals to food. – I want to emphasize that this suggestion is entirely my opinion and is not influenced by previous campaigns with this brand.