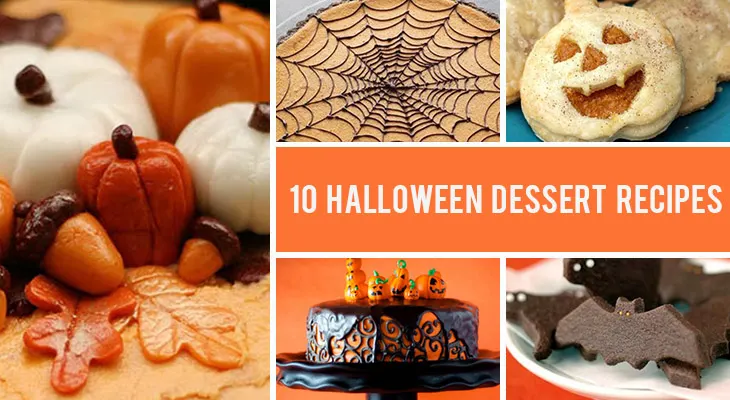 Get inspired with more than 10 delicious Halloween desserts recipes that will make any child happy! These desserts are simple, spooky and super delicious! Give them a try!
It's October already and Halloween is getting closer and closer! Halloween is one of the best celebrations for children and I love everything about this unique day, even though we don't celebrate it that much in my country. The reason why I wait for this day is that I absolutely love inspiring and creative Halloween desserts recipes with fun decorations. I'm not very good at decorating because I kind of lack the patience to make sure every little detail is perfect, but I'm sure some of you master this art! This is why I chose to include only simple but effective Halloween-inspired cakes, cookies, pies and cupcakes into this list – this way everybody can give these a try, regardless of their cooking or decorating experience!
If you want to impress your guests and throw a great Halloween party for you or your kids, you definitely need to check out these delicious kid-friendly Halloween desserts recipes, and GET INSPIRED! I promise that just looking at these pictures and recipes will make you want to bake the best cake or create the best Halloween-inspired cookie shapes!
Click on the linked titles in order to access these amazing kid-friendly Halloween desserts recipes that you can make at home! Many thanks to all the crazy talented food bloggers who created these – you just made Halloween ten times better!
P.S.: Want more Halloween inspiration? Check out these spooky and fun Vegetarian Halloween Recipes, Halloween candy and if you want to see more fun ways of decorating food, here are some awesome Fun Foods for Kids! Enjoy this list and happy cooking!
10+ Delicious Kid-Friendly Halloween Desserts
Halloween is just around the corner and what better way to celebrate it than a delicious vegan Halloween Pumpkin Pie? Easy, quick and delicious! Plus, you can customize the top layer with any shape you want, be it a Jack-o'-Lantern, spider, ghost or whatever else you prefer!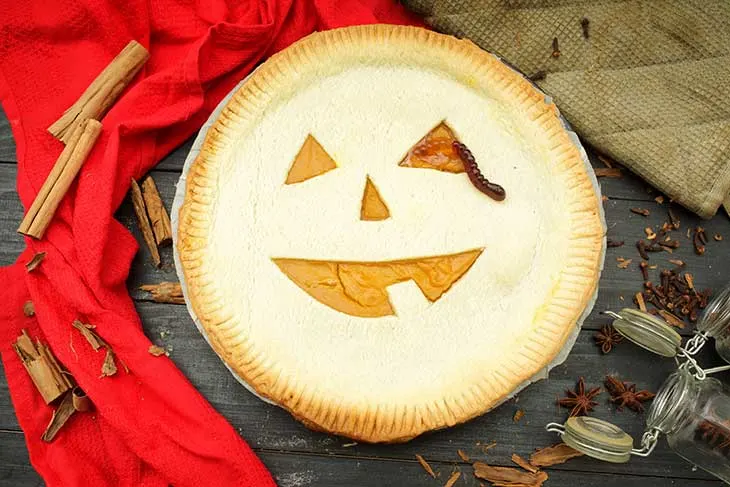 This is a great looking Halloween chocolate cake with some cute, little fondant pumpkins on top. The layer cake has a delicious orange flavor I'm sure you'll love! I'm sure everybody will love this cake, kids and adults alike. It's extremely cute but spooky at the same!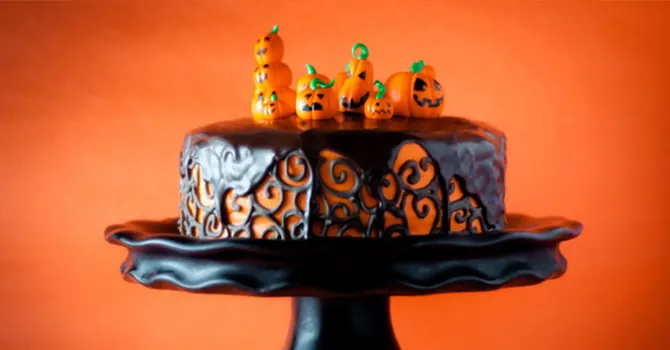 These Spooky Spider Cupcakes are sure to be all the fright at your Halloween party! Can you believe that these cupcakes are made with only 3 ingredients?! Just try them and you'll see how delicious they are! Plus, the decorating part is extremely easy and making these cupcakes can be a great family activity!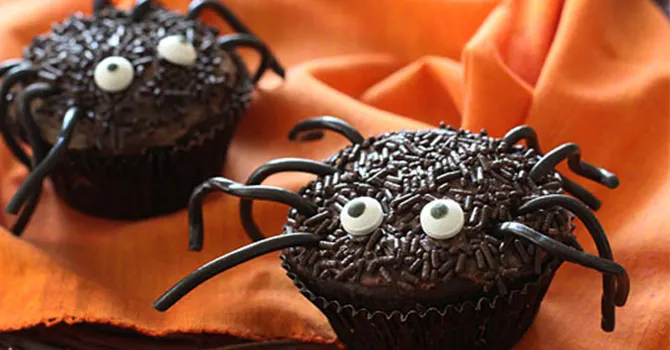 These spooky skeleton cupcakes for Halloween are amazing! They are made out of a marshmallow and yogurt covered pretzels. Yum! Even though these cupcakes may look a bit complicated, the decoration step is actually super easy. Everybody will be impressed, trust me!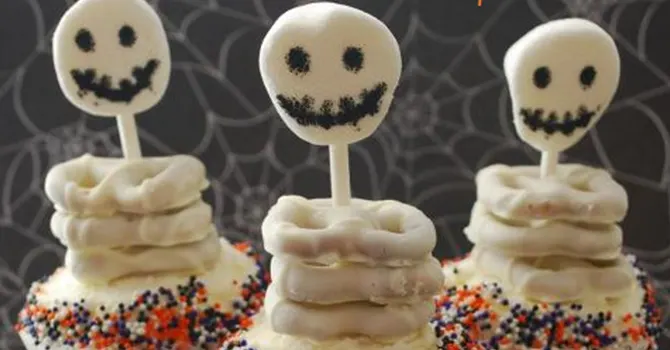 This cake looks so elegant and it is ideal for a great Halloween party. The chocolate crust is filled with creamy pumpkin puree blended with familiar pie flavorings: cinnamon, ginger, and nutmeg. Sounds delicious! I think this is the ideal cake for a suble, classy Halloween gathering!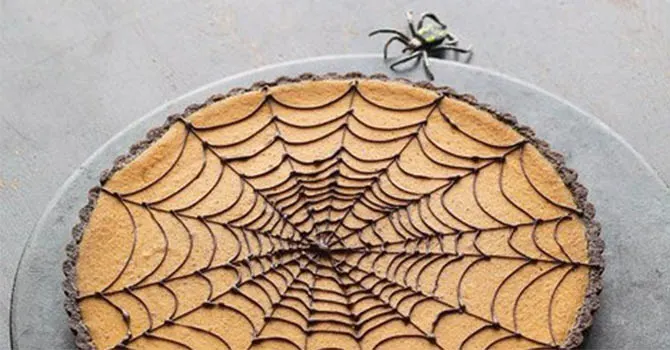 These great looking mini pumpkin cakes are a delight for children and adults alike! They are moist and full of flavors! One of the best things about these cakes is that you can make them without any special occasion, as I think they're the perfect fall-inspired dessert!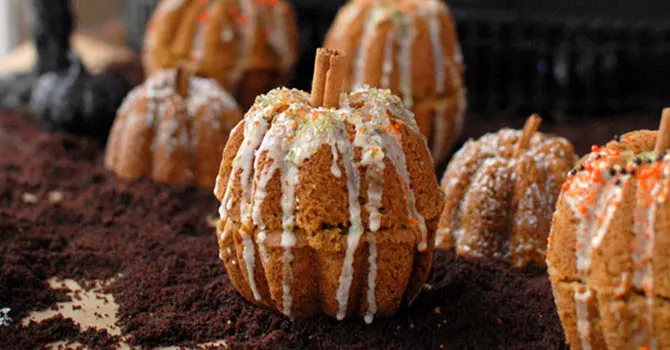 This scrumptious Pumpkin Buttercream Cake looks absolutely delish! The fondant pumpkin decorations on top look amazing too. Even though the shapes may look a bit complicated, you can create any decorations you like, as easy or as complex as you wish! Happy cooking!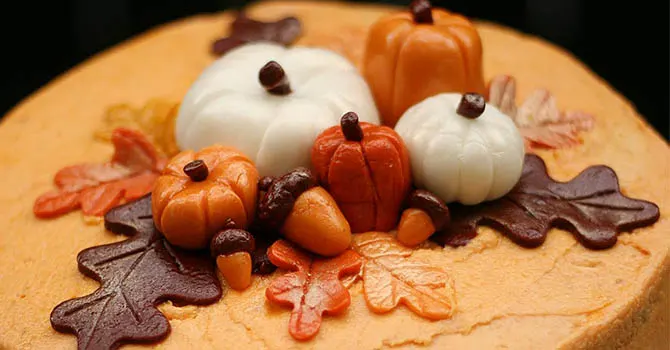 Start a new Halloween tradition: Bake chocolate cookies cut into the shapes of ghostly bats. I honestly think these cookies are the perfect Halloween treat when you don't have a lot of time on hand or you don't want to invest a lot of time into baking intricate desserts. Fill your cookie jar with these Halloween bat cookies and everyone will be happy!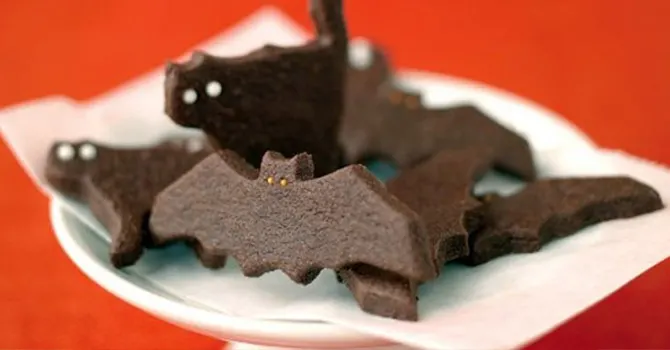 These pumpkin pie pockets look great! They have a delicious taste and are sprinkled with fresh ground cinnamon on top! Plus… they're crunchy! What more can you wish for?! These are perfect for any autumn day too, as they're easy to make, simple and tasty!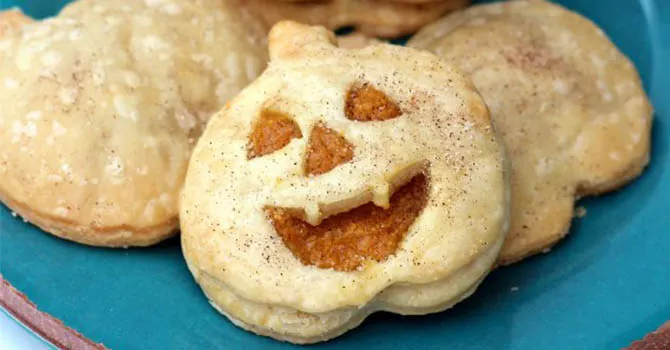 These Ding Dong Bat Pops are so easy to make and will be the perfect, fun treat for kids! Such an inspiring Halloween dessert idea that you can make together with your kids! You will have endless fun while also creating a delicious Halloween dessert together! Give them a try!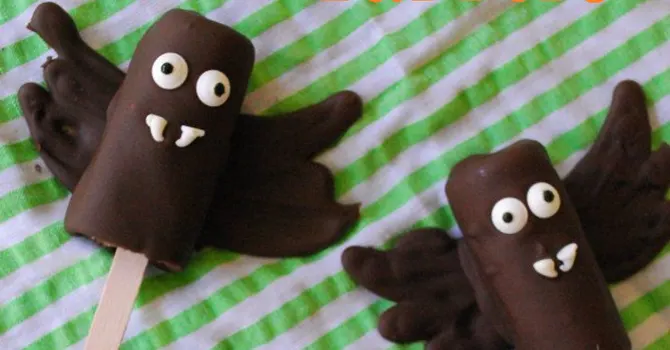 These pumpkin cupcakes look great! The decoration is simple and cute and the chocolate witch hats are a very nice detail! Make these beautiful Halloween cupcakes and I assure you that everybody will be impressed, especially the kids!