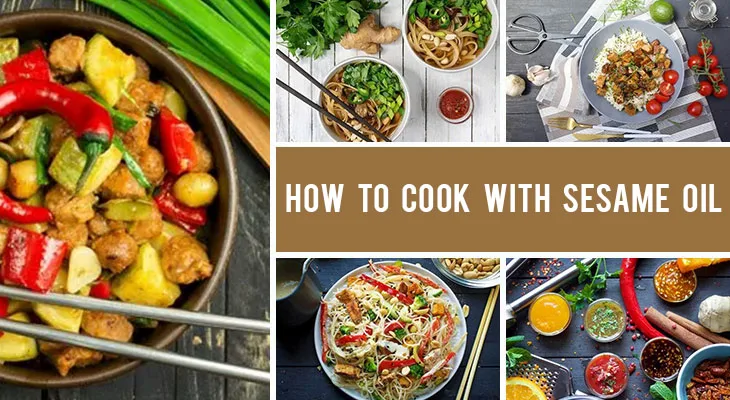 Are you looking for some food inspiration? In this list, you will learn how to cook with sesame oil and you'll also get 10+ recipes with sesame oil to get you started. Give them a try!
Oils… there are SO many types of oil in this world! There's the super common sunflower oil that everyone uses, there's canola oil, extra virgin olive oil, avocado oil, and everything else in-between.
But have you ever heard about sesame oil? If not, get ready to unlock an entire universe of flavors and food combos.
What is sesame oil?
Sesame oil is made of sesame seeds, of course. It's a super popular ingredient in Asian cuisine (Japanese and Korean cuisines especially, as well as Chinese) and Middle Eastern dishes too. It encapsulates A LOT of flavors and it's extremely easy to use.
The two types of sesame oil
In case you used or at least bought sesame oil before, you might've seen that there are two types available: sesame oil and toasted sesame oil. What's the difference between the two?
First of all, there's a difference in color. And in taste as well. Sesame oil is made of raw sesame seeds and it has a lighter color and a more subtle taste. Toasted sesame oil is made of toasted seeds and it has a darker color, as well as a more complex, intense flavor.
Raw sesame oil is used for frying tempura, for example, while the toasted version is very commonly drizzled on top of stir-fries, after the cooking process, right before taking it off the heat. You can look at it as a flavor enhancer more than a frying oil, I'd say.
Why is sesame oil so expensive?
Now that's a good question and it's especially true when it comes to toasted sesame oil. The reason behind it is that the seeds used to make sesame oil are hand-harvested. And you'll need a lot of seeds to make a little bottle, too.
TIP: If you can, buy sesame oil from ethnic/Asian shops instead of your regular supermarket. It will surely be cheaper.
How to cook with sesame oil
First of all, I need to let you know that toasted sesame oil is NOT an all-purpose cooking oil. Not even a bit. There are two main reasons here: its taste is super intense and a small bottle of sesame oil is also super pricey. So you'll want to use every drop of sesame oil with care and attention. This means you shouldn't use it for frying potatoes, for example. But you can use regular sesame oil for light frying if you wish.
Ah, and here's another tip: sesame oil is usually added in the last stages of fried food. The key here is not to leave it on direct heat for a long time, as toasted sesame oil can develop a "burnt" taste.
Here's what you can do with sesame oil instead:
salad dressing – combine it with your favorite Asian-inspired dressing or simply mix it with rice vinegar for the most straightforward combo ever;
on stir-fry – fry your stir-fry in your regular vegetable oil, then drizzle a few drops of sesame oil on top right before taking it off the heat;
drizzle it on top of your ramen – or on yop of any other Asian-flavored soup you're making;
marinade – mix sesame oil + soy sauce + brown sugar + miso paste for the ultimate chicken (or tofu) marinade;
add it on your popcorn – bet you didn't think about this one, eh?
TIP: I know I mentioned it before, but I really cannot stress this enough: use a small amount of sesame oil, as its flavor is VERY intense. A little goes a long way when it comes to this ingredient!
Now, this being said, I'm sure you already know everything there is to know about cooking with sesame oil after reading this article. So why don't you put all this knowledge to test next, eh?
Scroll down to find my carefully curated list of 10+ vegan recipes with sesame oil. Trust me, these recipes will really show you how to use sesame oil in your daily cooking. Just pick your favorite one and head over to the kitchen.
All you need to do to access each of these recipes is to click the titles or buttons. Happy cooking and Bon appetite!
How to Cook with Sesame Oil | Tips, Methods, Recipes
Are you looking for some food inspiration? In this list, you will learn how to cook with sesame oil and you'll also get 10+ recipes with sesame oil to get you started. Give them a try!