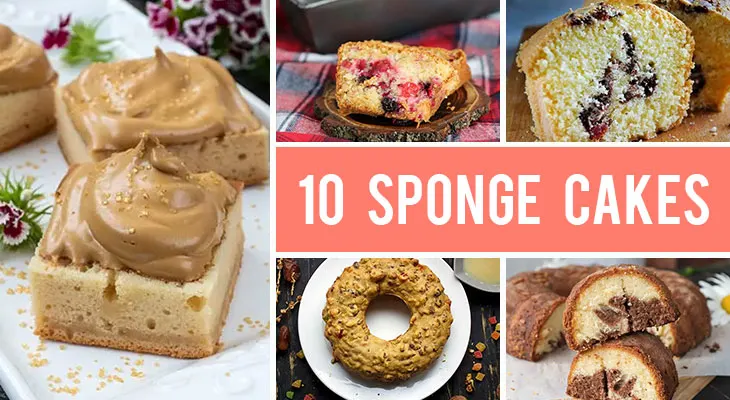 Are you looking for some recipe inspiration? In this list, you will find 10 sponge cake recipes. All of them are yummy, super easy, and quick to make! Give them a try!
Sponge cakes… what on this Earth could be easier?! Probably nothing?!
I simply love sponge cakes! I love them because they're ready in no time, they're effortless and they're 100% customizable. Any craving or preference you have, there's surely a sponge cake out there to fit your needs. Chocolate, fresh fruit, dried fruits, coconut flakes, crunchy nuts, vanilla, rum – and everything else in-between. You name it, I can find a recipe for it! 🙂
I've been a big fan of sponge cakes ever since I was little. I used to ask my grandma to make my favorite type of sponge cake (chocolate marble sponge cake, of course) almost every weekend and she would make it each and every time. I always thought the process of making a sponge cake can't be THAT easy, but after I found out it's just as easy as beating some eggs and mixing them with the rest of the ingredients… I've been even more obsessed with them!
And yes, you can make a vegan sponge cake with no problems and the result will be just as fluffy and delicious as the "real" deal.
Ah, before I forget… did you know there are savory sponge cakes out there as well? Yes, sir, it's true! You can make savory sponge cakes with thyme, olives, sundried tomatoes, and lots of other yummy ingredients. I have a couple of examples down below as well, besides the regular sweet, delicious sponge cake recipes you're used to.
I don't know about you, but sponge cakes have been a celebration dessert here in Romania ever since I was little. Regardless if we're talking about Christmas, New Year's Eve, my birthday, or any other anniversary, there was always a sponge cake lying around. By the end of the night, there was no trace left of it.
Except for the fact that they're simple and easy to customize, sponge cakes are cheap to make as well. You only need some eggs, vegetable oil, flour, and as much sugar as you want. If you're making a vegan sponge cake instead, no worries, the list of ingredients will be budget-friendly as well. Depending on the recipe, you may need some ingredients such as vegan butter, vegan yogurt, some nut milk, vegetable oil, sugar, and more.
So if you're short on time or money, a sponge cake is the perfect solution for any regular day or special occasion. One of the best ideas would be to make sponge cakes with fruits according to season. Using fresh fruit, of course. Cherry and sour cherry sponge cakes in the summer. Orange sponge cake in the winter. Blueberry sponge cakes in the middle of autumn. Mix and match and make sure you're making the best out of seasonal produce!
This being said, I'm sure you're already super eager to try your next sponge cake recipe today. If that's true, I invite you to take a look at my list below and pick your favorite. Regardless if you like peaches, cinnamon, chocolate, forest fruit, or dried fruit, I'm 100% positive you'll find something to your liking down below.
All you need to do in order to access these recipes is to click on the titles or buttons. Until then, happy cooking!
10 Sponge Cake Recipes That Are Simple and Easy to Make
Are you looking for some recipe inspiration? In this list, you will find 10 sponge cake recipes. All of them are yummy, super easy, and quick to make! Give them a try!