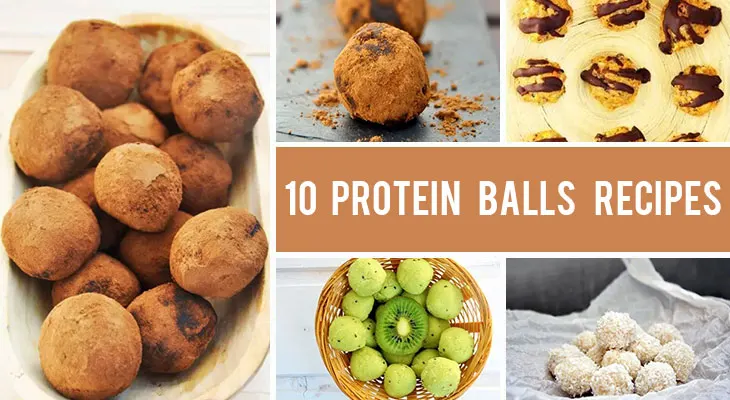 Are you looking for some recipe inspiration? In this list, you will find 10 truffles and protein balls recipes. All of them are yummy, super easy, and quick to make! Give them a try!
Protein balls are some of the best modern snacks! Regardless if you prefer protein balls or "bites", bars or a nut butter, these little pieces of Heaven are sure to offer you a big dose of energy and a lot of deliciousness to nibble on.
Nowadays you can find protein balls packed are ready to be bought everywhere – from coffee shops to supermarkets. It seems like everyone loves them, but do we really know enough about truffles and energy balls? Let's find out some quick facts.
There are countless ways of making healthy, vegan truffles or protein balls, fit for every need or preference. Here are the most common ingredients used in protein balls recipes:
dates
dried fruit
fresh fruit
nut butters
hazelnuts
chia seeds
flaxseed
chocolate chips or nibs
honey or maple syrup
And many more! If you need an extra boost of protein, you can also add some protein powder to your energy balls, but I don't think that's really necessary; at least not all the time! There are plenty of ingredients out there that are naturally protein-rich and can offer us a well-deserved energy boost in the middle of the day.
Let's talk about the downside for a bit. You may want to keep in mind that, depending on your chosen ingredients, protein balls and truffles can contain quite a lot of calories. Some can even have 500 calories for 100g, especially those found in supermarkets and shops! If you're looking for a healthier alternative, your best choice is to make your own.
This takes me to my next point: making your own protein balls recipes. How easy can it be? Trust me: it doesn't get easier than this! Vegan truffles and energy balls are so easy and quick, even a kid could make them.
All you need is a handful of ingredients (both dry ingredients and at least one 'sticky' ingredient that will keep everything together such as nut butter) and a mixer or food processor. Pulse everything until a paste is formed, create your balls, and… that's about it! Fresh protein balls are usually stored in the fridge so the composition can thicken and achieve the desired consistency (not mushy, not soft, just enough crunch to make you fall in love!).
The best part of making your own truffles and energy balls at home is that you have absolute control over the ingredients, including the flavors (mix and match as you please!) and the number of calories per 100g.
Plus, did you notice that store-bought protein balls are quite expensive? That's because most of them include those so-called "superfoods" such as matcha or chia seeds. But these are so much cheaper if you buy them yourself and then roll your own yummy balls. Your bank account can thank me later!
This being said, I urge you to try at least one of the 10 recipes below. I know, it will be hard to choose, but they're ALL so, so good! And so delicious and full of good energy. Forget about calorie-rich chocolate bars at 3 PM when you feel sleepy. 2-3 of these protein balls and you're good to continue your workday. How awesome is that?!
Scroll down to find my ultimate list of 10 truffles and protein balls recipes. 6 of these recipes are my own and the other 4 were created by some amazing food bloggers that I definitely recommend you follow. From chocolate-rich energy balls to subtle coconut balls, I'm 100% sure you'll find something to love down below.
All you need to do in order to access the recipes below is to click on the titles or buttons. Happy cooking!
10 Truffles and Protein Balls Recipes for When You Need a Quick & Healthy Snack