What could be better than some quick and easy-to-make cinnamon goods? Literally nothing! Here's how to make the most delicious vegan cinnamon bread in no time!
I have four words for you today: no yeast, gluten-free deliciousness. And I'm pretty sure this is just enough to convince you. Yes, my friends, this vegan cinnamon bread requires no yeast, no kneading and it's also gluten-free, dairy-free, and egg-free. Totally vegan and 100% bursting with amazing cinnamon flavor!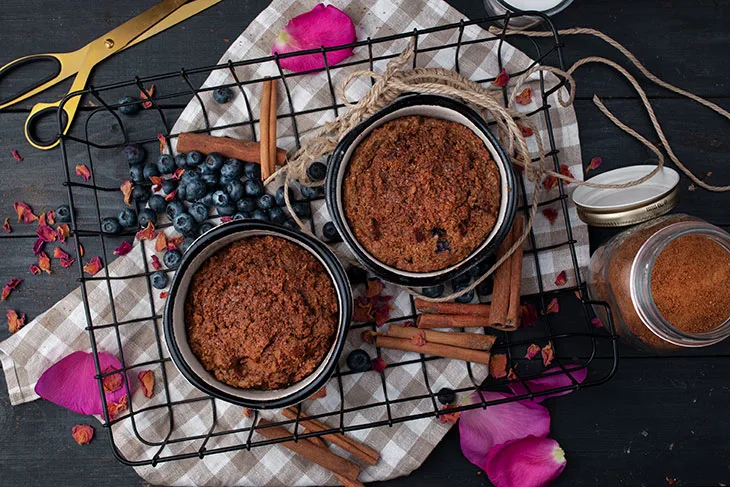 In case you love cinnamon buns… you're just a regular human being because, let's be honest here, WHO DOESN'T?! But I have to agree that vegan cinnamon rolls are a bit tedious to make when it comes to all the swirling around and the preparation of the icing. So if you don't have any time or patience for that, here's an awesome solution: THIS vegan cinnamon bread! 😉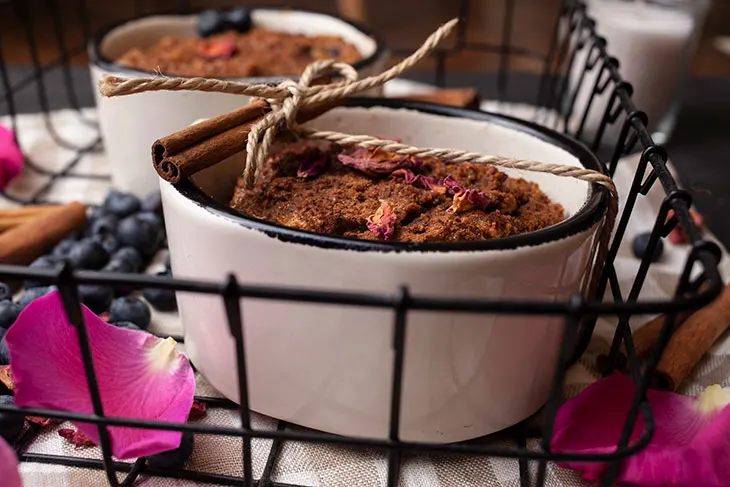 Christmas is coming and whenever I think about the holidays, cinnamon goodies pop into my mind. What could be better than a steamy bun of sweetness? In case you find yourself a bit tired, which would be absolutely normal during these trying times, and you don't feel like baking anything fancy this Christmas, then this vegan cinnamon bread is your answer!
Oh, by the way, you can bake this yummy sweet bread for no special occasion as well. After all, we don't need a pretext in order to make some goodies, right? You can bake this and serve it as a light dessert or you can save it for breakfast.
I think that, outside of any celebration, this vegan cinnamon bread makes for the perfect start of the day. It goes ideally with some nut milk in the morning (whichever one is your favorite!) or maybe you can spread a piece of this bread with some vegan butter. That's a morning feast if you ask me! 🙂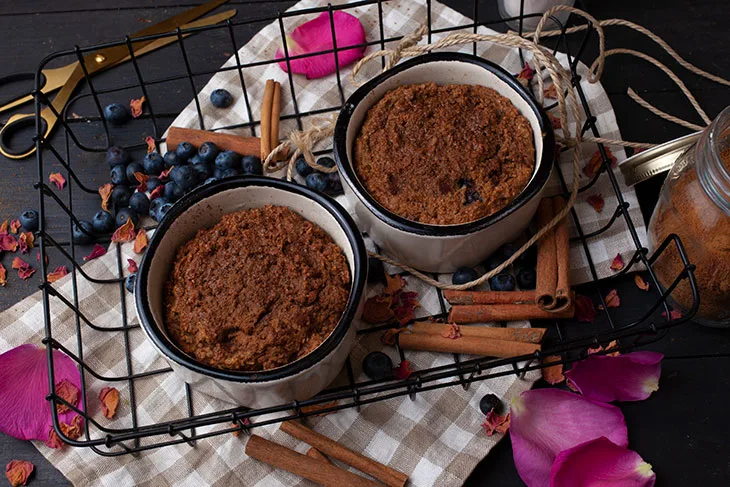 What I like best about this vegan cinnamon bread is that it's fluffy, sweet, soft, delicious, and… most of all, healthy! You wouldn't think that something that serves as a dessert could be this healthy but it IS possible!
Here's another idea: if you have some guests over during the weekend, you can bake them some vegan cinnamon bread. I think it's a very special dessert, and its presentation is super cute as well: each sweet bread is baked in a ramekin. This means that everyone gets their own portion that they don't need to share with anyone else!
This recipe is not very complicated to make, either – which, for me, is a big advantage, especially when it comes to baked desserts. I guess you already know that I really don't like spending a lot of time in the kitchen, especially when my recipe involves using the oven! The quicker, the better – at least for me.
So, all in all, this yummy recipe for vegan cinnamon bread ticks all the boxes: it's delicious, it's quick and it's healthy too, so you won't feel guilty after indulging in this Christmassy treat.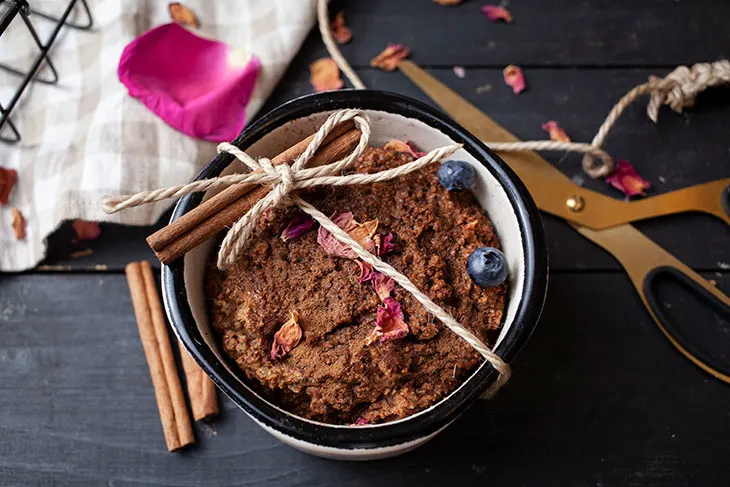 In fact, if you want to talk numbers, let me tell you that these little bread goodies only take 25 minutes to cook and just 10 minutes to prep. So in a bit more than half an hour, you'll end up with a delicious dessert. How awesome is that? 😉
Considering the low cooking time, this vegan cinnamon bread can perfectly work as a mid-week evening treat. Especially on those gloomy, winter days, when it happens to have a sweet tooth. Hey, it happens to all of us! In those situations, it is always better to prepare a quick dessert than to just grab some chocolate and eat it. This cinnamon bread is healthier and, if you ask me, 10 times more delicious!
Okay, enough talking. I guess I have already convinced you that this recipe is worth trying – and you can even prepare it together with your kids as a fun little family activity. The entire process doesn't require any complicated techniques or fancy ingredients. It's all quick and hassle-free, just how I like it!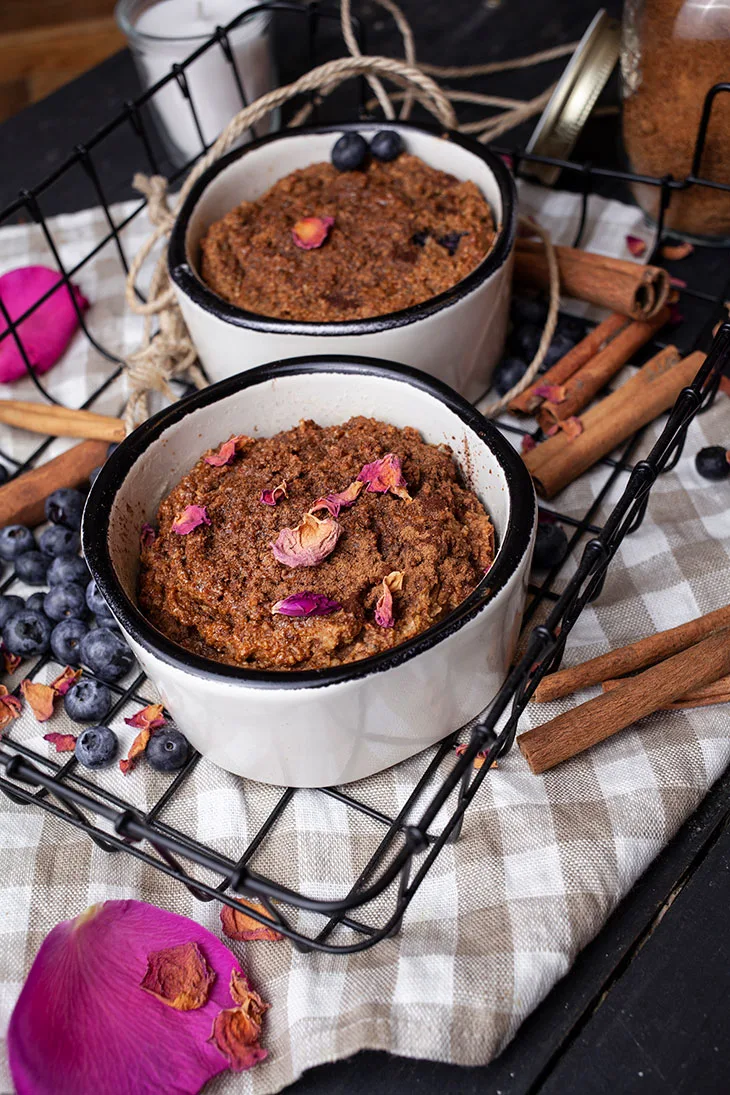 Now all that's left is to grab all the ingredients you need and start baking. I'm sure you'll be impressed with the results! And if you decide to try this vegan cinnamon bread, please don't forget to come back and tell me how it went. I'm always curious to hear from you!
Yield: 2
Vegan Cinnamon Bread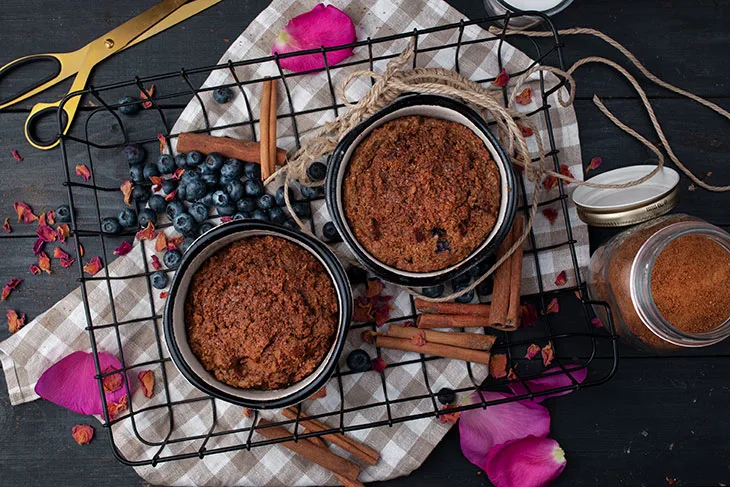 What could be better than some quick and easy-to-make cinnamon goods? Literally nothing! Here's how to make the most delicious vegan cinnamon bread in no time!
Ingredients
Dry ingredients:
250g (1 ½ cups) all-purpose flour
1 tsp baking powder
1 ½ tsp cinnamon
½ tsp baking soda
a pinch of salt
Wet ingredients:
60ml (¼ cup) olive oil
120ml (½ cup) agave nectar
1 tsp vanilla extract
180ml (¾ cup) almond milk
For topping:
2 Tbsp brown sugar
1 tsp cinnamon
2 tsp vegan or dairy butter, melted
Instructions
Preheat oven to 200C.
Spray a large ramekin with cooking spray.
In a large bowl, add all wet ingredients and whisk to combine.
In another bowl, add all dry ingredients and mix to combine.
Stir in dry ingredients with the wet ingredients until smooth. Set aside.
In a small bowl, mix all the topping ingredients.
Transfer the batter to the ramekin, brush with topping mixture, and bake for about 25 minutes.
Decorate with fresh berries and dry rose petals (optional).
Nutrition Information
Yield
2
Amount Per Serving
Calories

789
Total Fat

34g
Saturated Fat

8g
Trans Fat

0g
Unsaturated Fat

25g
Cholesterol

20mg
Sodium

720mg
Carbohydrates

110g
Fiber

4g
Sugar

55g
Protein

11g
I strive to keep the information as accurate as possible but make no warranties regarding its accuracy. I encourage you to make your own calculations using your preferred nutrition calculator.