Family dinner coming up? Here's a recipe to impress: stuffed red cabbage rolls, also known as dolmas! Healthy, filling, and extremely delicious!
In case you never heard of stuffed cabbage rolls before, get ready for a REAL treat, especially for the holidays! 🙂 I'm Romanian, so stuffed cabbage rolls are a staple Christmas recipe here. We call them "sarmale", but they're well-known in other parts of Eastern Europe under many different names.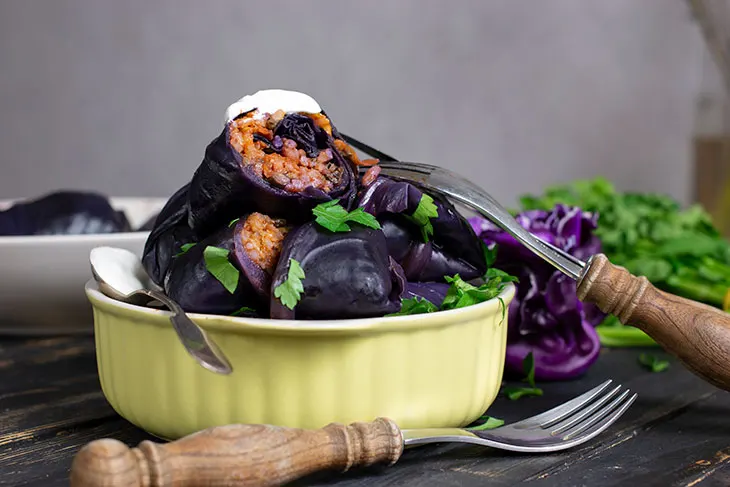 This savory main dish consists of, you guessed it, red cabbage leaves and a delicious stuffing! I will tell you everything you need to know about the ingredients and process in the recipe below, but first, let's talk about the history of cabbage rolls and other interesting information.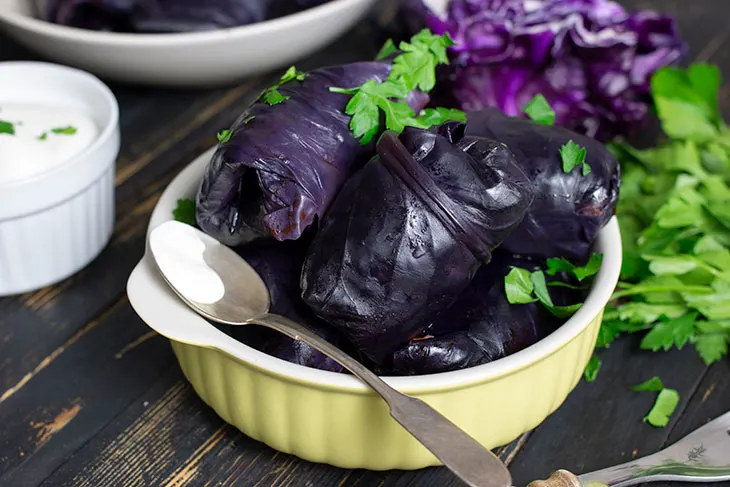 The dolma is a traditional stuffed dish from the Balkans, but it can also be found in the Middle East and Central Asia. It's usually made of cabbage leaves or vine leaves and the stuffing is usually made of a mixture of ground meat, rice, and some veggies such as tomatoes, onions, or peppers. This dish is called dolma in Turkey, golubtsy in Russia, golabki in Poland, gemista in Greece, or sarma here in Romania.
Compared to the original dish, this recipe is 100% vegan, gluten-free, high in protein, low in carbs, and, of course, super healthy and delicious! Plus, making this dish from start to finish doesn't imply any expensive or fancy ingredients – it's actually a budget recipe instead!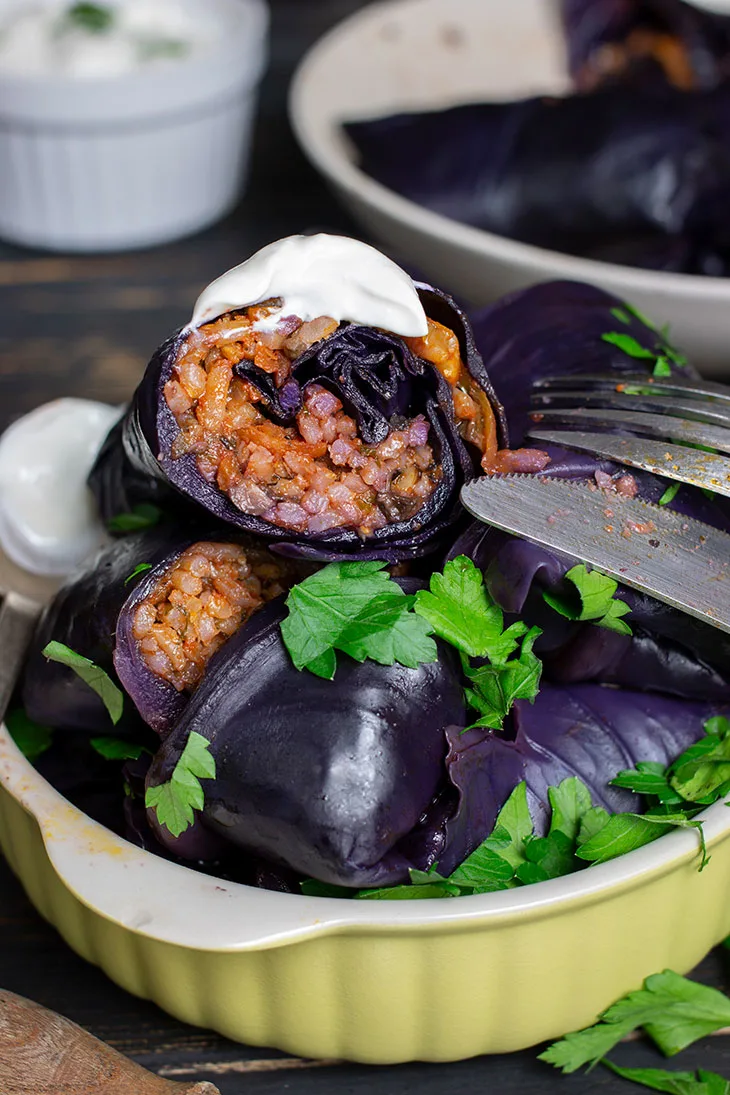 In case you're in need of some inspiration for a meat-free Christmas dinner (or any other celebration, in fact), then these stuffed red cabbage rolls are a perfect option. Some other awesome suggestions for a complete Christmas dinner include this vegan Christmas pudding or Christmas brownies for dessert or this Christmas tree appetizer as a starter.
The stuffing mixture is yummy and super filling and it's made of champignon mushrooms, rice, carrots, onions, and some carefully chosen spices. This is what we'll use to stuff our cabbage leaves, which we'll leave to cook (boil) for about 2 hours. I know, this recipe takes quite some time to make and a lot of patience, but the end result is definitely worth it, especially if you want to prepare something truly special for your loved ones this Christmas!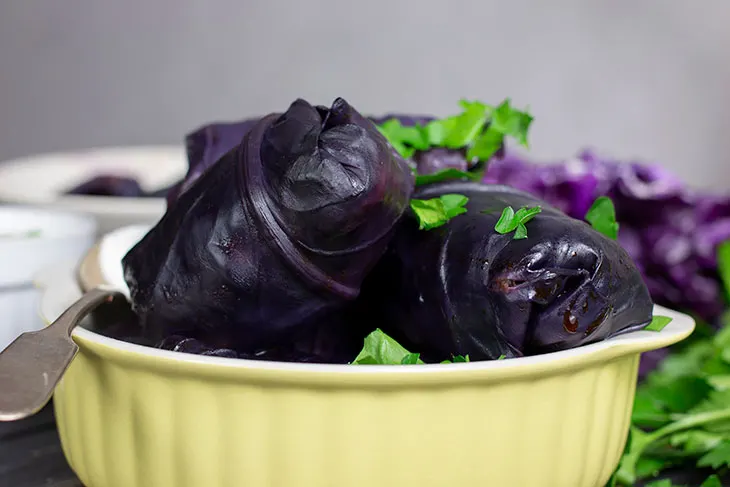 You may already know that I have another recipe for vegan cabbage rolls on my blog from last year. That one has the same filling ingredients, but it's made with pickled white cabbage leaves instead. This years' recipe is just as healthy and delicious, only it's made with red cabbage, which will result in a more colorful, prettier dish.
How do you serve these stuffed red cabbage rolls, after all? I like to keep things simple and traditional, so I choose to serve these with some hot polenta on the side and some vegan sour cream. That's how Romanians usually serve this dish for Christmas and New Years' Eve!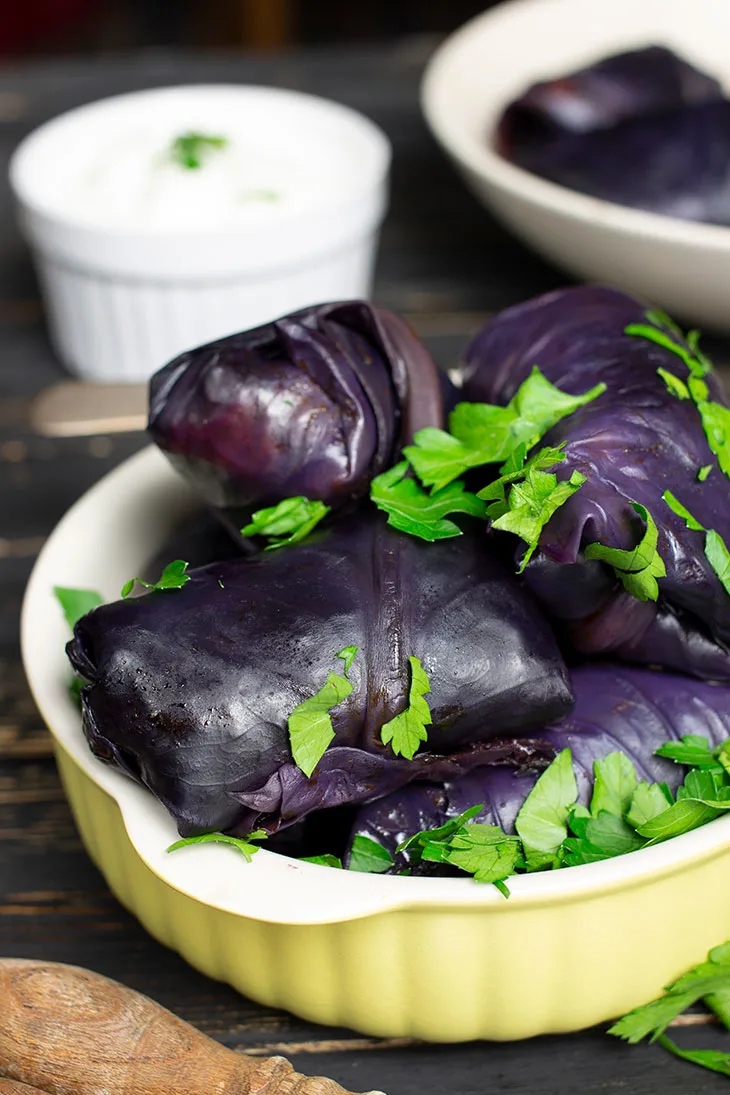 One of the best advantages of this recipe is that it can be made in advance and then frozen for later. Yes, stuffed cabbage rolls freeze perfectly for up to 4 months and can be reheated easily, although the cabbage might be more tender than in the moment you first cooked them. In short, this recipe is good for meal prep as well!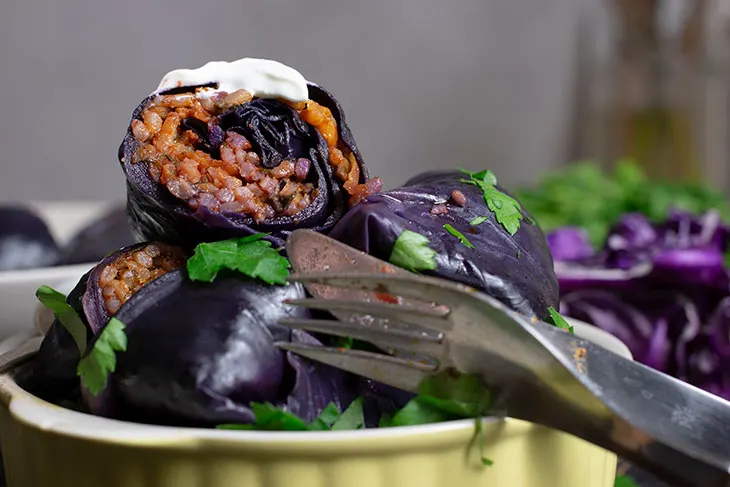 Now that I convinced you that this recipe is delicious, healthy, and worth trying for the holidays, let me offer you some tips and details about the process. Even though red cabbage is a bit harder than white cabbage, it works wonderfully in this recipe, as it complements the stuffing's texture. I'm sure you have some questions about the actual stuffing and rolling implied here, so here's what I can tell you to keep in mind:
Make sure to use a big red cabbage, so you can choose the best leaves for your cabbage rolls – choose the big ones, of course, so you'll have enough space to "play" with!
If your leaves are too big, you can cut them into a square shape, which will make the process of rolling them much easier;
Keep in mind that you'll need to remove the core of the cabbage for easier rolling!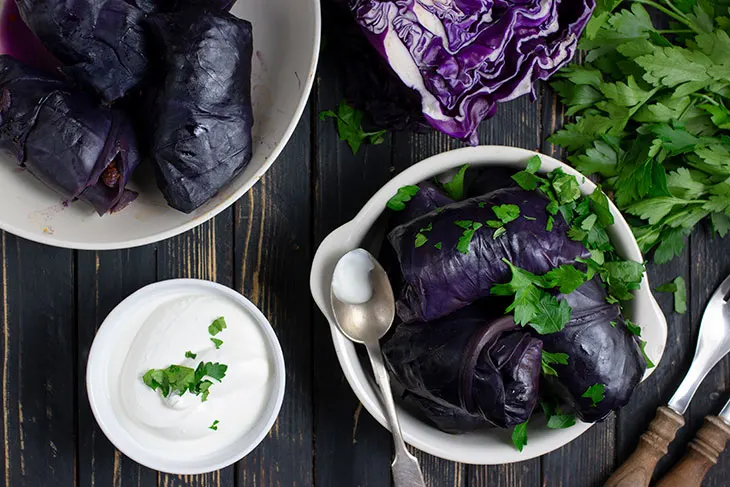 Aaand that's about everything I wanted to say about this wonderful recipe for stuffed red cabbage rolls. All that's left is to go grab your ingredients and get to work! Although this recipe is a bit more time-consuming and laborious than other recipes you'll find here on the blog, I think it's totally worth trying them for a special occasion, such as Christmas. Happy cooking!
Yield: approx. 40 dolmas
Stuffed Red Cabbage Rolls / Dolmas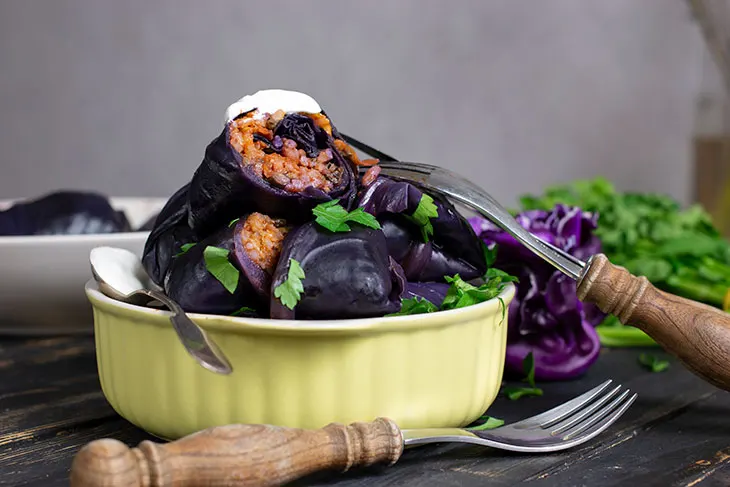 Family dinner coming up? Here's a recipe to impress: stuffed red cabbage rolls, also known as dolmas! Healthy, filling, and extremely delicious!
Cook Time
2 hours
30 minutes
Total Time
1 day
3 hours
30 minutes
Ingredients
1 red cabbage, leaves removed, left for 24 hours in 2L (8 cups) hot, boiling water and 500ml (2 cups) vinegar - see instructions below
6-7 large champignon mushrooms, finely chopped
220g (1 cup) rice
2 small carrots, grated
2 large onions, chopped
5g (½ cup) finely chopped fresh dill
6 Tbsp tomato paste
4 Tbsp oil
3 bay leaves
1 Tbsp black peppercorns
2 tsp salt
1 tsp pepper
1 tsp dry dill
1 tsp dry thyme
Instructions
First, prepare the leaves.
Remove the stems from the big leaves and cut them in two. Use only tender and small pieces for rolling and try to keep them all of the same size. Set aside.
Boil 2 L of water with 500ml of vinegar. Add the leaves in once it starts boiling and remove from heat. Leave the leaves in this for at least 24 hours. The next day, remove the water and use the leaves to make these dolmas.
To prepare the stuffing:
In a large pot on medium heat, add the oil and onions. Sautee until translucent.
Add the rice and continue to cook for about 5 minutes, stirring.
Add the mushrooms.
Cook, stirring from time to time, for about 10 minutes or until the rice absorbs the liquids.
Turn off the heat, add the carrots, ½ of the tomato paste, ½ of the chopped dill, dry dill, thyme, salt, and pepper. Stir to combine. Let cool.
To stuff the rolls:
Put a Tbsp of the stuffing mixture on a leaf.
Cover the filling with the edge from the base of the leaf. Bend the edges on both sides and cover over the filling.
Roll the stuffed cabbage leaf while holding it firmly, so it won't break during cooking time.
Repeat these steps until you finish all of your mixture.
In a large pot, place the very big leaves of the cabbage (that you could not use for the rolls) to cover the bottom. Arrange the rolls evenly on the bottom in 2 layers.
Cover the layers with another layer of cabbage rolls, one part of the tomato paste, part of dill and repeat with the rest of rolls.
To cover the last layer, use the rest of the cabbage leaves, peppercorns, and the bay leaves.
Add boiling water until it nearly reaches the last layer of rolls.
When the water in the pot starts to boil, turn the heat to low and cover the pot. Cook for about 2 hours.
Make sure to check from time to time the level of water. If it was absorbed, add about a cup each time.
Serve warm, with polenta on a side, with chopped fresh herbs or vegan cream.
Nutrition Information
Yield
45
Amount Per Serving
Calories

23
Total Fat

1g
Saturated Fat

0g
Trans Fat

0g
Unsaturated Fat

1g
Cholesterol

0mg
Sodium

107mg
Carbohydrates

3g
Fiber

0g
Sugar

1g
Protein

0g
I strive to keep the information as accurate as possible but make no warranties regarding its accuracy. I encourage you to make your own calculations using your preferred nutrition calculator.