Today I want to share with you some of my favorite vegan cookies in the world – cinnamon cookies! They're simply perfect for December!
I am happy to announce that today is all about treats! Yay! 🙂
And you can probably guess that when I say treats I say dessert. Something sweet to keep you company during the day. Whether you need something to have your coffee with, something to enjoy with a hot cup of tea while reading your favorite book for this season or something to delight you after a tasty meal.
If you're a regular guest on my blog, you probably know that I'm a big fan of desserts. Whenever I have some extra time on my hands, I try to come up with a new recipe to try.
I admit I don't have time to make my own sweets as often as I would like, but still, I think it's nice to bake your own goodies from time to time. I mean – it's not even a chore! For me, the act of cooking dessert is a pleasure in itself.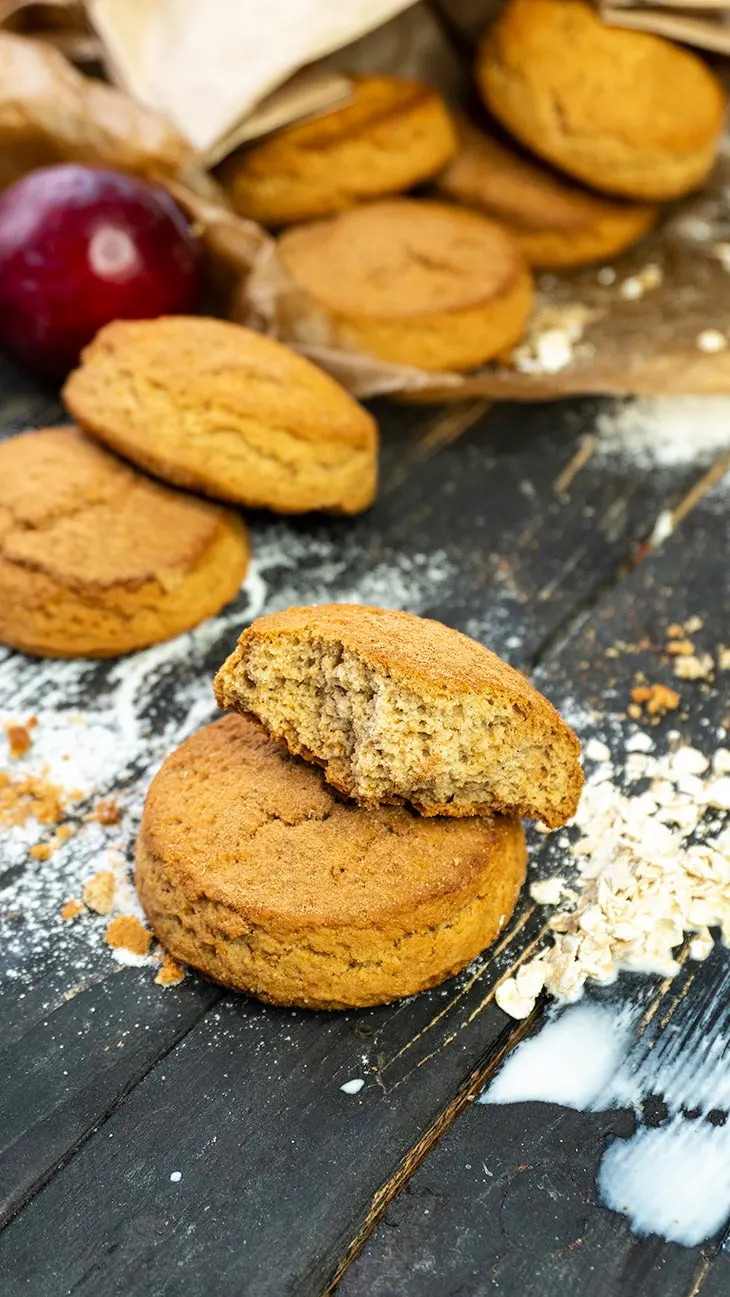 And today I am going to show you a really delicious and seasonal treat. Cinnamon cookies! I am sure that you agree with the fact that cinnamon is the spice of this season! Winter, I mean.
Now that the holidays are close, I am trying to think of new ways to incorporate these amazing spices in daily recipes. There is no wrong season to bake these delicious treats, but you must admit that there is something special about the smell and taste cinnamon in the cold and snowy days of winter.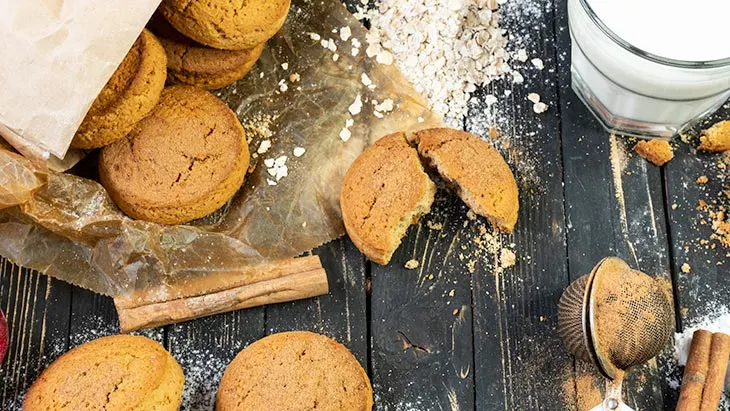 Not to mention the warm oven, the steam rising above the freshly baked cookies and the overall sweet flavor that will fill your kitchen and home!
While I am writing this, I feel that I am becoming more and more anxious to head to the kitchen and start preparing my sweet goodies. It's not the first time I try out this recipe so I am positive that the result will be amazing and it's truly worth the effort.
And by the "effort" I mean 20 minutes. Because that's all it takes to make these cinnamon cookies! 🙂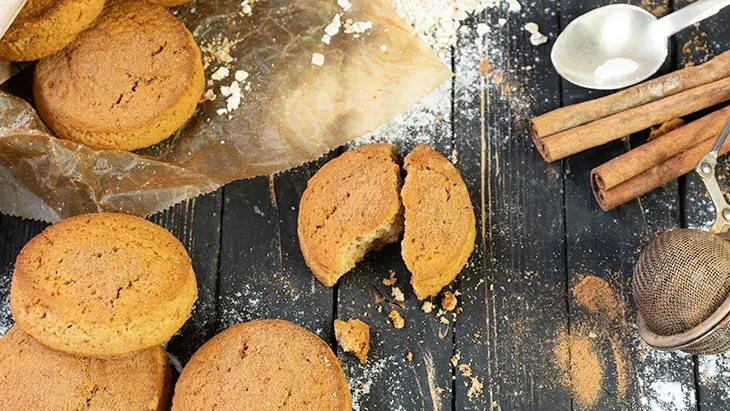 Besides being super-super-super delicious, these cinnamon cookies are also very easy to make. I admit that when it comes to sweets, cookies are my go-to form.
Because they are so much faster and easier to make than full cakes. And easier to eat! Cookies are super packable, while a creamy piece of cake is usually quite hard to carry around. And when I have a batch of fresh cookies, I just love to take them with me and let the sweetness follow me throughout the day.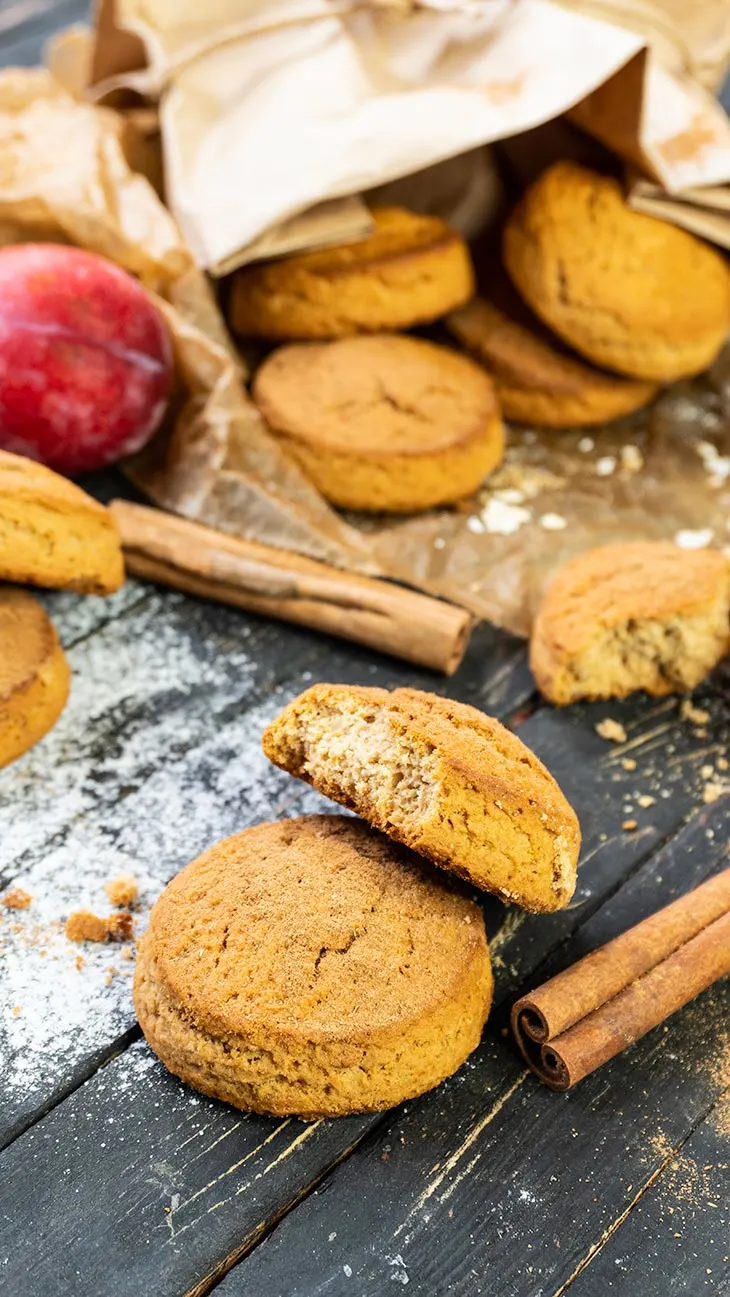 These cinnamon cookies have everything you could wish for from a biscuit. They are crunchy on the outside and soft on the inside, packed with flavor and plain delicious. While the cinnamon is the star flavor of this recipe, I have another quick tip for you: adding some brown sugar is extremely satisfying! Because brown sugar perfectly complements the taste of cinnamon, giving a caramelly feel to the cookie. And I am sure we all love that.
For making this recipe you will only need a handful of ingredients that you may already have in your cupboard. So you won't need to run around all town in search of some long shopping list items. Quick and cheap recipes are my favorite type of recipes! 🙂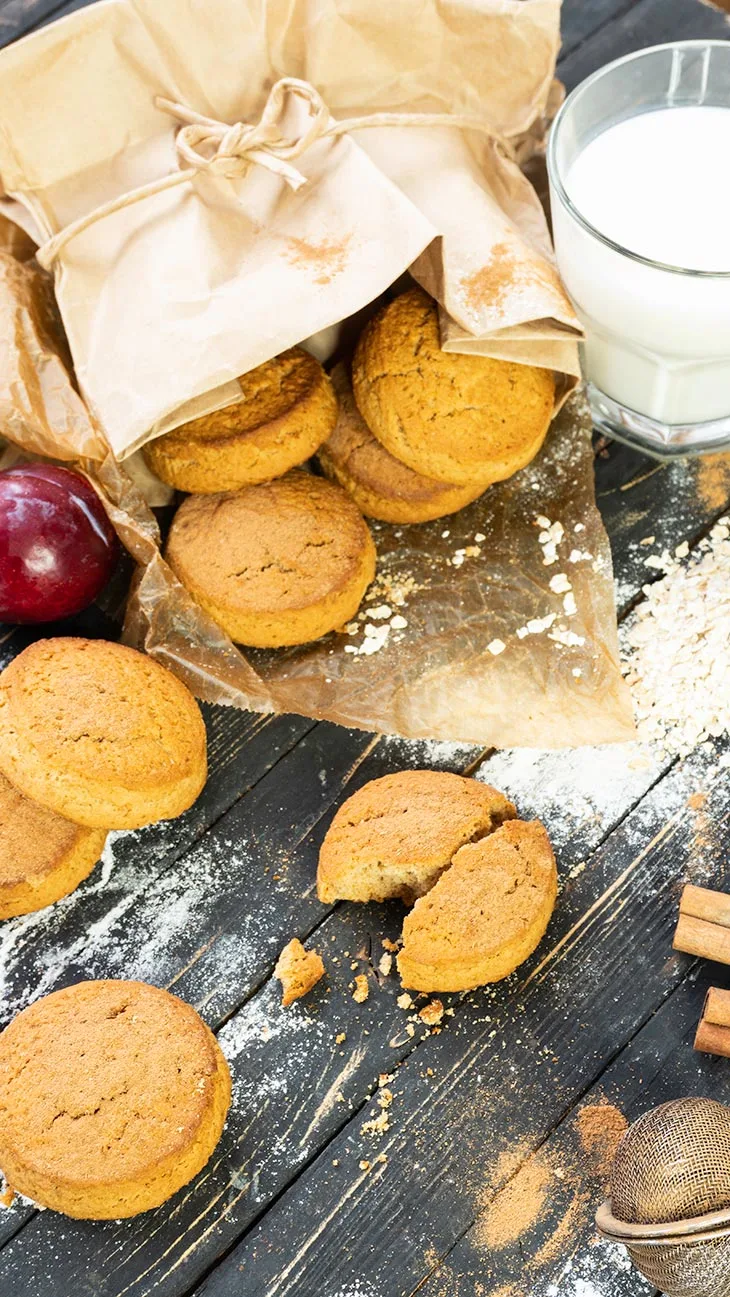 So even if you're on a budget, you don't have to give up preparing your own dessert. I like to keep things affordable and I promise that this recipe won't empty your pockets.
Moreover, any penny spent will be well worth the effort, as the results will be awesome. It is a very easy recipe, so even with very little experience in the kitchen, nothing can really go wrong.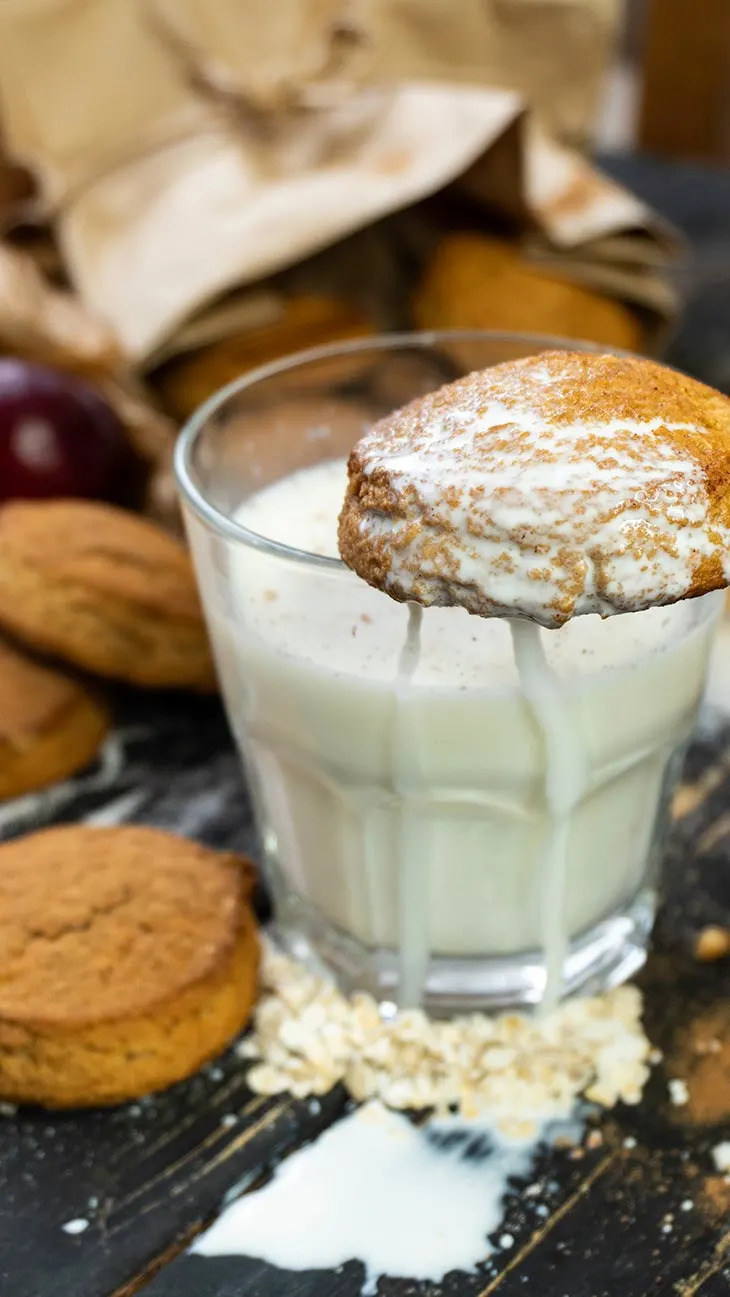 So follow my instructions and you will end up with some awesome cookies to show off in front of your friends. Remember – it's winter and cinnamon is your best friend! Definitely healthier than any store-bought cookies, this recipe will be a great addition to your cooking repertoire and they're simply perfect together with a glass of vegan milk.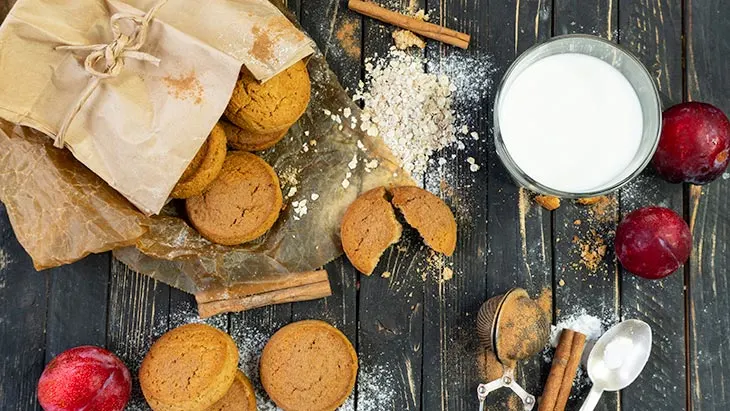 So let's head to the kitchen! You can see the detailed steps below – all you need to do is follow these simple instructions and the reward will be as tasty as possible. When everything is ready, don't forget to comment and let me know how it all went – I'd love to hear all about it!
Yield: 4
Cinnamon Cookies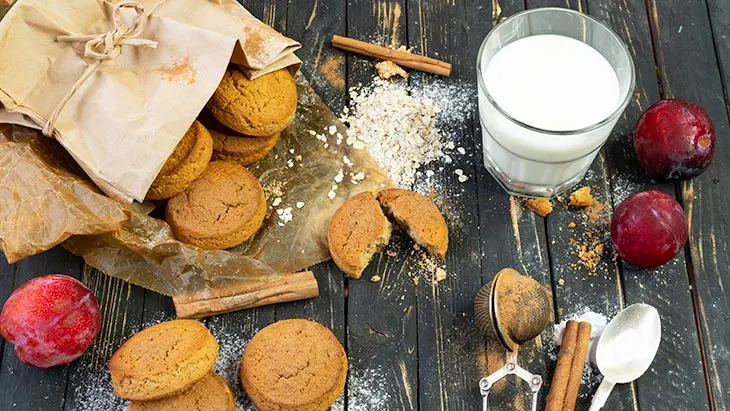 Today I want to share with you some of my favorite vegan cookies in the world - cinnamon cookies! They're simply perfect for December!
Ingredients
80g (1 cup) oats
120g (1 cup) all-purpose flour
100g (1 cup) brown sugar
110g (½ cup) vegan butter, room temperature
2 Tbsp flaxseed meal
6 Tbsp water
1 tsp baking soda
1 tsp vanilla extract
1 Tbsp cinnamon powder
Instructions
Pour the water over the flaxseed meal and leave it aside for 5-7 minutes.
Pulse the oats in a food processor until powdery.
Add the butter and sugar into a bowl and cream together until fluffy.
When the flaxseed has reached a gel, egg-like consistency, add it to the butter mixture with the vanilla extract and combine.
Add the flour, powdered oats, cinnamon and baking soda to the bowl and mix well.
Roll the dough into balls and place on a tray lined with parchment paper.
Bake at 180 degrees Celsius for 12-15 minutes or until the cookies are golden brown.
Nutrition Information
Yield
4
Amount Per Serving
Calories

578
Total Fat

24g
Unsaturated Fat

0g
Carbohydrates

83g
Fiber

3g
Sugar

54g