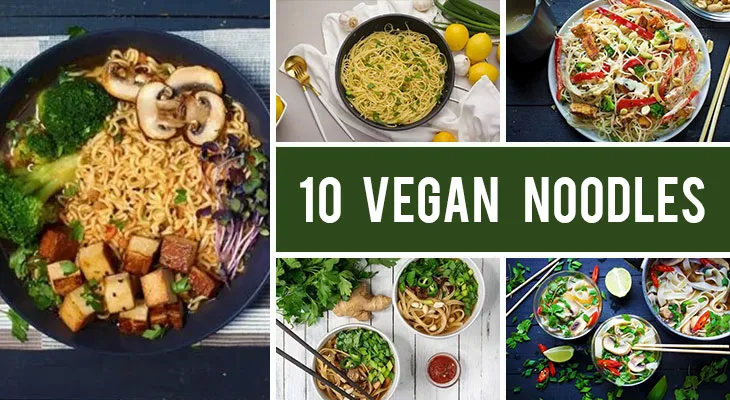 Are you looking for some recipe inspiration? In this list, you will find 10 vegan noodles recipes for busy days. All of them are yummy, super easy, and quick to make! Give them a try!
Here's a very plausible scenario: you arrive home from work. You're super tired and extra hungry. You simply can't be bothered to cook something complicated, so you sit down on the sofa and decide to order some takeaway. You quickly realize it's kind of a bad idea, as your food will take a while to arrive and you'll be spending (again) lots of money on delivery.
What's there to do in this situation?!
I have an idea: noodles! Noodles are my safety net whenever I have a busy day or I don't feel like cooking. Noodles are easy to put together, easy to customize and they come in ALL shapes and colors.
There's plenty of options to choose from: rice noodles, buckwheat noodles, thin noodles, thick noodles, and everything in-between. If you have a spiralizer, you can even make veggie noodles out of zucchinis or carrots. See? I told you noodles are amazing! 😉
The most complicated thing about preparing noodles is to decide on the recipe you're going to make. But because this depends on which ingredients you have available on hand, this might be an easier decision than you think.
If you're making some yummy vegan noodles recipes, you can use an unlimited list of vegetables – mushrooms (white button, shiitake, oyster mushrooms, wood ear, etc.), fresh chilies, garlic, carrots. Or you can add your favorite sauce, homemade or not (tomato sauce, soy sauce, tahini, peanut butter, Teriyaki, and more), your favorite herbs (coriander, parsley), some peanuts, some green onion, and everything else you can think of. The sky's the limit!
For me, that's the beauty of noodles: you can make countless different recipes and combos and you'll still end up with something absolutely delicious.
Noodles are SUCH an easy meal, but they still feel exotic and special. Probably because noodles are an essential part of Asian cuisine, so you'll feel like you're treating yourself every time you're eating a big bowl of ramen or pad Thai instead of the classic spaghetti with red sauce, am I right?
Another amazing thing about noodles is that everyone can enjoy them, regardless if they're following a vegan diet, a gluten-free one or if they have some specific dietary needs. As I mentioned before, noodles come in all shapes and forms, with more or fewer calories, depending on what you're looking for!
And while we're here, in case you need a big dose of inspiration for your next meatless meals, you'll be happy to find out I put together this amazing list of vegan noodles recipes especially for you. I have put together 10 varied and delicious recipes down below from all cuisines – Japanese, Thai, Vietnamese, Italian, Romanian, and more.
9 of the recipes below are my own creations, so I can vouch for each and every one of them (spoiler alert: I love them all equally), and the last one was created by a super talented food blogger that I recommend you follow. But beware: it will be quite hard to only choose one recipe to try, so you must choose wisely! Or you can prepare a different noodle recipe each day – who am I to tell you what to do?! I'm just here to provide some inspiration and to promise you that you'll surely like at least one of the recipes below.
Enough talking! I'm sure you're already eager to try some new and exciting vegan noodles recipes today! All you need to do to access the recipes below is to click on the titles or buttons. Happy cooking!
10 Vegan Noodles Recipes for Busy Days
Are you looking for some recipe inspiration? In this list, you will find 10 vegan noodle recipes for busy days. All of them are yummy, super easy, and quick to make! Give them a try!