Lunch time? Fun time! Here's how to make the most delicious vegetable pot pie in the world – creamy, filling and super healthy!
Whenever I think of comfort food, there are a few things that pop into my mind – casseroles, meatloaf, baked pasta dishes and, of course, a pot pie. If you ask me, I'd say that a pot pie is basically the very definition of comfort food.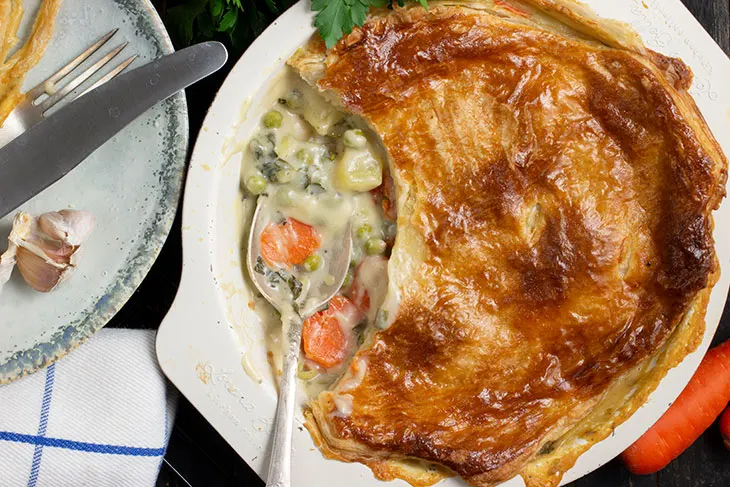 What's a pot pie? You might ask. Well, the answer is extremely simple: a pot pie is a mix of veggies and gravy, all topped with some flaky crust. Eh, I told you!
So what's not to like here, after all? Crispy pastry. Creamy sauce. Yummy, healthy veggies. A pot pie combines the best things about a pie and a stew – all in the same oven dish. And for me, that rhymes with perfection! And today I want to teach you how to make the best vegan recipe for pot pie – a vegetable pot pie perfect for lunch.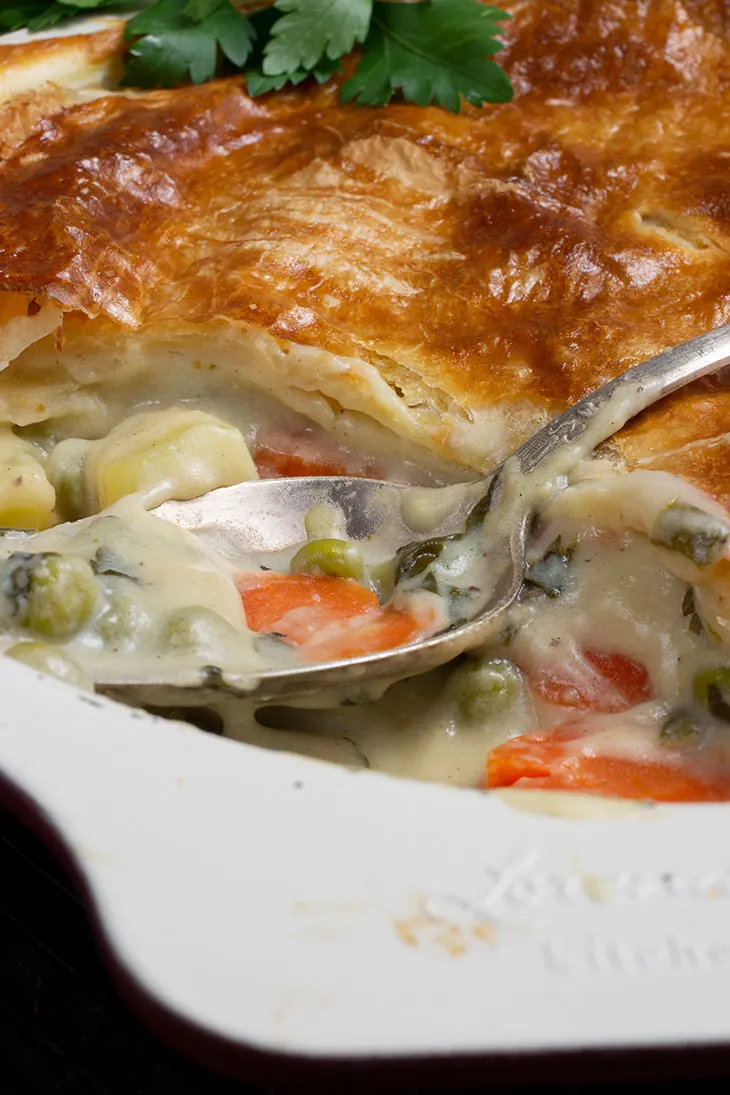 I know, it may sound a bit boring at first if you think about it. After all, it's just some pastry and some veggies, right? Nope, my friends! Everything about a pot pie is absolutely packed with flavor, from start to finish.
The crispy pastry adds a unique texture to the dish when you first crack through it with your spoon or fork. The sauce is creamy and herby and it perfectly complements the bubbly veggies. The end result is extremely filling, yummy and, to top it off, very easy to make as well. Heck, it's as easy as A-B-C, you just need to throw your ingredients in a sauce, then in a pan, then in the oven. And that's it!
Okay, so let's talk about 'veganizing' this recipe for a bit. Yes, I made the sauce vegan by using vegan ingredients, of course – such as vegan butter and almond milk. And for the filling I used a plethora of flavorful veggies such as potatoes, carrots, peas and spinach as well. If you want an extra protein boost, you can add some tofu cubes or some vegan meat in here as well. I didn't, but you do you and feel free to experiment with your favorite ingredients!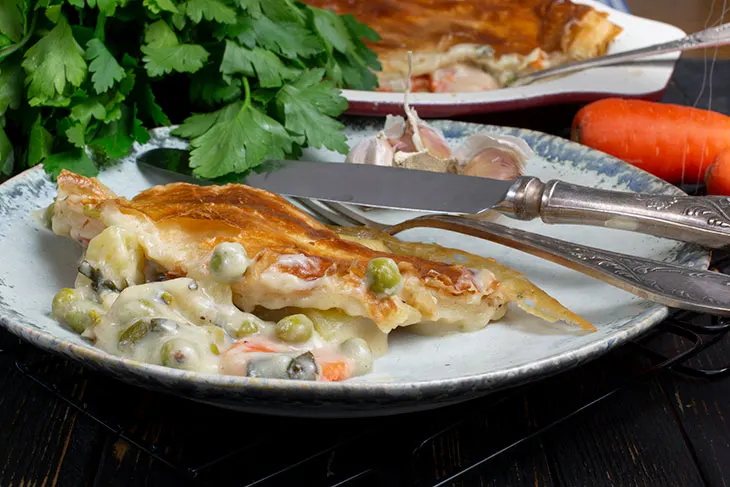 What about the herbs and flavors? I used parsley, garlic cloves and onions because I like to keep things simple and classy. But you may want to add something else such as fresh thyme or rosemary. Nothing wrong here at all!
As for the pastry: you can either be adventurous and make your own in the kitchen (it's quite simple and there are countless recipes on the web) or you can get store-bought pastry sheets. Just be sure to check that they're vegan – most of them are, but it doesn't hurt to double check!
Not convinced yet? Here's a short list with the main reasons why I love this recipe:
It's fail-proof. Even a kid could make it with a little bit of guidance!
It's comfort food at its best.
The ingredient list is flexible. Feel free to add, omit or replace any of the veggies and filling ingredients below.
It lets you choose. You can either bake one big vegetable pot pie or several smaller ones – maybe in ramekin pots so they'll be tiny and cute, why not?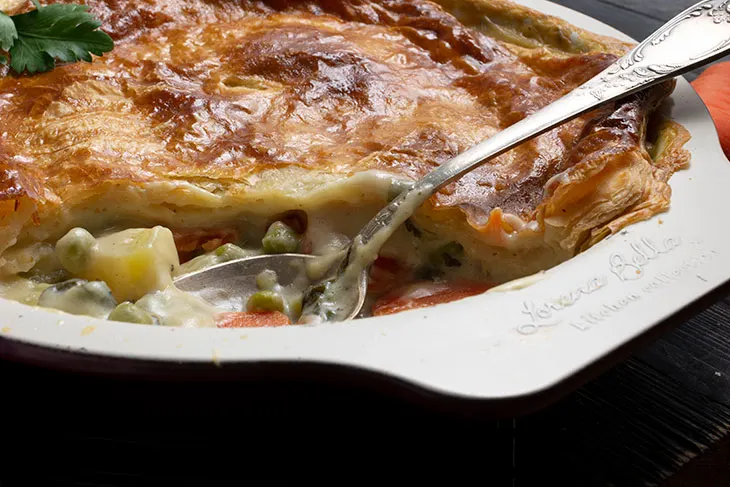 These being said, whenever you have an hour to spare, you can get in the kitchen and bake this amazing vegetable pot pie. It's perfect for lunch or dinner or, if you want to show your loved ones how much you care about them, you can even prepare it for a family meal. Everyone will be impressed, I assure you! And if you're not following a vegan diet, you can even throw some of your favorite meats inside it – chicken works best, if you ask me.
I simply love cooking this vegetable pot pie in the winter. When the weather is chilly, maybe even rainy and all you want to do is sit inside under a blanked, a savory baked dish such as this one comes in perfectly to make your day ten times better. Don't just take my word for it – bake it and see for yourself!
TIP #1: I know it's hard, but please try and let the pot pie cool for a bit before slicing it. Let's say 10 minutes will be enough, if you can take your hands off it for that long. Caution: the sauce will be BURNING!
TIP #2: Short on time? You can prepare the sauce-and-veggies-mix beforehand and store it in the fridge for later cooking. Up to 48 hours!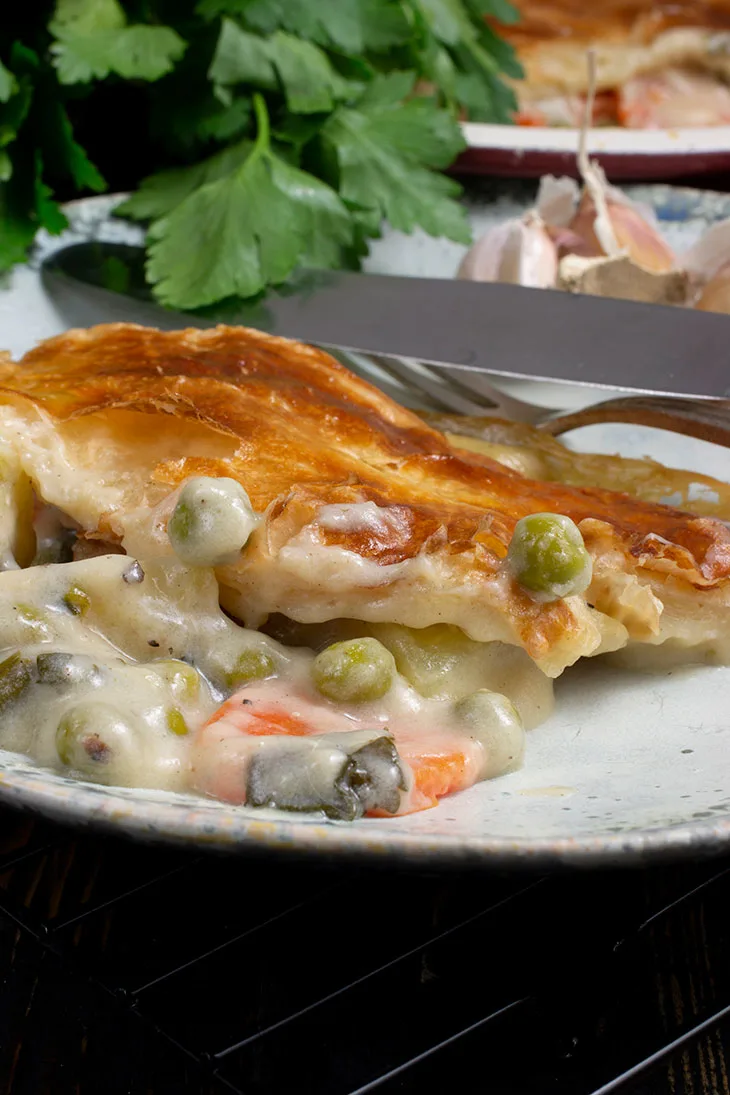 A perfect weekend recipe. The cure for a cold, rainy (or snowy) day. A delight for the senses. I hope I convinced you to try this amazing vegetable pot pie soon. And if you do, just like always, please don't forget to come back here and tell me how it went. I'm so curious to find out!
Happy cooking and happy eating!
Yield: 4
Vegetable Pot Pie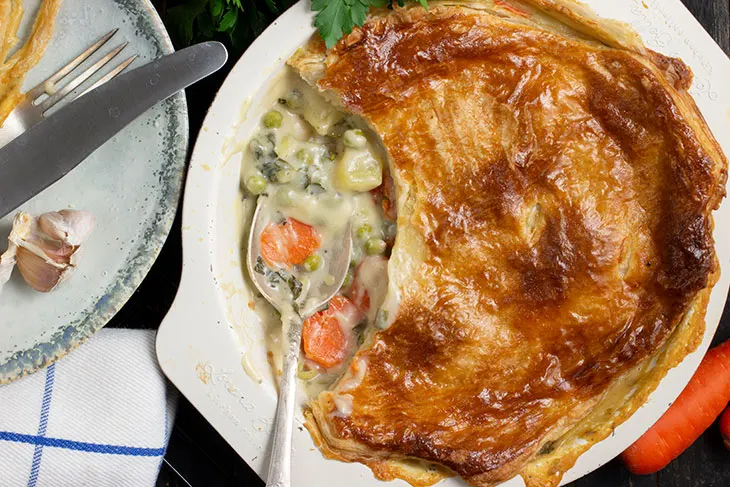 Lunch time? Fun time! Here's how to make the most delicious vegetable pot pie in the world – creamy, filling and super healthy!
Ingredients
1 pastry sheet the store-bought ones are usualy already vegan, but double-check if you want this recipe to be 100% dairy free
100g (3.5 oz) butter , use vegan if you want
2 Tbsp flour
250ml (1 cup) veggie broth or water
500ml (2 cups) almond milk
2 tsp dijon mustard
2 medium potatoes, chopped
2 garlic cloves, minced
2 medium carrots, chopped
130g (½ cup) frozen peas
150g (½ cup) frozen spinach
3 green onions, chopped
1 Tbsp parsley, chopped
Salt
Instructions
In a large pot, melt the butter, sprinkle the flour and mix to form a paste.
Add the milk, veggie broth or water and mustard. Mix until no more lumps.
Once simmering, add the garlic, carrots and potatoes.
Cook for 8-10 minutes, stirring occasionally.
Add the peas and spinach, season with salt and pepper, and cook for another 5 minutes.
Take off heat, add the green onion and parsley, mix well.
Transfer the mixture to the baking dish and cover with pastry dough.
Cook for 15-20 minutes at 180 degrees C.
Nutrition Information
Yield
4
Amount Per Serving
Calories

468
Total Fat

27g
Saturated Fat

15g
Trans Fat

1g
Unsaturated Fat

9g
Cholesterol

66mg
Sodium

617mg
Carbohydrates

50g
Fiber

8g
Sugar

12g
Protein

10g
I strive to keep the information as accurate as possible but make no warranties regarding its accuracy. I encourage you to make your own calculations using your preferred nutrition calculator.