Extremely quick, super yummy, and healthy as well: here's how to make the BEST roasted tomatoes and feta cheese pasta! Inspired by the Tik-Tok trend, only better!
Confession time! I decided to change things on the blog a little – I decided to start posting ALL those excellent recipes I'm making every day for lunch or dinner. These are yummy, easy recipes for everyday cooking that I made and loved, but for which I didn't have any time to take "professional" pictures with my camera because I was just TOO hungry. I have so many recipes like this that I didn't share with you guys because I felt the visuals are "not worthy". I had no props, no proper light, and no fancy plating. But I won't let that stop me ever again!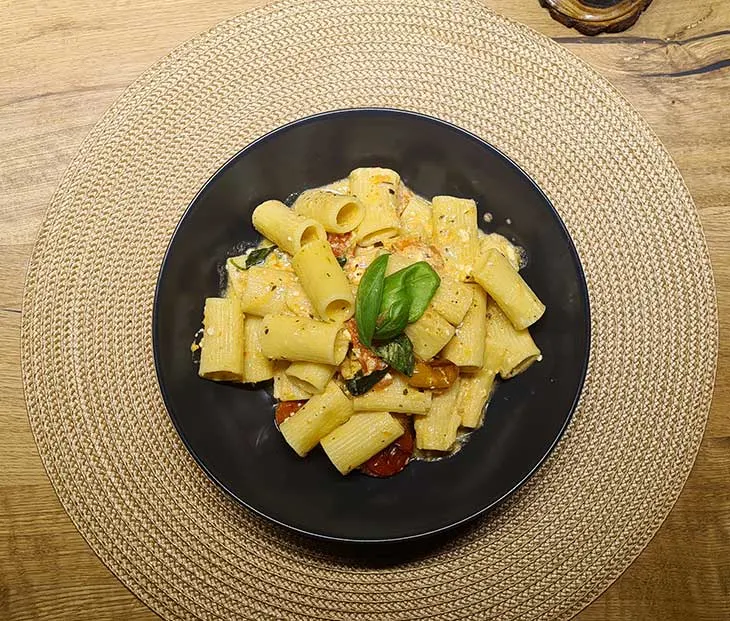 So for this recipe, I only have a couple of photos taken with my phone, but what's important here is the taste and the actual recipe. No perfect pictures ahead, just my real, non-polished food that I eat in my real life. 🙂
Truth be told, I was planning on trying a Greek recipe for roasted feta cheese with tomatoes for a long time. I was planning on serving it with some crunchy wraps on the side or an oven-roasted baguette. You know, just to mix the creaminess with a little bit of crunch for a texture kick.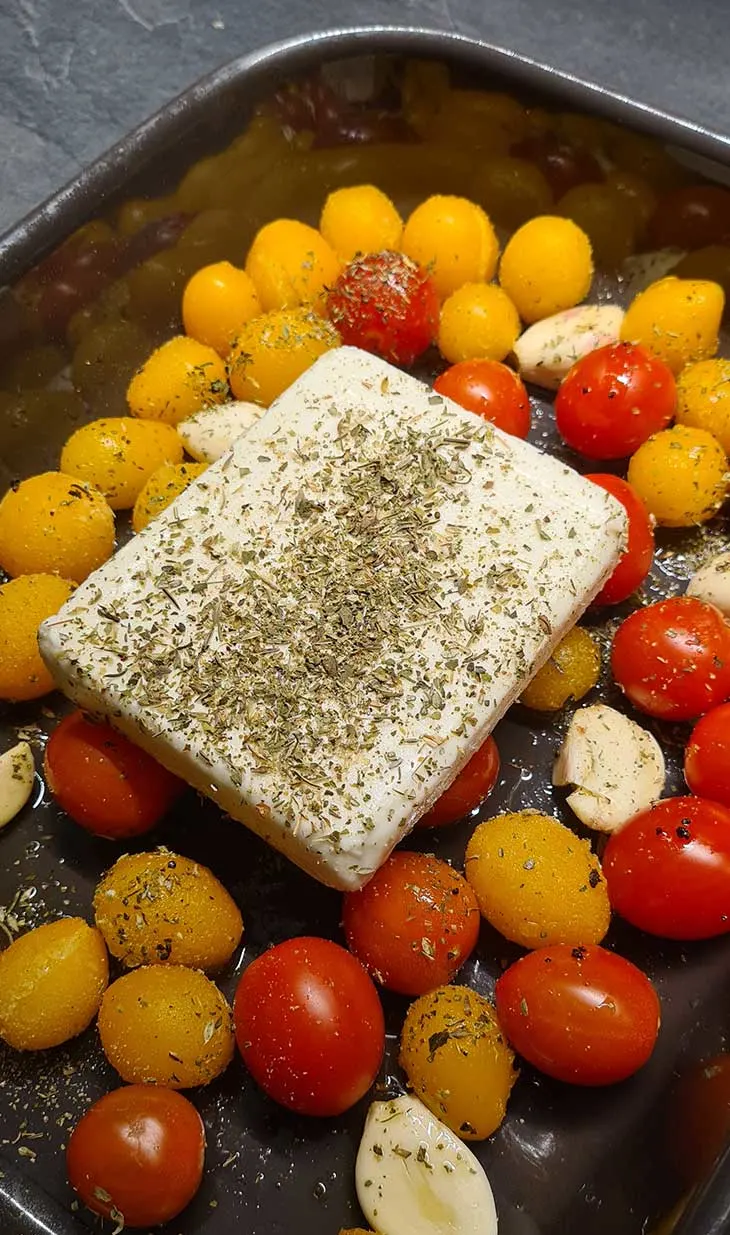 In the meantime, the same recipe got viral on Tik Tok and Reels, only with pasta as a base. So I thought I should jump on the trend right now and just give it a try – after all, I had all the ingredients at home, so why not?
The result? Extremely delicious! The surprising thing about this recipe for roasted tomatoes and feta cheese pasta is that it's SO easy and simple. But the end result is just wow! I know I say this about lots of recipes, but few dishes out there can be easier than this pasta recipe. Maybe some sandwiches and salads, but I seriously doubt they'll have the same complex flavor as the roasted tomatoes and feta cheese pasta! 😉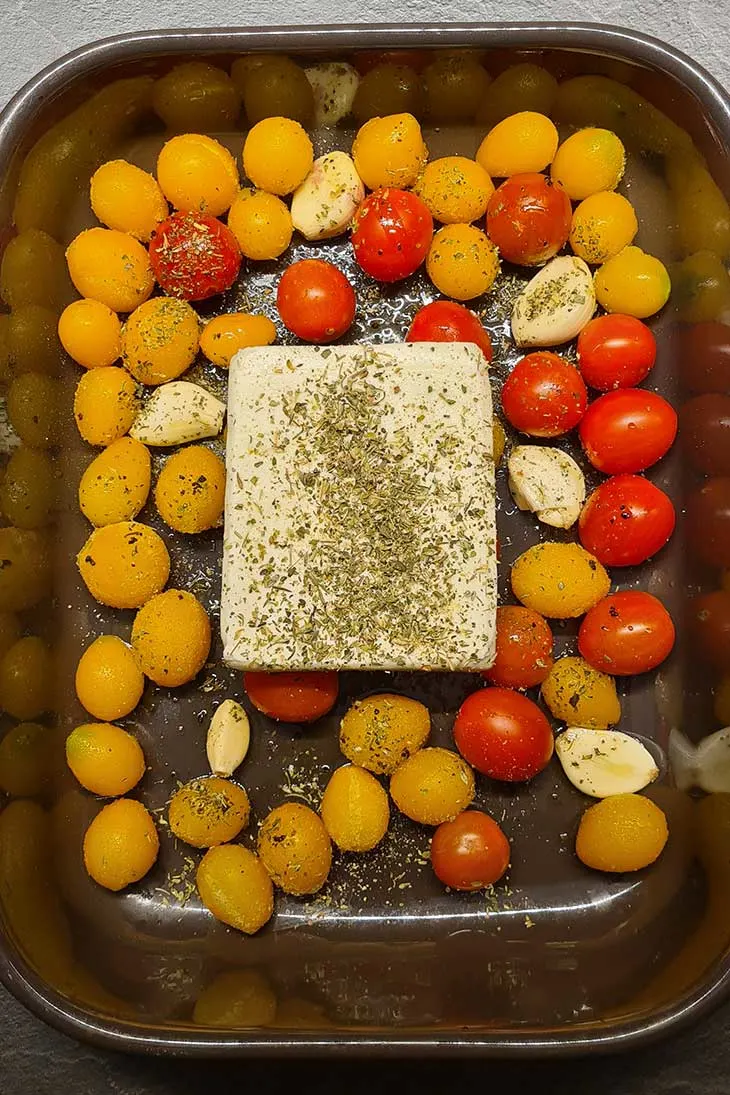 This recipe is not vegan, as I used proper feta cheese for it. But I heard that Verdino recently launched a vegan feta cheese. I didn't get to test it yet, so I'm not 100% sure how it will "behave" in the oven and if it will melt just like dairy feta cheese becoming and creamy and delicious. But I'm very curious to try it out and I'll surely make the vegan version soon!
The key here is to use an entire block of feta cheese. Try to avoid the crumbled feta cheese, as it won't become creamy and saucy as a block would.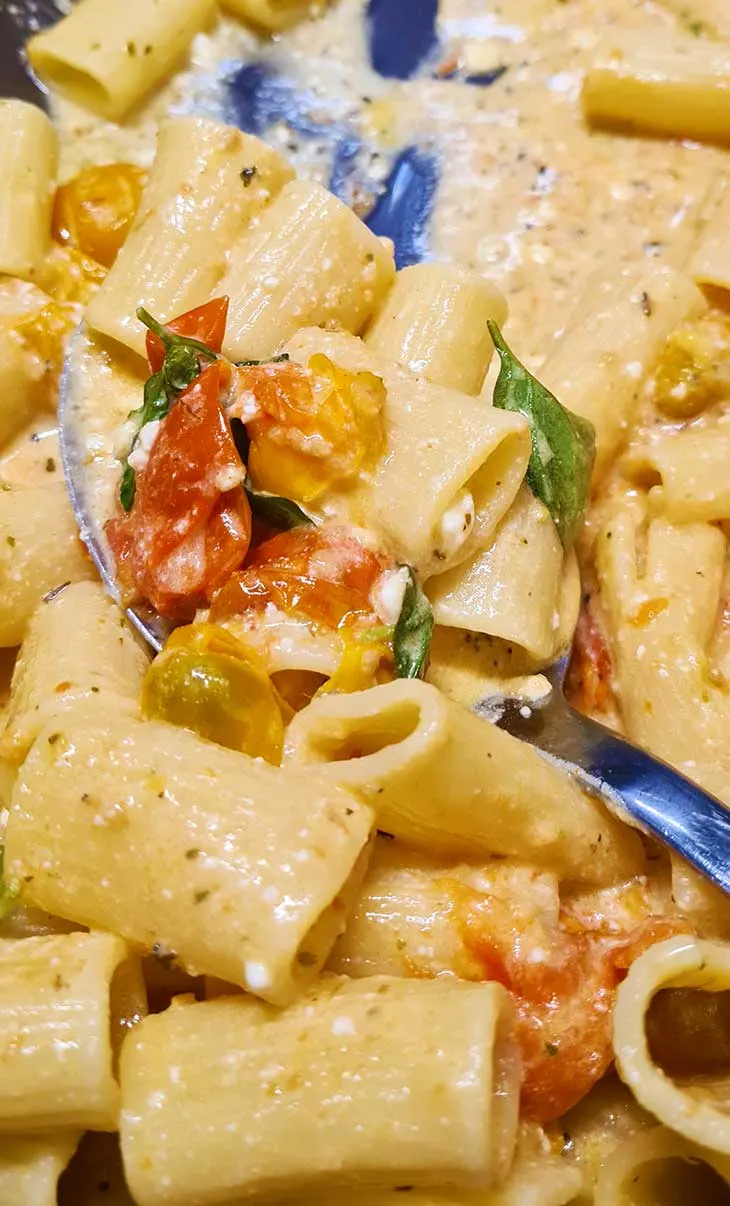 The orange cherry tomatoes that I used were frozen last summer. I got them straight from my parents-in-law's garden where they planted and cared for them themselves. And they're SO yummy and full of flavor. They can't even compare to the tomatoes you can find on the shelves of supermarkets this winter.
You can use any kind of cherry tomatoes you like. The idea is to use cherry tomatoes instead of regular tomatoes because their flavor is usually more intense and the roasted texture is pretty much perfect in this combination. You should crowd your oven dish with lots of cherry tomatoes if you want them to be juicy and tender or you can add just a few, leaving empty spaces between them in case you want some dry, intensely flavored tomatoes. The choice is yours!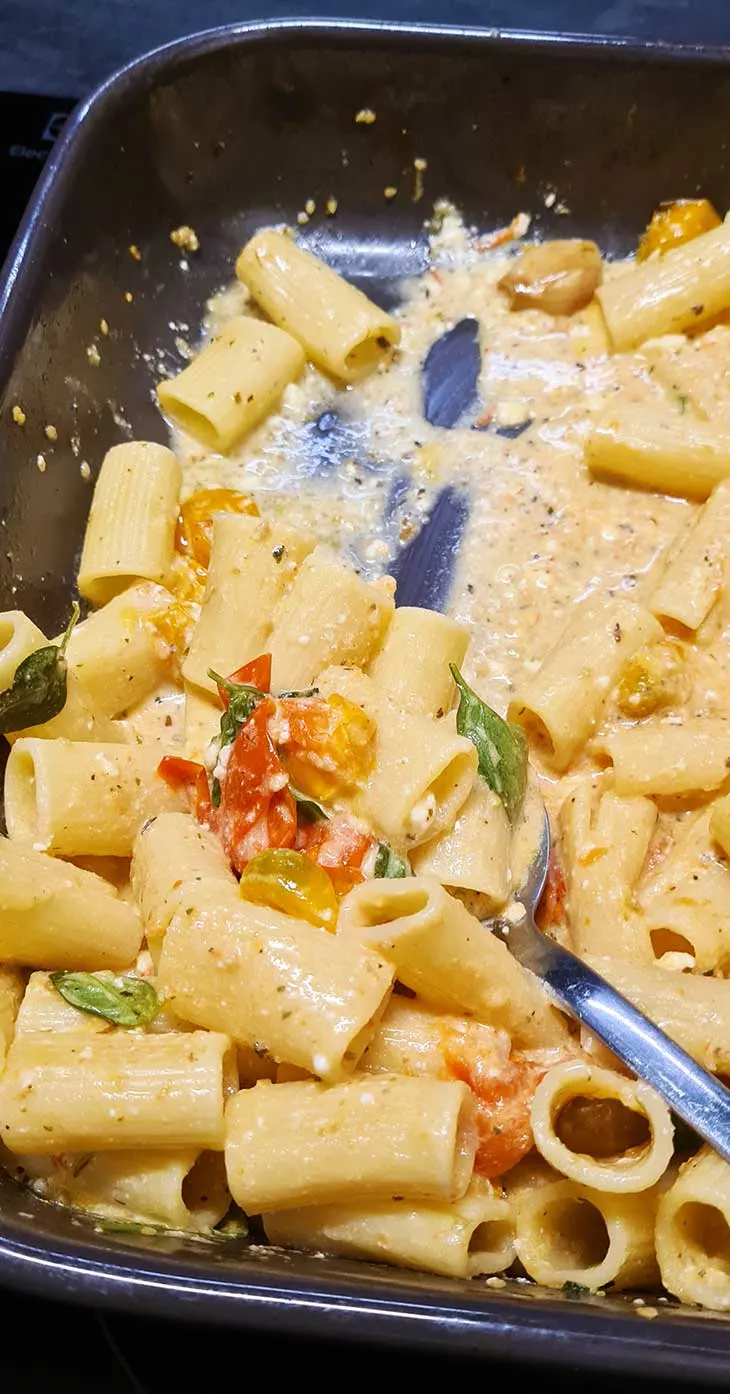 The best thing about this recipe is that it's ready in no time and with no effort. No, really, you won't have to do anything except placing the ingredients in the oven tray and setting the oven to 200C. Then we wait, mix and serve. That's it!
Another great advantage is that you can easily transform this recipe into a gluten-free one by using gluten-free pasta. You can use ANY pasta shape you wish, but the best results are obtained if you use some kind of tubes as they collect the sauce like a charm.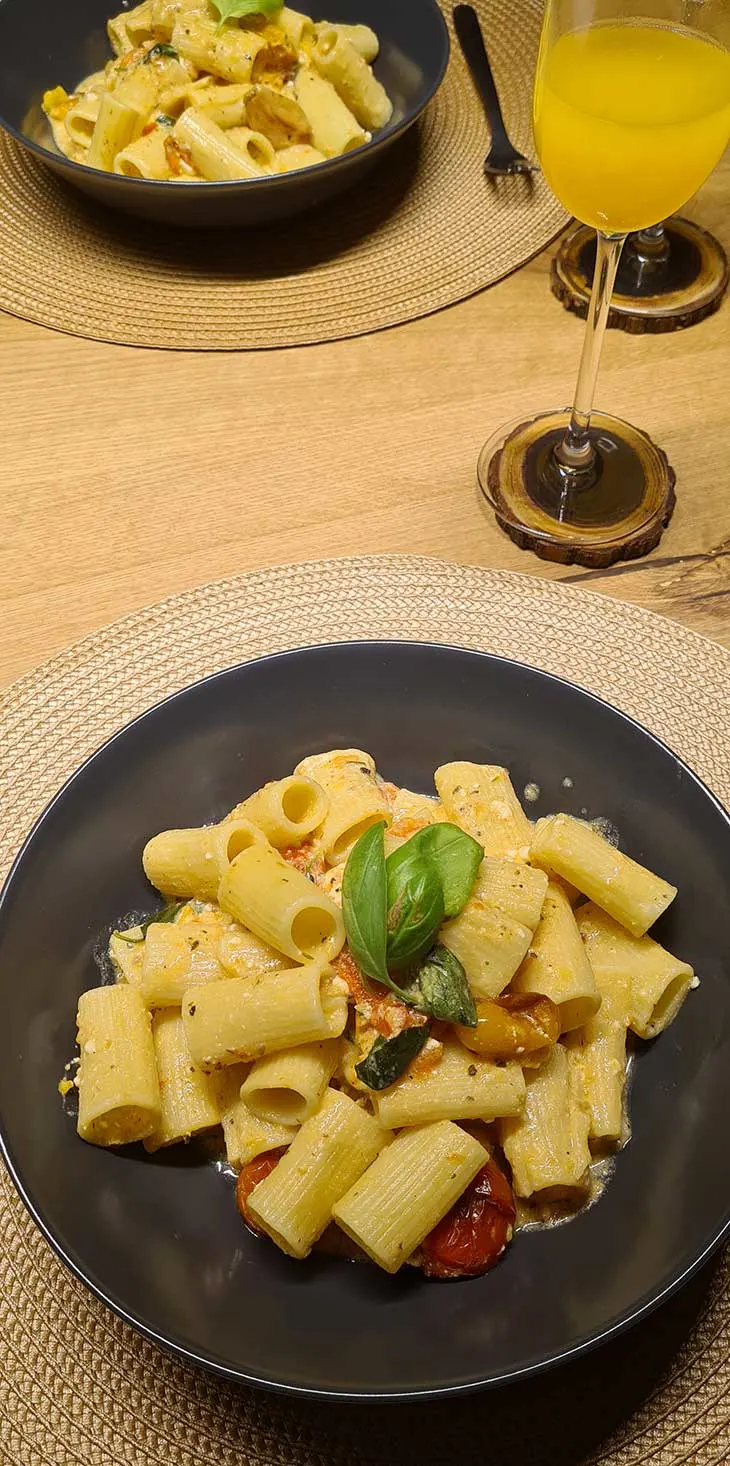 Another piece of advice I have for you is to use FRESH ingredients. As fresh as you can. Sure, the recipe works with my frozen orange cherry tomatoes as well, but if you have fresh ones, use those. Same for the herbs – fresh basil, fresh thyme, fresh oregano. Whichever one you like, but it's better to be fresh. Did I say fresh too many times already? Probably.
And don't forget about the olive oil, of course. Extra virgin olive oil, that is. It makes all the difference in the world when we have a few fresh ingredients like in this recipe! And the roasted garlic… ahhh, heaven!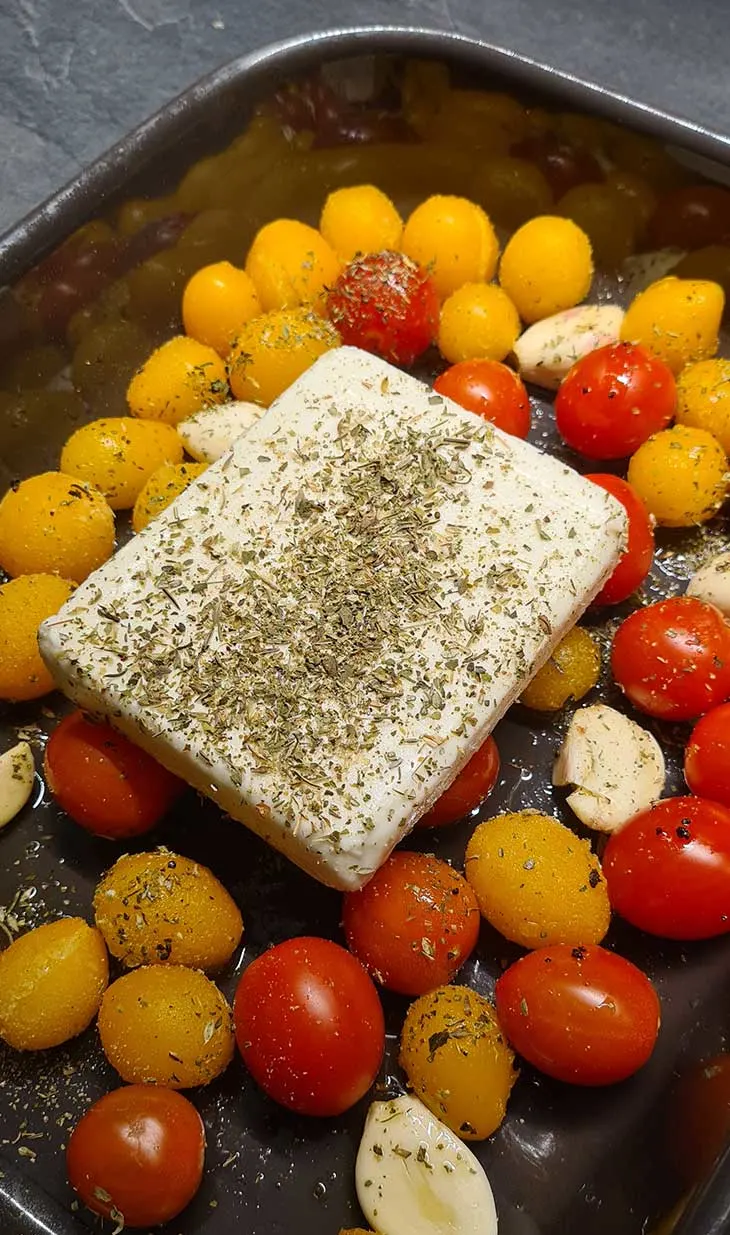 Creamy. Delicious. Quick. Easy. Impressive! I hope I convinced you to try this recipe for roasted tomatoes and feta cheese pasta. It's an excellent weeknight recipe that comes together in no time while you're lying on your couch, waiting for it to be ready. What more could you wish for?
In case you decide to give it a go, don't forget to let me know how it went. I'm curious if you are as impressed as I am with this recipe. Bon appetite!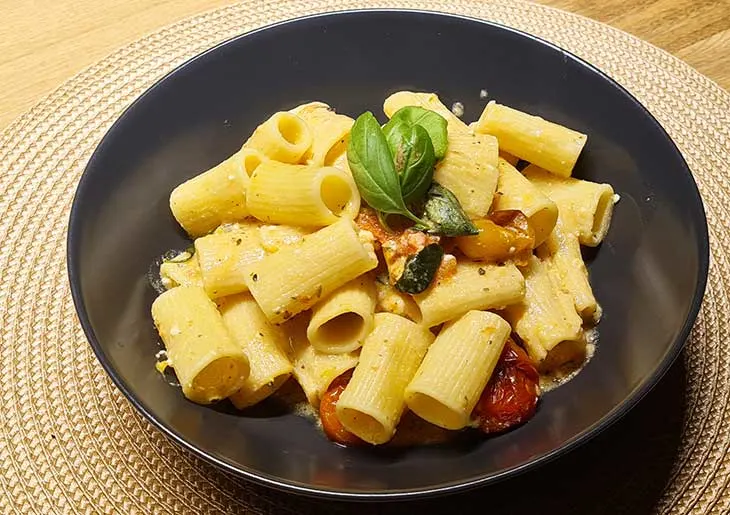 Yield: 2 portions
Roasted Tomatoes and Feta Cheese Pasta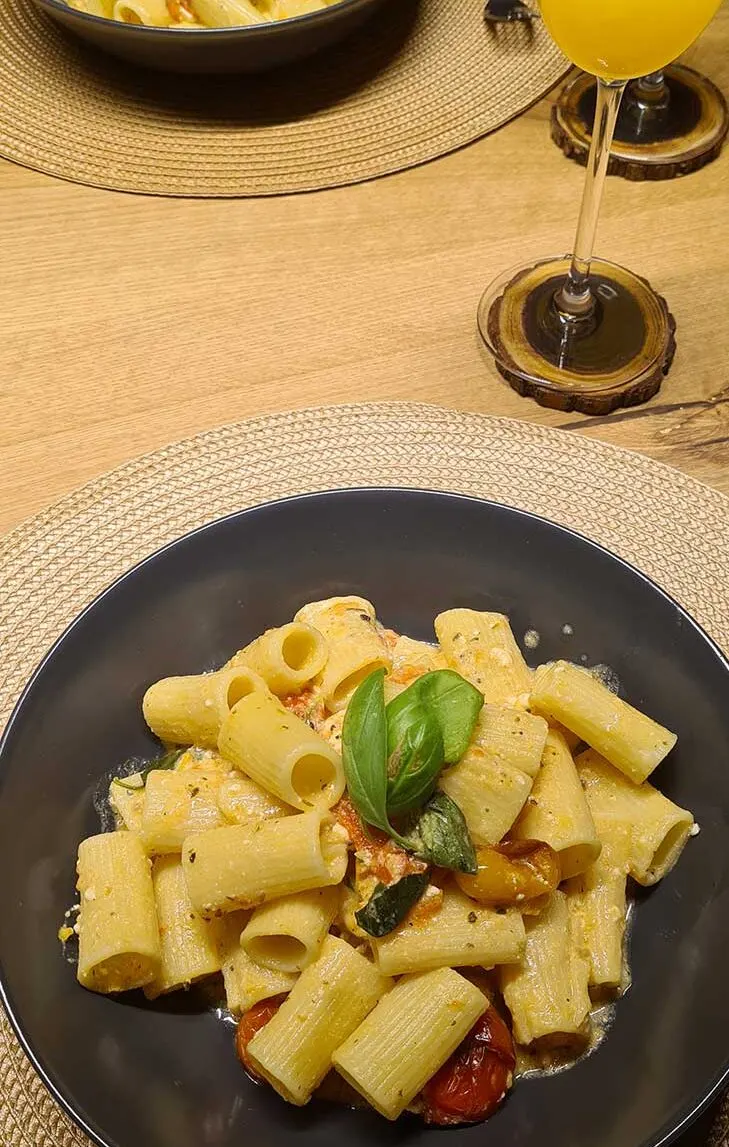 Extremely quick, super yummy, and healthy as well: here's how to make the BEST roasted tomatoes and feta cheese pasta! Inspired by the Tik-Tok trend, only better!
Ingredients
500g (2 ½ cups) cherry tomatoes - I used both red and orange
250g (1 block) Greek feta cheese
300g (3 cups) pasta - I used rigatoni
10 large fresh basil leaves, chopped + a couple more for garnish
3 Tbsps olive oil
2 tsp oregano
6 large garlic cloves
ground pepper
Instructions
In a ceramic pan, add the cherry tomatoes and peeled garlic cloves. Place the block of feta cheese on top, in the middle.
Drizzle with olive oil and sprinkle with oregano and ground pepper.
Bake in the oven at 200C for about 25-30 minutes, until the tomatoes are soft and nicely roasted.
Meanwhile, boil pasta according to the instructions on the package.
When ready, take the ceramic dish out of the oven. If you don't like the garlic whole, you can mash it with a fork. I prefer it whole so left it this way. Mash the feta cheese with a fork.
Drain the pasta and add it to the dish. Add fresh chopped basil. Mix well.
Serve!
Tip: I didn't add any more salt, because feta is salty enough for me. If you prefer it saltier, add it to taste.
Nutrition Information
Yield
2
Serving Size
1
Amount Per Serving
Calories

382
Total Fat

24g
Saturated Fat

5g
Trans Fat

0g
Unsaturated Fat

18g
Cholesterol

13mg
Sodium

137mg
Carbohydrates

36g
Fiber

5g
Sugar

9g
Protein

8g
I strive to keep the information as accurate as possible but make no warranties regarding its accuracy. I encourage you to make your own calculations using your preferred nutrition calculator.