Get your snacking party on with these easy to make, delicious and nutritious broccoli treats! Learn how to make healthy broccoli cakes following this recipe!
Those of you who have been following my blog religiously know that I love making small vegan treats in large batches. I think that one of the best aspects of vegan cuisine is how much you can make from the simplest ingredients. This style of cooking has taught me to think outside the box and come up with some of my favorite recipes today. I never before thought just how many uses a simple vegetable can have! 🙂
Today we're talking about broccoli, one of the most prevalent ingredients in vegan recipes, and also one of the most polarizing. From what I've seen, broccoli is a love it or hate it kind of vegetable. There are people who can't get enough of it, they love it completely and would eat it for every meal.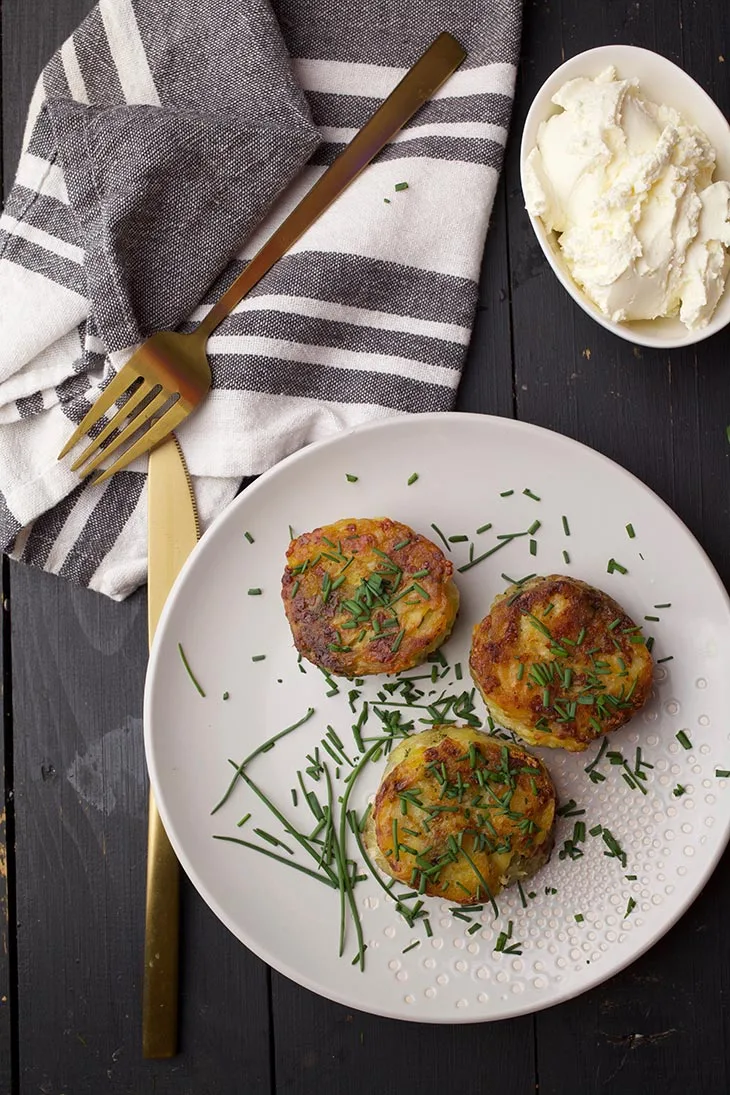 I can't say I'm not part of this category. On the other side, you've got people who don't even want to hear about it, wouldn't touch it and think that pizza restaurants went too far when they've put it on pizza. Lots of children are included in the latter category, from what I've seen. This isn't surprising – the color green in food is usually not appealing to children, according to culinary studies. Plus, the phrase "eat your veggies", as truthful as it may be, can sometimes alienate them for life from eating broccoli or other vegetables.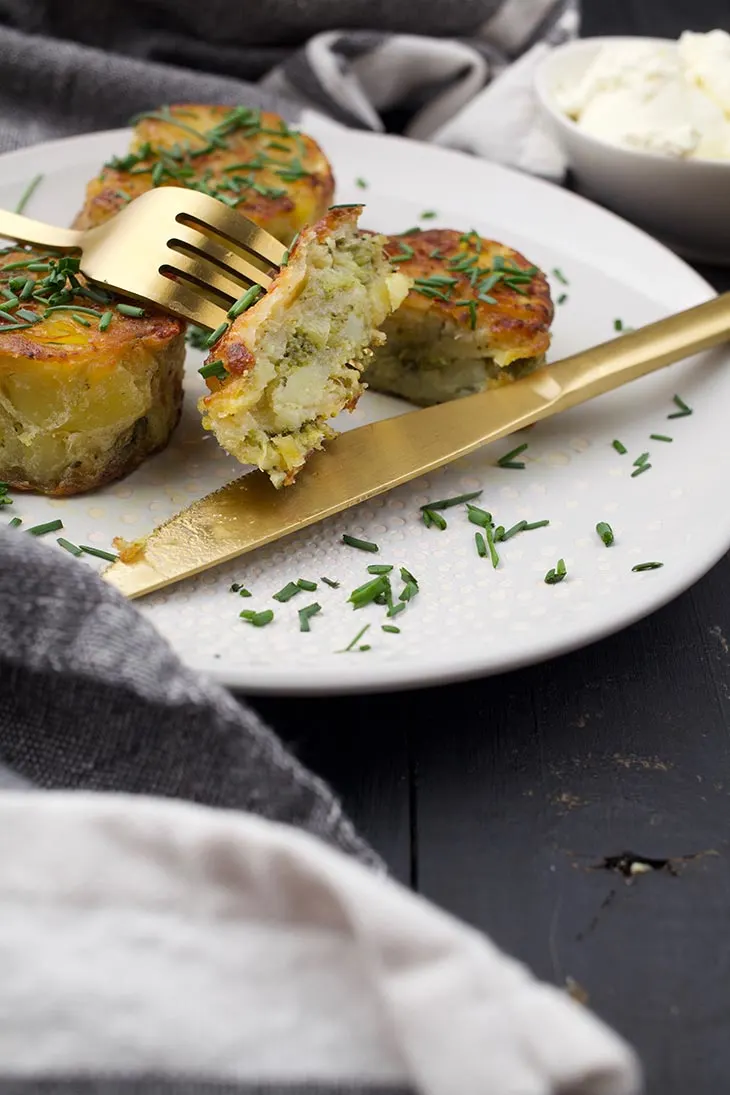 And that's too bad! I can't stress enough just how many health benefits there are to eating broccoli recipes at least once a week! Broccoli is a great source of vitamins K and C, fibers, and potassium! Thus, any dish you add it to will instantly gain superpowers. I know that's not how it works, but that's how it feels sometimes! 🙂 Luckily, it has lots of uses in the kitchen, so time is not lost!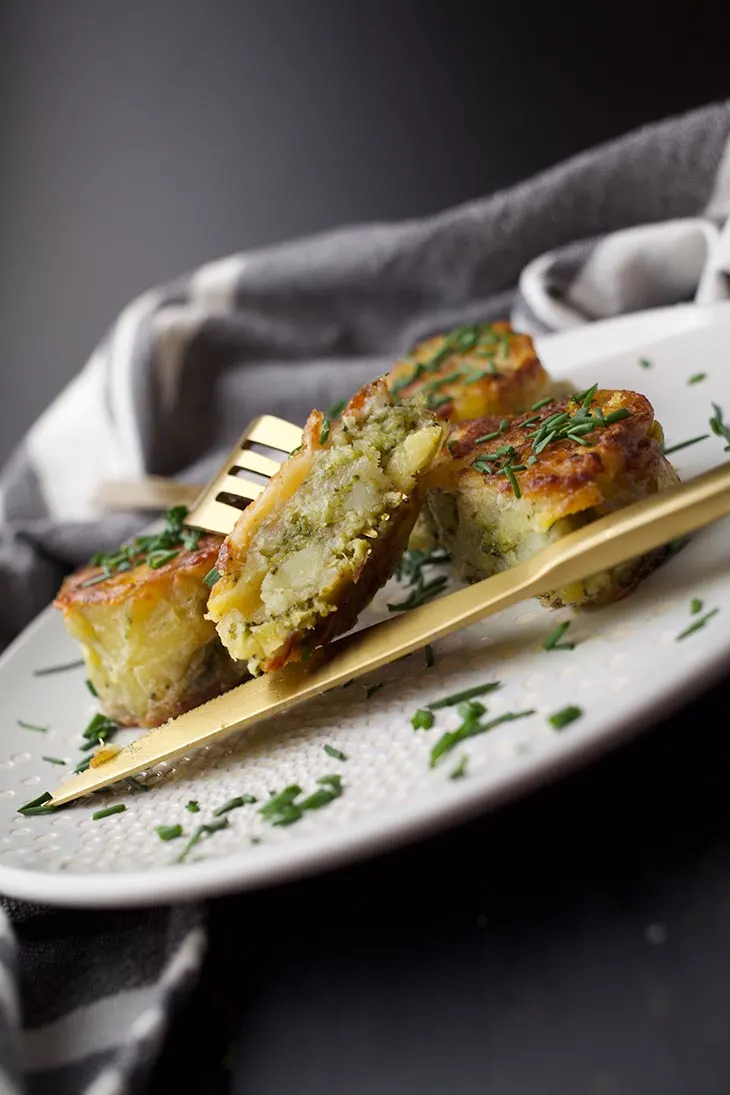 Today's recipe is for anyone who's prepared to give broccoli one more chance. We are going to be making some delicious broccoli cakes, which retain the vegetable's vitamins and minerals while having a more accessible taste. Another point of interest? You can make these in a matter of minutes, and you don't have to be too cooking-savvy to do them. All you need to know is how to hand mix things and to use a heated pan.
These cakes are more akin to some fritters that we've done in the past. We'll apply the same basic concept to the cooking process. The most important thing is to bring all the ingredients to a finely chopped state, and add something that holds them together. Potatoes, vegan mozzarella, and oil work best, as they will also make the texture and taste ten times better!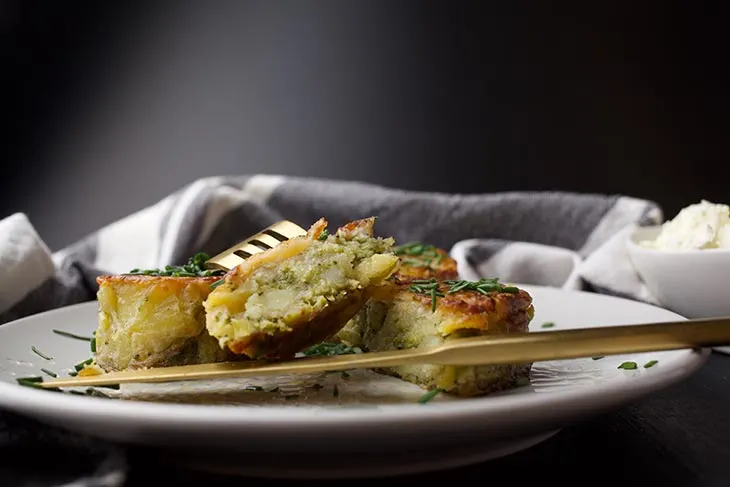 I recommend adding your favorite vegan cheese to the mix! Fritters benefit greatly from a melted cheese texture and taste.
If you want to give this recipe some extra "kick", here are some suggestions: I like to add grated tofu to every fritter and savory cakes I make. It just gives them that extra edge. Another good option here is vegan gorgonzola.
As broccoli doesn't have much of a taste of its own and is usually greatly helped in any recipe by ingredients that are richer in flavor, I definitely recommend experimentation! 🙂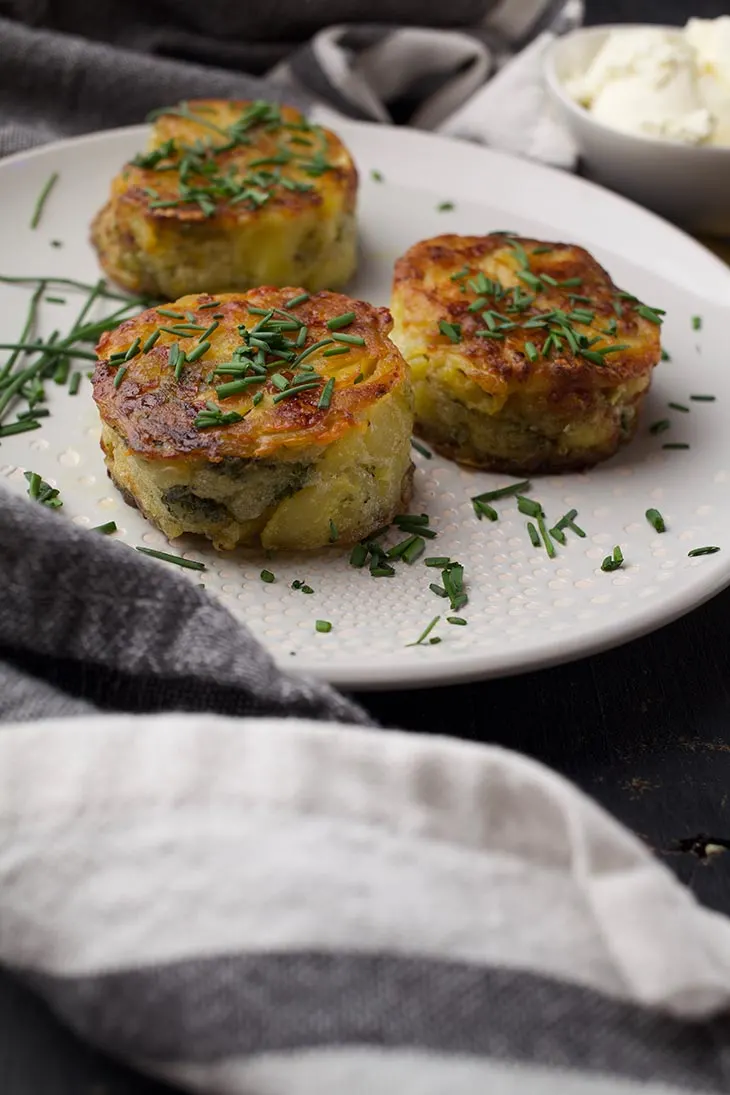 These broccoli cakes are very easy to make and they require a very short attention span, making them the perfect dish to cook for a quick dinner. You can even cook them efficiently if you've just come home from work, tired! But if you happen to have more time at your disposal, you can make a whole platter of delicious vegan broccoli cakes, and share them with your friends during a weekend party!
They go great alongside any selection of appetizers. Even your meat-loving friends might come to love these if they can be convinced to give them a try. Most of your friends might not even believe these are made with broccoli! Thus, you've successfully challenged people's biases and gave them something tasty to eat. Good job!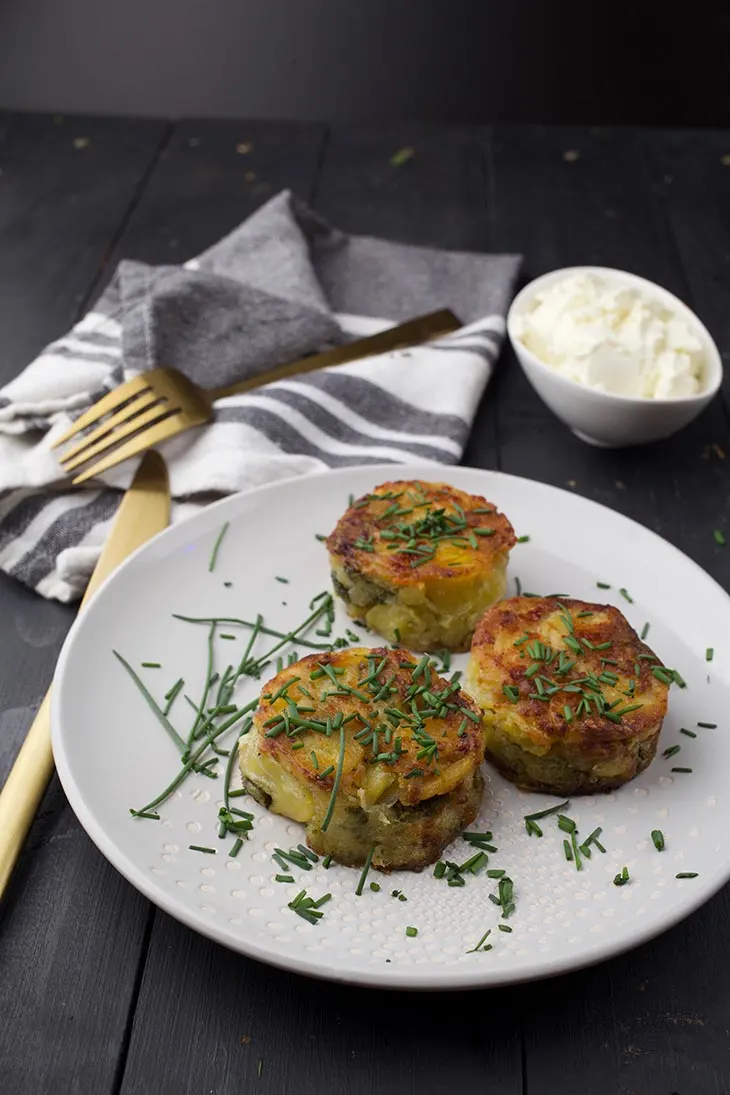 I hope you'll enjoy making this simple and delicious recipe at home, for yourself or your family and friends! As always, don't forget to write me back if you've got anything to add, or if you have questions about the process. I love hearing your thoughts and comments!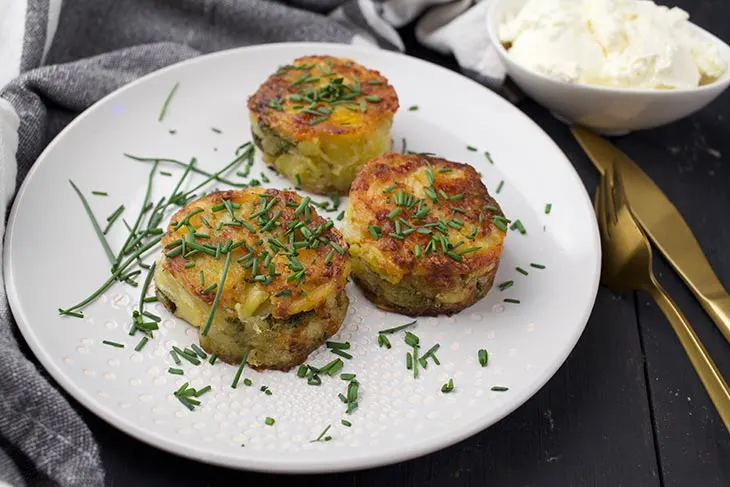 Get your snacking party on with these easy to make, delicious and nutritious broccoli treats! Learn how to make healthy broccoli cakes following this recipe >>>
Ingredients
100g (1 cup) broccoli florets
3 boiled potatoes
1 onion, chopped
1 clove garlic, minced
120g (½ cup) vegan cheese, shredded
3 Tbsp olive oil
Instructions
Rinse and drain the broccoli florets. You can also use frozen broccoli, but make sure you thaw it first.
Add the broccoli to a food processor and pulse a couple of times.
Add the oil, onions, and garlic in a medium skillet over medium heat. Cook for 4 minutes until soft.
Add the broccoli florets, 2 Tbsp water and continue to cook until soft, for about 7 minutes.
Slice the cooked potatoes and add them to the broccoli mixture.
Cook for about 5 more minutes and mix to incorporate ingredients. You can use a potato masher to mash the ingredients together.
Let cool for about 10 minutes.
Add the cheese into the broccoli mixture. Mix.
Form the patties using a measuring cup or a circle baking shape.
Heat a large skillet over medium heat. Cook the patties for about 5 minutes on each side or until the bottom is golden. You can also bake these.
Nutrition Information
Yield
6
Amount Per Serving
Calories

94
Total Fat

9g
Carbohydrates

3g