Yes, you can make vegan mushroom bacon that's actually healthy, fat-free, tastes amazing and it's absolutely incredible in sandwiches! Check out the recipe below!
If you're not new to vegan cooking, you will know that the most important thing, along with making your food tasty, is making sure it has the same nutritional value as a meal that contains animal products. This is why certain ingredients are more popular than others in vegan dishes that are supposed to be filling.
Mushrooms, for one, are a great source of protein, they come in many edible forms and species, and can be cooked in many, many inventive and delicious ways. Mushrooms can even be tasty on their own, whether pickled, salted or simply washed and diced – just make sure to check their origin beforehand, and never go picking mushrooms by yourself without proper knowledge in the subject. Just saying! 🙂
Anyway, as I said before, mushrooms are used in endless ways and in many delicious vegan dishes, from the obvious salads to soups, to Buddha bowls etc. But what if you were to take a bunch of finely chopped mushrooms and turn them into something completely different? Introducing mushroom bacon! 🙂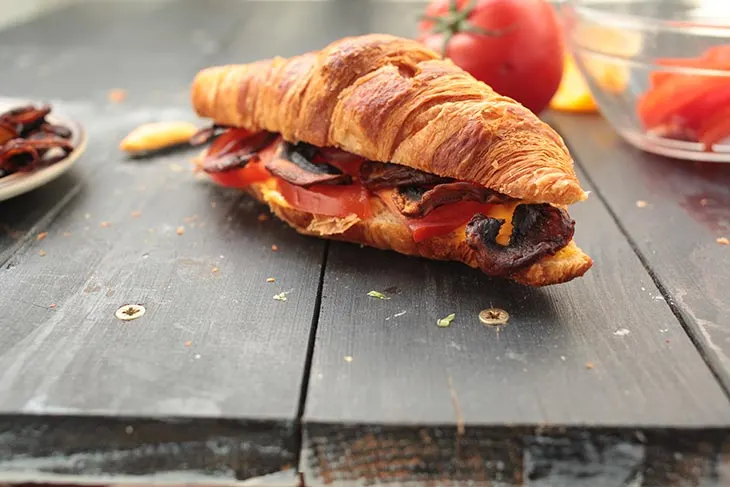 I know it might sound peculiar at first – you most definitely know many recipes that contain mushrooms and bacon separately and that are totally not vegan, yet this is different. This vegan bacon recipe will have you making some fresh strips of tasty, crunchy bacon out of fresh mushrooms. How, you might ask? It's easier than you think.
But first let's take a look at bacon's role in society, for it is not to be trifled with. This pork-based dish has been a staple of American culture since it was first created by hungry farmers who didn't want to spend too much time on their breakfast. The appeal of bacon is that all you basically have to do is take it out of its packaging and throw it in a hot oiled pan. The sizzling oil will do the rest of the work, and you can enjoy your pork product.
But as tasty as it may be, bacon is quite fattening, needless to say, that you can't eat it if you are following a vegan diet. So what if I told you that making this vegan bacon recipe will cover all of your nutritional needs while not adding much weight on you, and will be as tasty as real bacon? Not to mention it's really easy to make. Don't believe me? Just wait and see! 🙂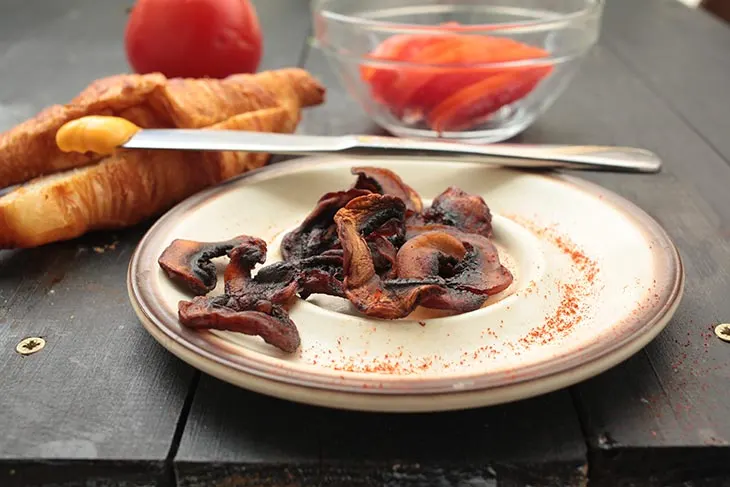 The way to make mushroom bacon is in fact quite elementary. You will need to prepare your thin mushroom slices – and here you will have a pretty large selection of specimens to choose from – but in most cases, they will not turn out as large as the bacon slices you are used to seeing.
The secret to the "bacon" taste is in the marinade sauce that is used in most of the vegan bacon recipes you will find online and on my blog. The marinade sauce contains liquid smoke – a vital ingredient to the classic bacon aroma – and countless other spices. After all, mushrooms aren't gonna start tasting like bacon by themselves.
A little work is involved – it's not quite the same as just slapping some meat in a pan and sizzling it for five minutes, but believe me, the taste is totally worth it!
Being a healthier alternative to real bacon helps, too. Mushrooms will provide the same amount of protein with less of the fats that can be found in fried bacon! Being a healthy recipe, you can totally give it to your children as well! You can use this mushroom bacon recipe to spruce up your child's birthday party. Or maybe make them a BLT sandwich for lunch at school?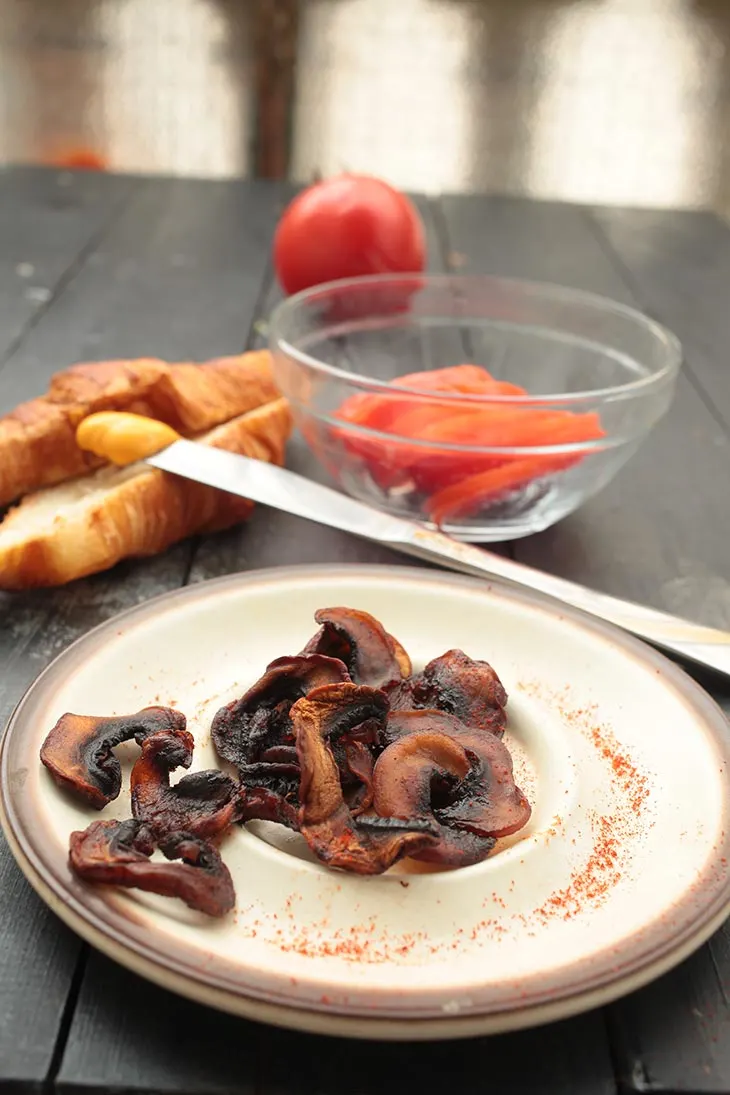 How you serve this bacon is your choice. You can, of course, have it for breakfast, in a semi-traditional way, next to toast and your favorite vegan egg replacement. Or just go crazy and put it in a salad, or a sandwich or croissant, why not? After all, this is a very flavorful recipe, and it will certainly dictate the main flavor of whatever you decide to put it in. Though I wouldn't blame you if you just wanted to eat this by itself, just like I did! 😉
I hope this recipe turns out great for you, and that you share it with your family and friends. Make sure to tell me how it turned out, or if you discovered something that makes it better! I'd be glad to hear it!
Yield: 1
Vegan Mushroom Bacon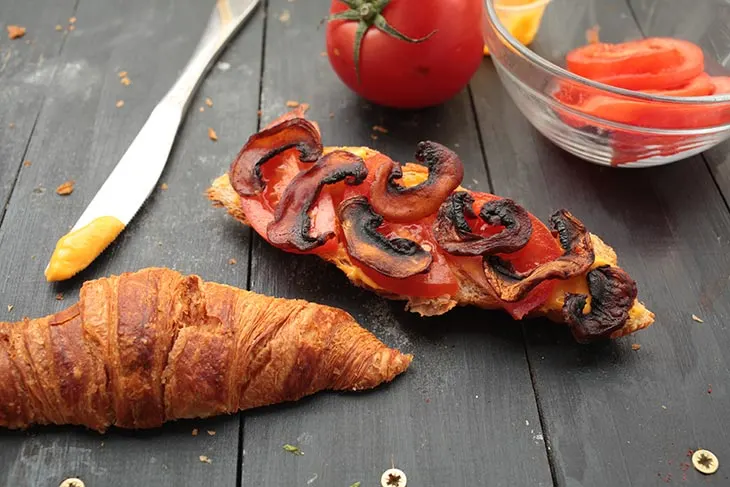 Yes, you can make vegan mushroom bacon that's actually healthy, fat-free, tastes amazing and it's absolutely incredible in sandwiches! Check out the recipe below!
Ingredients
2 large Champignon mushrooms; sliced, stem removed
1 Tbsp olive oil
For the marinade:
2 Tbsp veggie broth
¼ tsp salt
½ tsp coconut sugar
¾ tsp liquid smoke
1 tsp vegan butter, melted
½ tsp smoked paprika
Instructions
In a small bowl, combine all marinade ingredients.
Add the sliced mushrooms and let marinate for about 20 minutes.
Heat a large pan on medium heat with olive oil. When hot, add the mushroom slices in a single layer.
Fry until golden and crispy, for about 7 minutes, on both sides.
Remove to a paper towel.
Serve and enjoy!
Nutrition Information
Yield
1
Amount Per Serving
Calories

147
Total Fat

14.5g
Carbohydrates

3.7g
Protein

0.4g