Are you craving some flavorful and easy-to-make cookies? Do you love blueberries? Then you'll fall in love with these vegan blueberry cookies in a second! Give them a try!
I was feeling like my breakfasts were getting a little bit repetitive lately. I probably fell into a breakfast comfort zone, repeating the same ingredients in various combinations, over and over again. It was time for a change.
If you, just like me, feel that breakfast is the meal of the day where you don't get creative enough, then you are in the right place! Because today we are going to make a recipe for blueberry cookies that's perfect for breakfast! Completely vegan, as we all know and love. You won't even feel that you are having a hearty, filling breakfast – they are without question a real treat!
Of course, it's just my choice to have them as breakfast. They are perfectly good as a dessert or a healthy snack between meals. I love them because they are so tasty but still really strong on the healthy side. Packed with nutrients, filling and delicious – how can you not love them?!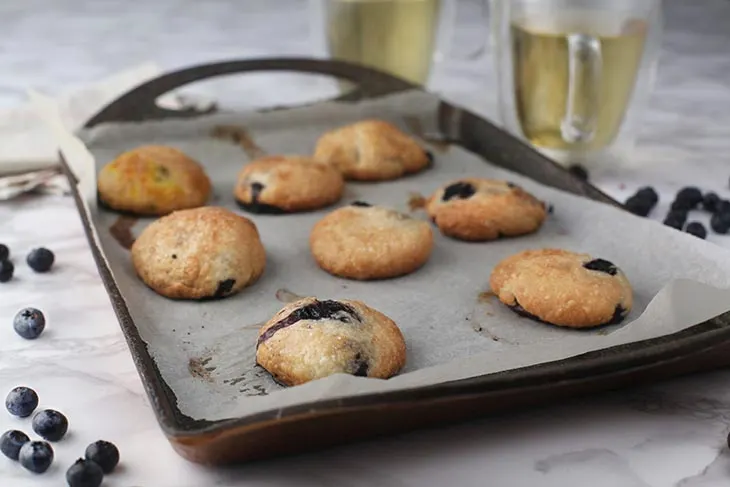 Let me tell you some of the reasons these cookies are the perfect choice for you to prepare today:
Number one and top of the list, they are absolutely delicious! Anyone will love them, and I mean it. You, your friends, your kids or your friends' kids, colleagues and everyone that will make contact with these cookies will adore them. So make sure you bake enough of them!
They are really filling. One of the reasons I recommended them as breakfast – these cookies will really give you enough nutrients to start the day. They are a really good source of protein and fiber! Add to that all the vitamins that the blueberries provide and you'll see that these cookies really rank high in the breakfast recipes hierarchy!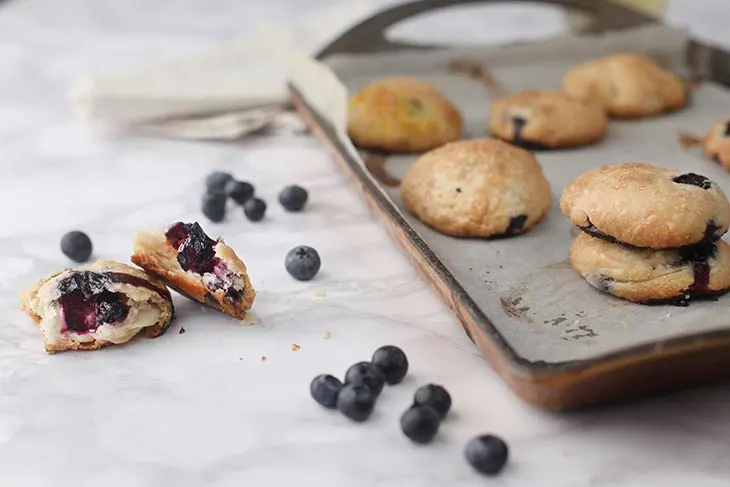 They are super easy to make. You will only need 30 minutes to get yourself a batch of these amazing cookies. The recipe only requires one bowl for the dough and uses simple ingredients. You won't be running around the whole town to gather the ingredients for these cookies – one walk to the closest store should be enough to get you started!
They are perfect to prepare in advance for a later meal. You can prepare them in the evening for the next morning. Or for the morning after that! These cookies store really well, and they won't alter in any way for a few days.
Perfect taste and perfect texture not just when they are out of the oven! That is if you will be able not to eat them all in the first 30 minutes, of course. 🙂
Are these reasons not enough? Okay, let me continue. These cookies are really travel-friendly. You pack them to work, school or a picnic with your friends and you won't have to worry too much about the packing arrangements.
Pluuuus, they are multifunctional. Breakfast, dessert, snack – you name it. The cookies are there for you at any time of the day!
That's it. I think my Why I love these cookies so much list is getting a little out of hand – I could just go on and on and on. There are just so many reasons why these cookies are so great! But enough with that, you just have to try them and you will understand! 🙂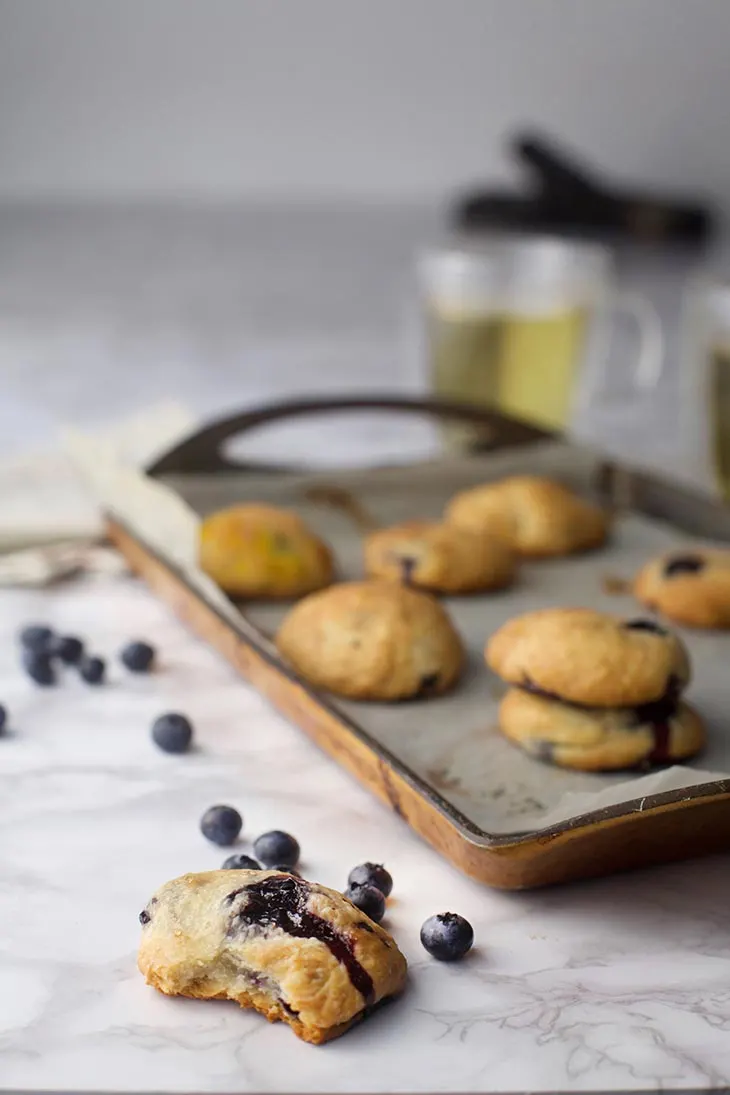 Now let's talk about the other important thing. The stars of this recipe are, of course, the blueberries. You may wonder why I chose this berry from all the cookie-friendly berries.
Well, it's because they are delicious, of course, but also because the health benefits of blueberries are incredible! They are so good that they are unanimously labeled as a superfood.
Low in calories and amazingly good for you, blueberries are a really good source of fiber, vitamin C, vitamin K, and magnesium. But their biggest strength – antioxidants! They are an incredible source of antioxidants that protects your body from all kinds of cell damage. And I'm sure we all need that!
Ok, I think it's clear now that my love for these cookies is completely understandable. The first time I made them they were gone in less than an hour. And I think that this will happen to you too!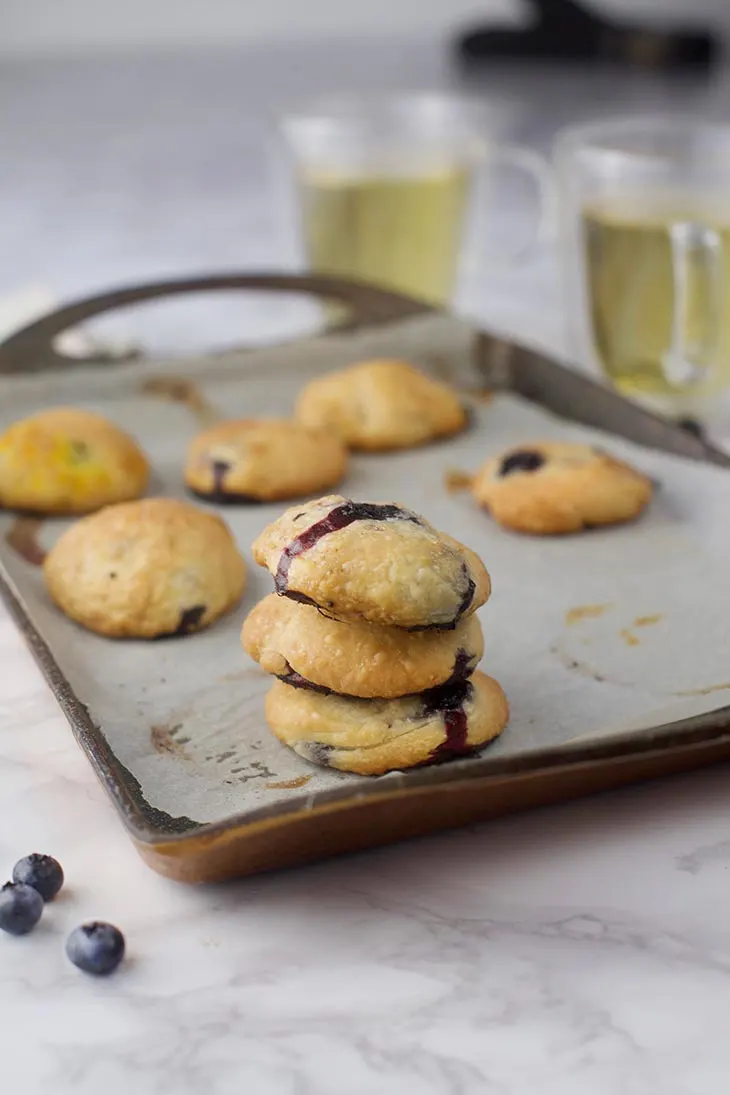 By now you are probably eager to get started, so I will cut short and get to the cooking part. It's fast and fun, so there's no reason not to start right now! So gather all the ingredients and let's get to the kitchen. Follow my steps and you will end up with a batch of amazing cookies right away. And by the way, I'm waiting for your comments to tell me what you think about them! 🙂
Yield: 14
Blueberry Cookies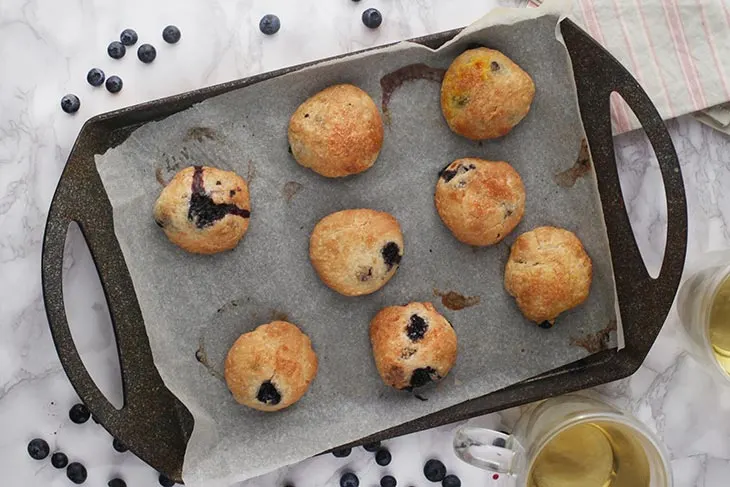 Are you craving some flavorful and easy-to-make cookies? Do you love blueberries? Then you'll fall in love with these vegan blueberry cookies in a second! Give them a try!
Ingredients
220g (1 cup) vegan butter, softened
50g (½ cup) powdered sugar
1 tsp vanilla
240g (2 cups) all-purpose flour
150g (¾ cup) fresh blueberries
1 tsp fresh lemon juice
Instructions
Preheat the oven to 200 C.
Layer a baking tray with parchment paper. Set aside.
In a large mixer bowl add the butter, sugar, vanilla, lemon juice and salt. Whisk to combine.
Turn your mixer on low speed and gradually add the flour until fully incorporated.
Fold in the blueberries carefully.
On a clean surface, roll the dough with your hands into a long tube.
Divide the dough with a knife or spatula into about 14 equal pieces.
Roll out a small ball out of each piece of dough.
Transfer the cookie balls on the already prepared baking tray and gently press each cookie to flatten it.
Bake for about 25 minutes or until the top starts to golden.
Nutrition Information
Yield
14
Amount Per Serving
Calories

199
Total Fat

13g
Carbohydrates

18g
Fiber

1g
Sugar

5g