Try this cream of mushroom soup recipe and you'll fall in love with it! It has a subtle garlic and thyme flavor and an extra-creamy texture.
You already know that I am a huge fan of creamy soups and that I also love mushrooms, so this combination is absolutely amazing for me! I was inspired by this recipe I found here and immediately decided to make it myself. As most creamy soups this cream of mushroom soup is a very easy recipe, ready in less than half an hour, so you won't spend a lot of time in the kitchen either.
The crispy garlic-flavored baguettes go perfectly with this cream of mushroom soup recipe. You can also use croutons! This cream of mushroom soup recipe can also be vegan, just skip the yogurt part. The taste will be pretty much the same.
Yogurt is great for garnish as it creates a lovely contrast and it also makes the cream of mushroom soup whiter. I used homemade kefir which is healthier. If you want to know more about milk kefir I found this useful article here.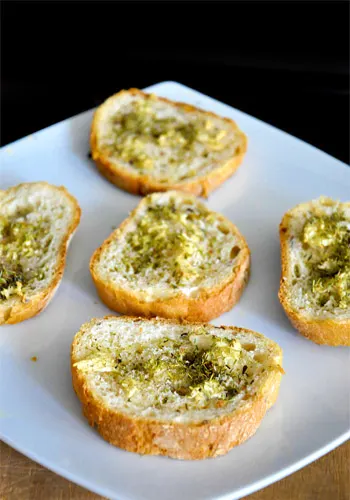 Yield: 6+ servings
Creamy Mushroom Soup with Thyme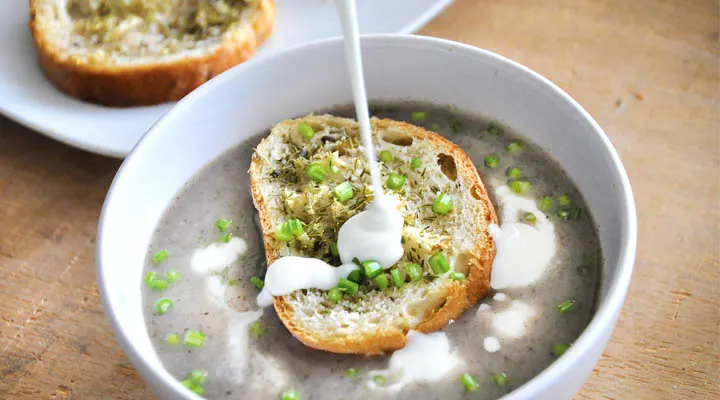 Try this cream of mushroom soup recipe and you'll fall in love with it! It has a subtle garlic and thyme flavor and an extra-creamy texture.
Ingredients
1,5L (6 cups) water
1 medium celery root, peeled and cut in chunks
1 medium onion, peeled and quartered
300-350g (10.5-12oz) Champignon/Portobello mushrooms, cut in chunks, stems removed
1 potato, peeled and cut in chunks
1 medium parsley root, cut in chunks
sea salt, to taste
ground pepper, to taste
sour cream, yoghurt - optional (I used homemade kefir)
some parsley, for garnish
For baguettes:
1 baguette, sliced
thyme
3-4 garlic cloves, mashed
1 tbsp olive oil
sea salt
Instructions
Bring water to a boil in a large pot.
Add celery and parsley root, onion, potato - all cut in chunks.
Add salt and pepper to taste.
Let them boil for about 15 minutes then add the mushrooms, cut in chunks.
Boil for another 10 minutes and remove from heat.
Meanwhile, preheat the oven at 400 F.
Slice the baguette and brush each slice with some olive oil. Add some mashed garlic cloves on top of each slice and sprinkle with thyme and salt.
Bake them for 15 minutes or until they're crisp.
Now let's get back to the soup. Using a vertical blender, blend well until creamy. Add some yoghurt or sour cream if you want to make it whiter.
Serve with parsley, sour cream and crisp baguette!
Nutrition Information
Yield
6
Amount Per Serving
Calories

253
Total Fat

8g
Carbohydrates

37.4g
Protein

7.5g
Mushrooms in Soups
Mushrooms have a unique flavor, which makes it a great ingredient to make some of the most delicious dishes you'll ever have. Today, we're discussing mushrooms in soups and all of the different kinds of ways we have to enjoy mushrooms in a light, yet flavorful way.
But let's start by getting to know mushrooms a bit, shall we?
Mushroom Facts
Mushrooms have their own immune system!
They can produce vitamin D by being exposed to sunlight. Just like human skin!
Mushrooms have more amino acids than corn, peanuts, and soybeans.
Mushrooms are more closely related to human DNA than to plants.
Mushrooms are fungi. Fungi are as uniquely different from plants as plants are from animals.
Many mushrooms grow towards light, but unlike plants, scientists don't actually know what the mushrooms do with it; they only know that they use it.
The spores of mushrooms are made of chitin, the hardest naturally-made substance on Earth.
Mushrooms are the only vegan, non-fortified dietary source of vitamin D.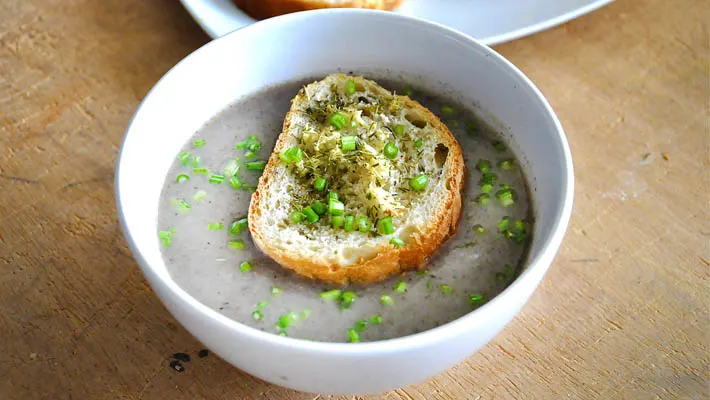 Mushroom Benefits
Mushrooms yield many benefits for your health as they provide so many nutrients and they help you prevent many lifestyle-related health conditions. Let's start with the fact that Mushrooms are a rich source of antioxidants. These are chemicals that take care of free radicals, which are a type of chemical that can harm cells. This makes it a potential cancer threat.
Mushrooms are also a big source of selenium and it plays a role in aiding liver function and detoxification of some cancer-producing compounds. Selenium also prevents inflammation and decreases tumor growth rates.
Mushrooms are also high-fiber foods, so they help lower blood glucose levels and improve blood sugar, lipids, and insulin levels. Fiber also benefits the digestive system, and it reduces the risk of both heart disease and metabolic syndrome. Plus, it helps you feel full for longer without the intake of extra calories.
In mushrooms, you'll also find a great source of potassium and vitamin C, which contributes to heart health and regulating blood pressure. Mushroom's high potassium and low sodium are what help decrease the risk of high blood pressure and cardiovascular diseases.
They also happen to be a great source of B vitamins like riboflavin (B2), folate (B9), thiamine (B1), pantothenic acid (B5), niacin (B3), and minerals such as selenium, potassium, copper, iron, and phosphorus. They also contain choline which is an important nutrient that helps with sleep, muscle movement, learning, and memory.