In case you're looking for some sweet, protein-rich treats, I recommend trying these toffee protein bars. Simple, quick and super delicious!
I don't know about you, but since the cold season started, I feel the need to indulge in some snacks that will offer me a big dose of energy, somewhere around the middle of my working day. Especially now, when the days are getting shorter and shorter (it's getting dark at 5PM here!). I look outside the windows and it's completely dark, but I still have some things left to tick off my to-do list for the day!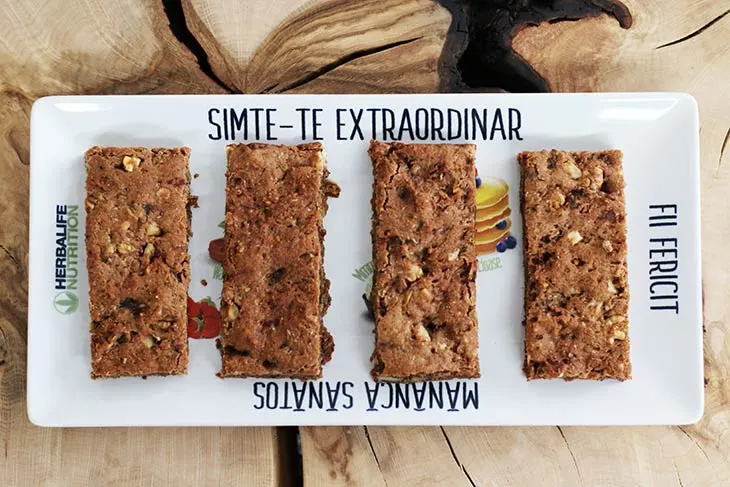 So I ended up trying everything – chocolate, fruit, biscuits. But I quickly discovered that protein bars are the best solution for me.
Let me briefly explain why. First of all, protein bars are rather perceived as a dessert. It's a true pleasure eating them! 🙂 They're similar to a cooked pudding, with a sweet sauce for topping. But, at the same time, they're rich in nutrients! For me, this is the best combo ever: when you eat something that's very tasty and sweet and at the same time you gen plenty of benefits for your body. What more can you wish for?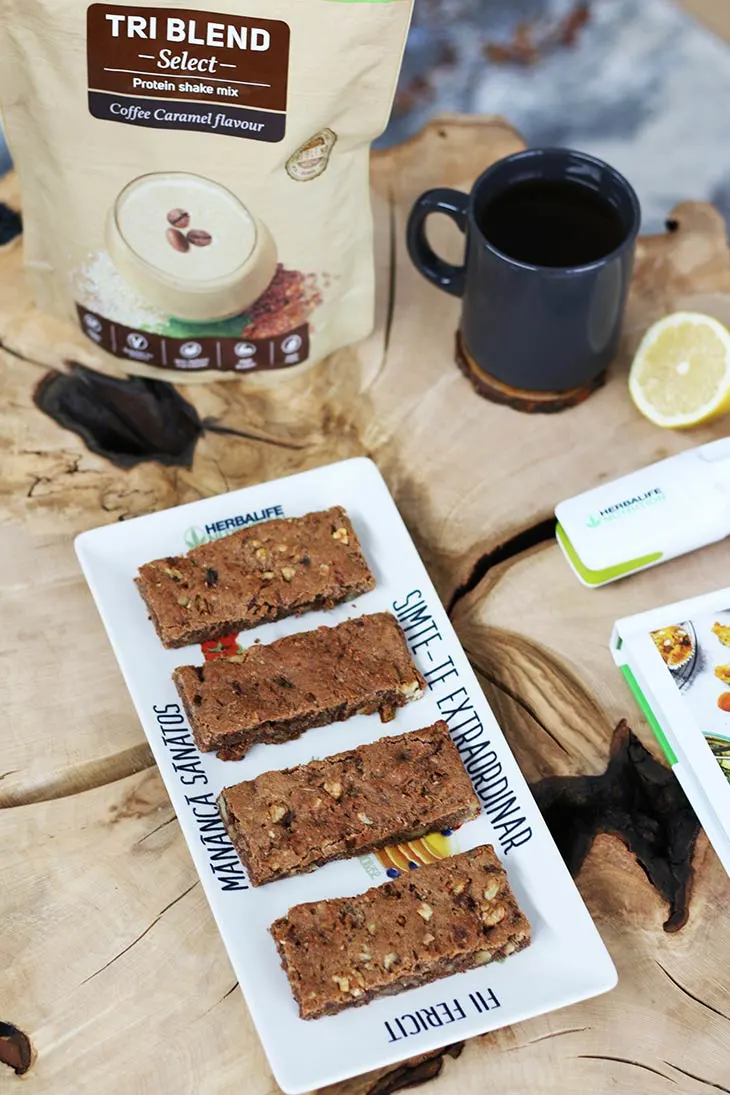 For today's recipe I used Tri Blend Select de la Herbalife Nutrition, with Coffee Caramel flavor. The product is 100% vegan and it works well in tons of desserts and sweet combinations.
In short, Tri Blend Select is a 100% vegan shake, meaning a mix of pea protein, quinoa and organic flaxseed and it contains 20g of protein per portion. It has a low sugar content and it's rich in fiber. Moreover, it also has essential amino acids, vitamin C and 7 key minerals.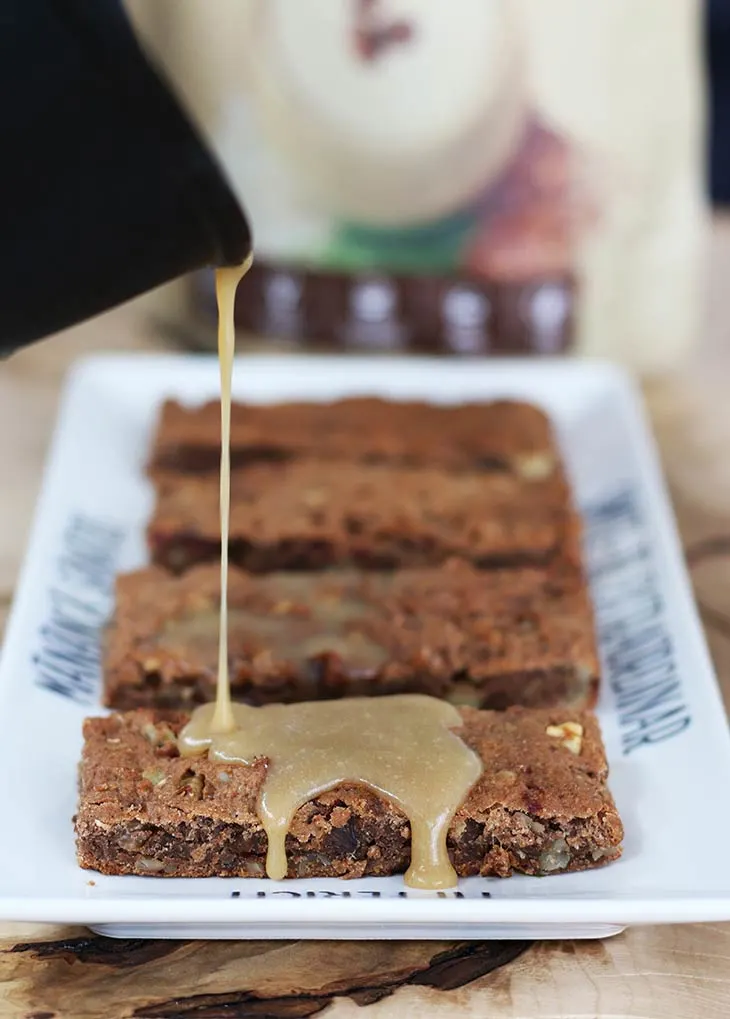 We all know how important are proteins in a vegan diet! And I'm not sure if you know this, but peas are a great protein source, even though that might sound a bit surprising. 170 grams of peas contain 4 grams of protein – this is just for you to make an idea of what I'm talking about. Plus, peas are low in calories as well. Quinoa is also very protein-rich, as well as fiber, and flaxseeds are an excellent source of Omega-3 and, of course, protein again.
All this means that, if you decide to follow this recipe for toffee protein bars, you will end up with some bars that are TRULY rich in protein! These toffee bars are also extremely easy to make; you only need a handful of ingredients.
And you can either serve these as bars/snacks that you can also take on-the-go to work or during your travels, or you can serve them as dessert, topped with the toffee sauce.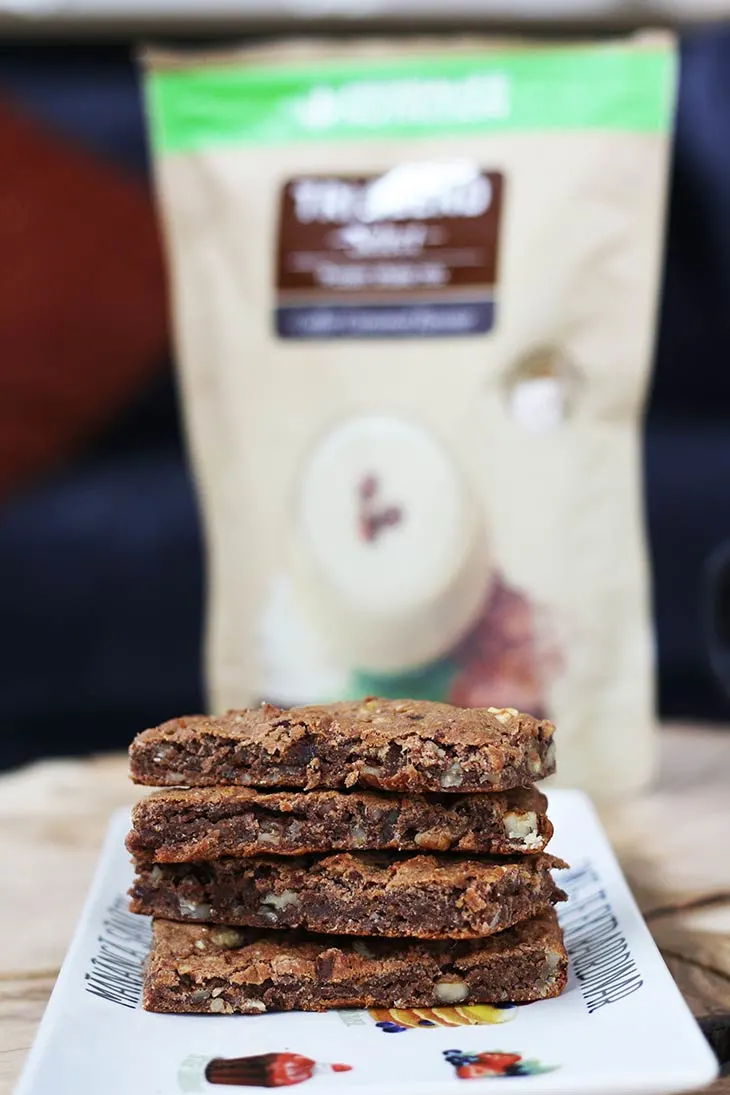 And if you're following a gluten-free diet, you should know that the Tri Blend Select shake is a very good choice, as it doesn't contain any gluten.
Ah, let me mention a small detail as well. When you're preparing something that requires heat, such as these protein bars (you'll find the step-by-step recipe below), it's possible that some of the vitamin values of the final product to be a bit different from what's written on the Tri Blend Select package. But the end result will be healthy and 100% vegan anyway!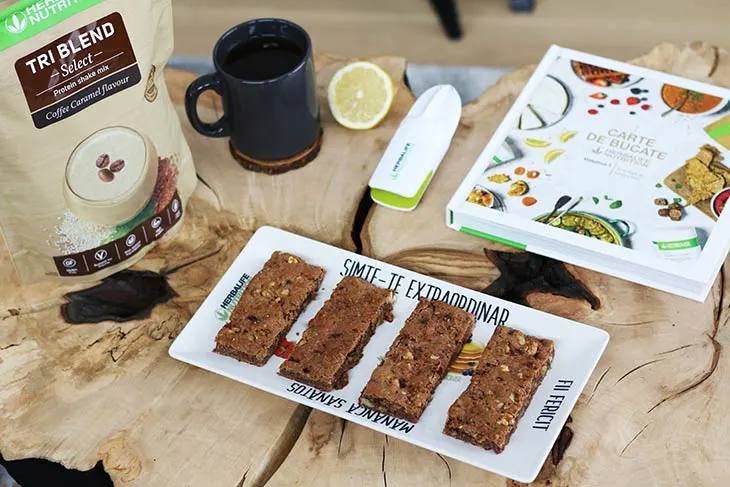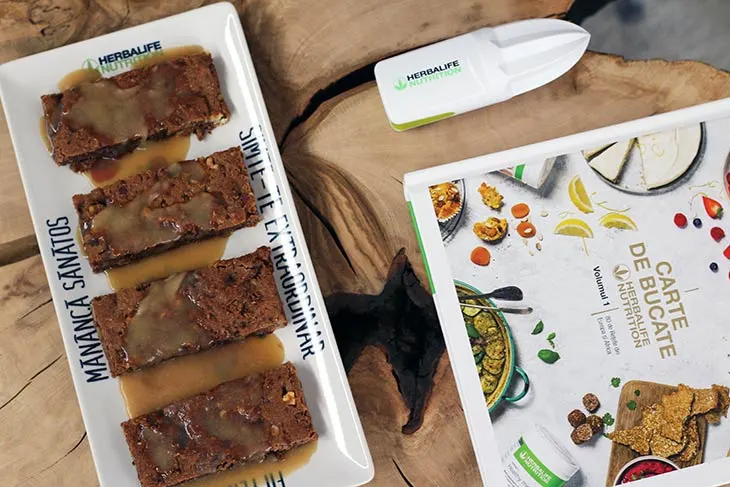 Let me give you a little bit of advice as well. I usually like to prepare a bigger batch of protein bars, which I then store in the fridge for the next days. This way, I know I'll always have some bars on the side for whenever I'm craving something sweet or whenever I need a big dose of energy and protein, regardless if it's breakfast time or snack time at the office. So I recommend you do that same. You'll see that these protein bars are much better than plain chocolate, for example.
By the way, this recipe makes 10 toffee protein bars.
These being said, I really hope you'll try this recipe for toffee protein bars! And if you do, don't forget to tell me how it went, I'm very curious!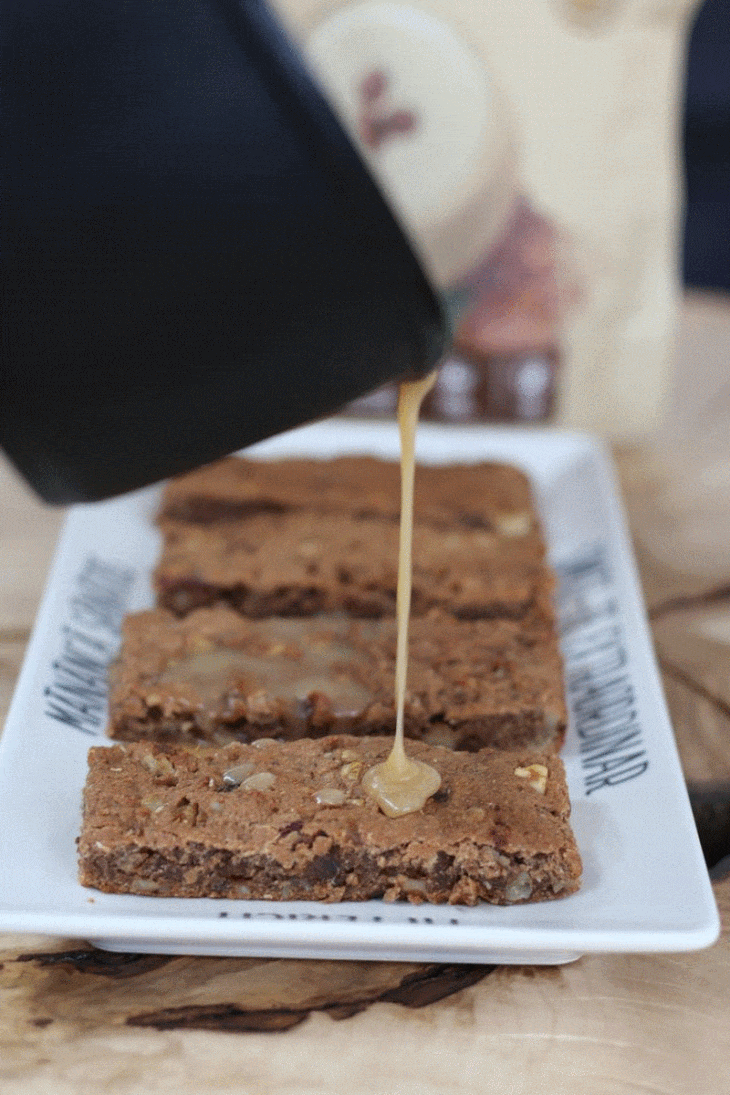 Yield: 10
Toffee Protein Bars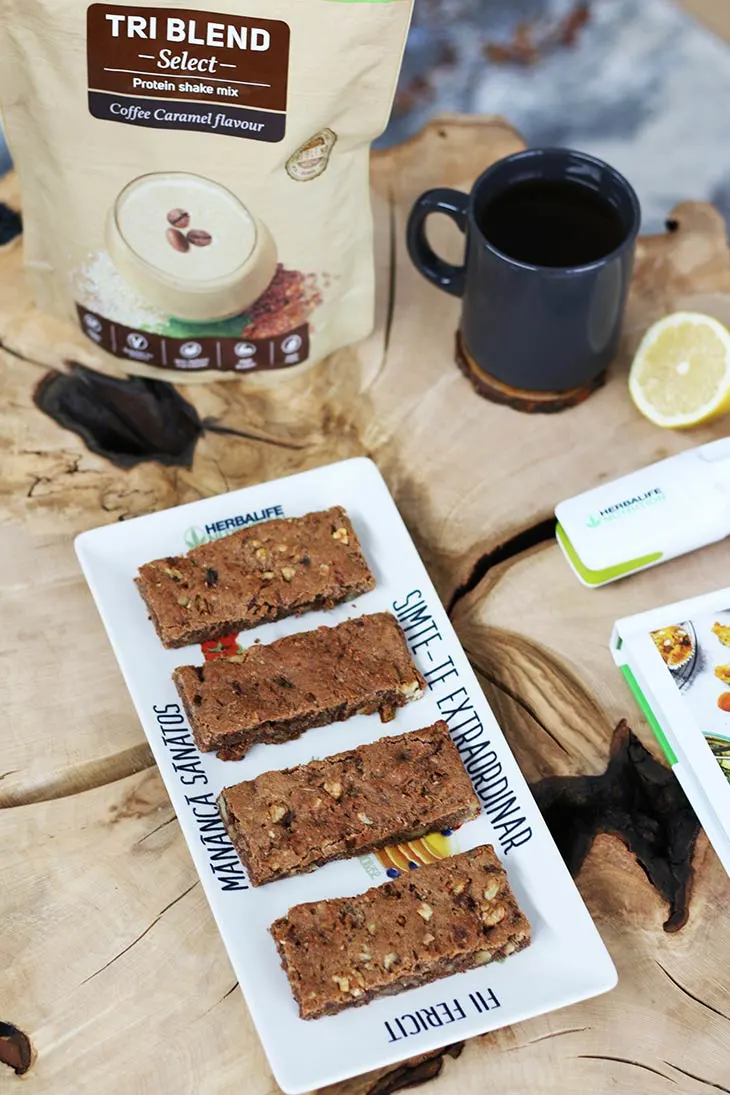 In case you're looking for some sweet, protein-rich treats, I recommend trying these toffee protein bars. Simple, quick and super delicious!
Ingredients
For the bars:
80g Tri Blend Select Coffee Caramel from Herbalife Nutrition
100g vegan butter
80g fine brown sugar
200g dates
250ml almond drink , or other type of vegetable drink
160g flour , whole grain or gluten-free mix
1 tsp baking powder
100g chopped walnuts
For the sauce:
50g vegan butter
100g fine brown sugar
25ml almond drink , or other type of vegetable drink
1/2 Tbsp vanilla extract
Instructions
Preheat the oven to 180C.
In order to prepare the bar mixture, mix the vegan butter with the sugar.
Remove the pits from the dates. Finely chop them. Add the chopped dates in a saucepan together with the almond drink and vanilla extract. Boil them for 3-5 minutes, stirring constantly until the dates are soft.
Add the composition over the mixture of vegan butter and sugar. Add flour, baking powder, chopped walnuts and Tri Blend Select Coffee Caramel powder and mix well.
Grease a baking tray with vegan butter, then place the baking paper.
Pour the composition into the pan and leave in the oven for 25-30 minutes.
Do the toothpick test. If the toothpick comes out dry, the bars are ready. Otherwise, leave them in the oven for 5-10 more minutes. Then let them cool.
Add the sauce ingredients to a pan. Heat the pan until the butter is completely melted and the sugar is dissolved. Bring the composition close to the boiling point, over low heat, for 5 minutes, without stirring. Leave the sauce to cool in the fridge to thicken (~ 15 minutes). Mix well before pouring it over the bars.
Cut the bars and serve them with a little sauce.
Nutrition Information
Yield
10
Amount Per Serving
Calories

385
Total Fat

19g
Saturated Fat

8g
Trans Fat

0g
Unsaturated Fat

10g
Cholesterol

32mg
Sodium

173mg
Carbohydrates

52g
Fiber

4g
Sugar

34g
Protein

5g
I strive to keep the information as accurate as possible but make no warranties regarding its accuracy. I encourage you to make your own calculations using your preferred nutrition calculator.