This homemade vegan sushi recipe (vegetarian sushi) is extremely easy to make! Learn how to make vegan sushi rolls in less than 30 minutes! With this easy method, you'll get perfect vegan sushi every time.
I finally had the courage to make vegan sushi at home and it was way easier than I expected! Sushi rice and Nori sheets are essential, but other than that, the recipe is pretty flexible and you can improvise. I didn't even have a sushi mat and it still worked like charm. I used a simple table mat instead and I've even heard of people who used towels. So don't worry if you don't have all the utensils. 🙂
It took me less than 30 minutes to make vegan sushi rolls for 4 people. I've seen a lot of vegetarian sushi recipes online and they're quite different when it comes to the rice-water ratio or amount of rice vinegar used. Here's my version, which worked very well and it's completely fail-proof, so you won't risk burning the sushi rice.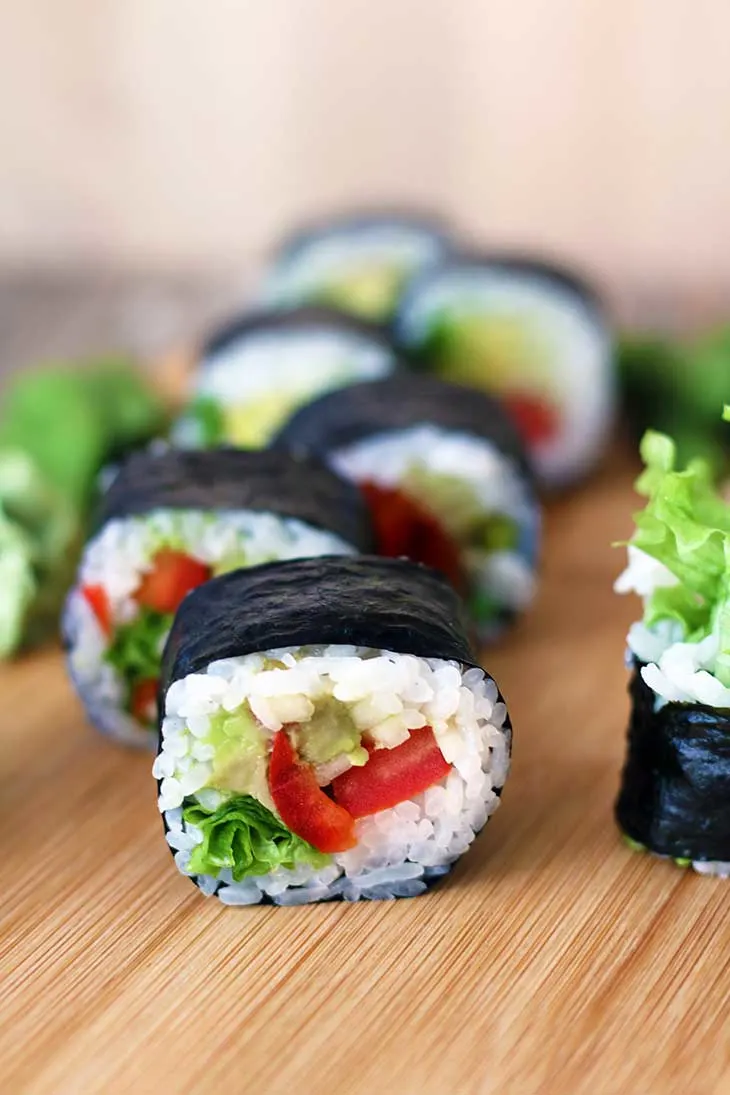 Just use the 2:1 ratio. This means that for 1 cup of sushi rice you will add 2 cups of water. When the rice starts boiling, let it boil for 10 minutes, then remove from heat and cover with a lid. Let it absorb all the liquid. This is the easiest method I found and it works perfectly every time.
There are different kinds of vegan sushi options. So if you're looking for vegetarian sushi names or sushi types you can try, here are some below:
Vegan maki sushi rolls – with the seaweed on the exterior, the ones in this recipe.
Vegan uramaki sushi, also known as California rolls
Nigiri sushi – a fish topping is served on a piece of rectangular or round-shaped sushi rice. You can use sliced avocado as a topping to make it vegan.
Temaki – it is basically a cone made out of Nori and filled with rice, veggies and fish – for the non-veg sushi versions.
There is also sashimi but this type of sushi cannot be veganized as it is simply a piece of raw fish meat.
In terms of vegan sushi fillings, there's a wide variety of veggies you can use. You can add any kind of veggies you want for these vegan sushi rolls. I used avocado, lettuce, tomato and red bell pepper, but in the recipe below I gave you some other options as well, such as carrots, cucumber, and more.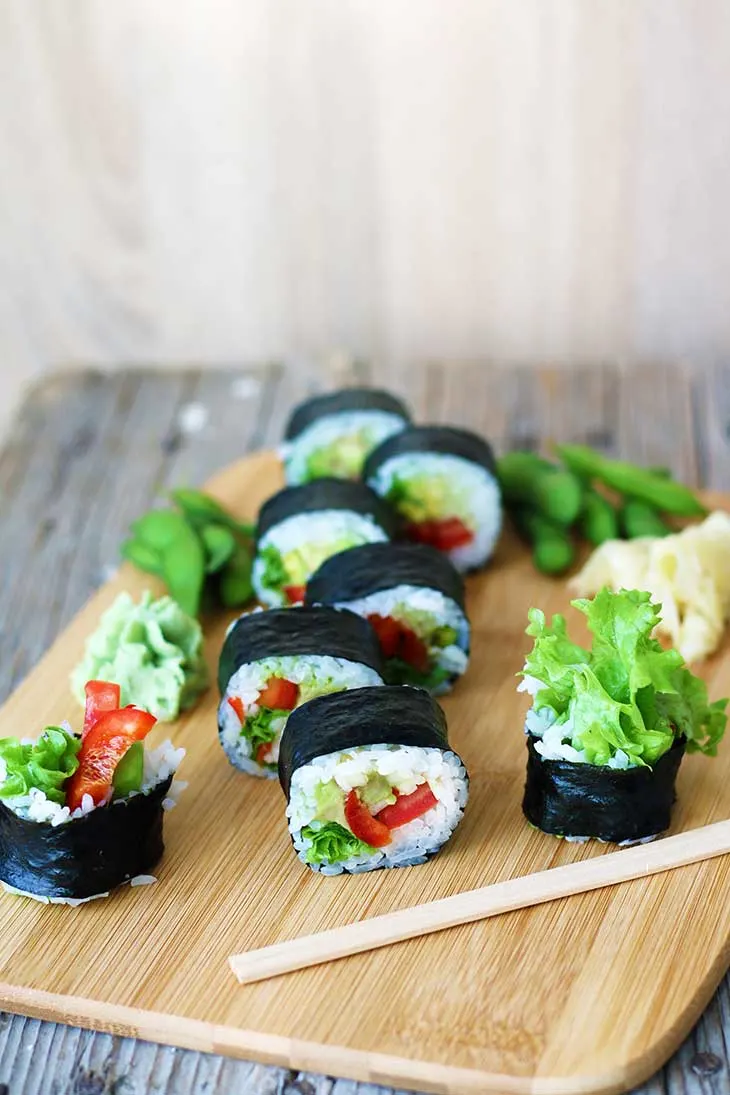 You can serve these homemade vegan sushi rolls with soy sauce mixed with some raw sesame oil. I love sesame oil and I've started using it a lot! You'll see why once you give it a try. 🙂 Wasabi paste and pickled ginger are also two other options.
If you want, you can also try a vegetarian sushi option, with some cream cheese spread on top of the rice. I've seen that this is a popular vegetarian sushi recipe in some sushi restaurants. Want to try something more complicated? Check out Pinterest for inspiration. I found so many creative vegetarian sushi rolls recipes there!
Also, if you don't want to use rice and want to try a low-carb vegan sushi recipe, try using grated cauliflower instead! It's a great low carb sushi rice replacement.
Be creative with the vegetarian sushi combinations! Use any other ingredients you like. There are so many types of sushi without seafood you can try that are just as good as traditional sushi. For example, I'm going to make vegan sushi with some oyster mushrooms and smoked tofu in the near future. I think they will be amazing!
What are your vegan sushi ideas? I'm looking for new sushi recipes to try! 🙂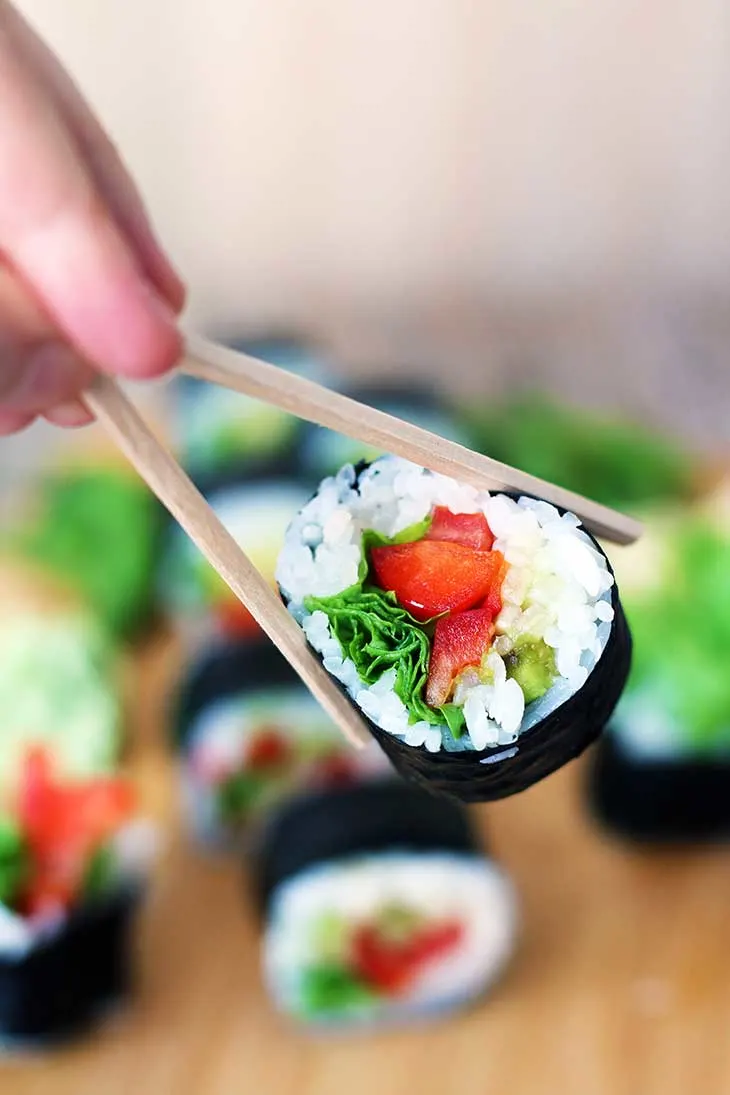 Yield: 2
Vegan Sushi | How To Make Vegan Sushi Rolls in 30 minutes!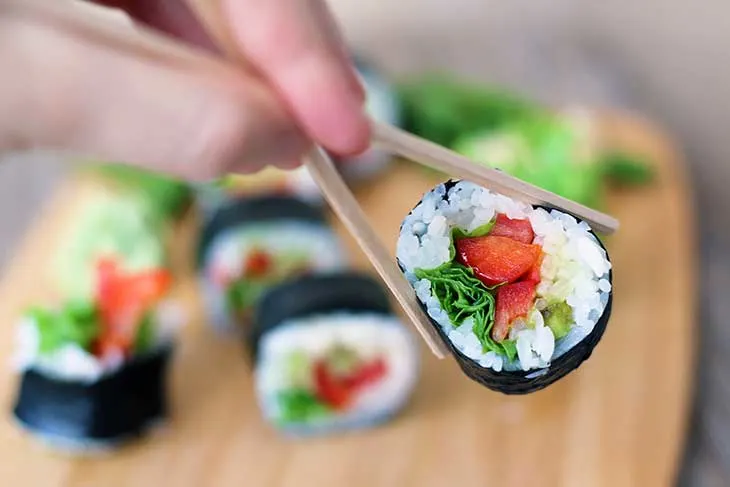 This homemade vegan sushi recipe is extremely easy to make! Learn how to make vegan sushi rolls in less than 30 minutes!
Ingredients
Nori sheets
200g (1 cup) sushi rice
500ml (2 cups) water
3 Tbsps rice vinegar
1 Tbsp sugar
2 tsps salt
Fillings of choice:
1 cucumber, cut into thin strips
1 red bell pepper, cut into strips
1 carrot, cut into strips
1 avocado cut into strips
lettuce
1 tomato, cut into strips
soy sauce or tamari for dipping
optional - raw sesame oil, for drizzling on top
Instructions
Thoroughly rinse the rice until the water runs clear.
Put the rice into a pot, add the water and bring to a boil. When it starts boiling, cook for 10 more minutes and then remove from heat and cover the pot with a lid. Let the rice absorb all the liquid.
Let the rice thoroughly cool.
Mix vinegar, sugar, and salt until dissolved and pour into the rice. Mix well.
Prepare the veggies and cut them into strips.
Use a sushi mat and cover it with some plastic wrap.
Place the nori sheet on the sushi mat, with the rough side facing up. Apply the rice to the nori sheet, covering all edges. It should be 1/2" thick and leave the top 1" of the Nori sheet bare.
Layer the veggies on the bottom and carefully roll them.
Slice the sushi rolls with a wet knife.
Use soy sauce and raw sesame oil for dipping.
Nutrition Information
Yield
2
Amount Per Serving
Calories

542
Total Fat

12g
Carbohydrates

98g
Protein

11g