Change language / Schimba limba:

Română
This is the easiest vegan peanut butter pancakes recipe you can make! They're super-fluffy and have a creamy peanut butter filling. Plus, get a video on how to make peanut butter at home!
This is the first time I made peanut butter at home and I was pleasantly surprised by how easy it was! Basically, the blender/food processor does all the work! I used my G21 Perfect Smoothie Vitality blender for the homemade peanut butter and it was ready in less than 5 minutes! Amazing, right?!
You can make it crunchy, by blending it less, or extra-smooth if you blend the peanuts for a longer time. Either way, it's awesome!
And what better way to use this homemade peanut butter rather than pancakes! These peanut butter pancakes can be served for breakfast or brunch and are extremely easy to make. All you have to do is blend the ingredients together and fry the pancakes. That's it! They're filled with delicious peanut butter and topped with, of course, even more peanut butter! :)) Any PB fan will love these!
You can turn these vegan peanut butter pancakes into PB&J pancakes by adding jelly between the layers. Or, even better, drizzle them with chocolate. Double-deliciousness! 😀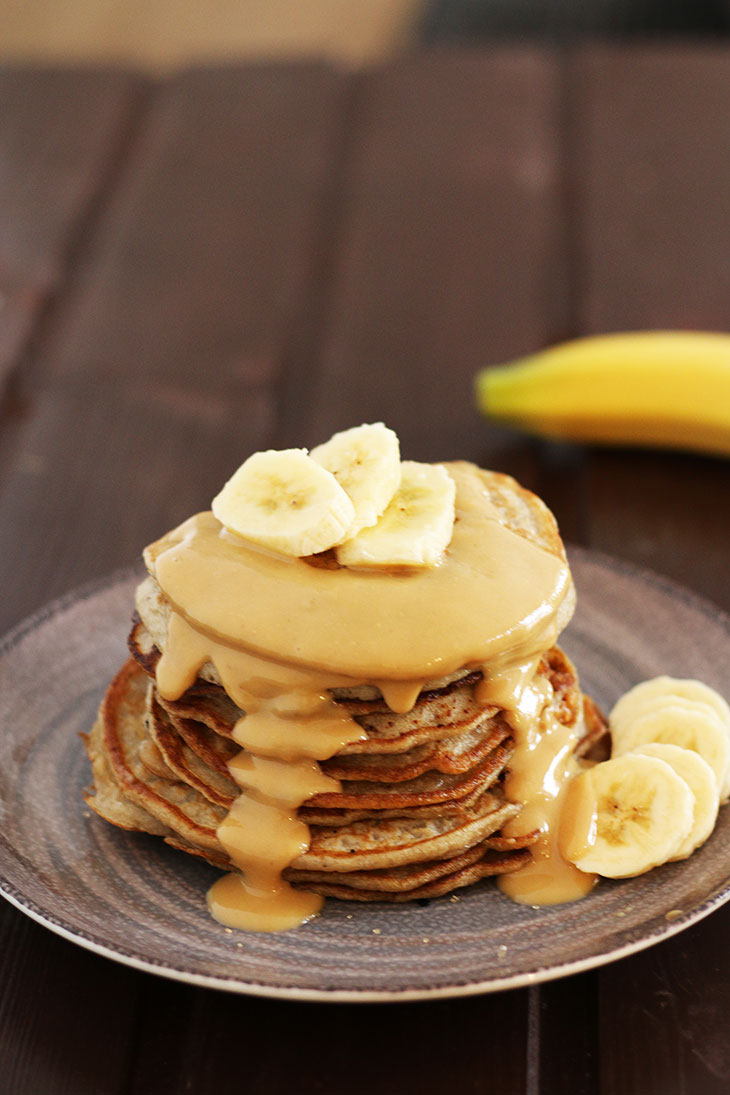 I even filmed a quick video for this recipe which shows you how to make these peanut butter pancakes and also how to make peanut butter at home, from scratch! Watch it below and if you like it, give it a Thumbs Up and Subscribe to my channel. I post every Thursday! 🙂
Do you want more awesome pancakes recipes? Try my vegan banana pancakes!
P.S. Don't forget to take photos of the recipes you try from my blog and share them with me on Instagram by using the hashtag #gourmandellerecipe. I'll feature you on Facebook and Instagram Stories! 🙂
Vegan Peanut Butter Pancakes – video recipe
Yield: 6 +
Vegan Peanut Butter Pancakes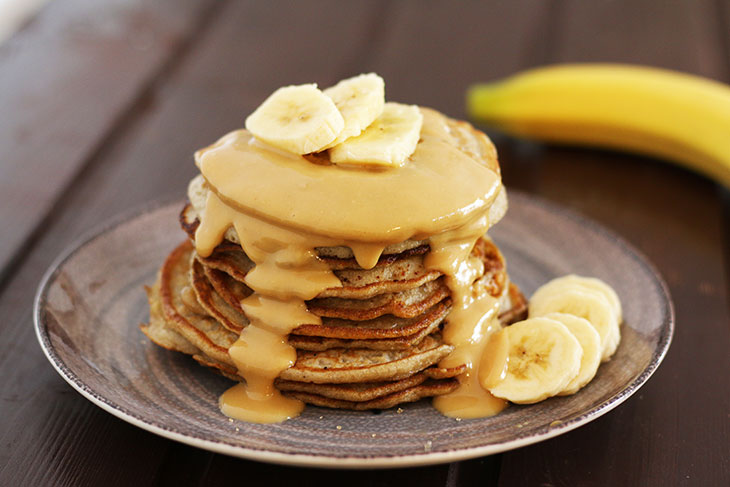 Ingredients
2 ripe bananas
1 1/2 cup soy milk , or your favorite non-dairy milk
1/2 cup flour , any kind. I used GF flour
1 tsp baking powder
2 Tbsps chia seeds
oil for cooking
Homemade peanut butter:
2 cups dry roasted peanuts
1 Tbsp oil
1-2 tablespoons syrup or sugar
additional salt to taste
Instructions
Homemade peanut butter:
It's so easy! Simply add the peanuts into the blender or food processor and blend until smooth. Add 1 Tbsp of oil, sweeten with some maple/agave/coconut syrup and that's it! You'll have to stop the blender once or twice to scrape the walls. Be patient. First, the peanuts will turn into flour, and then the longer you keep the blender on, the smoother the peanut butter will be.
Peanut butter pancakes:
Add bananas, chia seeds, milk, flour and baking powder into a blender. Blend well.
Grease a non-stick pan with some oil.
Using a ladle, pour in a small amount of batter (about 1/2 of the ladle).
Drizzle peanut butter on top.
Let it cook on medium-low heat until the side facing up starts to bubble. That's when it's the time to flip it on the other side.
Flip the pancake using a spatula and cook for one more minute.
Repeat the steps.
Serve these vegan peanut butter pancakes with some more peanut butter on top and your favorite toppings - bananas, crushed peanuts, chocolate.
Nutrition Information
Yield
6
Serving Size
1 grams
Amount Per Serving
Unsaturated Fat

0g