Nothing can cure this awful weather than a delicious clear broccoli soup! Here's how to make the best one in just half an hour. >>>
It's been raining for two weeks straight where I live. And there's also been some snow from time to time. And although I'm not against gloomy weather I think I… just had enough.
During times like these, there's only one thing I can think of: hearty soups. Yummy vegetables. Hot stews. And everything else in-between.
Yes, I'm talking about comfort food. And what could be better than a hot clear broccoli soup? Once you try it, you'll understand what I mean. It's rich, it's super easy to make and it's extremely healthy!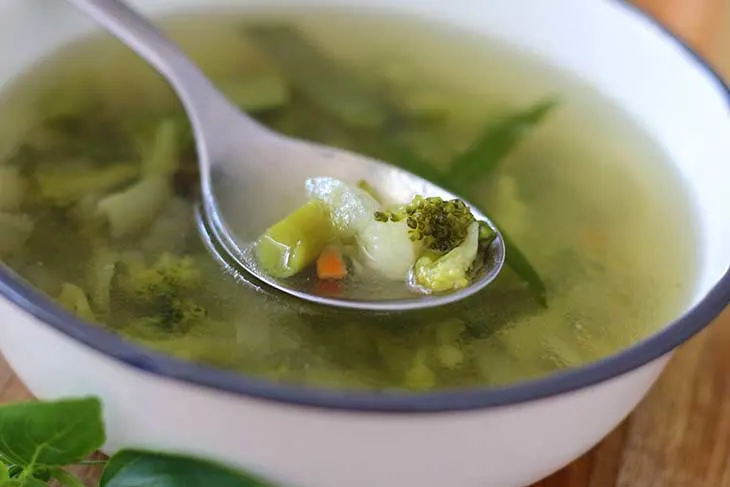 This soup is excellent if you have a cold. Forget about tasteless meals, being sick doesn't mean you can't eat good food!
And even though this clear broccoli soup doesn't look as appetizing as a hamburger or a plate of pasta, it's a very yummy dish. It has a subtle taste, excellent consistency and it's packed with vitamins and lots of nutrients. Broccoli is rich in proteins and fibers as well as vitamin C, A, K, E, and B (especially folic acid). It's also a good source of calcium and iron, so what more can you wish for? The health benefits of broccoli are pretty much endless.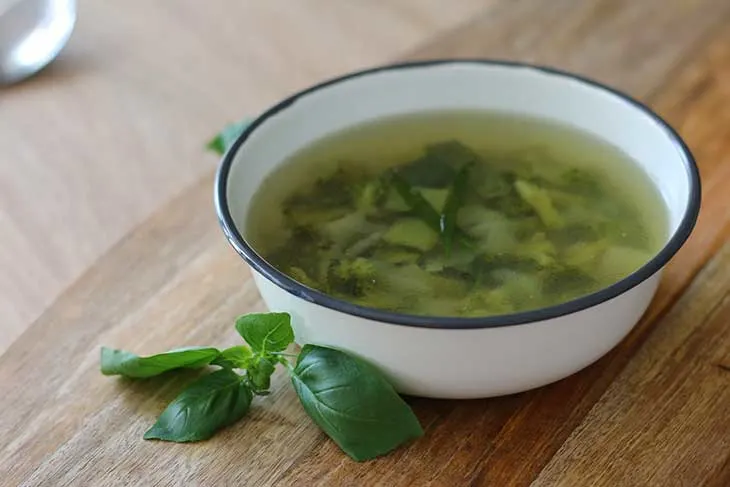 There are also some studies saying that the regular consumption of broccoli can reduce the risk of cardiovascular disease, which makes it excellent for our hearts. Broccoli has my heart anyway, but now it has it even more! 🙂
But don't let the aspect of this clear broccoli soup fool you. I know it doesn't look like much, but the flavors are there, trust me. Imagine broccoli and carrots, celery, green beans, onions, garlic, and some apple cider vinegar if you want to take things to the next level.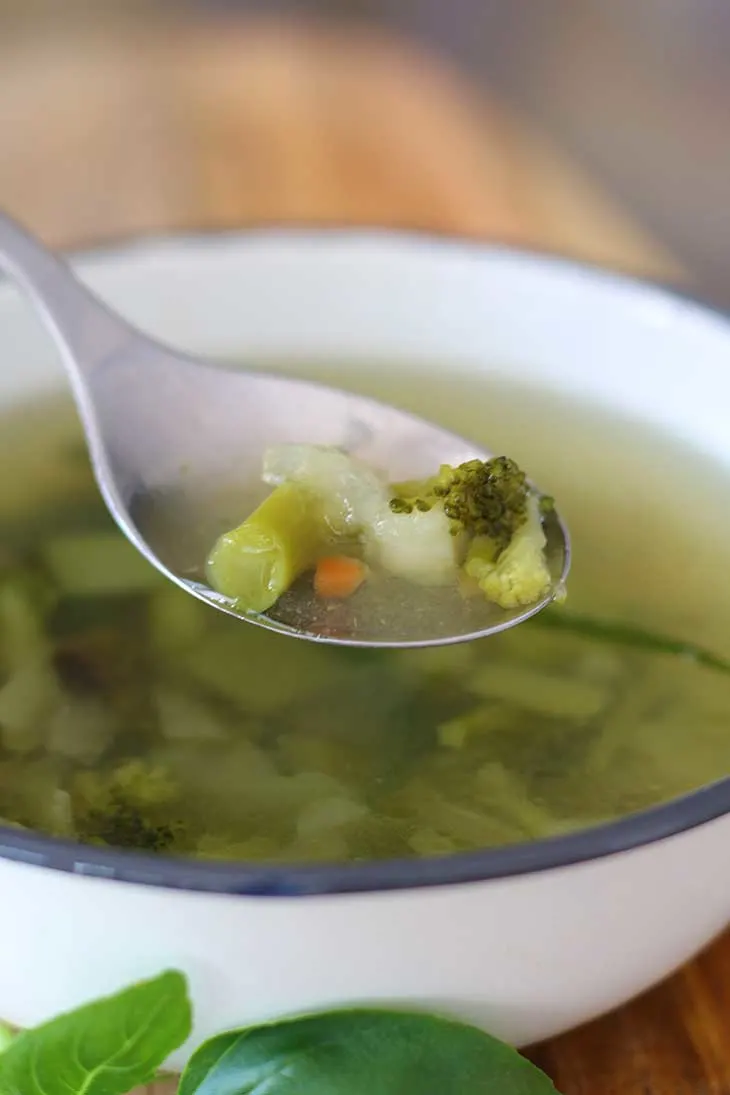 Here's another crazy idea: in case you have a hangover, this clear broccoli soup will be a blessing in disguise. The flavor is not very strong and the vinegar will heal you instantly! And it will also provide some much-needed nourishment after a night of heavy drinking. Hey, I'm not here to judge, but to provide solutions instead!
Or you can just prepare this clear broccoli soup on a gloomy day like I did today. I was in the mood for a simple yet nourishing dish so I gathered a couple of nutrient-rich veggies, boiled them and my soup was ready in no time.
This recipe is 100% vegan and gluten-free as well. In case you don't want to make it vegan, you can add some chicken. Boil it properly, then add the rest of the veggies and your soup will be packed with proteins.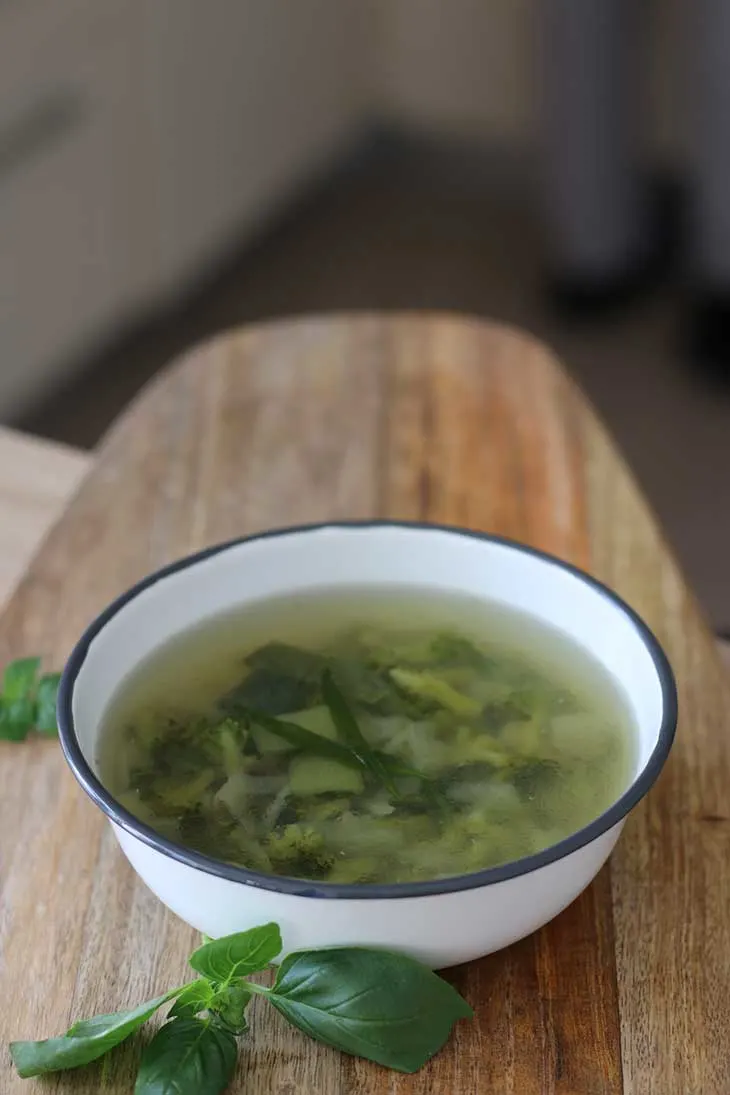 You can also adapt and improve the recipe as you please. In case you don't like the green beans, you can omit them completely or replace them with something else. Baby corn or sweet corn are some very good alternatives. Or some white beans if you prefer those instead. Or lentils, why not? Bok choy is also an incredible addition to this soup if you want to make it greener than it already is. The best recipes out there are the ones that can be customized as you wish – and this clear broccoli soup is one of them.
This recipe is inspired by an Indian recipe for broccoli broth with carrots. If you want to take things to the next level, you can add some noodles in the pot 10 minutes before it's ready or some spicy sauce when you serve it. I didn't, as I wasn't feeling like it, but you can do as you please.
This clear broccoli soup is the perfect example of how the best things in life are actually extremely simple and easy. Why try to complicate things? A soup is just a soup and that's what makes it perfect and soothing.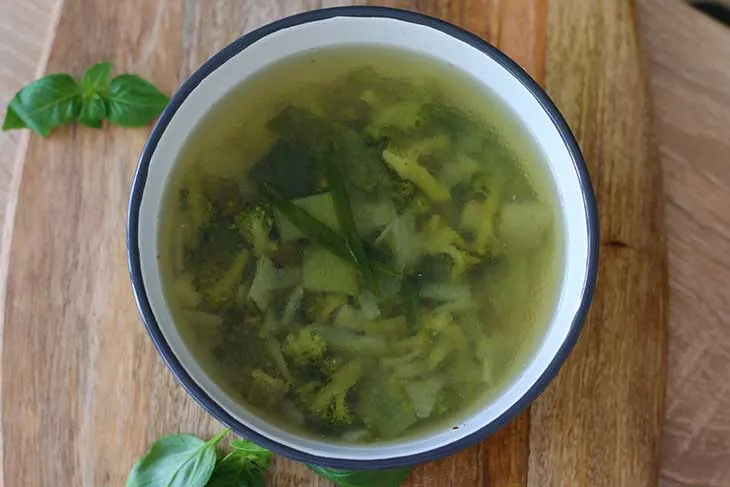 In case you need some more inspiration for adding broccoli to your diet, here are some extra yummy recipes:
These being said, I hope you'll try this recipe for clear broccoli soup soon. This is the perfect season for it! And if you decide to give it a go, don't forget to let me know how it went. I'm always curious to read your comments!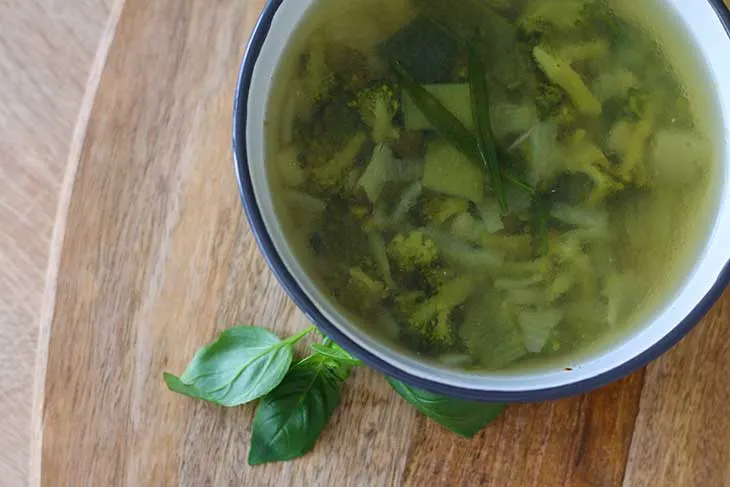 Happy cooking!
Yield: 8 portions
Clear Broccoli Soup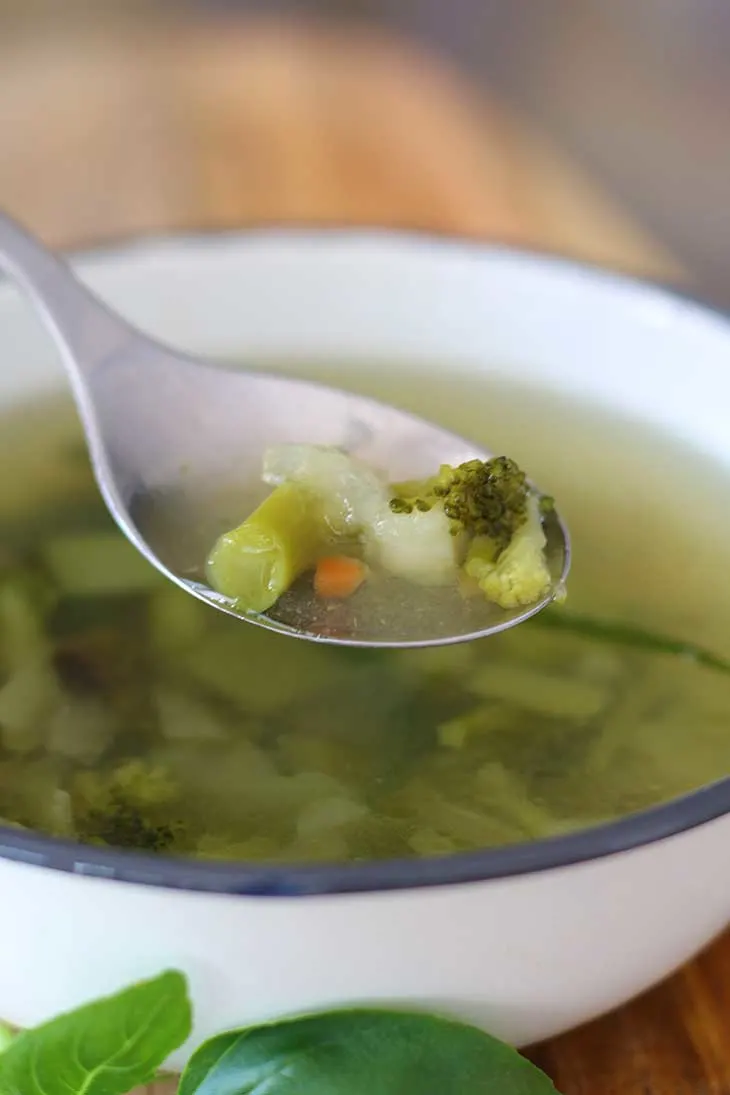 Nothing can cure this awful weather than a delicious clear broccoli soup! Here's how to make the best one in just half an hour >>>
Ingredients
500g (7 cups) broccoli florets, frozen
1/2 carrot, chopped in tiny bits
1 celery stalk, thinly sliced
a handful of green beans, frozen
1 onion, diced
4 garlic cloves, sliced
fresh or pickled tarragon leaves, chopped or whole (you can replace with fresh oregano if you don't have tarragon)
2 Tbsps olive oil
5 Tbsps apple cider vinegar, or more, to taste
sea salt and pepper, to taste
Instructions
Fill a 5L pot with water. Add all the ingredients, except for the olive oil, vinegar, seasonings, and tarragon (or your herb of choice).
Let them boil for 20 minutes, or until soft.
Remove from heat and add the oil, vinegar, and herbs. Season to taste.
Nutrition Information
Yield
6
Amount Per Serving
Calories

59
Total Fat

5g
Saturated Fat

1g
Trans Fat

0g
Unsaturated Fat

4g
Cholesterol

0mg
Sodium

59mg
Carbohydrates

4g
Fiber

1g
Sugar

1g
Protein

1g
I strive to keep the information as accurate as possible but make no warranties regarding its accuracy. I encourage you to make your own calculations using your preferred nutrition calculator.