If you love sweets as much as I do, then you'll surely fall in love with this recipe! Here's how to make vegan macaroons – extremely yummy and fluffy!
I must be honest and say that one of the things I found the hardest when I became a vegan was finding a solution for my absolute love for sweets. Cakes, candy, creams, fillings, cookies – you name it, I love it!
Nothing is better for a relaxing afternoon than indulging in something sweet after a satisfying meal. And I just love the colorful, joyful and cute appearance of cakes and cookies. So much that none of the sweets I bake go unphotographed. My last round of sweet cooking involved a vegan recipe for macaroons that I am going to share with you today! 🙂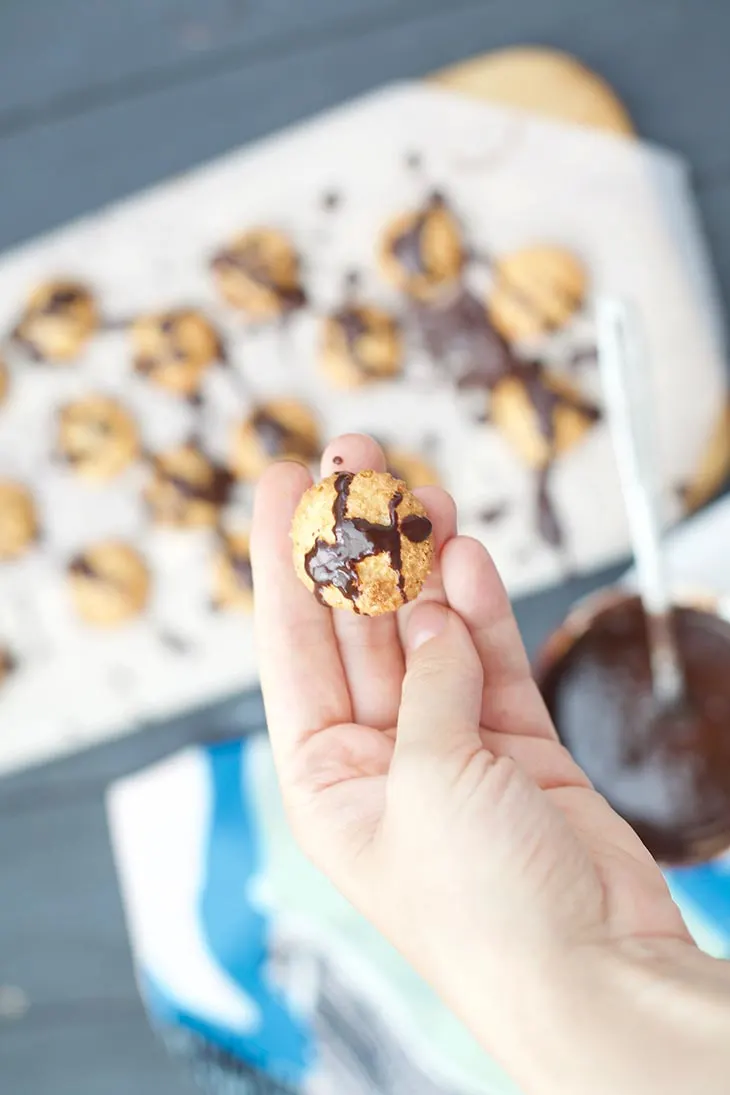 First of all, it should be stated that the macaroons are not to be mistaken for the French macarons. Although the latter is a variation of macaroons, they are not at all the same thing. The macaroon is that small cookie, usually made out of ground almonds (the original ingredient), coconut, and/or other nuts. This paste gives them the chewy consistency that we all love. Oh, and did you know that the word "macaroon" actually comes from the Italian word "maccherone" that means "paste".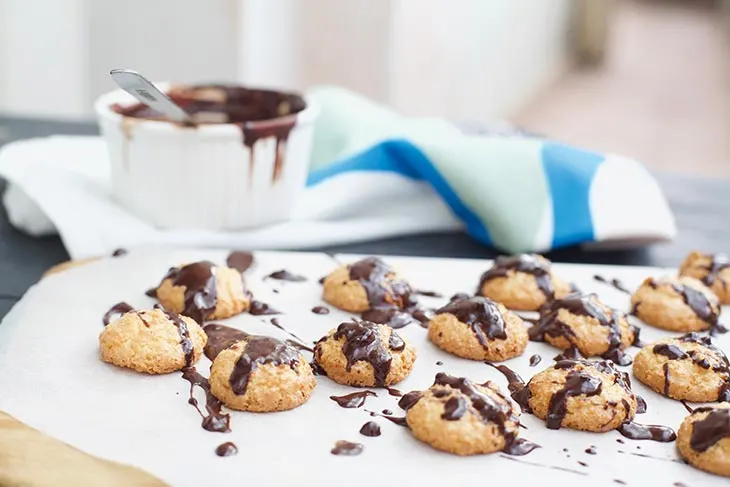 But the history of the macaroon doesn't actually start in Italy, but in the Arab empire of the 600-700s. The Arabs then invaded the nowadays territory of Sicily. One of the foods they brought was a sweet cookie made out of some kind of nut flour (possibly almond, but who can know for sure?) and honey. The Italians called this cookie "maccherone".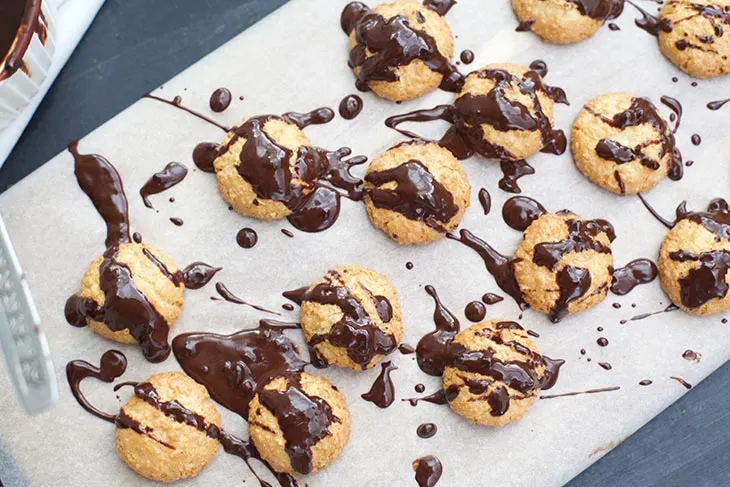 Now let's see how the macaroon became the French macaron. But first, a little piece of history: In the 1500s, Catherine de Medici, a member of one of the most noteworthy Italian families at the time, married a French royal and became the queen of France. It was her that introduced the Italian "maccheroni" to the French. The French adapted the Italian name to their language, and thus the macaron was born.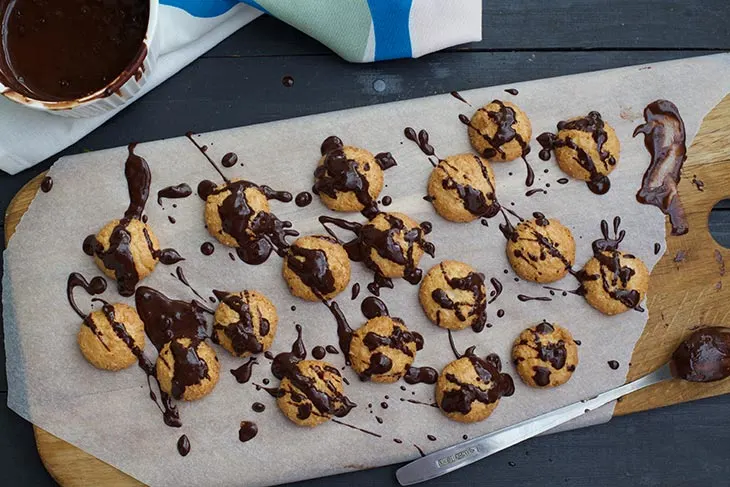 Yet it wasn't until the 1900s that Pierre Desfontaines, the grandson of a chef named Lauduree who owned a bakery, decided to merge together the two macarons, placing a chocolate ganache filling between them. Pierre introduced this sandwich to his grandfather's bakery and this became what we today know as the macaron. Merci beaucoup, Pierre!
It's sad to think that as soon as seven years ago, a vegan wouldn't have been able to enjoy the amazingly sweet and tasty macaroon, as all the recipes feature eggs. But that is no longer an issue now since in 2014 the vegan French musician Joël Roessel found that the water from canned beans and other vegetables can be transformed into foams in a very similar way egg whites transform into a foam. Merci beaucoup, Joël!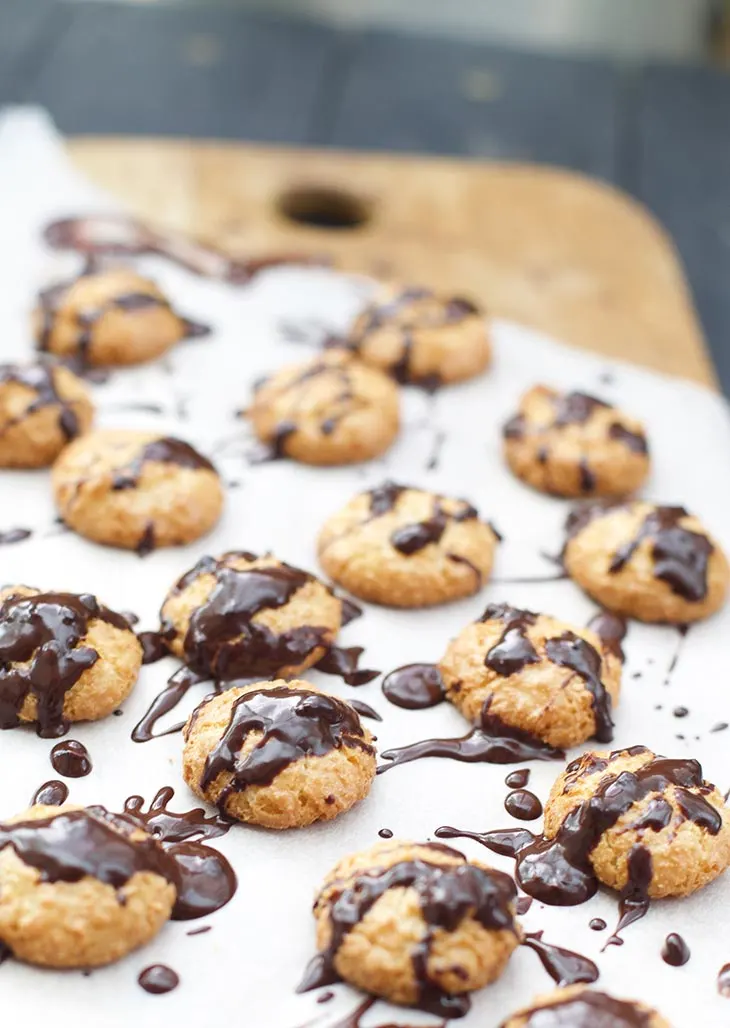 The ingredient has come to be known as aquafaba and it's usually made out of chickpea water. I'd just like to take a moment to express the fact that I am so happy that we live in a time when it's so convenient to be a vegan and I don't feel like I am missing out on anything! 🙂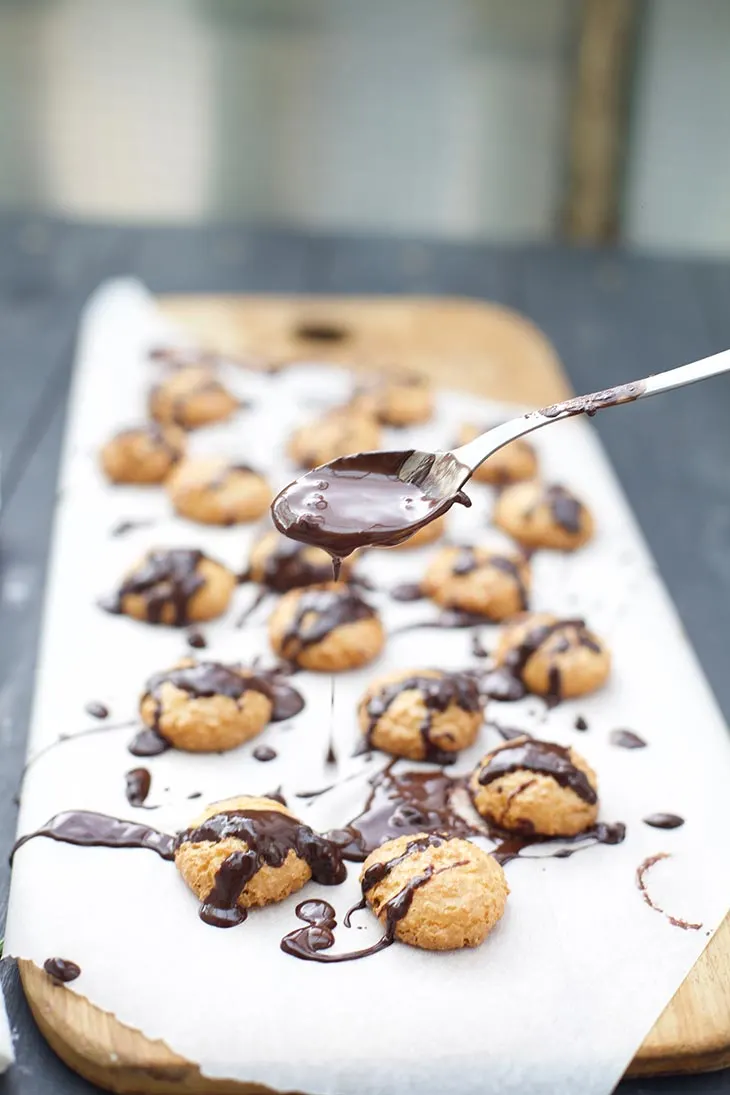 This recipe for macaroons will fix the cravings of that sweet tooth and no one will feel left out of this delicious culinary experience. All the ingredients are so easy to find that all you really need is to find some spare time one afternoon and in no time a full tray of delicious vegan macaroons will be all yours.
My recipe is also quite simple – so don't feel intimidated as many people do when it comes to baking sweets. Once your aquafaba is ready, you can start preparing your macaroons paste right away. It's actually very simple to prepare these macaroons, since it all goes together in a mixer, so you won't need much assembling!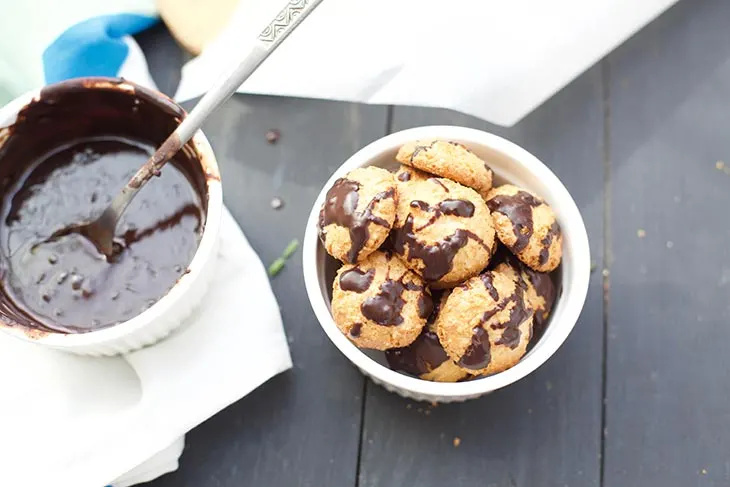 I hope I have convinced you to try out our recipe. Once your macaroons will be ready, you will too conclude that it's a great time to be a vegan! So let's start gathering the ingredients and prepare to be amazed. Whenever I show this recipe to my friends, I end up sending them home with the written recipe, as these macaroons always leave you craving for more. So if you try this recipe once, I am quite sure we will meet here again! 🙂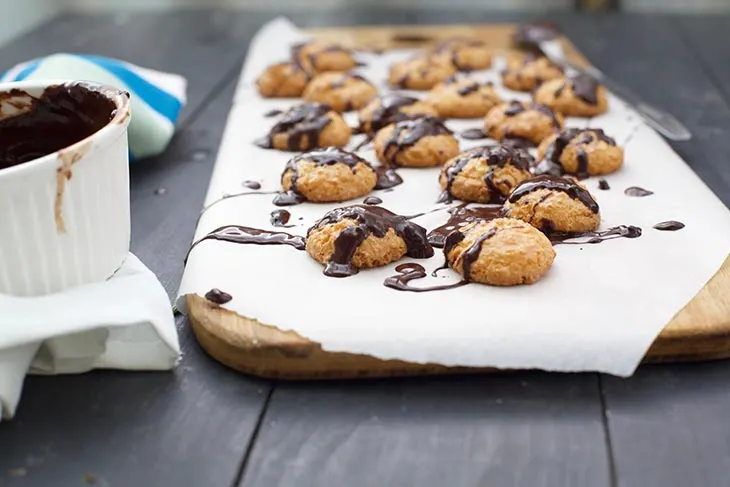 Enough talking, let's start the fun!
Yield: 20 macaroons
Vegan Macaroons - Fluffy Coconut Cookies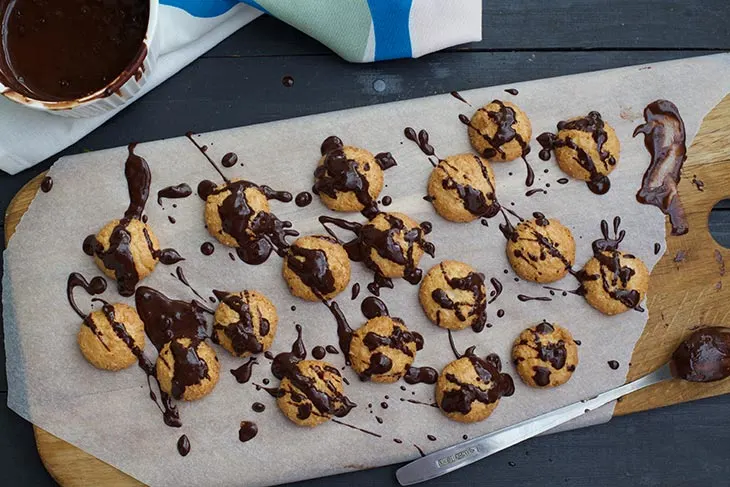 If you love sweets as much as I do, then you'll surely fall in love with this recipe! Here's how to make vegan macaroons - extremely yummy and fluffy!
Additional Time
15 minutes
Ingredients
For the macaroons:
200g (3 cups) dry shreded coconut
250g (1 cup) coconut cream
75g (2/3 cup) coconut flour (you can also use almond or oat flour)
110g (½ cup) maple syrup
3 tsp vanilla paste or extract
For the chocolate:
85g (½ cup) dark vegan chocolate chips
2 Tbsp water (boiling)
⅓ tsp salt
Instructions
Preheat the oven to 180C.

Line a baking tray with parchment paper.

Add all macaroons ingredients to a food processor and mix until fully incorporated.

Using a small measuring spoon, scoop the batter and place it into the baking tray. Make sure it is packed together so it doesn't fall apart.

Bake for 20-30 minutes until golden and crispy.

Remove from the oven and let cool on a rack.

Return the macaroons to the parchment paper.

To prepare the chocolate, melt the dark chocolate chips on bain-marie, add the rest of ingredients, mix to combine and drizzle over the macaroons.

Let the macaroons set in the fridge for about 15 minutes. Serve and enjoy!