This recipe for quinoa chili is an amazing reinterpretation of the classic Mexican dish. Give it a go if you want a little spiciness in your life!
Who's a fan of Mexican food? I know I am! 🙂 I love chili with all my heart, and for many reasons. It's a delicious and nutritious dish that you can serve for either lunch or dinner, and it's great for when you don't know what to cook because it's so versatile.
So today I'm going to talk to you about chili and share an amazing recipe that I know it's going to make you fall in love with it – quinoa chili!
Chili is a pretty old dish, probably from around the sixteenth century or so. It originated in Mexico City, then called Tenochtitlan, the Aztec capital. The term "chile con carne" was first recorded in a book from 1857 about the Mexican-American war.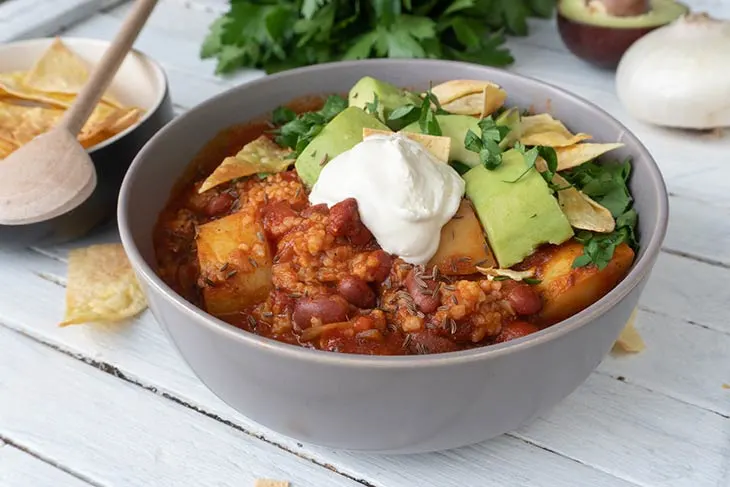 Another recipe describes basic chili ingredients such as dried meat, chili peppers, and salt, being ground together and formed into little cubes. These cubes would then be left to dry out and then be boiled in pots to make meals.
Chili became so popular in 1893, thanks to the San Antonio Chili Stand, in Chicago. This gave many Americans the first taste of it, and now we know for a fact that they loved it. Before World War II you could find hundreds of chili parlors around Texas, and by 1904, chili parlors started to spread outside Texas as well.
Now, if you thought beans were mandatory when it came to chili, and thought of this as a well-known fact, you might be surprised to hear that beans are disputed when it comes to this dish. The reason? The earliest chilis did not, in fact, include beans.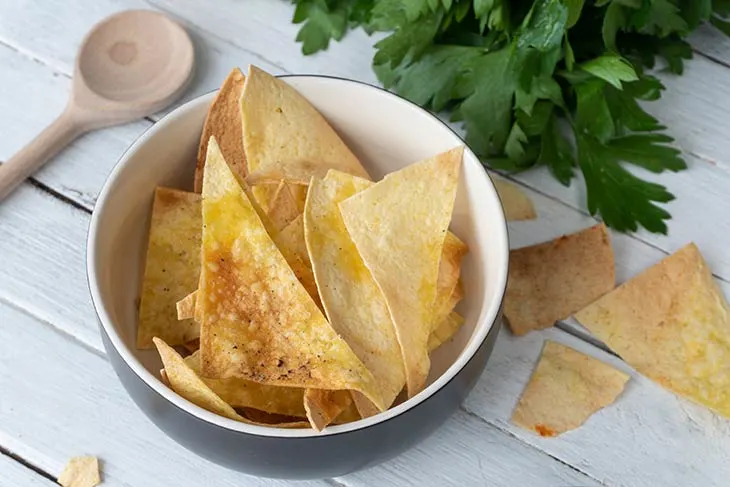 However, beans have been included in chilis long enough to be considered authentic. Nowadays you'll find chilis containing a variety of beans, such as black, black-eyed peas, kidney beans, common beans, pinto and so on. And most commercially prepared canned chili are heavy in beans. So I guess we should accept them even though they weren't originally there because they're delicious and they provide awesome flavor.
Of course, as you might have guessed, a recipe with such a long history has just got to have lots of variations. One of the most delicious ones is the vegetarian chili, also widely known as chili sin carne, or chili without meat. This one's a really delicious and hearty dish for those who either opt for a meat-free diet or try to reduce their red meat intake. And this recipe is actually suitable for vegans as well!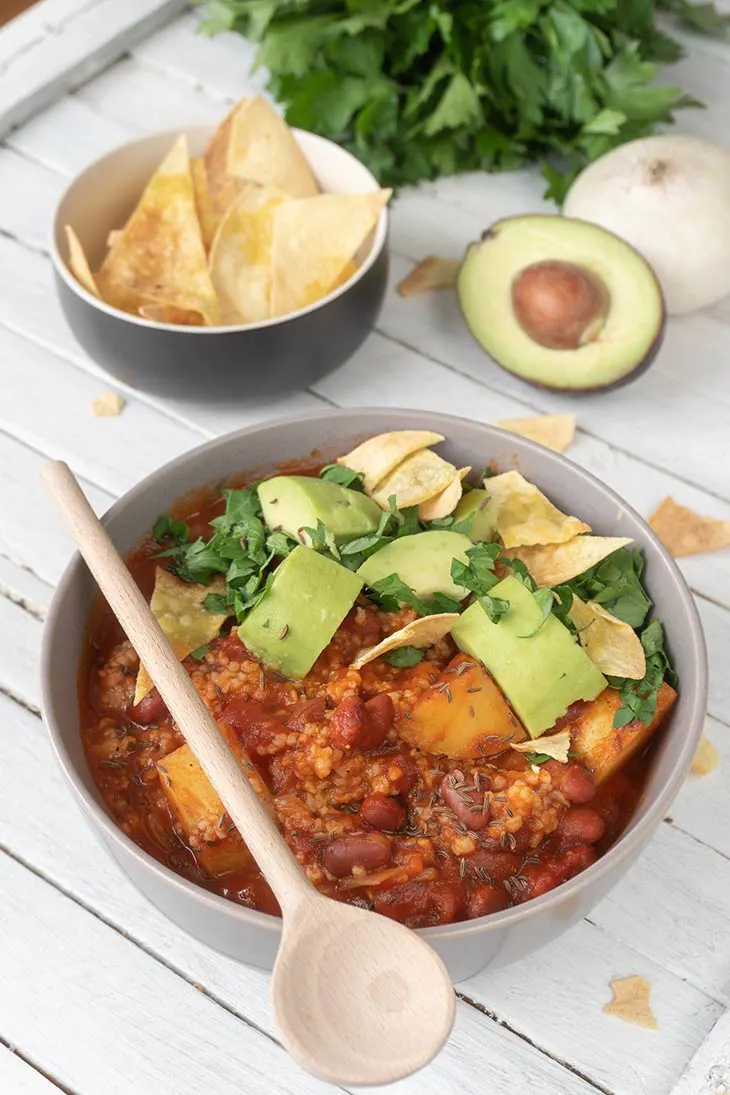 To make this vegetarian or vegan, the cook has to either leave the meat entirely and base the chili on plant-based filling proteins such as beans, or substitute the meat with an analog, such as textured vegetable protein (eg. soy), tofu, quinoa, or a starchy vegetable such as potatoes. The idea is to keep the dish filling and hearty, not to feel like we've been deprived of something.
Quinoa chili is another amazing variation that everybody can try out! 🙂 You can use quinoa as a base and then add the rest of your vegetables, sauce, and spices, or you can even use quinoa and beans together for a boost of protein and amazing taste.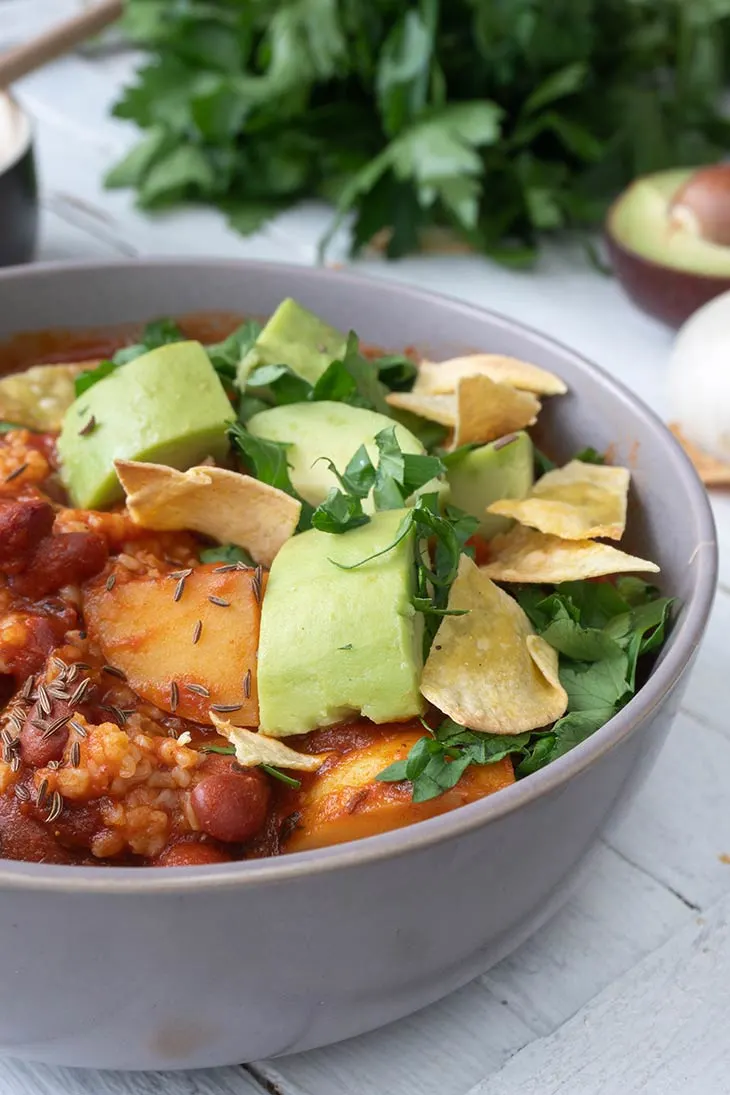 When making chili, I usually like to check my fridge for any vegetables that aren't so good-looking, or for scraps that aren't necessarily so appealing. This dish gives them a new life, and that's why I love it so much! 😉 I love versatile dishes that help reduce food waste, and I love cooking delicious stuff with the things I have at home.
Another great thing about cooking your own chili is that you can control the spice factor. Sure, a chili expert might tell you that this dish is best if it gets your mouth on fire. However, I'm pretty sure you can enjoy chili even if you're not a big fan of spicy food. So yeah, chili without the chilis – pretty unorthodox, but just as delicious.
It's important to make every dish your own and adapt to your own needs, so if that means you can't handle spicy food, then don't eat it! There are a lot of delicious, non-spicy condiments out there, waiting for you to try them. And lots of them go amazingly well in chilis!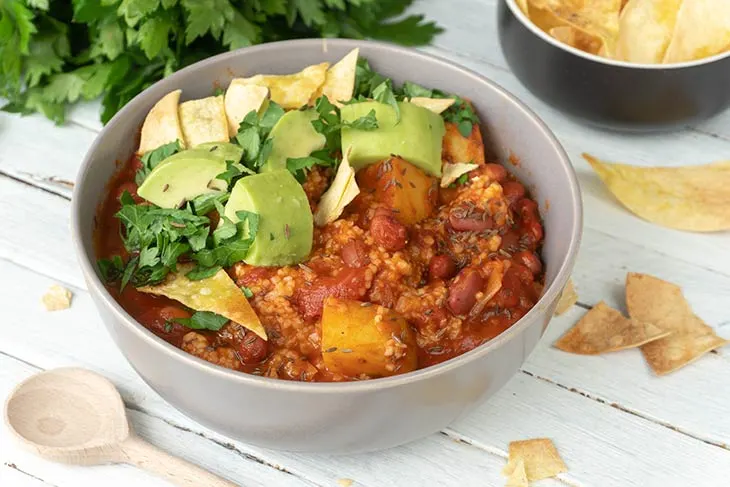 This quinoa chili is the perfect example of comfort food that is super healthy as well. So next time when you feel like having something comforting after work, instead of reaching out for that food delivery app, why not try making this yourself? Promise you won't regret it!
---
Personalized meal plans and workout videos | Get your customized meal plan today! [x_button shape="square" size="mini" float="none" target="blank" href="https://shop.gourmandelle.com/?utm_source=mainsite&utm_medium=site&utm_campaign=inpost" info="none" info_place="top" info_trigger="hover"]I WANT A MEAL PLAN![/x_button]
---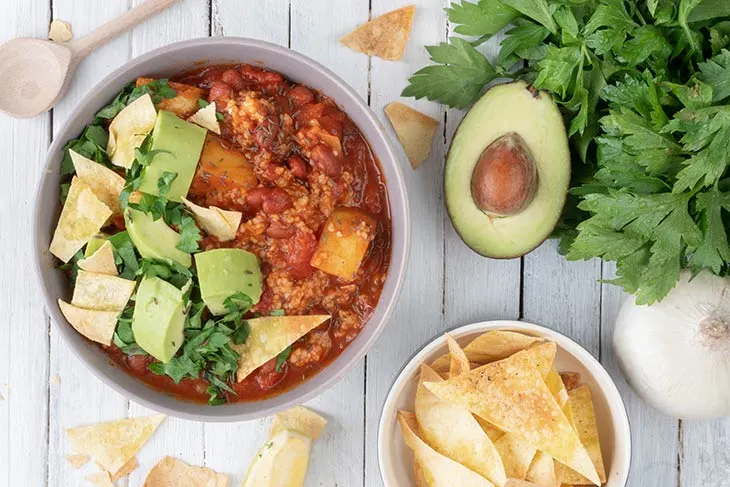 This recipe for quinoa chili is an amazing reinterpretation of the classic Mexican dish. Give it a go if you want a little spiciness in your life!
Ingredients
1 large white onion, chopped
4 garlic cloves, minced
250g (1 cup) kidney beans, cooked and drained
125g (½ cup) black beans, cooked and drained
1 large sweet potato, cut into cubes
180g (1 cup) crushed tomatoes
600ml (2 ½ cup) veggie broth
200g (1 cup) quinoa
4 tsp cumin
2 tsp oregano
2 tsp coriander seeds
2 tsp chili powder
2 Tbsp tomato paste
8g (½ cup) coriander, chopped
2 Tbsp olive oil
Salt, Pepper
Toppings:
1 avocado
Vegan sour cream or yogurt
Tortilla chips
Instructions
Heat up 2 Tbsp of olive oil in a pan. Add the garlic and onion and saute for 2-3 minutes.
Add the tomato paste and cook for another minute before adding all your spices and herbs.
Mix well and add the cubed potato. Cook for 2-3 minutes.
Add the crushed tomatoes, beans, veggie broth, and quinoa.
Simmer on low heat for 30-40 minutes or until the potatoes are cooked. Season with salt and pepper.
Serve with fresh avocado, vegan sour cream or yogurt, and tortilla chips.
Nutrition Information
Yield
4
Amount Per Serving
Calories

534
Total Fat

20g
Saturated Fat

4g
Trans Fat

0g
Unsaturated Fat

14g
Cholesterol

4mg
Sodium

503mg
Carbohydrates

75g
Fiber

20g
Sugar

17g
Protein

20g
I strive to keep the information as accurate as possible but make no warranties regarding its accuracy. I encourage you to make your own calculations using your preferred nutrition calculator.