Savor the delicate strawberry tiramisu recipe with rose syrup! An explosion of delicious flavors in a reinterpreted classic recipe.
Welcome to the delicious world of refined desserts! I am excited to present you the recipe for strawberry tiramisu with rose water syrup – a divine combination between the aroma of the classic tiramisu and the sweet freshness of seasonal strawberries.
With a subtle scent of rose syrup for a special floral note, this dessert will conquer you with each one of its tasty layers. It's time to treat yourself to a sweet and aromatic delicacy, so let's explore together this delicious taste experience of the reinterpreted tiramisu!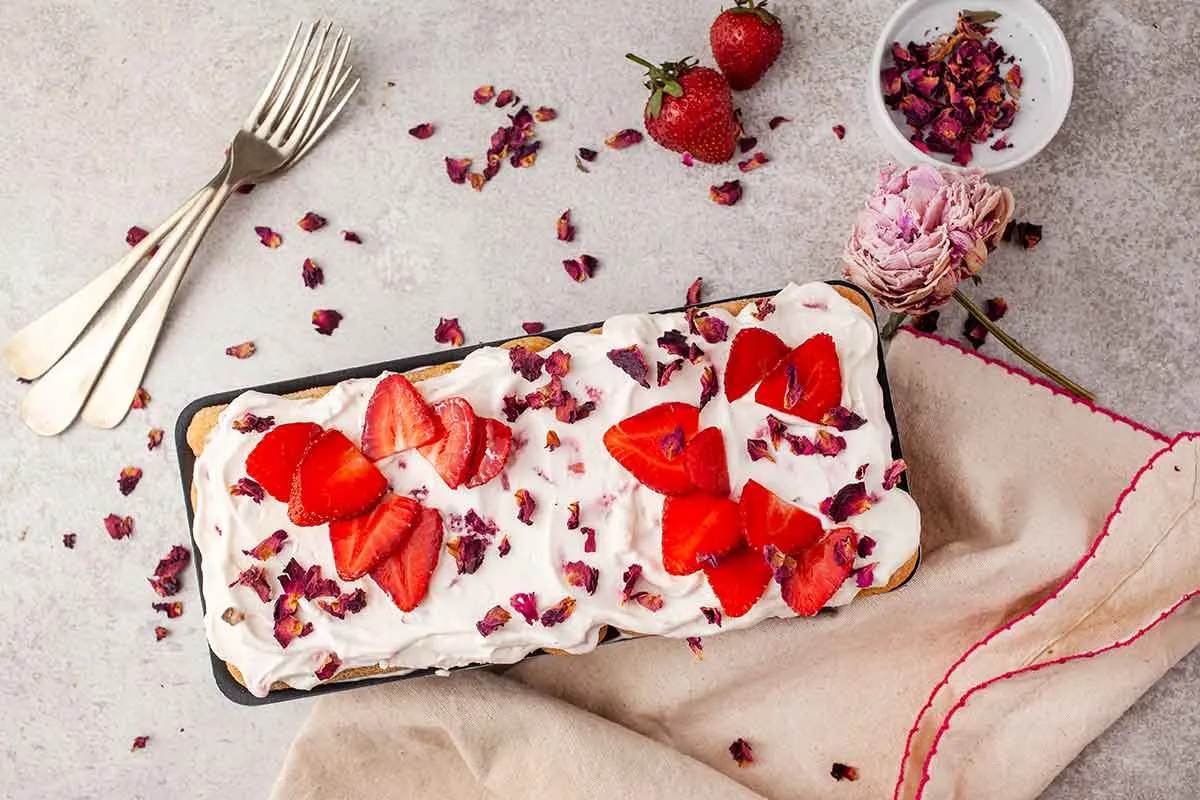 Authentic tiramisu origins
The origin of tiramisu is shrouded in mystery and culinary stories. This classic Italian dessert has an interesting history and different versions of the stories about how it was created. It is said that Tiramisu was created in northern Italy, in the Veneto region, in the 17th century. Initially, it was intended to be a delicacy for the nobles' court and was called "Zuppa del Duca" or "Zuppa Inglese".
The term "Tiramisu" means "pick me up" in Italian, suggesting an experience full of energy and exceptional taste. Over time, the recipe evolved and became known throughout Italy and eventually, throughout the world.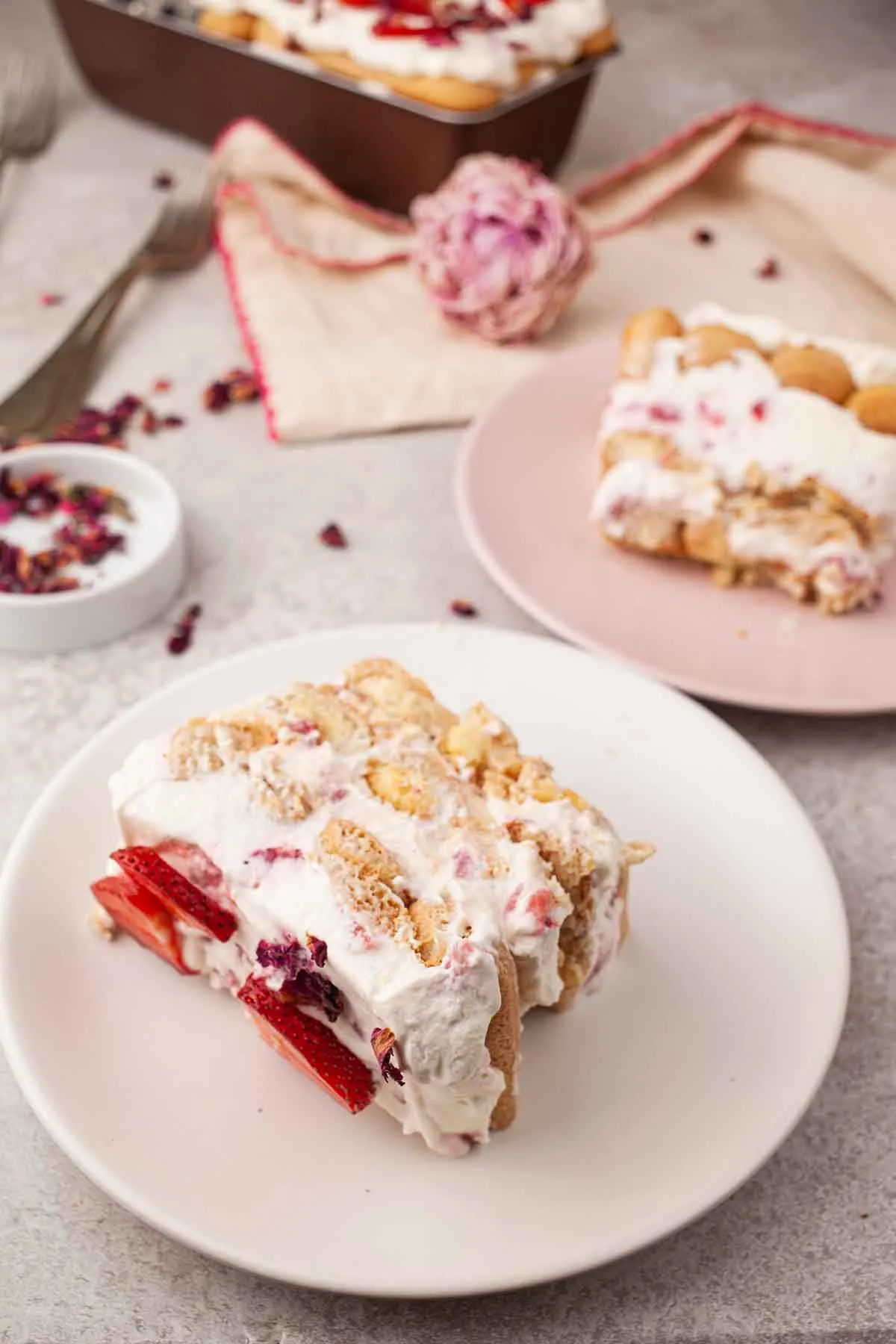 The classic tiramisu is composed of layers of ladyfingers soaked in espresso coffee and coffee liqueur, alternating with a creamy mixture of mascarpone, eggs and sugar. The dessert is usually sprinkled with cocoa powder to give it an elegant and attractive appearance.
The delicate, creamy and balanced taste of tiramisu has captivated the hearts of many, turning it into one of the most loved and recognized Italian desserts in the whole world. Over time, numerous versions of this dessert appeared, including versions adapted for vegans, which contributed even more to its global popularity.
Try my vegan tiramisu recipe if you're looking for a dairy-free and egg-free version!
Today, Tiramisu remains a symbol of Italian gastronomy and a real pleasure for sweet lovers all over the world.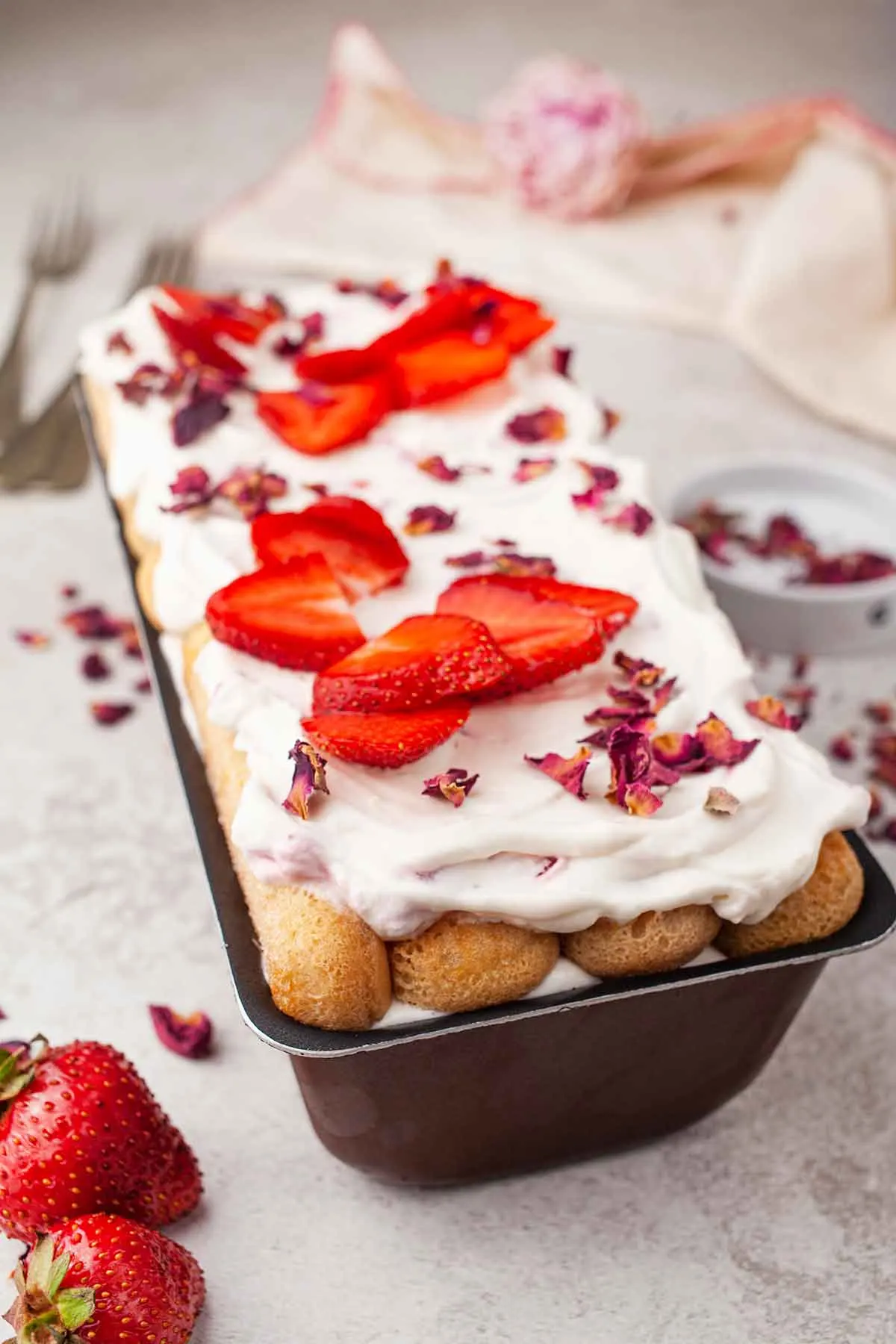 Ingredients
Here are some of the star ingredients in this strawberry tiramisu recipe:
Fresh strawberries: Add a sweet and juicy note, offering a delicious taste and a juicy texture in each layer of tiramisu.
Rose water syrup: Brings a subtle floral aroma, perfectly complementing the sweetness of the dessert and giving it an elegant and refined touch. I used it instead of classical espresso. Here is my rose jam recipe or read more about how you can use edible roses in recipes.
Ladyfingers: Absorb the aromas of the floral syrup in this case, offering a delicate texture and a perfectly crispy base for the cream layers.
Mascarpone: Creamy and rich, mascarpone adds a fine flavor and a velvety texture, turning tiramisu into an irresistible dessert.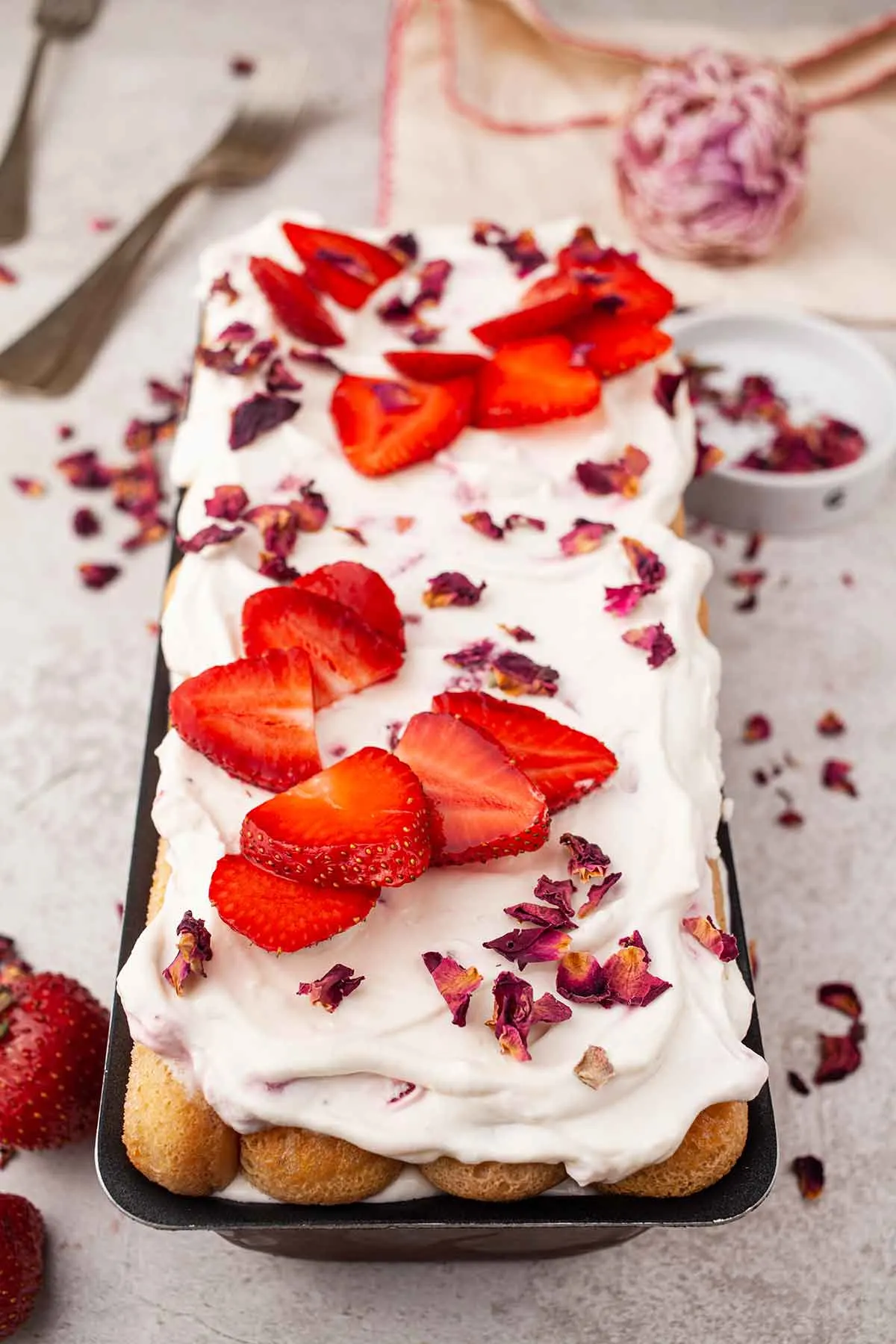 Storage
Correct storage and preservation of tiramisu is essential to maintain freshness and its irresistible taste in the long term…this is in case you don't make it ready from the first day! Here are some tips on how to properly store this delicious dessert:
Refrigeration: After you have prepared the strawberry tiramisu, carefully cover it with plastic film or put it in a container with a lid and keep it in the refrigerator. It is recommended to keep it at a constant temperature of approximately 4-5 degrees Celsius.
Sealing: Make sure that the container in which you keep the tiramisu is perfectly sealed, to prevent the absorption of other odors from the refrigerator and to maintain its distinct aroma.
Short-term consumption: Tiramisu is most delicious in the first 2-3 days after preparation, when the flavors have completely harmonized. Try to consume it in this interval to enjoy its authentic flavor.
Portioning: If you have prepared a larger quantity than you can consume in a few days, divide the tiramisu into smaller portions and store it separately in airtight containers. Thus, you can serve only the necessary amount without affecting the entire dessert.
Hope you'll enjoy this summer dessert! Let me know how it turned out for you, in the comments below!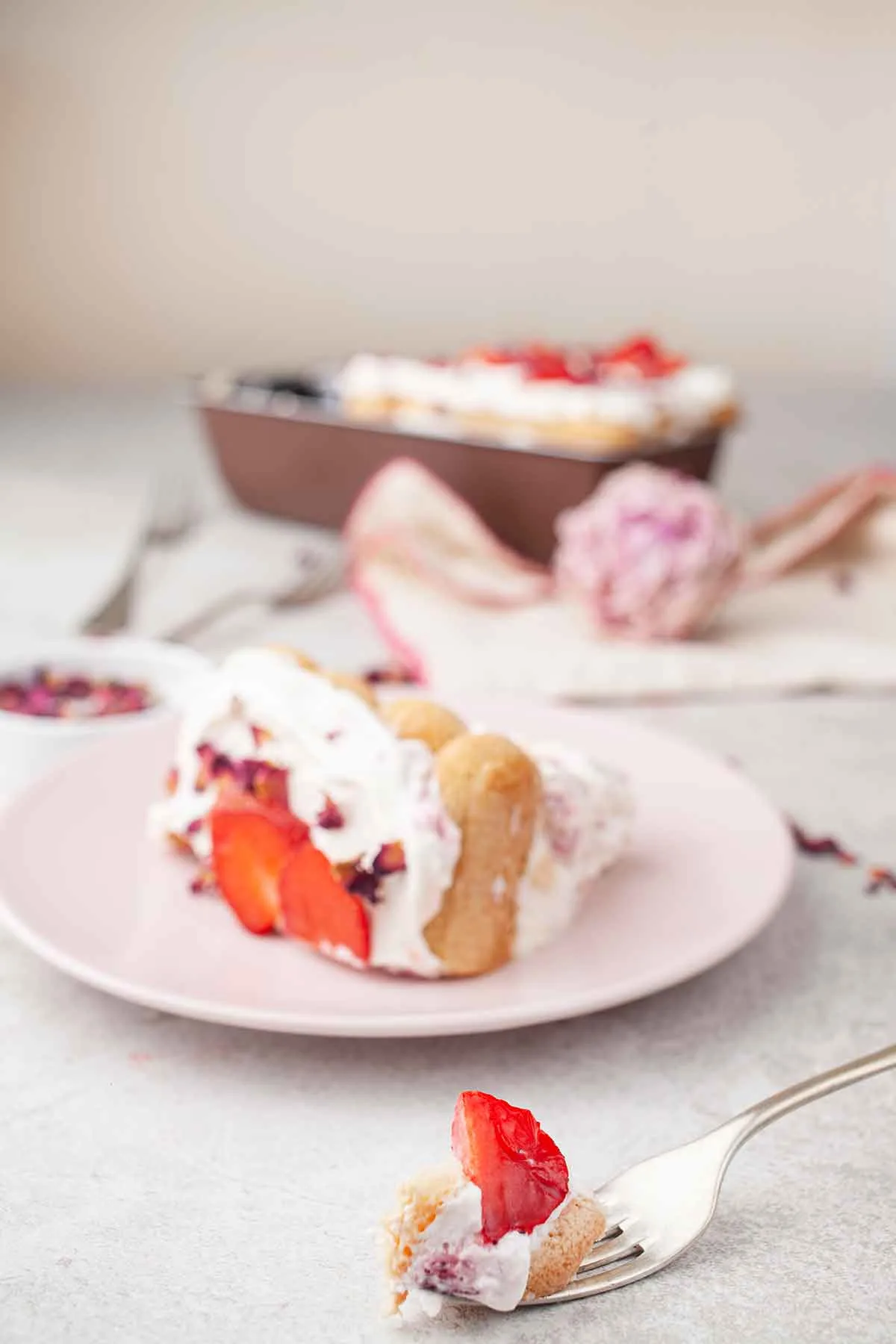 How to make the strawberry tiramisu recipe
Yield: 6-8
Strawberry Tiramisu with Rose Water Syrup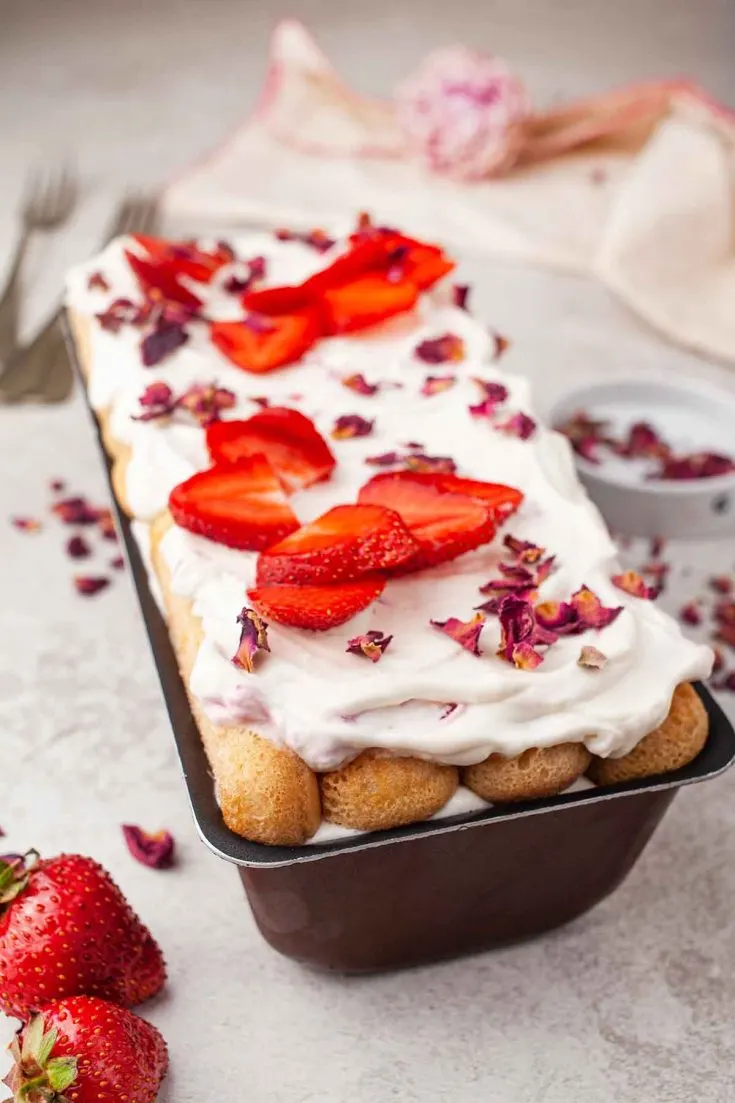 Savor the delicate strawberry tiramisu recipe with rose syrup! An explosion of delicious flavors in a reinterpreted classic recipe.
Total Time
4 hours
30 minutes
Ingredients
For the rose water syrup:
½ cup hot water
2 tablespoons of sugar
1 teaspoon of rose water
1 tablespoon freshly grated orange peel
For the strawberry tiramisu:
18 wide ladyfingers
400g mascarpone (1 ⅔ cup) , cold
4 large eggs
100g (½ cup) sugar
½ cup fresh strawberries, finely chopped
½ teaspoon of rose water
Topping:
Fresh strawberries, sliced
Dried rose petals
Instructions
Prepare the syrup: In a deep plate, combine hot water and sugar, stirring until the sugar dissolves completely.
Add the delicate essence of rose water and a hint of orange peel, and set the fragrant syrup aside.
Cream: Ensure all the ingredients are chilled. Separate the egg whites from the yolks in two separate bowls.
Using a mixer, mix the egg yolks with half of the sugar quantity.
Now whisk the egg whites with the rest of the sugar, gradually increasing the mixer speed, whipping until it forms soft peaks of firm, luscious cream.
Lowering the mixer speed or using a spatula, add the velvety mascarpone, one spoonful at a time, seamlessly integrating it with the rose water and whisked egg yolks.
Once the mascarpone is perfectly blended, briefly halt the mixer, and gently fold in the chopped strawberries using a spatula.
Create the layers: Tenderly soak each delicate ladyfinger in the delightful rose syrup, and arrange them in a single layer at the bottom of the serving tray.
Generously spread one-third of the sumptuous cream over the ladyfinger layer.
Repeat this process, layer by layer, until the last exquisite layer is complete.
Chill and savor: Before serving, allow the assembled Tiramisu to rest in the refrigerator for at least 4 hours, or even better, overnight.
Elegant finishing touch: Before serving this enchanting dessert, adorn the Tiramisu with luscious sliced strawberries and delicate rose petals.
Nutrition Information
Yield
6
Serving Size
1
Amount Per Serving
Calories

443
Total Fat

29g
Saturated Fat

17g
Trans Fat

1g
Unsaturated Fat

9g
Cholesterol

151mg
Sodium

207mg
Carbohydrates

37g
Fiber

1g
Sugar

16g
Protein

6g
I strive to keep the information as accurate as possible but make no warranties regarding its accuracy. I encourage you to make your own calculations using your preferred nutrition calculator.