If you love potatoes as much as I do and you have an affinity for the Indian cuisine, then you'll love this awesome recipe for vegan potato curry, I assure you!
If you're missing the natural, flavor-rich Oriental cuisine, the good news is that today we are making vegan potato curry! 🙂 We're talking about a 100% homemade, made from scratch, delicious, vegan Indian recipe, full of vitamins. Please don't be intimidated by this recipe, I assure you it is one of the easiest there is. You will have lunch or dinner ready in no time!
I want to start by saying that this recipe's base is one of the versatile vegetables in the world. It is widely appreciated as one of the healthiest foods on the planet, despite the association with French fries and, generally speaking, potatoes cooked in oil. However, there are alternatives if you bake potatoes, especially with their skin still on, you really will enjoy all of their amazing benefits and more. Potatoes are high in nutrients like Vitamin C, Vitamin B 6, potassium and dietary fibers!
Multiple sources report that just one potato (medium size) with its kin on contains a whopping 620 milligrams of potassium, even more than a banana! This means that you get an amazing 25% of your daily recommended value of potassium just from one single potato – amazing, right? 🙂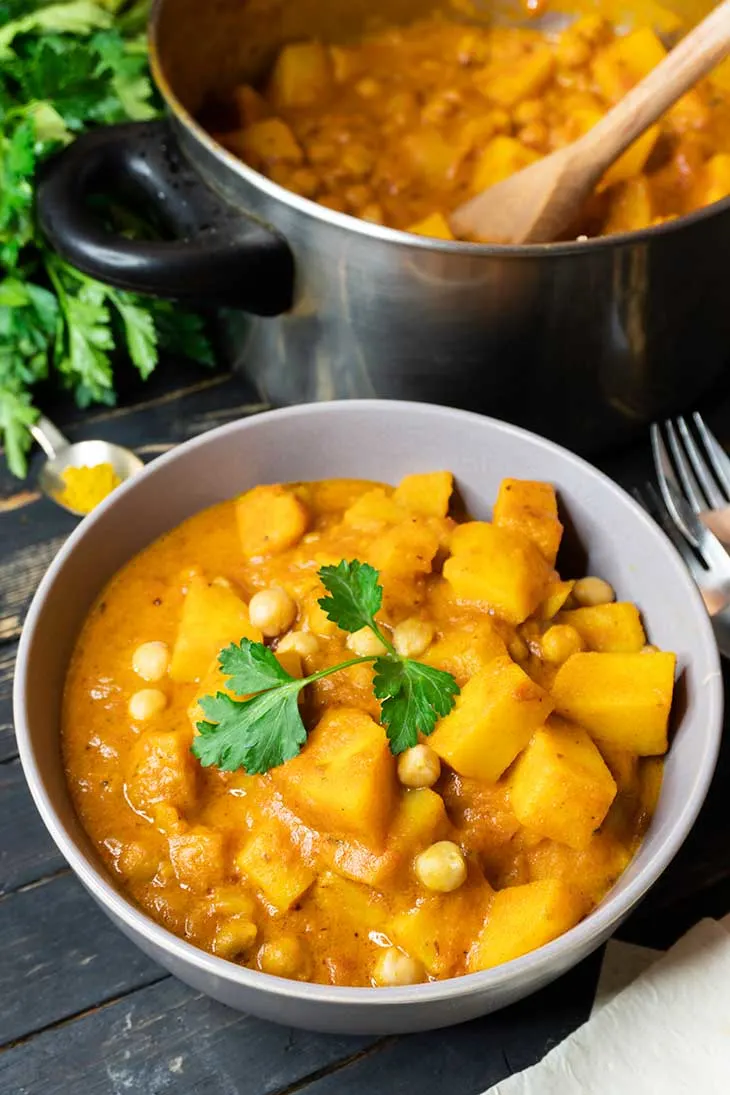 Owing to the antioxidants found in potatoes, your body can battle free radicals. The skin of potatoes contains a very strong antioxidant that your body requires to maintain cell health and prevent fatal diseases. Antioxidants are highly important for maintaining skin health; thanks to the huge amounts of Vitamin C in potatoes (an amazing 70% of the daily recommended amount in one medium potato!), you can keep your skin clean, healthy and far away from troubles.
The high levels of potassium in potatoes play a key role in maintaining healthy blood pressure levels and keep them from increasing out of control. Another detail that contributes to decreasing high blood pressure is the low (virtually zero) amount of sodium in potatoes, but also the magnesium and calcium content in them.
And the benefits don't stop here! Potatoes are good for the brain too. Who would have ever thought that potatoes can help you with depression and even cope with ADHD (Attention Deficit Hyperactivity Disorder)? They contain Vitamin 6 that boosts the substances that are good for the brain, like norepinephrine, serotonin or dopamine.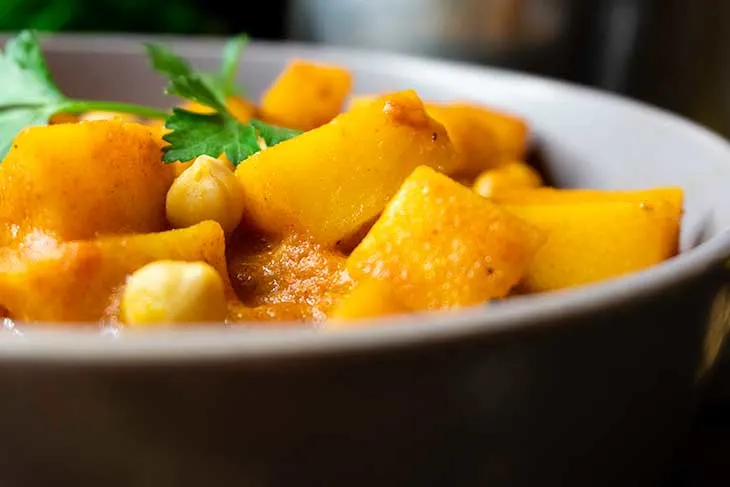 Potatoes come in handy if you are prone to colds. They come to the rescue with their huge backpack of Vitamin C, known as one of the best nutrients for building up immunity and staying far away from illnesses, as they contain more than half the daily recommended amount of Vitamin C.
In our comforting potato curry, I will add chickpeas, onion, garlic, ginger, diced tomatoes, coconut milk, curry powder, paprika, cayenne pepper, cumin, veggie broth, and some lemon juice. If these combinations of veggies will not save you from a cold, I honestly don't know what else you can try! 🙂
Chickpeas are a notorious source of plant-based protein, good for bone, muscle, and skin health. Did you know that a cup of chickpeas provides almost one-third of an adult's daily protein needs? They are part of the same family as kidney beans and peanuts and have a buttery, nutty flavor and creamy texture. The chickpea is very important in the Mediterranean and Middle Eastern cuisines!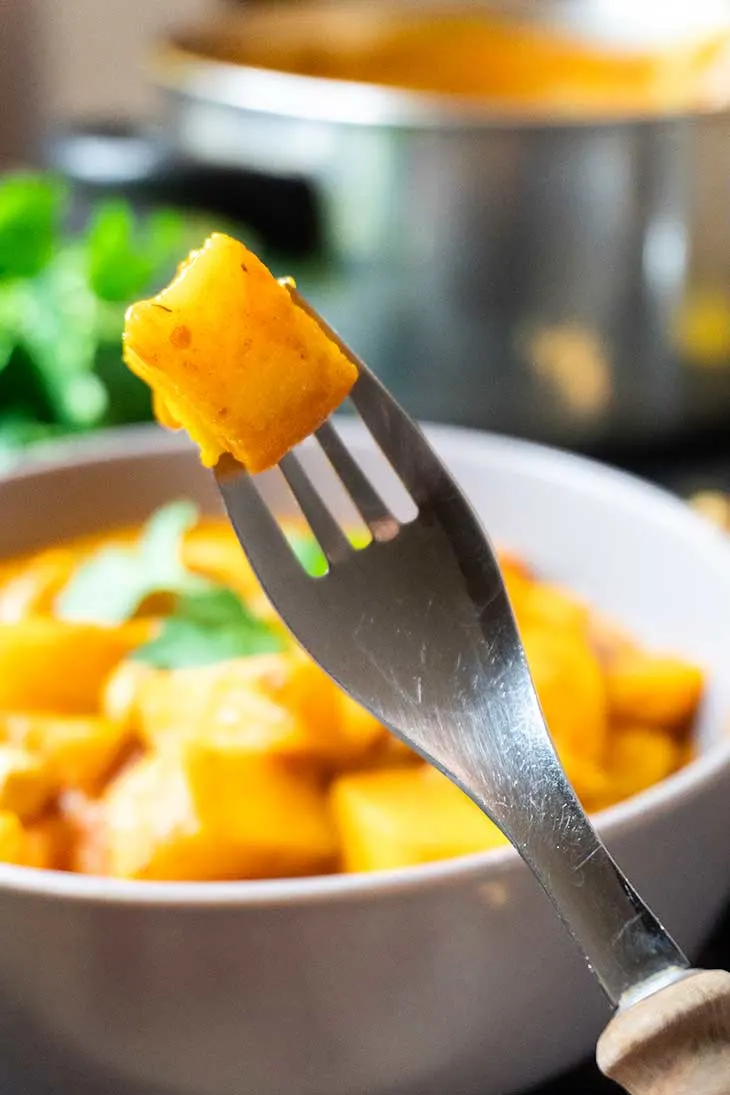 They help control blood sugar due to their low glycemic index. This means that your body absorbs and digests them slowly due to amylose, a component that digests slowly and keeps your blood sugar and insulin from going up too fast. They can help lower cholesterol. This lowers your risk of heart disease. Studies have shown that you can lessen your total cholesterol if you add chickpeas to your diet and on top of that, they contain lycopene and saponins, some cancer-fighting compounds.
Now let's get to work and transform this amazing vitamin mix into the perfect potato curry!
Ginger, garlic, paprika – apart from their powerful, contributing flavor, these guys have your back when it comes to keeping your natural immunity on alert during this cold & flu season. Coconut milk, creamy and mega tasty flavor adds the exact right kind of sweet we need!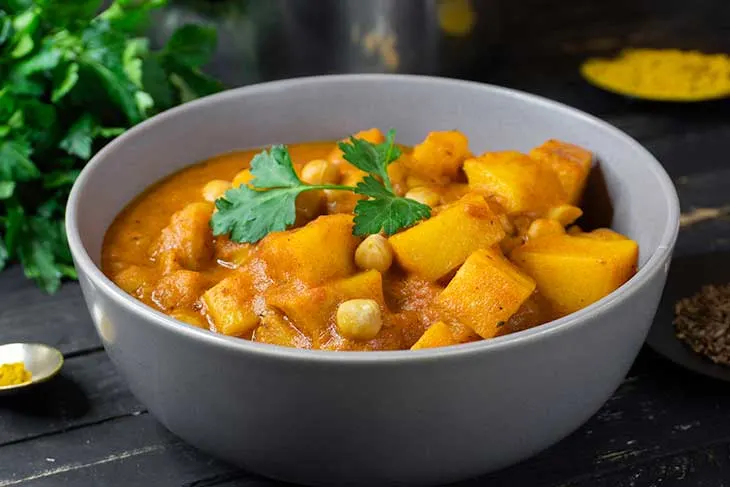 I guess you're already eager to try this amazing recipe, right? Let me know what you think of this amazing comforting potato curry in the comments below! 🙂
---
Personalized meal plans and workout videos | Get your customized meal plan today! [x_button shape="square" size="mini" float="none" target="blank" href="https://shop.gourmandelle.com/?utm_source=mainsite&utm_medium=site&utm_campaign=inpost" info="none" info_place="top" info_trigger="hover"]I WANT A MEAL PLAN![/x_button]
---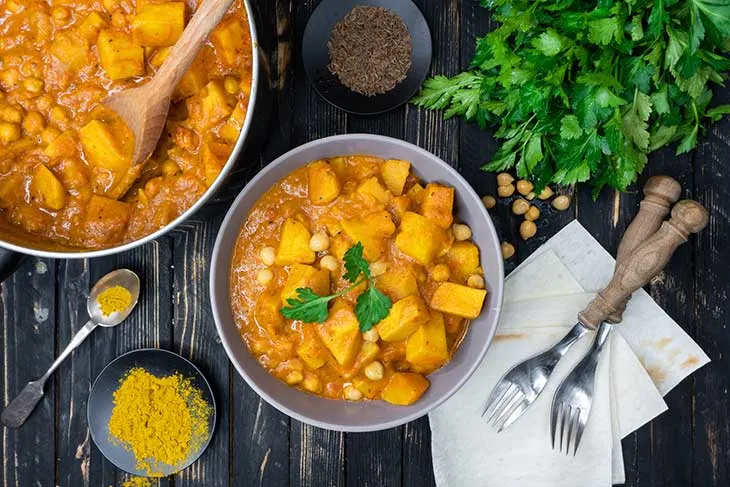 If you love potatoes as much as I do and you have an affinity for the Indian cuisine, then you'll love this awesome recipe for vegan potato curry, I assure you!
Ingredients
8 potatoes, cubed
220g (1 ⅓ cup) chickpeas, canned
1 large onion
4 garlic cloves
2 tsp fresh ginger
400g (2 cups) diced tomatoes
360ml (1 ½ cup) coconut milk
4-5 tsp curry powder
1 ½ tsp paprika
1 tsp cayenne pepper
2 tsp cumin powder
½ tsp allspice
240ml (1 cup) veggie broth
1 ½ Tbsp lemon juice
3 Tbsp vegetable oil
salt
Instructions
Heat the oil in a pan. Add the finely chopped garlic and cubed onion.
Cook for 3-4 min or until onion is translucent.
Add the curry powder, paprika, cayenne, cumin powder, allspices, ginger, salt, and pepper and stir for about 2-3 min.
Add the peeled and cubed potatoes in the pan. Mix well until they are coated in spice then add the chickpeas. Incorporate well.
Add the diced tomatoes, lemon juice. Stir for 30 sec and add the veggie broth and coconut milk.
Increase the heat and bring to simmer. Once started boiling, reduce the heat and cook for about 20 min.
Nutrition Information
Yield
4
Amount Per Serving
Calories

404
Total Fat

12.6g
Carbohydrates

60.4g
Protein

12g
I strive to keep the information as accurate as possible but make no warranties regarding its accuracy. I encourage you to make your own calculations using your preferred nutrition calculator.