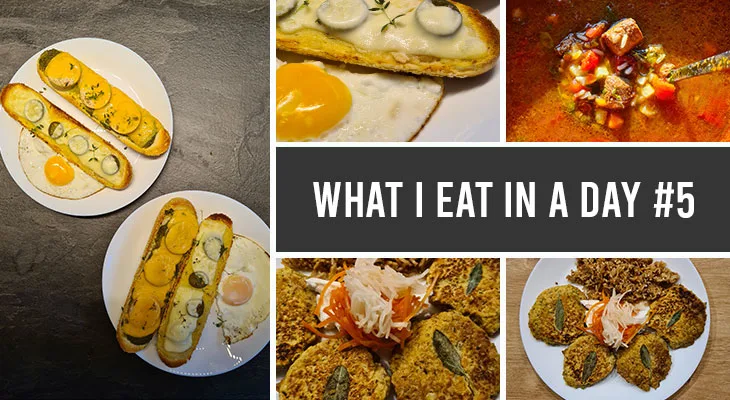 Discover the entire series of posts "What I eat in a day" here .
Breakfast
I craved a majestic breakfast today, so it was grilled cheese day! 😀 This is my all-time favorite comfort breakfast recipe.
I had some delicious sesame baguettes laying around, which I thought were perfect as my canvas for the ultimate grilled cheese sandwiches. So I cut them in half and spread some homemade garlic confit on them. You can also use butter and, if you're feeling adventurous, you can even try my recipe for homemade vegan butter. I placed some cheddar and gouda slices on top. On one half I also added some harissa paste and three slices of vegan salami. On the other half, I added some fresh thyme and pickled jalapeno slices.
I then baked them in the oven with the grill function on, until the cheese melted. And because I felt the cheese baguettes were not quite enough, I also served these with one sunny-side-up fried egg. Yummy and so, so easy!
In case you're up for some grilled cheese fun facts, I got you! 🙂
It is said that the first written recipe for grilled cheese sandwiches dates from the 1900s, although people have been combining toasted bread and melted cheese for ages. Even the Romans ate it! And it makes a lot of sense, as this combo is so, so good. By the way, grilled cheese is a staple item in American cuisine and it's been extremely popular ever since the 1910s.
In fact, a classic grilled cheese sandwich is pretty similar to the French recipe for Croque Monsieur (dating from 1910), which also adds slices of ham into the combination. Also, September 3rd is National Grilled Cheese Day because yes, it was needed!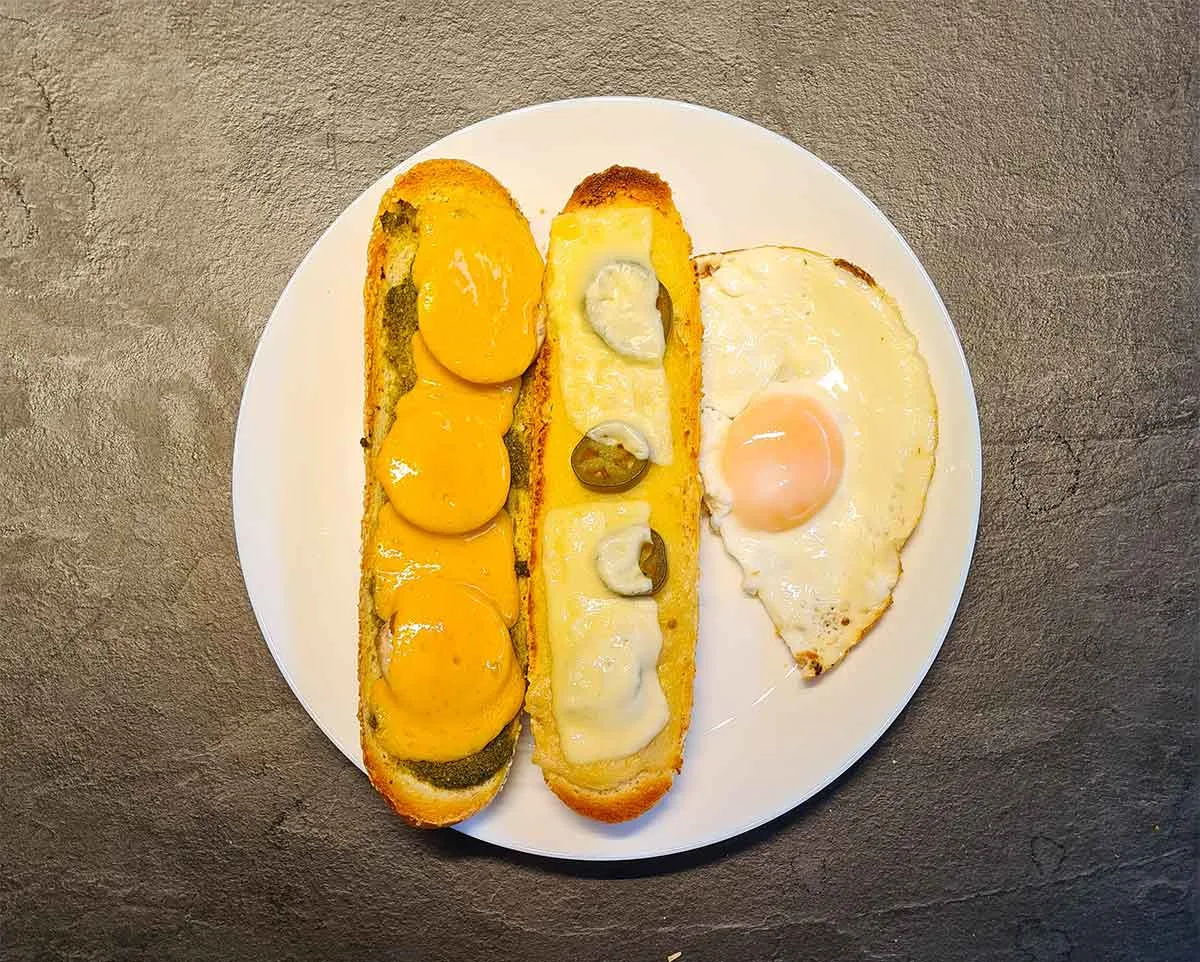 Lunch
For lunch, I ate a delicious, hearty soup with a smoked flavor. I have some similar ones on the blog. The most similar one on my blog is this amazingly delicious beetball soup – but in this case, I used some vegan sausages, chopped into bite-sized pieces, instead of making the veggie balls from scratch. This is equally delicious and much more time-efficient, especially if you have a favorite brand of vegan sausages that you use often.
And if you have some spare time on your hands, you can even try my recipe for homemade vegan sausages – they're so, so good and they can definitely be used in this soup recipe as well.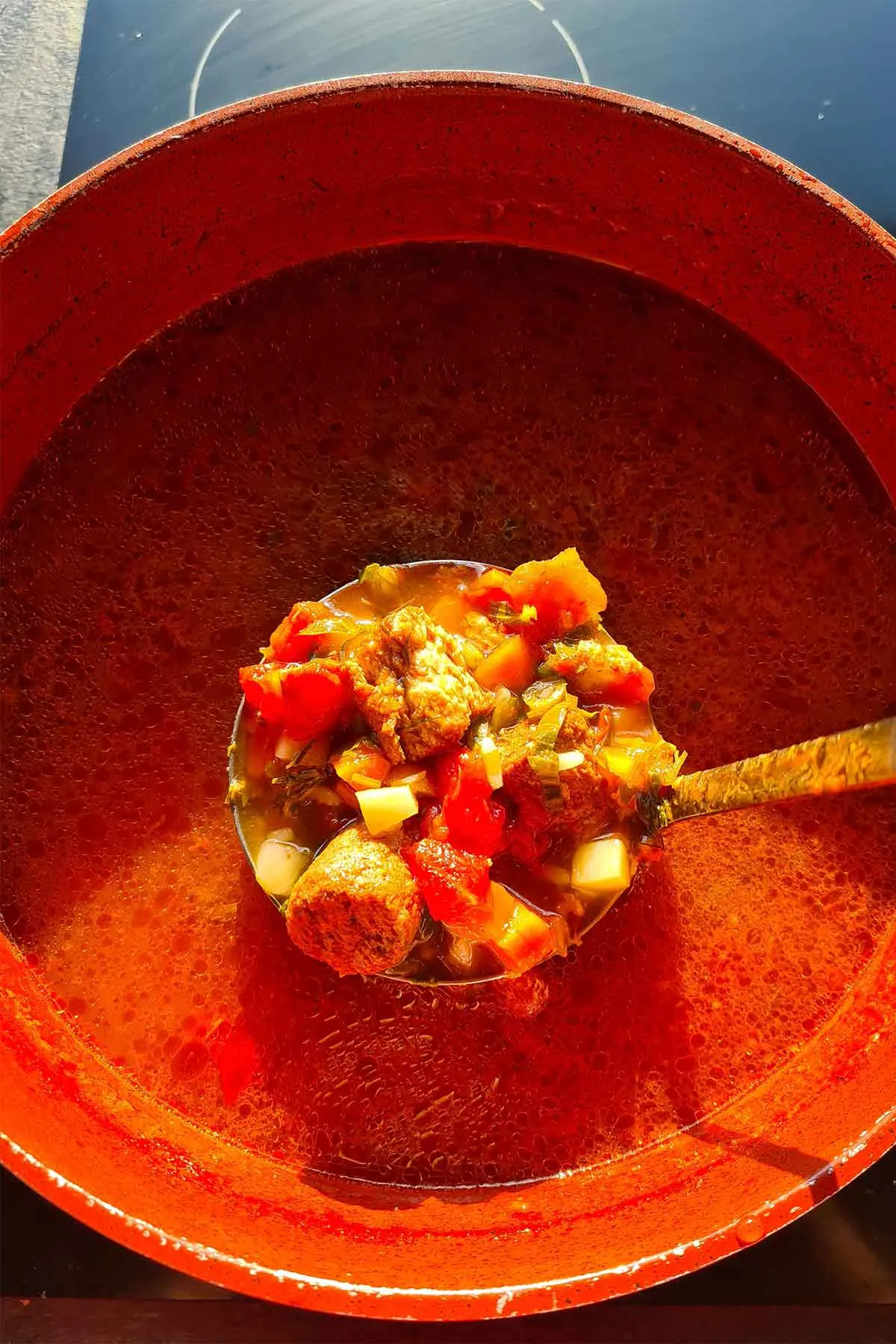 Dinner
At noon, I started soaking some mung beans mixed with yellow peas in some hot water. I had an excellent idea in mind, of course, so I turned these into delicious baked patties for the ultimate dinner. If you've been following my blog for a while, I'm sure you already know that I'm absolutely obsessed with vegan patties. I have SO many recipes on the blog!
I boiled them until soft, drained them, then put them into the food processor with some spices, panko breadcrumbs, and one large egg. Then I mixed everything together. Added some finely chopped onion and parsley to the mix and started making the patties. I lightly fried them on both sides and my dinner was almost ready. Yum!
Here are some of my best beans patties recipes you can try, which also have more detailed instructions:
I served these patties with a side of fried brown rice, Asian-style, seasoned with sesame oil, sesame seeds, and soy sauce. I also added some pickled carrots and celeriac to the meal – such a great combo! You can also use any other pickled veggies you like and I totally recommend it, as the acidity goes well with the other ingredients.