Do you like overnight oats? You should! They're simple, delicious, extremely versatile and very nutritious! Here's my favorite way of making overnight oats >>>
Today's recipe celebrates the most important meal of the day. The one people often skip because of their early work hours or busy schedule. I'm talking, of course, about breakfast!
Most of those who skip breakfast tend to think that it would take too much time and it would mean waking up at some crazy hour in the morning. While that might be true if you're thinking of some huge breakfast feast, most of the time that's not the case. And today's recipe is here to prove it!
Today we are going to make overnight oats. Oats are one of the most widely spread and popular breakfast options. They're super healthy, filling and, most importantly, easy to prepare in the morning!
Depending on how much time you have on your hands, there are many ways you can prepare your oats. Here's some quick intro to oatmeals.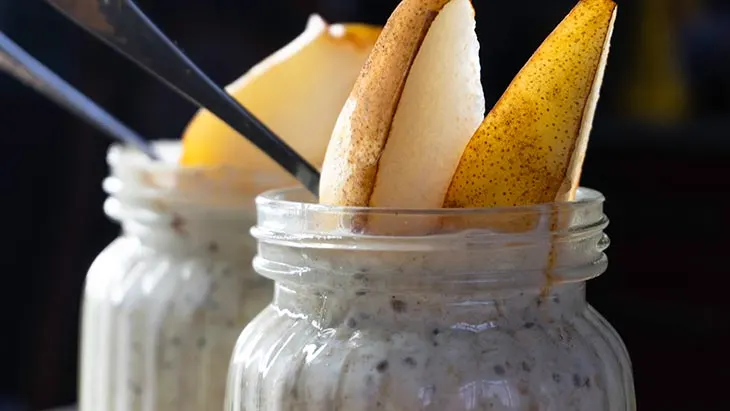 First, you must know that there are three types of oats:
Rolled oats – flattened into flakes with large rollers, they only take about five minutes to cook on the stovetop
Quick-cooking rolled oats – they're cut into pieces and rolled thinner so they can cook in around 1 minute
Steel-cut oats – they are cut into pieces but not rolled. They've got a chewier consistency but they need 25 minutes on the stovetop to get cooked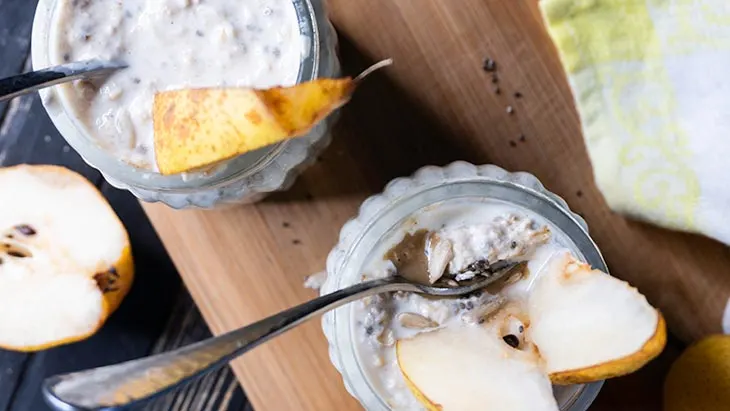 Now as for the cooking part, you've got three options: stovetop, microwave, and overnight soaking. Because today we are focusing on a (very) quick breakfast fix, we are going to talk about the overnight oats.
Maybe it's worth mentioning that they don't really need a full night to get soaked ready to be eaten. They're called like that because of the convenience of leaving them in the fridge overnight and waking up with a tasty and healthy breakfast ready for you. I'd say that 4 hours would be enough if you find yourself craving a cold and refreshing portion of oatmeal in the middle of the day.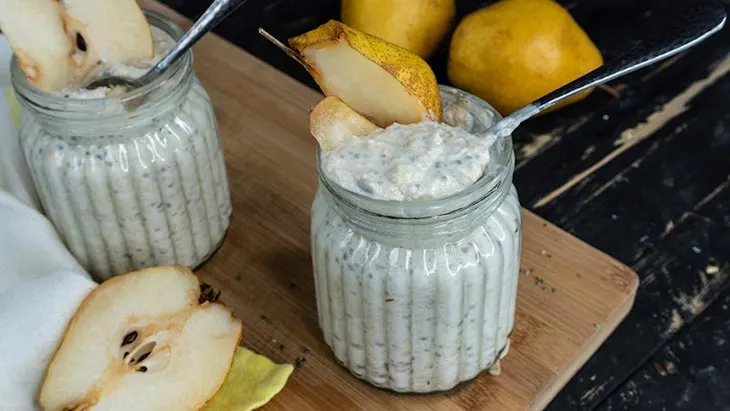 What do you need for making overnight oats? Grab your pens:
Oats, obviously! I'd suggest rolled oats, as they give the best results
Plant-based milk – they all work fine!
Chia seeds! These are optional, but they are a great thickener and really nutritious
Sweetener of choice – again, optional. If you do add a sweetener, I'd suggest going with the healthier choices like maple syrup
That's where this recipe comes in helpful, as I am going to show you my favorite and the most delicious overnight oats option
What I mentioned above are the basic overnight oats ingredients that you need to mix together and leave in the fridge overnight. You will find these ingredients in almost all overnight oats recipes. But of course, having just that could be a little plain. That's why I'm going to present to you three suggestions for flavorings!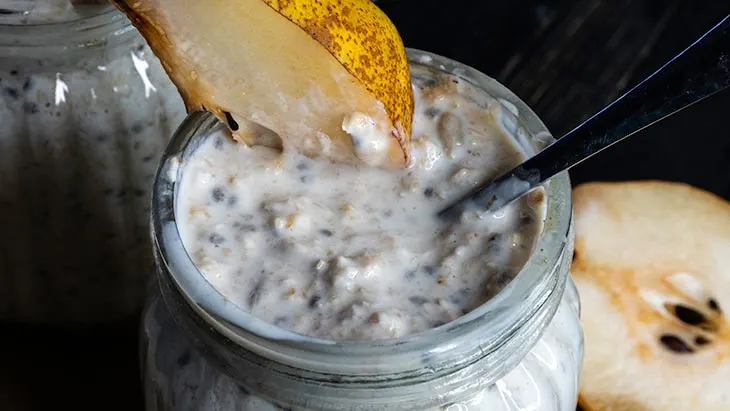 1. Fruit overnight oats
Probably the healthiest options, this oats recipe is light and amazing. It will give you an energy boost from the beginning of your day – and what could be greater than that?
There are lots of fruits that could work and you know what I say – the best ingredients are the ones you already have at hand! I love combining my oats with fresh, juicy pears, but probably the greatest option are berries, especially if you don't want to do much prep. They are already the right size so all you need to do is wash them and throw them in there! Bananas are quite a popular option too because its taste and texture go really well with the oats!
2. Peanut butter overnight oats
Peanut butter is a great flavor addition, but also a protein boost! There are lots of PB-enthusiasts out there, so this recipe goes right to the heart! Choose high-quality peanut butter (or make it yourself) for the best results and ensuring that your start of the day is not only super tasty but also super healthy!
3. Chocolate overnight oats
Adding chocolate to your overnight oats is a great idea if you're in the mood for something a little bit richer in flavor. It's great as a dessert too and kids tend to really love it! If you're looking for a 100% healthy dessert idea, this is the right recipe for you! It's a taste that gets you addicted and once you start making this, there's no way it will be just a one-time thing!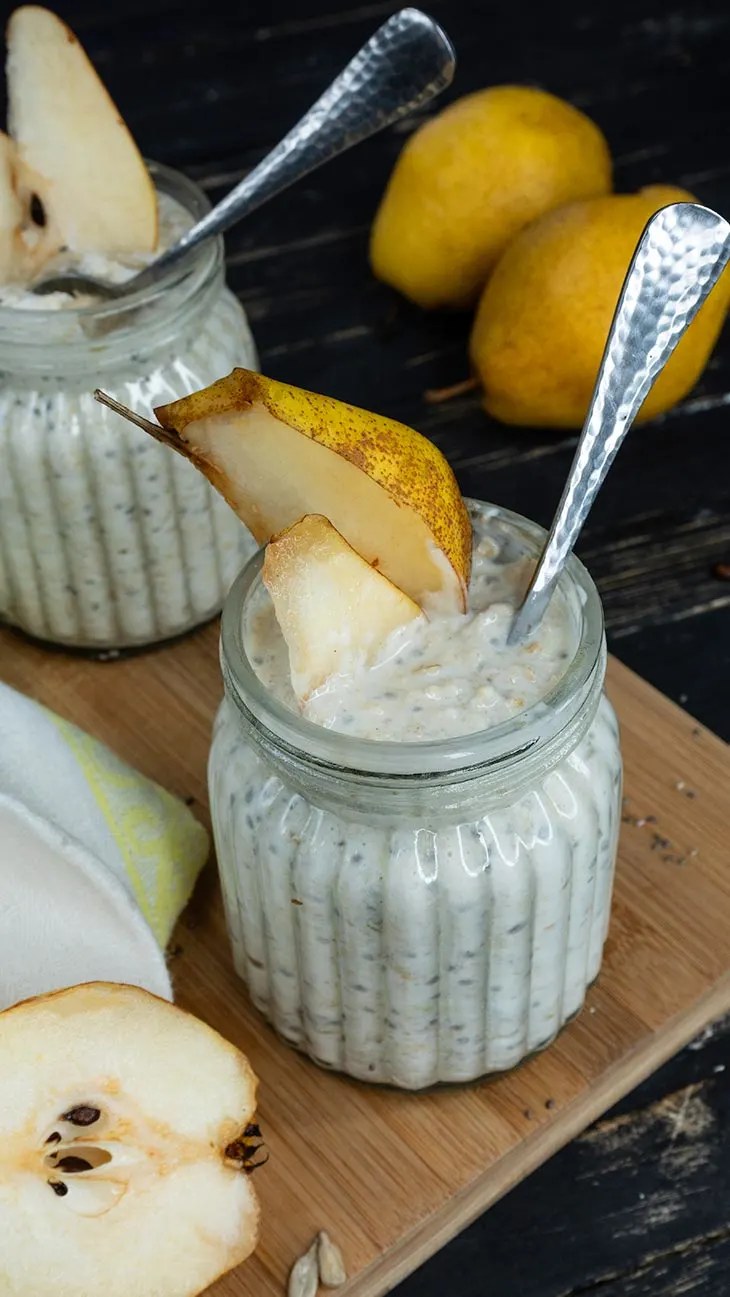 Overnight oats are a breakfast that really lets you get creative! And these three ways are just a start to show you how good and fast oats can be! It's something that every member of your family will enjoy and it's also a great breakfast prep! Depending on your topping of choice, they can hold in the fridge for up to seven days!
I hope you will enjoy my overnight oats suggestions – either way, let me know your impression in the comments!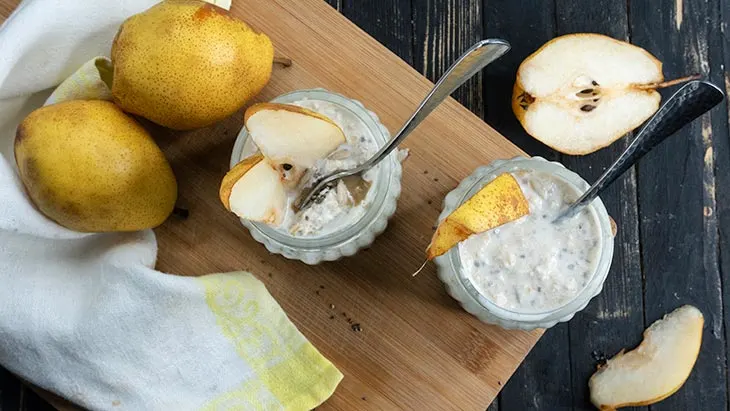 Do you like overnight oats? You should! They're simple, delicious, extremely versatile and very nutritious! Here's my favorite way of making overnight oats >>>
Total Time
8 hours
5 minutes
Ingredients
50g (½ cup) oats
2 Tbsp plant-based yogurt
1 Tbsp chia seeds
120ml (½ cup) almond milk
1 tsp tahini
1 tsp sunflower seeds
½ fruit of choice
Instructions
Put the oats into a glass jar.
Add the yogurt, chia seeds, sunflower seeds, tahini and the milk.
Mix to combine.
Cover and refrigerate overnight.
Serve with a few slices of fruit.
Nutrition Information
Yield
1
Amount Per Serving
Calories

434
Total Fat

21g
Unsaturated Fat

0g
Carbohydrates

47g
Fiber

8g
Sugar

2g