Are you tired of eating the same pasta dish over and over again? I'm here to help! Here's how to prepare the best vegan pasta fagioli – pasta with beans!
It's a rather cold day here so I was in the mood for something hearty and warming. I wanted something abundant in sauce, that would be creamy and melty.
So I decided to try a recipe that I had my eye on for quite some time but somehow I didn't manage to do until now: Pasta Fagioli. And guess what – it turned out amazing! I mean it, it turned out so great that everything was gone in 10 minutes! That's why I decided to perfect the recipe, turn it vegan and this time share it with all of you! 🙂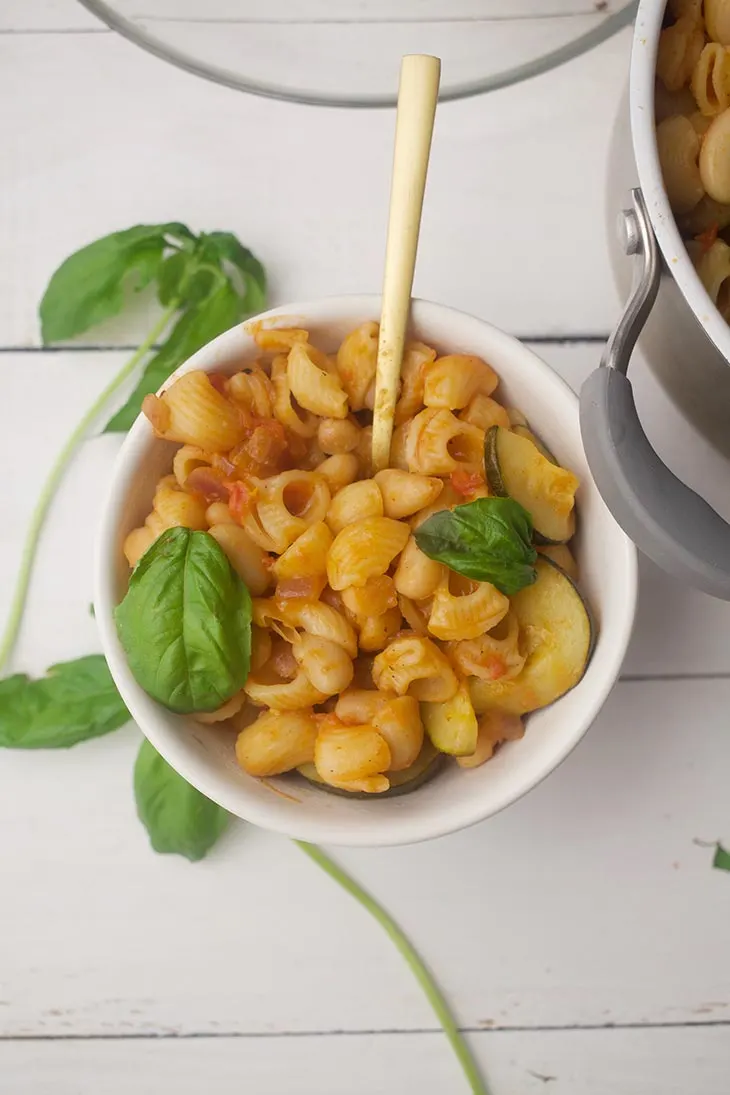 Pasta fagioli is a simple dish to make – it's ready in less than an hour, which is a great advantage. But what I like most about it is its versatility. The generous amount of tomato sauce places the dish somewhere between a soup and a pasta dish. And it's entirely your call!
If you're in the mood for some hot soup, add more sauce or broth and serve it with some crispy bread. Or if you feel like it's time for a pasta dinner, cut out some of the broth and enjoy it. The same goes for the ingredients! There are so many varieties available that the only thing you can be sure of is that you'll need pasta and beans.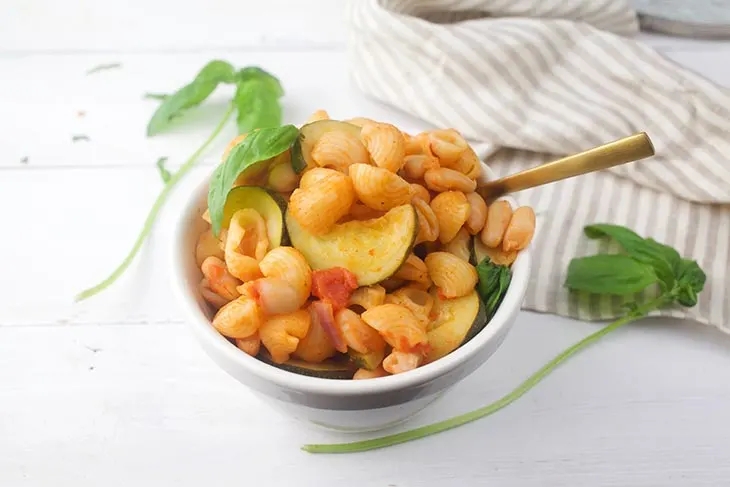 The recipe for pasta fagioli has a long tradition, being an Italian classic. It is still widely popular in Italy and there are local variations for almost every region! For example, the Venetian version is one of the oldest out there and its roots go back to Ancient Rome!
But back then, they used the only kind of beans available – the black eye peas imported from West Africa. The discovery of America changed things a little bit and American beans were used instead when the dish was prepared for the rich family.
Now, the recipe is only made with American beans. Now about the uglier part (although unpleasant, it's still part of the history of the dish) – pasta fagioli is traditionally linked with the ritual of pig slaughter.
For centuries, farmers' families reused the cheap pork parts for making pasta fagioli. But nowadays, more and more vegan versions have emerged and many famous contemporary chefs refined the recipe. And I tried to create my own version as well, which turned out pretty good, I must say! 🙂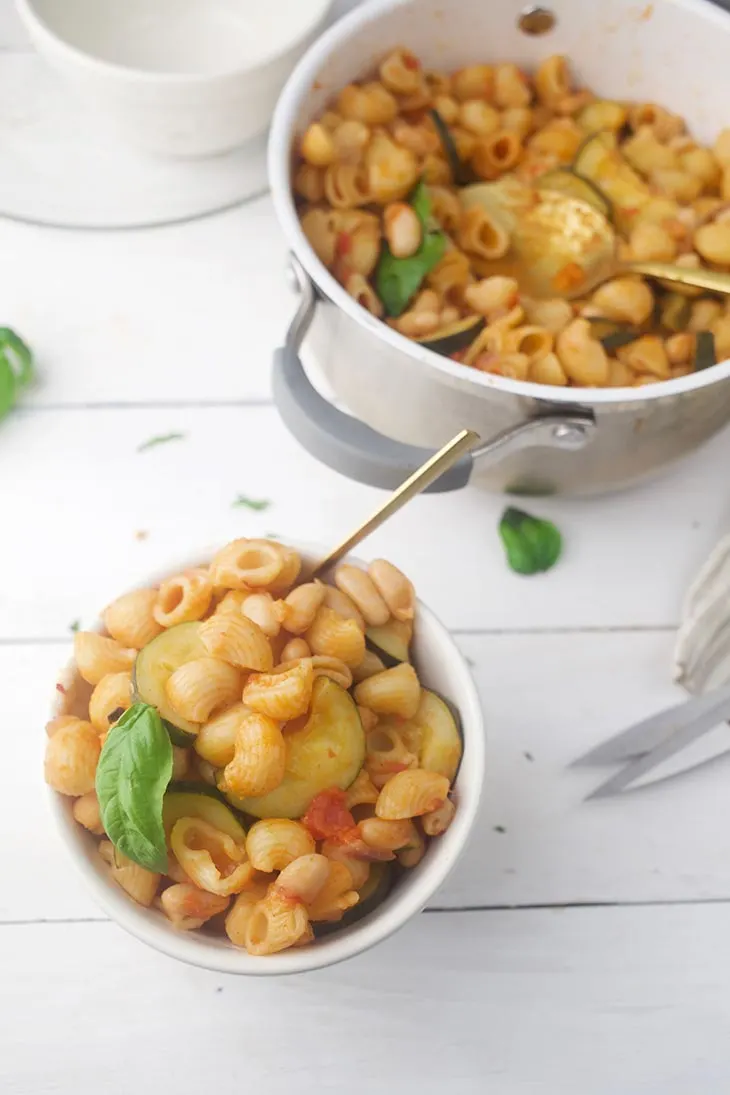 There are so many versions available because the basic ingredients of the dish allow us to incorporate so many different combinations of veggies and spices. And you can make your own version too!
The recipe that I present to you here is of course what I consider to be the tastiest – but you are free to make your own selection! For example, you can choose to make it with seasonal foods. If you're in the summer, you can add fresh veggies and herbs from your garden and have a fresh pasta meal.
It's winter here right now, so I decided to go for a heartier version of pasta fagioli that really warms you up and makes you feel super comfy.
The recipe is also super healthy and completely vegan, of course. Beans are a super healthy food choice and you should try to incorporate them into your diet as often as possible. Beans are a great source of protein and are a very nutrient-dense food.
When you cook with beans, I would recommend using dried beans instead of canned beans, as the canned beans have much fewer nutrients. That being said, it's alright if you don't always have the time for soaking the beans.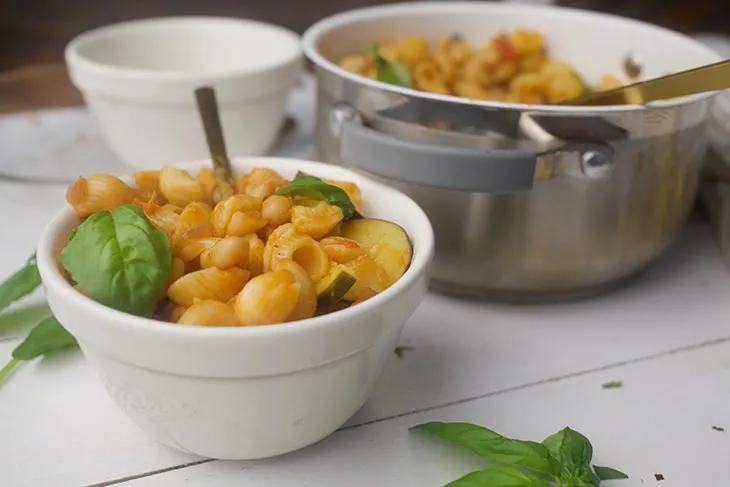 Okay, enough introduction. It's time to get to the really fun part: cooking! Gathering the ingredients shouldn't take long, as it's mostly things that we usually have around in our kitchens. You can follow the detailed instructions below, and don't forget to comment and tell me how it went! I am sure the results will be fantastic! 🙂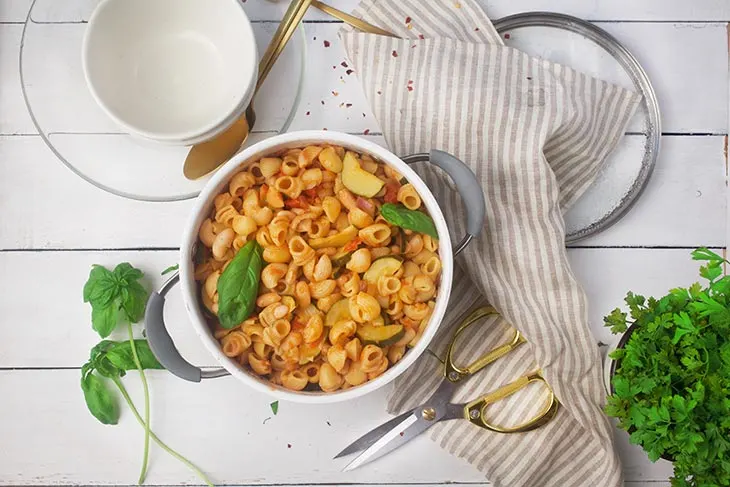 Are you tired of eating the same pasta dish over and over again? I'm here to help! Here's how to prepare the best vegan pasta fagioli - pasta with beans!
Ingredients
2 Tbsp olive oil
1 large onion, chopped
3 clove garlic, minced
2 small zucchini, sliced
120g (2 cups) cannellini beans
1 large can crushed tomatoes
1 bay leaf
1 tsp black pepper
¼ tsp red pepper flakes
½ tsp salt
2 Tbsp basil
1L (4 cups) vegetable stock
500ml (2 cups) of water
250g (2 cups) elbow pasta
Instructions
Heat a large pot on medium heat.
Add the olive oil, onions, garlic, and zucchini and saute for about 4 minutes or until fragrant.
Add the beans, tomatoes, bay leaf, black pepper, red pepper flakes, basil, salt, stock, and water to the zucchini mix and bring to a boil.
Reduce the heat and simmer for about 15 minutes.
Add the pasta and cook uncovered until the pasta is al dente (according to pasta directions).
Serve with some additional fresh basil.
Nutrition Information
Yield
4
Amount Per Serving
Calories

416
Total Fat

13g
Unsaturated Fat

0g
Carbohydrates

65g
Fiber

11g
Sugar

4g