Are you a fan of Mexican cuisine? Then you're in for a special treat! Here is how you can make the easiest and most delicious vegan tortilla soup – it tastes amazing!
It's the middle of autumn. I'm (still) slowly coming to terms with the fact that summer is over, long days and pool parties are ending and we are entering the colder part of the year. If you're one of the people that get slightly depressed from the perspective of autumn, maybe I can help! 🙂
I used to be the same but this year I decided to try a new strategy: enjoy and celebrate! Enjoy and celebrate what? The season of hot drinks, teas, and chocolate. The season of staying in and watching a good movie while it's pouring outside. The time when it's finally acceptable to wear that stylish jacket and that comfy sweater. The season of everything comforting. And my personal favorite part – the season when nothing warms your body and soul better than a delicious hot soup.
I decided to start the soup season with something spicy, something that will keep me warm but will also give me an energy vibe and the desire to get out there (or in there) and enjoy whatever this autumn has to offer. Without further suspense, here's what I am talking about: vegan tortilla soup! 🙂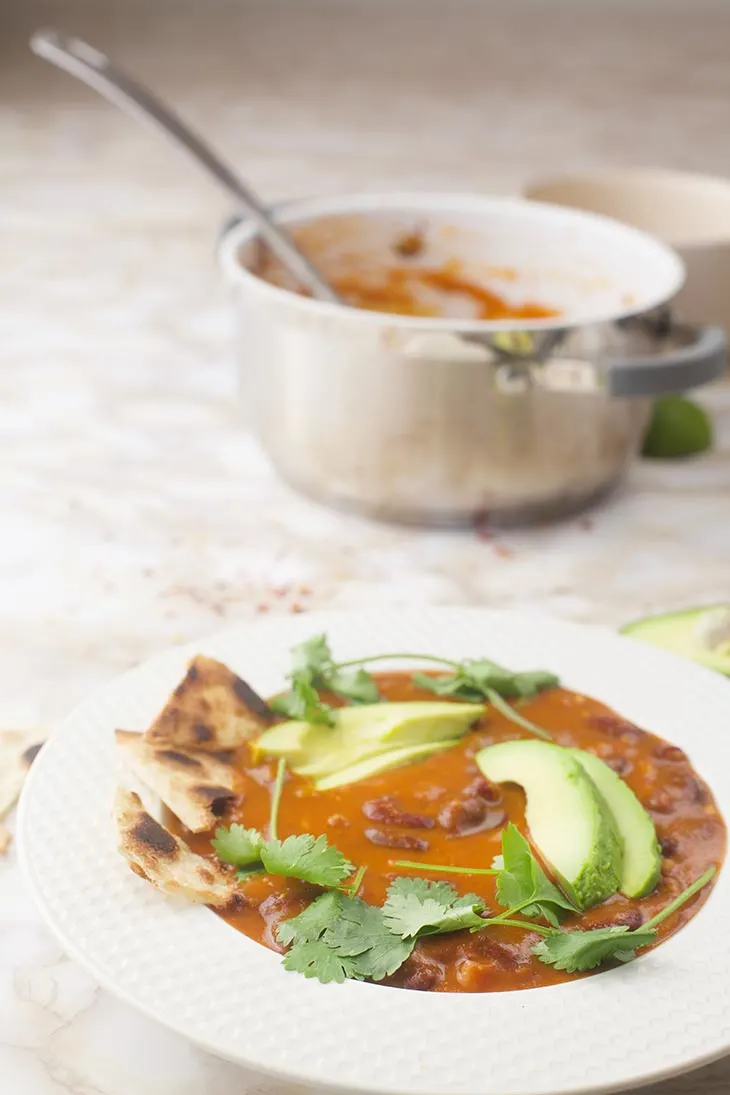 I think this soup is the perfect choice to mark the beginning of the cold season. Just look at the picture, you can see it right away: it matches the chromatics of the autumn, with its yellow-reddish hues.
But of course, this is not about the color. It tastes AMAZING too! It's so warm and comforting, while also being spicy and enticing. The taste of all the ingredients blend together beautifully and I truly believe it's one of those perfectly balanced recipes where you just wouldn't change a thing.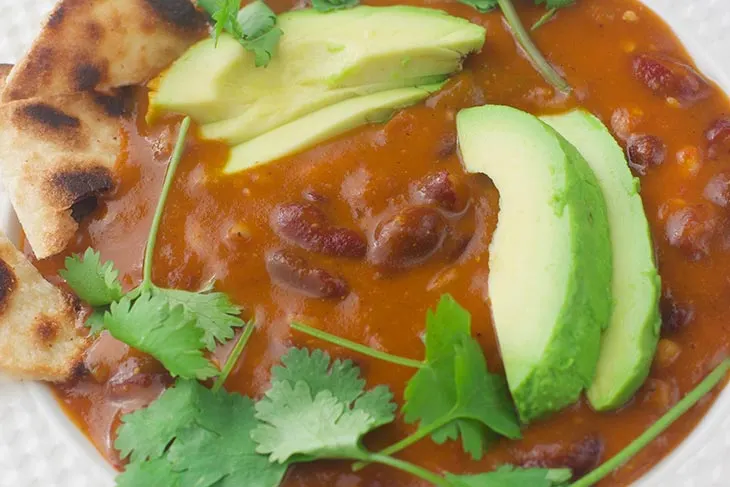 Being vegan, it's important to watch out for getting all the nutrients you need, especially when the changes in temperature are settling in. You want to keep your immune system nice and strong! And this soup will help you do just that.
I hate those soups that don't feel nourishing at all and are just some watery appetizers, they are always unsatisfying. Well, no worries, this soup is nothing like that! It has plenty of ingredients that will give you enough nutrients. It's very filling so it's not just some hot drink, you can have it as a PROPER meal. It's absolutely filling, giving you all the nutrients a healthy meal should offer. Aha, autumn doesn't sound so bad now, right? 😉
Of course, it's not just a cold season recipe! Some of you may be reading and preparing this in full summer. There are actually plenty of articles that explain the benefits of hot soups in the summer – they keep you hydrated while helping you regulate your body temperature. There is no wrong time for soup!
As you probably guessed, this is a Mexican recipe. We don't know much about the history of this meal, except that it originated somewhere in New Mexico. And we know that Mexico is actually a hot country. But when it comes to cooking, the Mexicans definitely know what they're doing!
Mexico is a country that only has two seasons – dry and wet – and they are both hot. But since they still have hot soups as a basic meal, there must be something to it!
Living in a country with four seasons, I admit though that I associate soups with the cold days. It's such a nice feeling to enter your home from the cold outside, while some hot soup is waiting for you – it's for sure one of the warmest feelings in the world! But, of course, whenever soup is offered – I won't say no.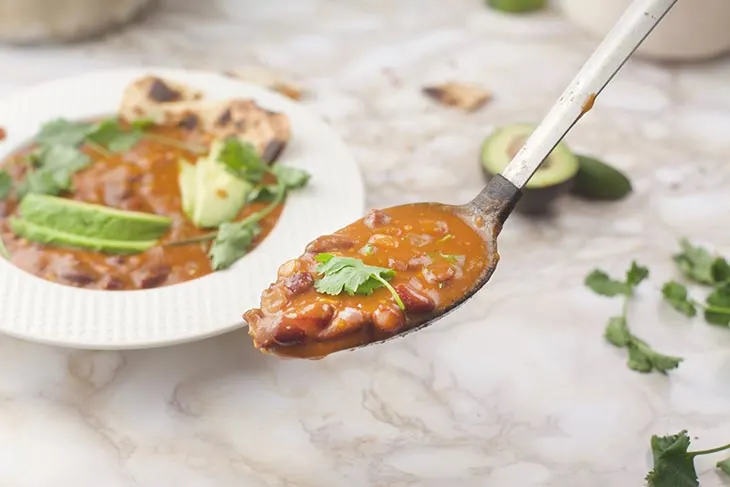 The original recipe features chicken broth as the main ingredient. But we don't do that, of course. So I adapted the recipe for us so that it's completely vegan-friendly. Just as tasty though. Or even better, might I add? All the spices and ingredients merge together so well that you won't feel the need to add anything else, not for a second! 🙂
I hope my enthusiastic introduction convinced you of how perfect this recipe is. I could say more, of course, as there are not enough words to describe my love for soup. But you are probably anxious to get to the cooking part. And the eating part!
Happily, it's done in about half an hour. So it's not just super tasty and super healthy, it's super fast too! And everything is done in one pot (I just love one-pot recipes)! For the tortillas, you can either prepare them yourself or use some store-bought tortilla chips. Depends on your level of laziness, I won't judge!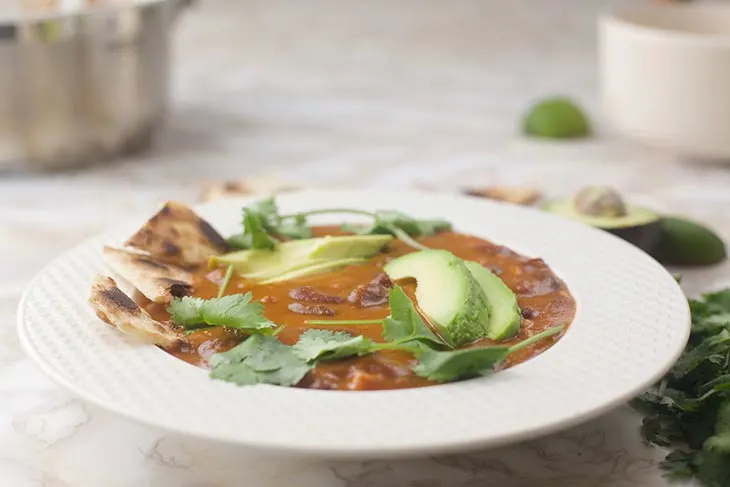 I think I said enough, so let's start preparing the amazing vegan tortilla soup! Oh, and don't forget to tell me in the comments how much you liked it!
Yield: 4
Vegan Tortilla Soup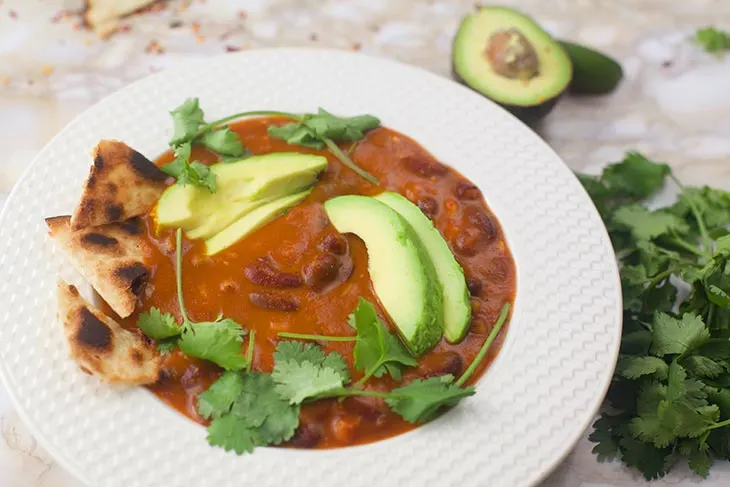 Are you a fan of Mexican cuisine? Then you're in for a special treat! Here is how you can make the easiest and most delicious vegan tortilla soup - it tastes amazing!
Ingredients
1 tsp olive oil
1 small white onion, diced
3 cloves garlic, minced
2 jalapeño, sliced
300g (1 ½ cup) diced tomatoes
1 tortilla
500ml (2 cups) homemade vegetable stock
1 Tbsp chili powder
2 tsp garlic powder
1 tsp cumin powder
120g (2 cups) cooked red kidney beans
2 Tbsp chopped cilantro
2 Tbsp lime juice
For the topping:
1 tortilla, dry-fried
1 avocado
a handful of cilantro
juice from 1 lime
salt and pepper to taste
Instructions
Saute the onion, garlic, and jalapeño in the olive oil for 5 minutes, stirring until soft and fragrant.
Add the tomato, vegetable stock, cumin, chili powder, and garlic powder. Stir well and simmer over medium heat for 10 minutes.
Stir in the red kidney beans, cilantro, and lime juice and simmer a few more minutes.
Transfer 1 cup of the mixture, break the tortilla into pieces and add both to the blender. Blend until smooth.
Return the blended mixture to the soup and mix to incorporate.
Add salt and pepper to taste.
Serve topped with avocado, cilantro, fresh lime, and dry fry tortilla pieces.
Nutrition Information
Yield
4
Amount Per Serving
Calories

338
Total Fat

8g
Unsaturated Fat

0g
Carbohydrates

27g
Fiber

12g
Sugar

9g