Are you ready for the easiest, most delicious homemade pizza? Here's how to make my artichoke mushroom homemade pizza! >>>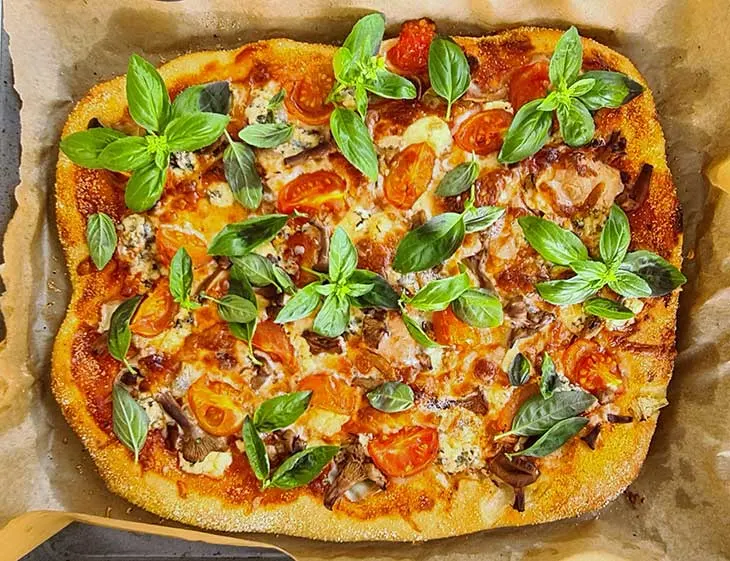 Confession time! I decided to change things on the blog a little – I decided to start posting ALL those excellent recipes I'm making every day for lunch or dinner. These are yummy, easy recipes for everyday cooking that I made and loved, but for which I didn't have any time to take "professional" pictures with my camera because I was just TOO hungry. I have so many recipes like this that I didn't share with you guys because I felt the visuals are "not worthy". I had no props, no proper light, and no fancy plating. But I won't let that stop me ever again!
So for this recipe, I only have a couple of photos taken with my phone, but what's important here is the taste and the actual recipe. No perfect pictures ahead, just my real, non-polished food that I eat in my real life. 🙂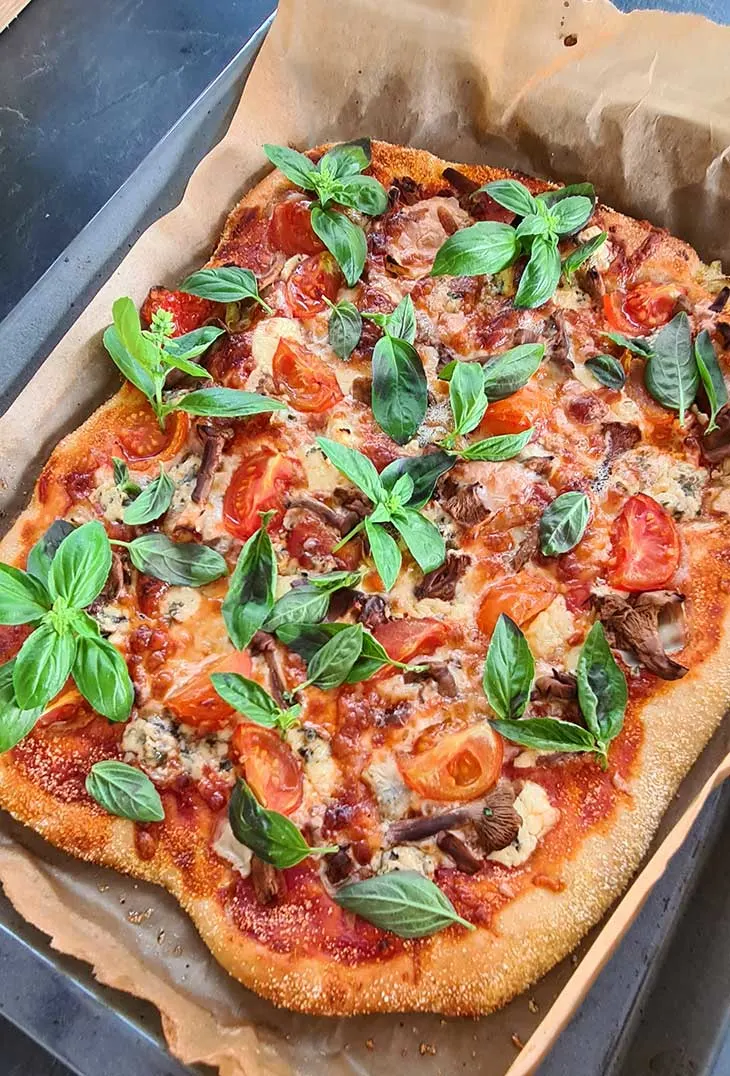 I know most people can get intimidated by this, but trust me when I say that making your own pizza at home CAN be easy and fun! I've experimented with different pizza base recipes over time and I have found that this one is my favorite. It's so easy to make!
This pizza base recipe is the only one I use when making homemade pizza. It's easy to follow and basically failproof if you follow the step-by-step instructions that you'll find below.
I recently discovered a perfect flour from La Molisana, specially created for pizza. If you can find it (the one with the red packaging) where you live, I totally recommend it. The difference is there compared to using plain wheat flour!
Now let's get back to our artichoke mushroom homemade pizza. What inspired me to make it? Well… I was craving a comforting pizza that's more exotic and special than your regular salami or mozzarella pizza. So I started looking in my fridge and pantry to find a couple of ingredients that will pair well.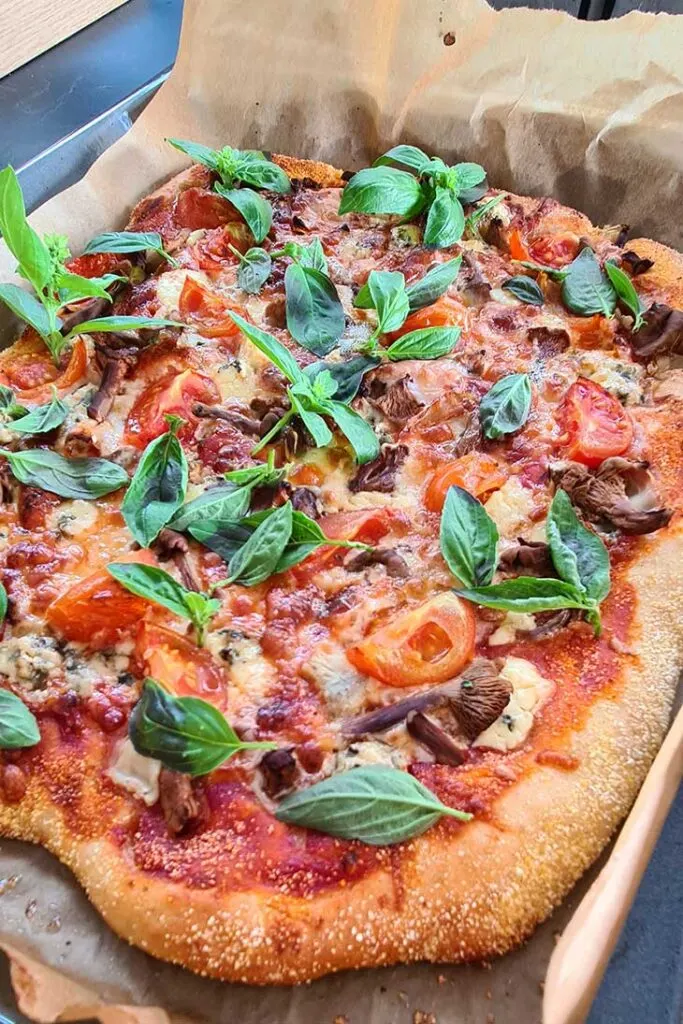 This is how I end up making a pizza that combines wild marinated mushrooms from a jar, tomatoes, artichokes, a few fresh basil leaves (mandatory when I make homemade pizza!), and some gorgonzola and raclette cheese.
NOTE: This artichoke mushroom homemade pizza recipe is not vegan because I used two types of dairy cheese: gorgonzola and raclette. But the pizza base is 100% vegan and, if you want to make a vegan pizza, you can simply replace my cheese recommendations with some vegan cheese. You can use any vegan cheese you like or, if you're feeling especially adventurous today, you can make my vegan homemade mozzarella recipe. It tastes amazing and it stretches after you bake it on the pizza – perfection!
In case you're intimidated by baking your own pizza at home, I can tell you that you can successfully do it regardless of the type of oven you have. I have an electric oven and I baked this pizza at 280C, but if you have a gas oven, you'll probably be limited to 250C. Which is perfectly fine, you just need to leave your pizza in the oven for a couple more minutes than I did.
TIP: I strongly advise you check your pizza base before you take it out of the oven, I'm sure you don't want it to be undercooked!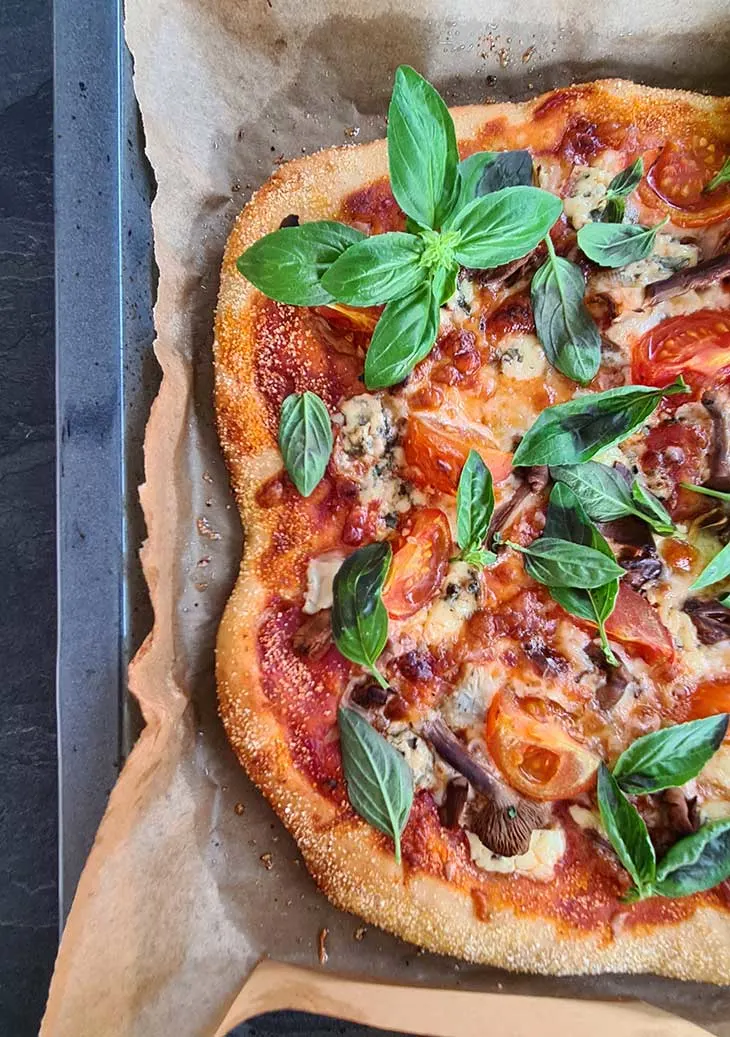 What I love most about this artichoke mushroom homemade pizza is the flavor combo. If you're a fan of artichokes (just like I am), I'm sure your mind will be blown! The tomatoes and mushrooms perfectly combine with the subtle artichoke flavor, creating a filling yet refreshing pizza topping.
Needless to say that if you don't like one of my recommended toppings (let's say you're allergic to mushrooms, for example), you can easily omit it or simply replace it with something else. Some good alternatives for this combo include sun-dried tomatoes, green olives, or zucchini. Just mix and match according to your own preferences! 🙂
In case you need more inspiration for homemade pizza, I have a couple of other tasty recipes on the blog such as: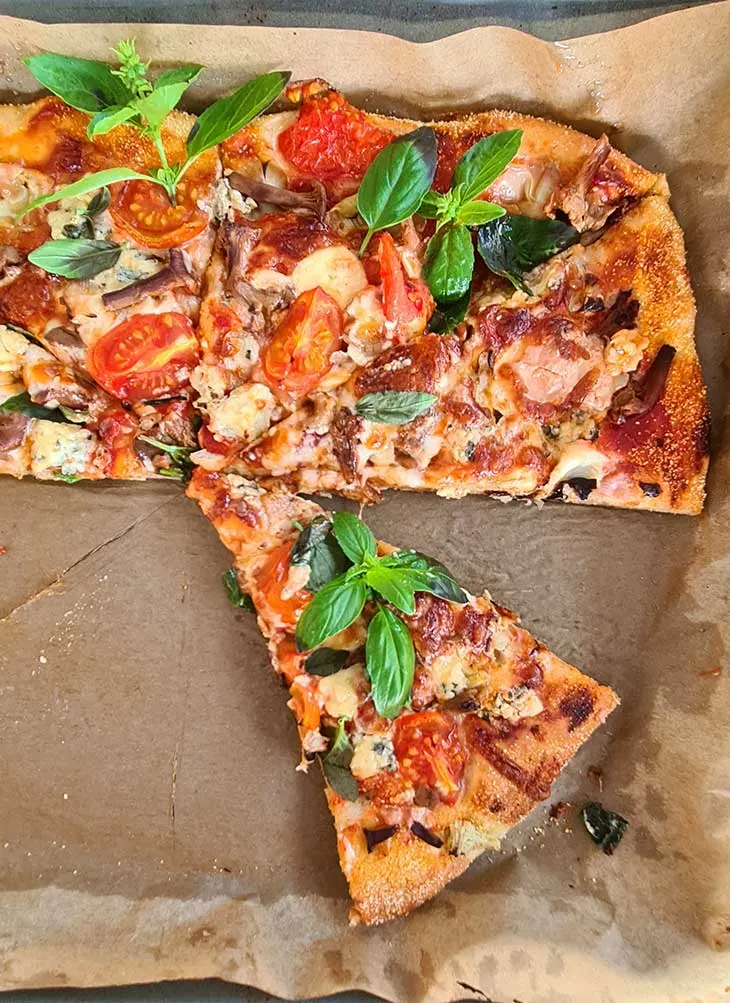 This being said, I'm sure you're already excited to give this artichoke mushroom homemade pizza a try soon! If you decide to do so, please don't forget to come back here and leave me a comment down below. I'm always curious to hear your opinions! And I'm pretty sure you'll love it, as it's one of my latest obsessions.
Until then, happy cooking and happy eating!
Yield: 6 servings
Artichoke Mushroom Homemade Pizza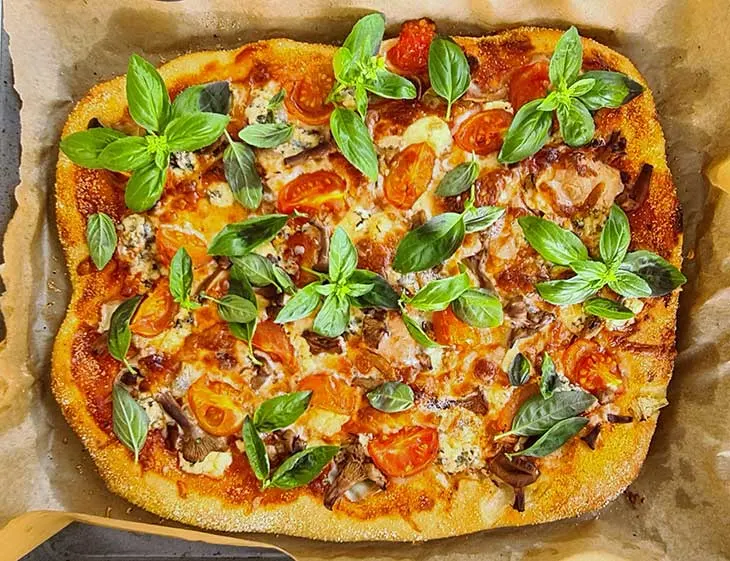 Are you ready for the easiest, most delicious homemade pizza? Here's how to make my artichoke mushroom homemade pizza! >>>
Additional Time
30 minutes
Ingredients
For the homemade pizza base:
450g (3 ½ cups) wheat flour for pizza
350ml (1 ½ cups) warm water
1 packet dry yeast
1 Tbsp brown sugar
2/3 tsp salt
2 Tbsp cornmeal
2-3 Tbsp olive oil
For the toppings:
a few mushrooms (in a jar, marinated or in olive oil)
a few leaves of fresh basil
4-5 peeled San Marzano tomatoes from a can, crushed with a fork until they get a sauce consistency
a few artichokes, from a can or a jar
4-5 cherry tomatoes, cut in 4
gorgonzola or raclette cheese, according to taste - you can replace with vegan cheese
Instructions
Add the yeast packet and sugar in the warm water and mix using the tail of a wooden spoon. Leave for a few minutes until bubbles begin to form on the surface.

Add the flour to a food processor (use the bread kneader accessory). Pour the yeast and water mixture and add the salt.

Mix in the robot for 10 minutes.

Move the robot dish in a warm place and cover with a kitchen towel. Leave it to rise for 30-40 minutes.

Meanwhile, you can prepare the topping ingredients.

Add some baking paper to an oven tray. Add the olive oil and spread it well on the tray.

Pour the raised dough in the tray. Grease your fingers with a little bit of oil and spread the dough evenly in the tray.

Sprinkle the edges of the pizza with cornmeal.

Add the sauce and the toppings.

Bake the pizza in the preheated oven at min. 250C for 10-15 minutes depending on the chosen temperature (I baked it at 280C but most gas ovens have a limit of 250C).

Make sure to check the dough before taking the pizza out of the oven to ensure that it's cooked.

Serve the pizza with some fresh basil on top.
Nutrition Information
Yield
6
Serving Size
1
Amount Per Serving
Calories

636
Total Fat

28g
Saturated Fat

8g
Trans Fat

0g
Unsaturated Fat

18g
Cholesterol

31mg
Sodium

836mg
Carbohydrates

77g
Fiber

6g
Sugar

8g
Protein

21g
I strive to keep the information as accurate as possible but make no warranties regarding its accuracy. I encourage you to make your own calculations using your preferred nutrition calculator.