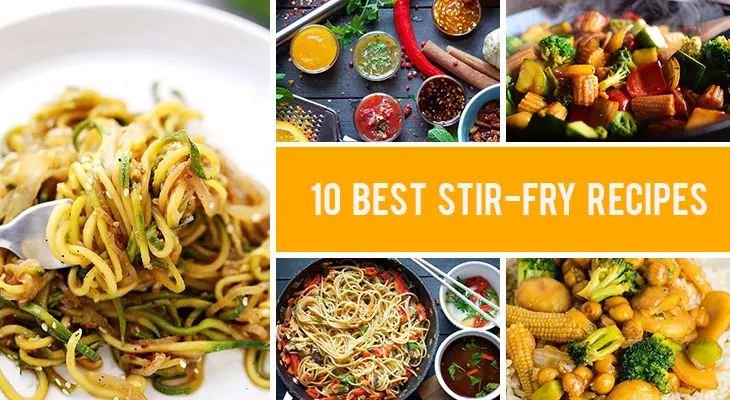 If you're interested in making the most simple and delicious vegan stir fry recipes at home without going to an Asian restaurant, then you're reading the right article.
I'm sure you're familiar with the concept of stir-frying and maybe you already have some favorite recipes that use this technique. But what is stir-frying, after all? The technique of stir-frying implies the frying of the ingredients in a wok, in a certain order and in a very small amount of hot oil while stirring continuously. This is a very popular Chinese cooking technique that's so incredibly easy and simple that has rapidly gained international popularity.
And because it's so easy and fast, you can prepare some awesome vegan stir fry recipes at home using this technique and budget-friendly, accessible ingredients. Just add veggies and maybe even some protein sources like TSP chunks or tofu and you're good to go! Stir-fry is usually my mid-week go-to dinner when I'm craving a delicious meal with no effort! No kidding!
Stir-fried meals are usually healthy and the sauces are the main thing that gives them a unique, exotic flavor.
I'm sure you'll love vegan stir-fry! You can use a wide range of veggies and ingredients including bok choy, carrots, wood ear mushrooms, broccoli or whatever else you may have in the fridge at the moment. You can serve the stir-fry as it is or together with rice or noodles – and never forget the sauce!
Vegan or not – it doesn't matter! These vegan stir fry recipes are super easy to make and will result in a fast, filling and delicious meal.
Here are 10 mouth-watering vegan stir fry recipes of how incredibly delicious this recipe can be without spending hours in the kitchen! Hope you'll get some inspiration for your next lunch or dinner.
Click on the link titles to access these best vegan stir fry recipes. Many thanks to all the wonderful food bloggers who created these recipes (you'll also find five of my favorite stir-fry recipes here)!
We can't start any conversation about stir-fry without mentioning the one thing that will make all these recipes really special – the sauces! Here you'll find my favorite 5 stir-fry sauces of all time: sweet mango, green herb, garlic and ginger, orange and sesame and hot chili stir fry sauce!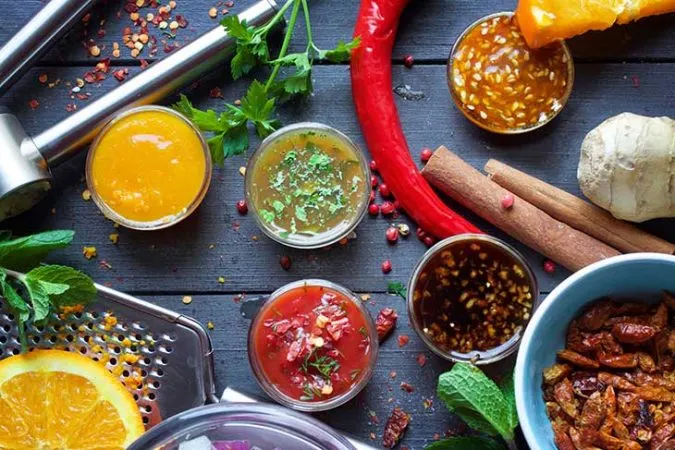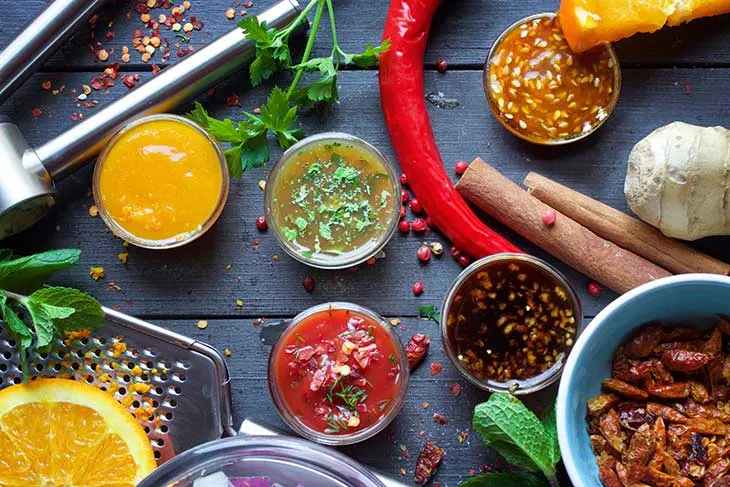 This veggie stir-fry is the ultimate comfort food! You can even make it beforehand: prep all the veggies and make the sauce up to 24 hours ahead of time. Keep in separate containers in the fridge and just eat them whenever you want!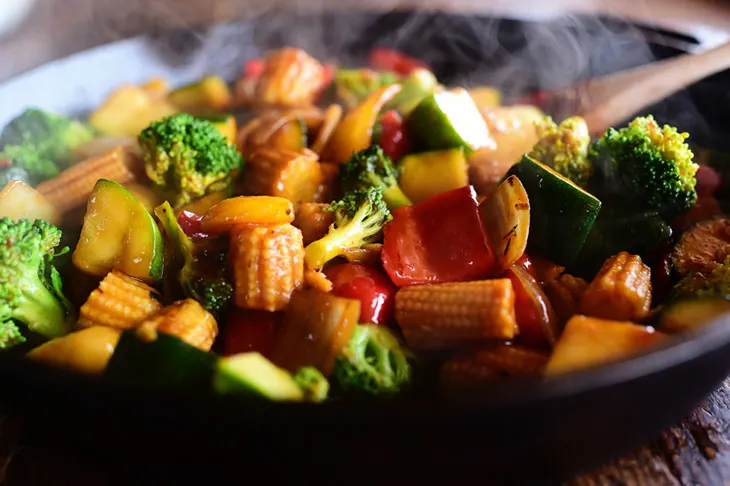 If you're looking for a healthy, fast and delicious macrobiotic meal, then this recipe will satisfy all your needs! The recipe uses simple, colorful ingredients but you can change them as you please. The brown rice completes all these flavors perfectly – while also being healthy!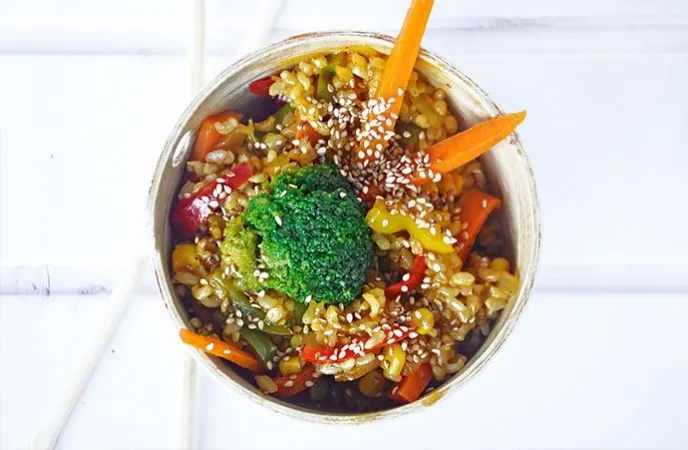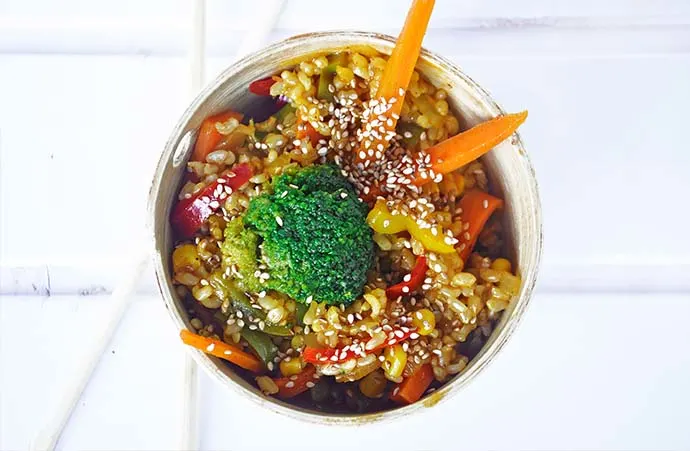 This Buddha bowl is a classic Asian dish with veggies, tofu, and a savory sauce. Tofu is a great source of protein and this incredible recipe is ready in less than 30 minutes! Try it for your next Asian-themed dinner!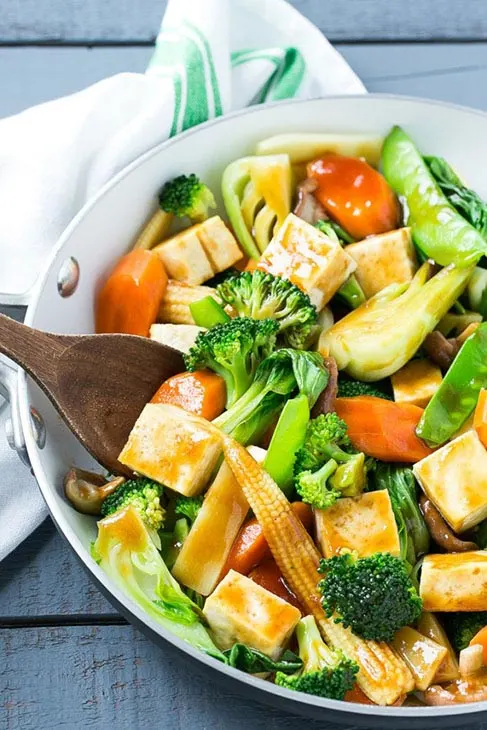 This vegan Lo Mein is the perfect recipe for lunch or dinner – just stir-fry the veggies in coconut oil, add some vegan fish sauce and noodles and you're good to go! Ready in 15 minutes!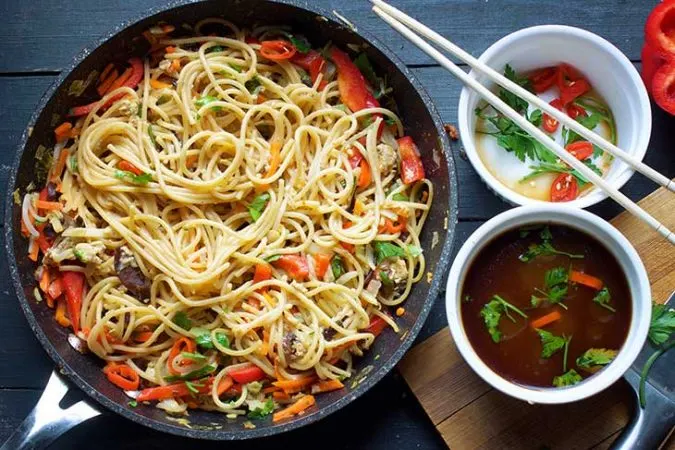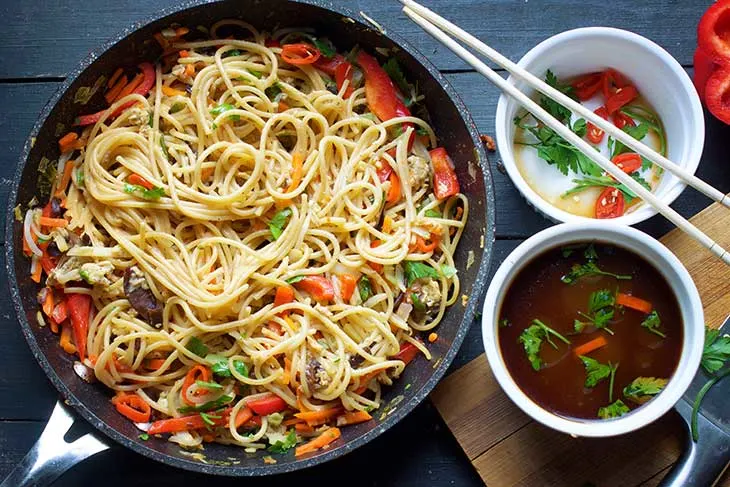 This is a stir-fry with a twist! Make this vegan stir-fry zoodles with spiralized zucchini and onions tossed with teriyaki sauce and toasted sesame seeds. Delicious and super easy to make!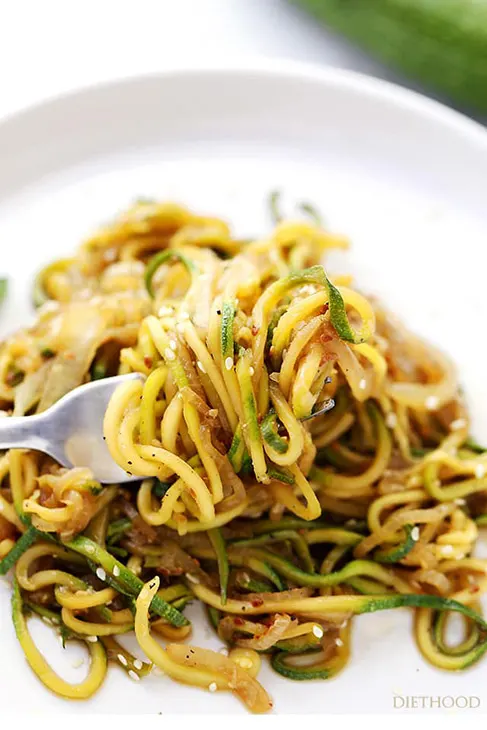 Peanut sauces are a staple in the Thai cuisine so if you want to make an authentic Thai dish, this recipe is a perfect choice! Ready in less than 20 minutes, filling and bursting with flavors!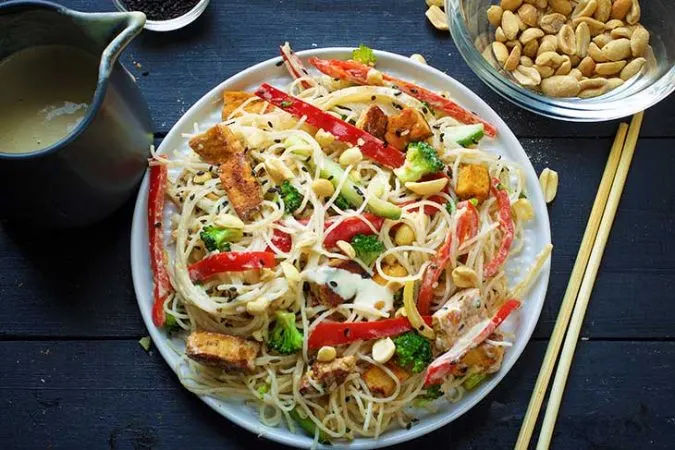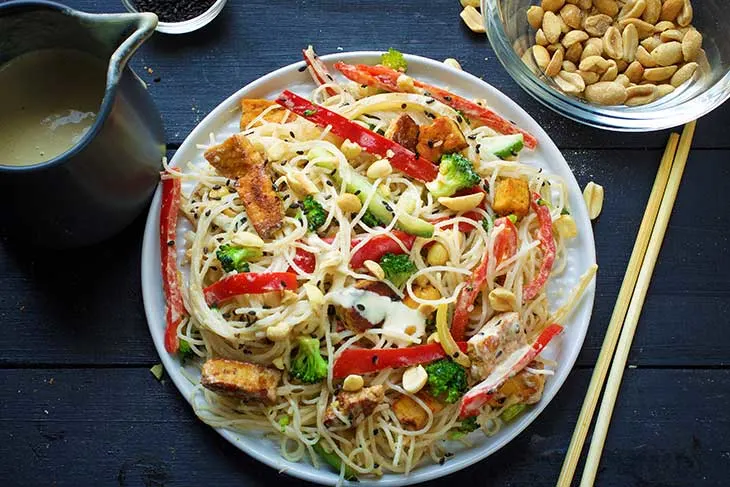 This Chickpea Stir-Fry Bowl is a great comfort food! The key to the flavor of this recipe is in the fresh garlic, ginger, and onion – and the Teriyaki sauce, of course!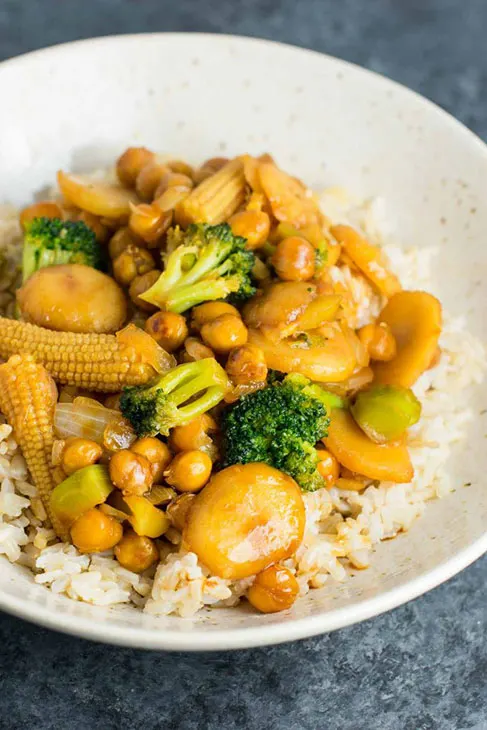 If you're craving a flavorful, vibrant Asian meal that's ready in less than 30 minutes, then you should try this vegan Pad Thai – especially if you're a fan of wood ear mushrooms and Sriracha sauce!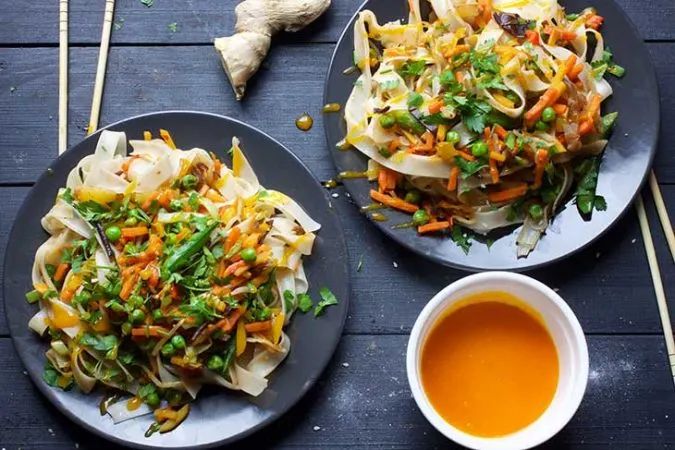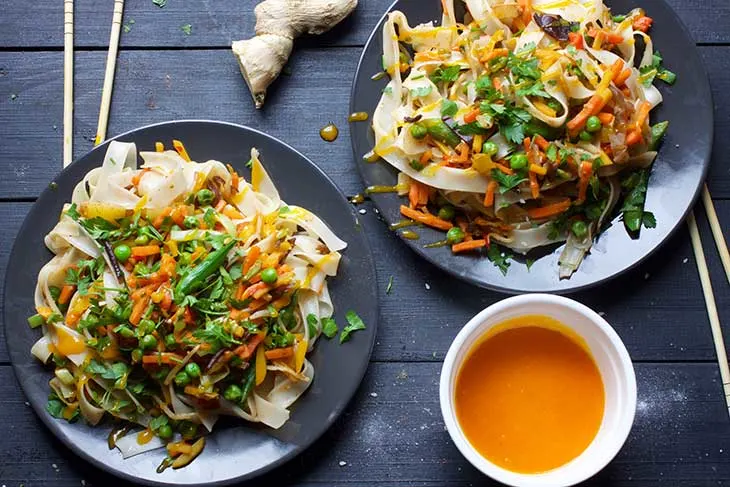 Delicious dinner ready in less than an hour? If you're a fan of pineapple in your food, then you can combine it with crisp tofu and veggies and enjoy this incredible stir-fry! Serve it over rice and enjoy a unique meal!