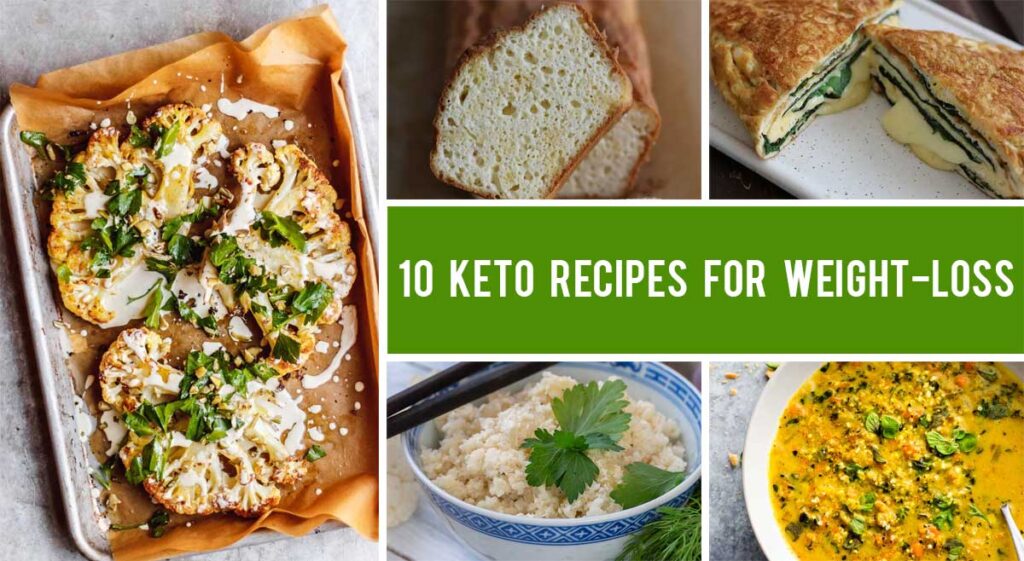 Do you want to lose weight? Look no further! Here are 10 easy keto recipes for weight-loss that are so good, you won't even notice they're meat-free!
A keto diet can be a great solution if you're looking to lose weight. It's low in carbs, high in protein and rich in healthy fats. Plus, it's easy to follow. You don't have to count calories or points or anything like that.
Instead, you just need to eat delicious foods and feel full for hours afterward! And talking about delicious food… you might want to check the end of this article for THE most delicious easy keto recipes for weight-loss!
But first, let me tell you a couple of things about the keto diet.
You may have heard of the ketogenic diet, but are you wondering what it actually is? Well, it's basically a low-carbohydrate diet that allows your body to burn fat instead of glucose as its primary fuel source. This state can help you lose weight and improve overall health.
The ketogenic diet is a high-fat, moderate-protein, and low-carbohydrate eating plan. On this diet, 75%–90% of calories come from dietary fats (such as olive oil), 15%–20% from protein (such as eggs), and only 5%–10% from carbohydrates (such as sweet potatoes). By drastically reducing carbohydrate intake and replacing it with fat, the process of burning fat for fuel is accelerated.
You might be wondering what exactly a keto diet consists of, and how you can stick to it. The main principles of the ketogenic diet are:
The main ingredients that make up your meals are going to be meat substitutes like tofu, eggs, and cheese + high-fat dairy products like heavy cream or butter + plenty of vegetables + nuts, and seeds.
There are plenty of reasons why you might choose to follow a ketogenic diet, but the most common ones include:
Weight loss – This is likely the most well-known reason for sticking to this eating plan — and with good reason! When your body burns fat instead of glucose (sugar), it can help you shed kilograms fast.
Improved blood sugar levels – Keto diets have been shown to reduce blood sugar levels, making them an excellent option for people with pre-diabetes or diabetes.
Reduced risk of heart disease and cancer – Studies show that following a low-carb diet can decrease your risk for obesity, heart disease, and even certain types of cancer.
Keto recipes for weight-loss – Tips for vegetarians
If you want to try out keto without meat (which I definitely recommend), there are plenty of ways to do it! Here are some simple tips for making vegetarian dishes keto-friendly:
Eggs — Eggs can be a great addition to any meal because they're full of protein and have just enough fat to keep you satiated between meals. Try adding an egg on top of a salad or slice it up into an omelet with spinach and mozzarella cheese!
Dairy & Cheese — If you're not following a vegan diet, dairy products like milk and cheese fit nicely into the ketogenic diet because they're high in fat but low enough in carbohydrates that they won't impair weight loss efforts. If you're looking to lose weight, try eating full-fat versions of cow's milk and cheese.
Nuts — While nuts aren't technically vegetables, they can be used in place of meat in vegetarian recipes since they're high in protein and healthy fats. The best types of nuts to eat on a ketogenic diet are macadamia nuts, pecans, walnuts, and almonds (which are technically seeds but still count as nuts!).
If you're vegetarian or vegan and still want to try out a keto diet, aim for vegetables that are green in color. Eating these vegetables will ensure that you're getting enough iron (which can sometimes cause problems if you aren't eating meat) while also keeping your caloric intake down.
Get creative with your meals. You can make a tasty vegetarian burger by combining beans, mushrooms, and vegetables for example. You can also try adding some lentils to salads along with tomatoes, cucumbers, and avocado for a hearty meal that won't leave you feeling hungry. And there are so many delicious dishes you can make with cauliflower, for example!
And now, in case you need some inspiration for your next meals, scroll down to find my hand-picked selection of 10 easy keto recipes for weight-loss that are also meat-free.
Happy cooking! 🙂
10 Easy Keto Recipes for Weight-Loss That Are So Good You Won't Even Notice They're Meat-Free
Do you want to lose weight? Look no further! Here are 10 easy keto recipes for weight-loss that are so good, you won't even notice they're meat-free!