Try the kohlrabi fritters recipe – a delicious and original idea that combines the refined taste of kohlrabi with the aromatic flavor of spices and herbs.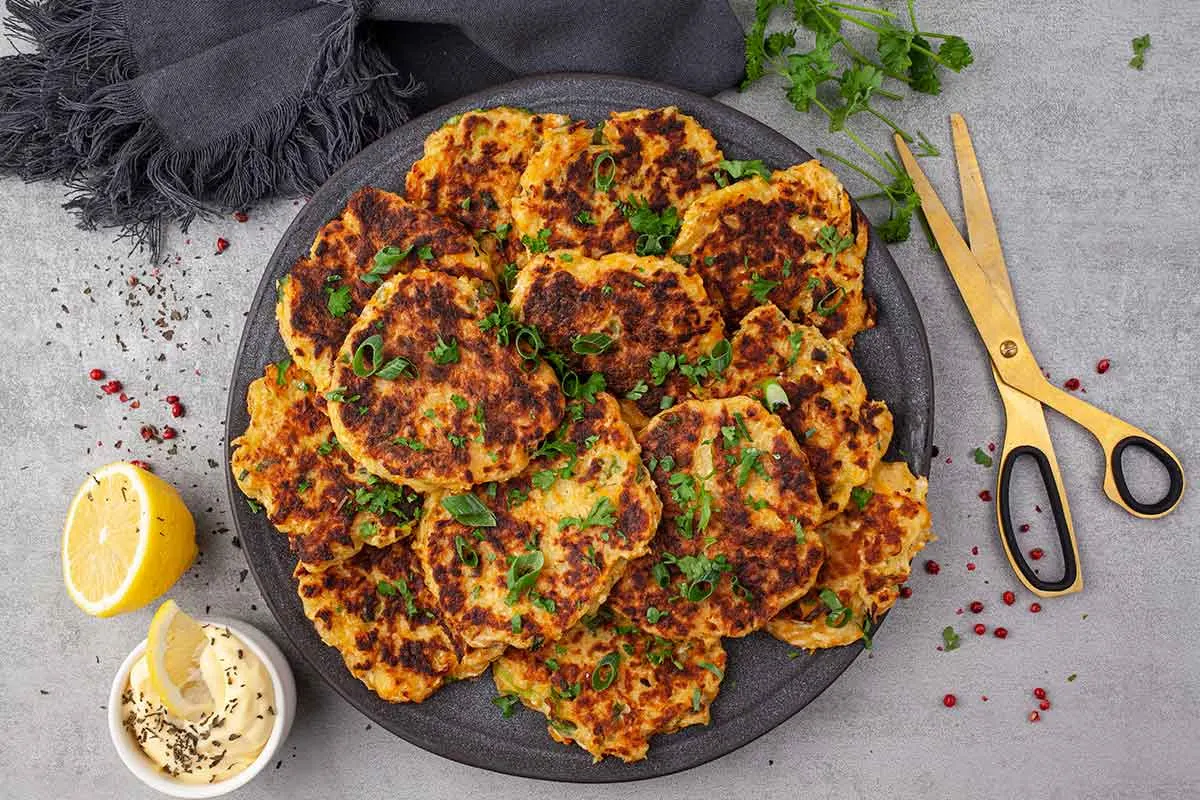 I have to admit that I was never a huge fan of kohlrabi. That is until this year when I experimented with growing them from seed, directly in my garden. I planted only 10 kohlrabi, but they surprised me with their refreshing taste and they will surely become a staple in my garden.
The classic grated kohlrabi salad recipe inspired me to try something new, and to transform a modest vegetable into a dish with unforgettable flavors. So, if you're looking for a surprising gastronomic experience, I challenge you to try these kohlrabi fritters that will surely become your favorite fritters too.
What does kohlrabi taste like?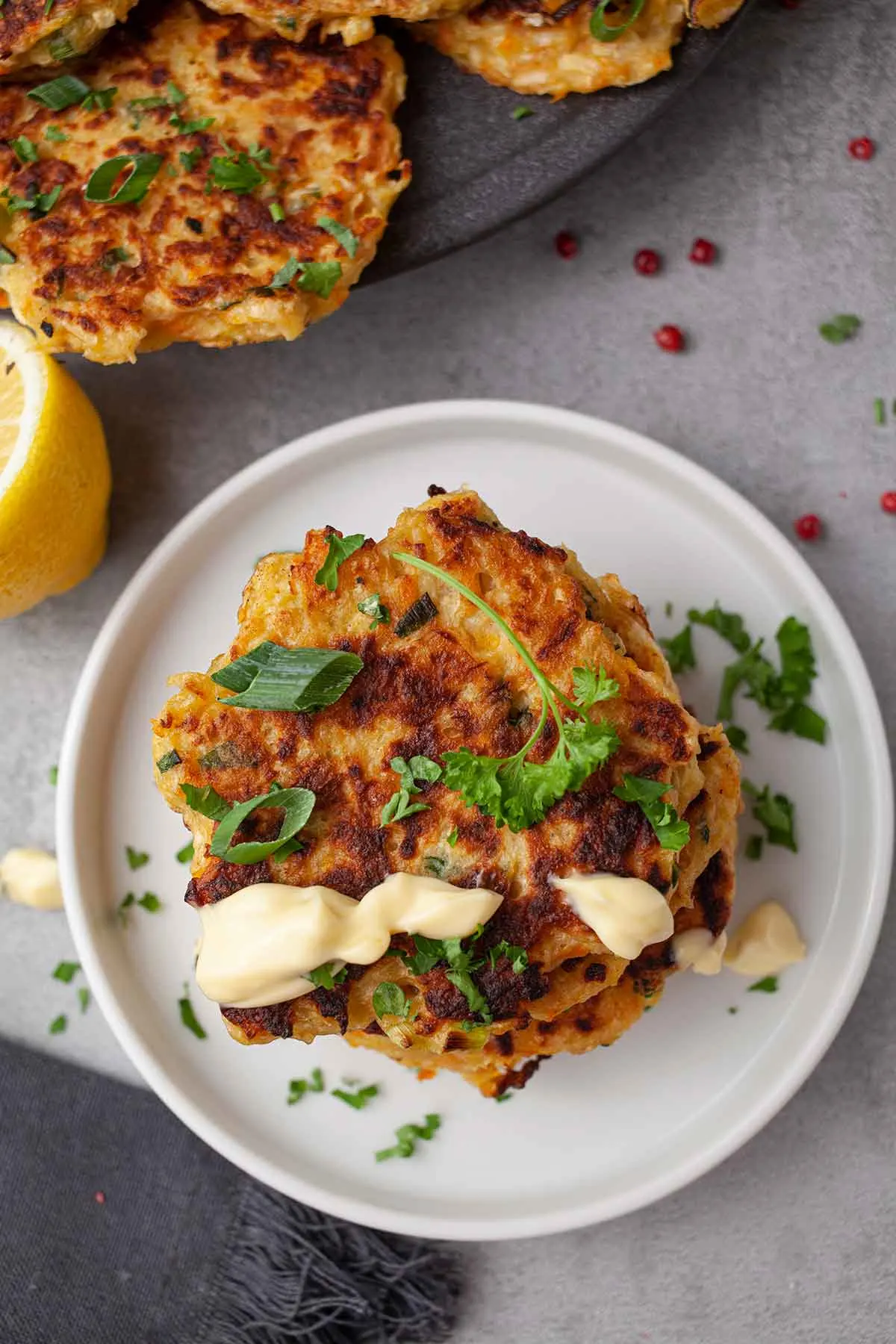 Kohlrabi has a delicate and slightly sweet taste, with subtle accents of nuts and a slight spicy aftertaste. Its texture is crunchy and juicy, similar to that of radishes.
In Mediterranean and Asian cuisine, kohlrabi is frequently used to create delicious and healthy dishes. They can be eaten raw, in the form of fresh and healthy snacks, being similar in texture to cucumbers, or they can be added to salads to provide a crunchy and aromatic note. They can also be cooked by boiling, frying or baking, being added to various dishes such as stews, soups, sauces or fritters.
Due to its versatility, kohlrabi is ideal to complement vegetarian or vegan recipes, bringing a special flavor and texture to the plate. Being rich in fiber, vitamins and minerals, they contribute to a healthy and balanced diet.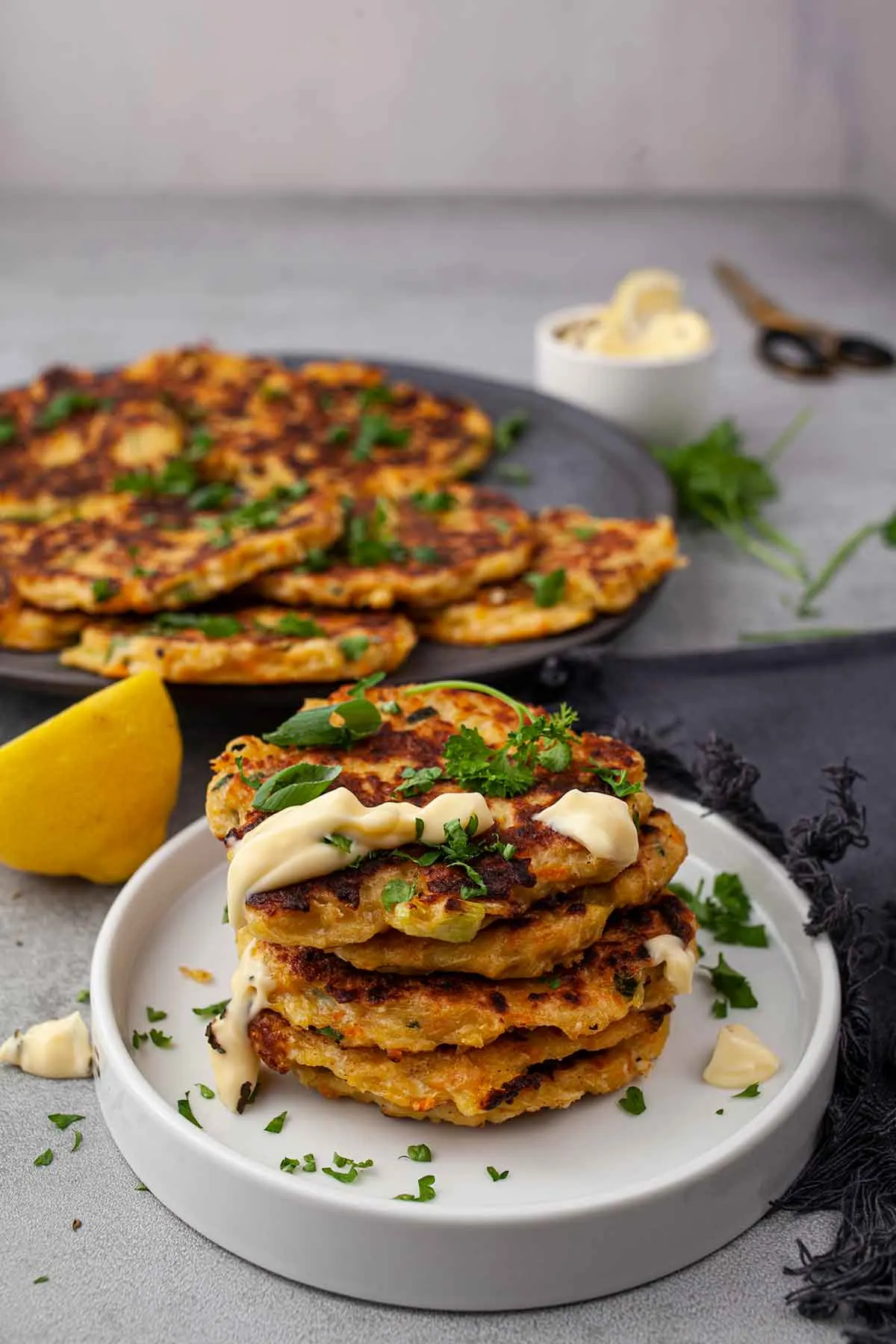 Kohlrabi fritters – sauces to try
In order to complete the delicious kohlrabi fritters, you can try various sauces that will bring a touch of freshness and flavor to your dishes. Here are some ideas for delicious sauces:
Garlic and dill yogurt sauce: Mix Greek yogurt with finely chopped garlic and fresh dill. This creamy and aromatic sauce goes perfectly with the delicate taste of the kohlrabi.
Tahini sauce: Prepare a sauce with sesame paste (tahini), lemon juice, garlic, olive oil and a little water to obtain a more fluid texture. This sauce has a rich aroma and will add an exotic touch to your dishes.
Tomato sauce with basil: A simple and tasty sauce, prepared from fresh chopped tomatoes, garlic, fresh basil, olive oil and salt. This sauce will add an explosion of color and Mediterranean flavors.
Mustard and honey sauce: Mix Dijon mustard with honey and a spoonful of balsamic vinegar for a sweet-spicy sauce, perfectly balanced with the delicate taste of the kohlrabi.
Lemon and olive oil sauce: Simple and refreshing, this sauce is made from freshly squeezed lemon juice and extra virgin olive oil. You can add a little grated lemon peel for an intense aroma.
Each of these sauces can be adapted and customized according to preferences. Try them all and discover the perfect combination that delights your taste buds and perfectly complements the kohlrabi fritters.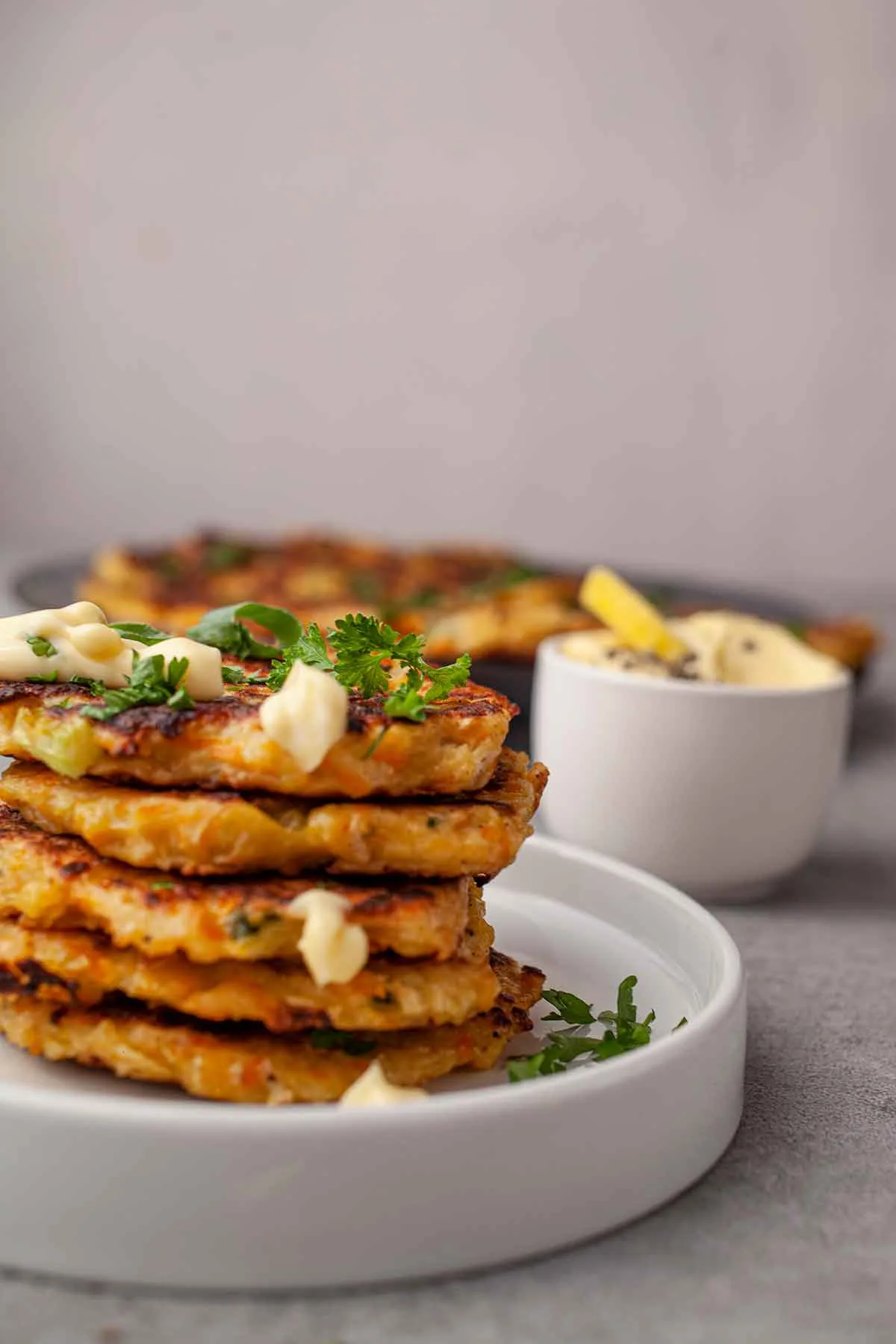 Adaptations – vegan and gluten-free kohlrabi fritters
In order to adapt the recipe for kohlrabi patties to a vegan (egg-free) and gluten-free (wheat flour-free) version, you can try the following substitutions:
For the consistency of the kohlrabi fritters, replace eggs with a chia paste or flax paste: Mix 1 tablespoon of ground chia seeds or flax seeds with 3 tablespoons of water, letting them hydrate for about 15 minutes until they become gelatinous. This paste will replace eggs in the recipe and will ensure proper binding.
Replace wheat flour with gluten-free flour: Opt for rice flour, almond flour, or chickpea flour. These gluten-free alternatives will give the necessary texture to the fritters.
With these simple adjustments, you'll get a delicious version of kohlrabi fritters, suitable for all those who follow a vegan or gluten-free diet.
How to make kohlrabi fritters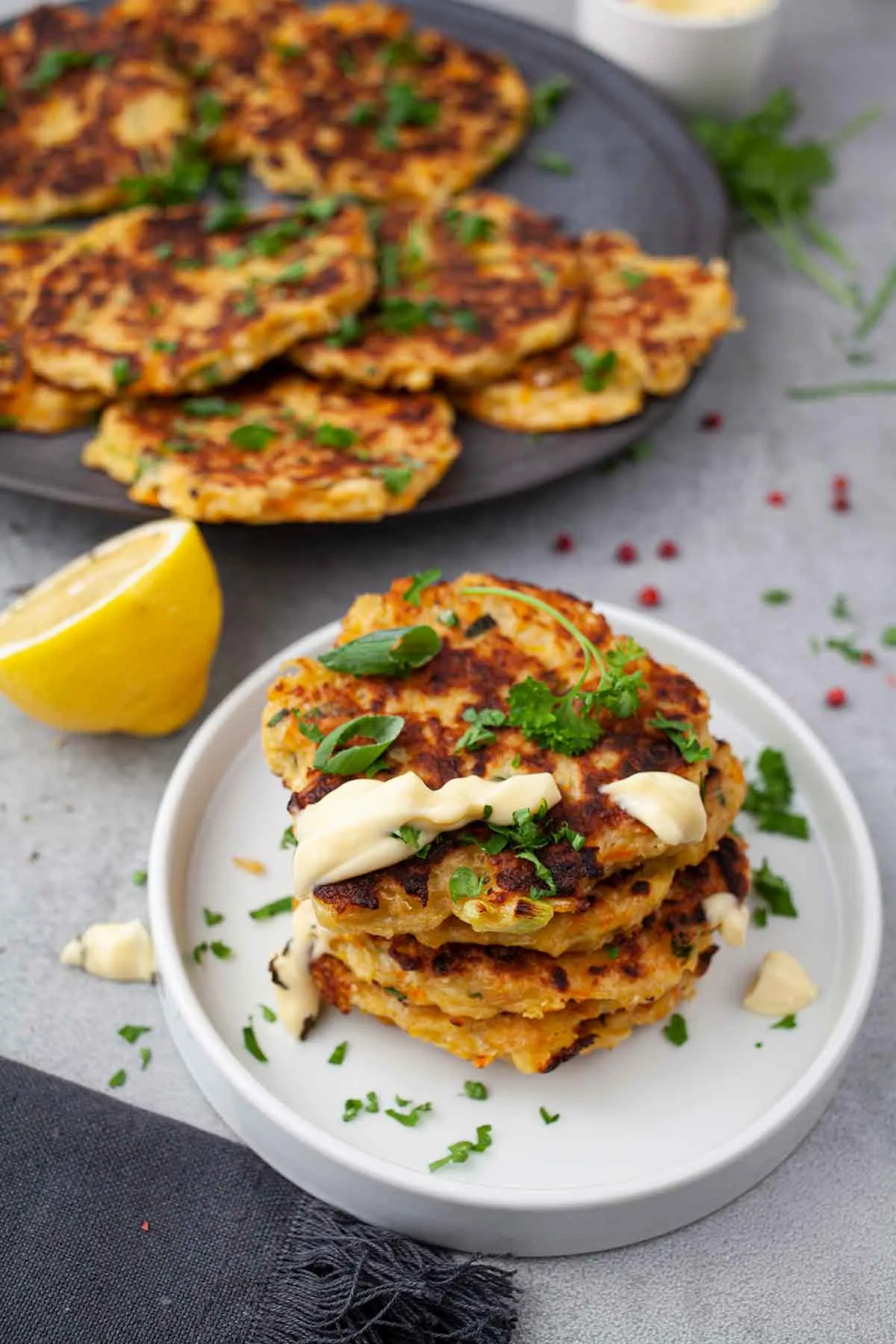 Yield: 15 fritters
Kohlrabi Fritters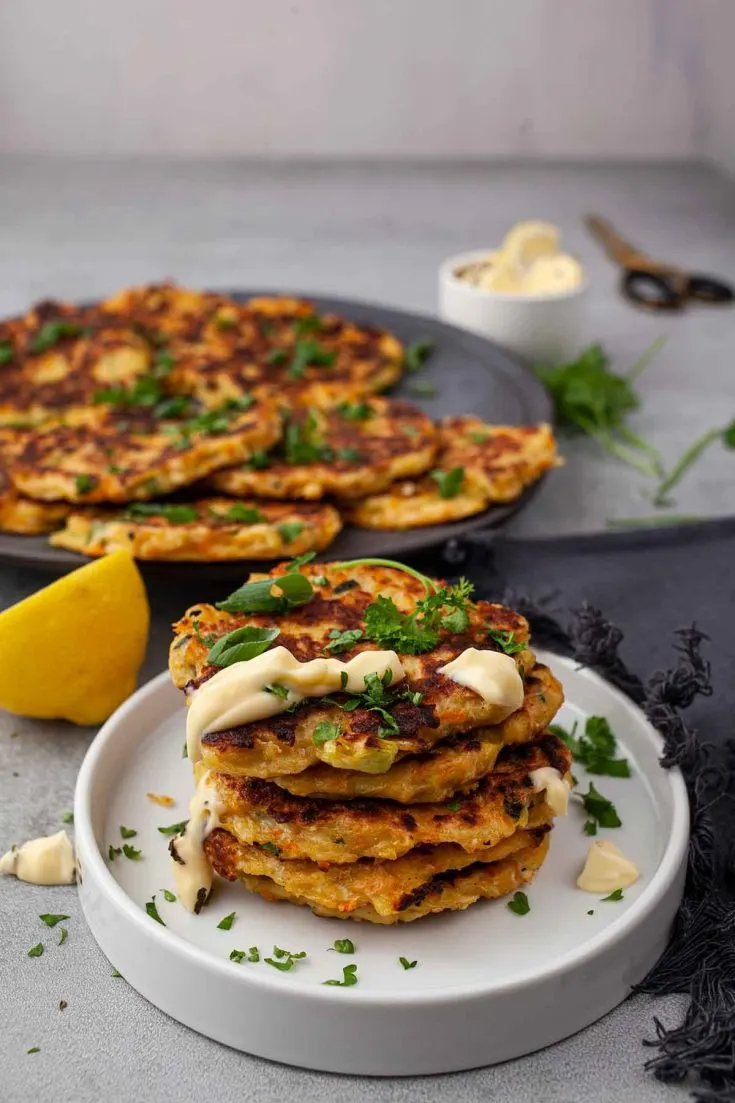 Try the kohlrabi fritters recipe - a delicious and original idea that combines the refined taste of kohlrabi with the aromatic flavor of spices and herbs
Ingredients
3 medium kohlrabi, cleaned, peeled and grated
1 medium carrot, peeled, grated
2 green onions, chopped
2 eggs
½ cup flour (use chickpea flour for GF version)
½ cup Cheddar cheese, grated
½ teaspoon of salt
½ teaspoon pepper
Instructions
In a bowl, combine the grated kohlrabi, carrot and green onion. Squeeze out excess liquid if necessary.
Add eggs, flour, cheese, salt and pepper. Mix the ingredients well until you get a homogeneous composition.
Heat a pan on medium heat, add a little olive oil or ghee.
Use a spoonful of the filling mixture for each patty. Fry them for 4-5 minutes on each side, until they are golden.
Serve the fritters warm, with mayonnaise sauce or any other sauce of your choice.
Nutrition Information
Yield
15
Serving Size
1
Amount Per Serving
Calories

49
Total Fat

2g
Saturated Fat

1g
Trans Fat

0g
Unsaturated Fat

1g
Cholesterol

29mg
Sodium

112mg
Carbohydrates

5g
Fiber

1g
Sugar

1g
Protein

3g
I strive to keep the information as accurate as possible but make no warranties regarding its accuracy. I encourage you to make your own calculations using your preferred nutrition calculator.