Learn how to make the popular Easter bread, known as "pane di Pasqua", for the Easter gathering this year and impress your guests and family.
With Easter near, we are all preparing for the biggest holiday of the year. In Italy, preparations for Easter begin long before and an important part of this celebration is traditional food.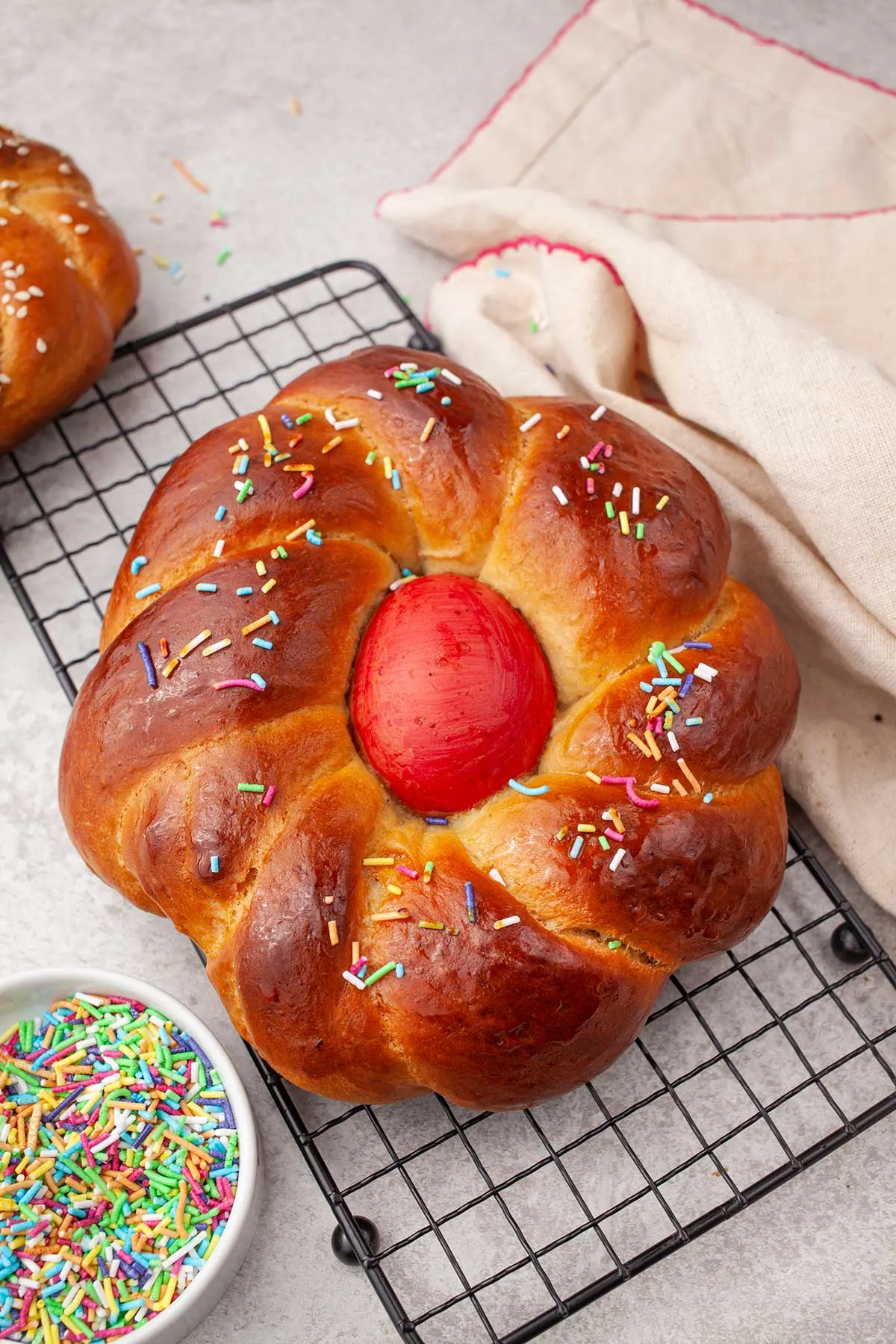 Among the most famous Easter pastries in Italy is the delicious Easter bread, known as "pane di Pasqua". This bread with a soft texture and an aromatic core of freshly baked dough is a highly appreciated delicacy throughout Italy.
Whether it is served with red eggs and cheese, or as a delicious snack with coffee or tea, Italian Easter bread is a key element in this religious holiday. Below I will show you the authentic Italian recipe for Easter bread and how to make it at home to add an Italian touch to the Easter menu.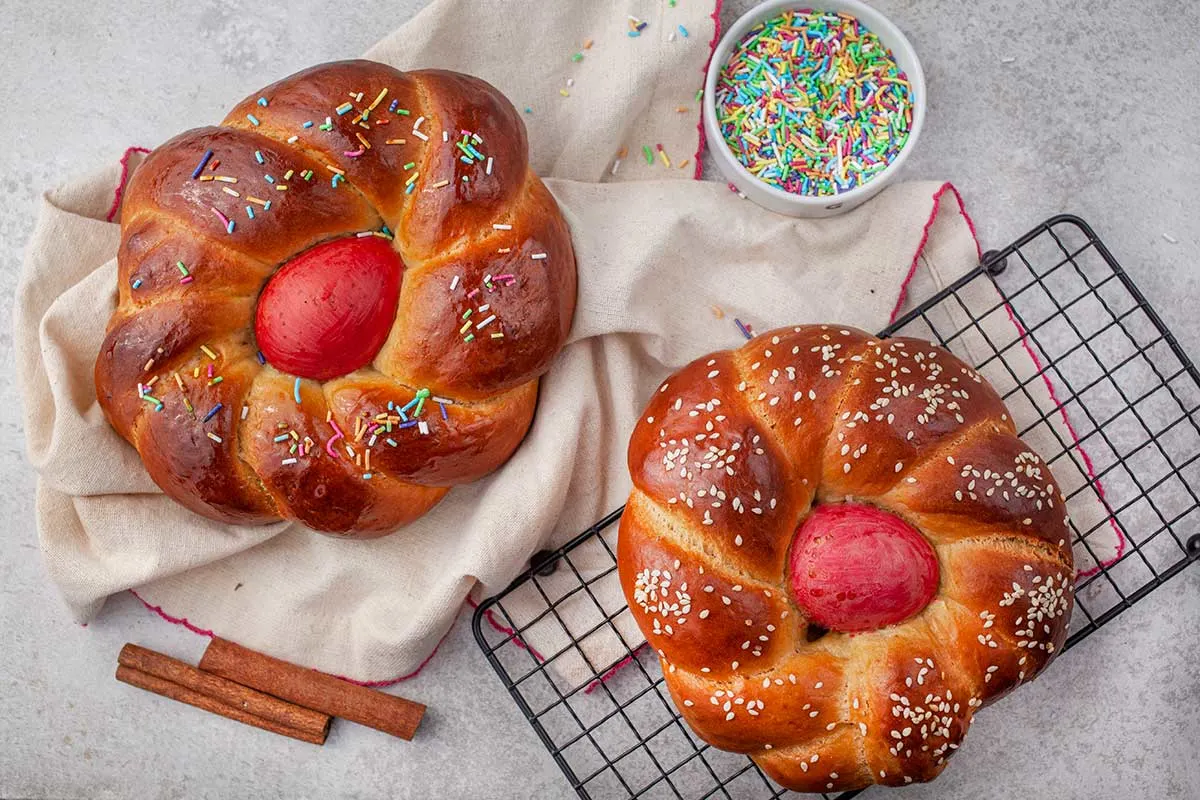 What is the history of Italian Easter bread?
The Italian catholic Easter bread, known as "Pane di Pasqua" or "Cuzzupa" (sicilian Easter bread) in southern Italy, has a long and rich history. Its origin lies in the ancient traditions of Mediterranean cultures, where bread was an essential element in everyday life and in religious ceremonies. In Italy, Easter bread became a popular tradition in the 16th century, and since then it has been associated with the Easter holidays.
Italian Easter bread is made in a similar way to regular bread, but it has special ingredients that make it suitable for this holiday. In some regions, eggs, milk or cheese are added to the composition of the dough, and in others, dried fruits or orange peels are used to give it a unique flavor. The bread can also be decorated with colored eggs or special designs.
This recipe has an important role in the culinary tradition of Italy, being a symbol of joy and prosperity at this time of the year. It is often served with other traditional Easter dishes, such as Easter Pie (Pasqualina), agnello al forno (lamb in the oven), pastiera Napoletana (a dessert with ricotta cheese and candied fruit) or pizza rustica.
What shape does Italian Easter bread usually have?
The traditional Italian Easter bread is in the shape of a crown or in the shape of a round, braided bread, similar to a crown. This round shape is a symbol of the resurrection of Jesus and has been preserved over time in the Italian Easter tradition.
Variants with different flavors for Easter bread
A popular option is bread with raisins and orange or lemon peel, which gives it a sweet and refreshing taste. You can also add vanilla or anise to obtain a sweet and delicate aroma.
For those who want a richer version, butter and milk can be added to the dough to obtain a soft and rich bread. In addition, you can add chocolate and nuts.
Also, depending on the region of Italy, there are other versions of Easter bread, such as bread with olives, dried tomatoes and basil or bread with cheese and eggs. There is definitely a version of Italian Easter bread for every taste and preference.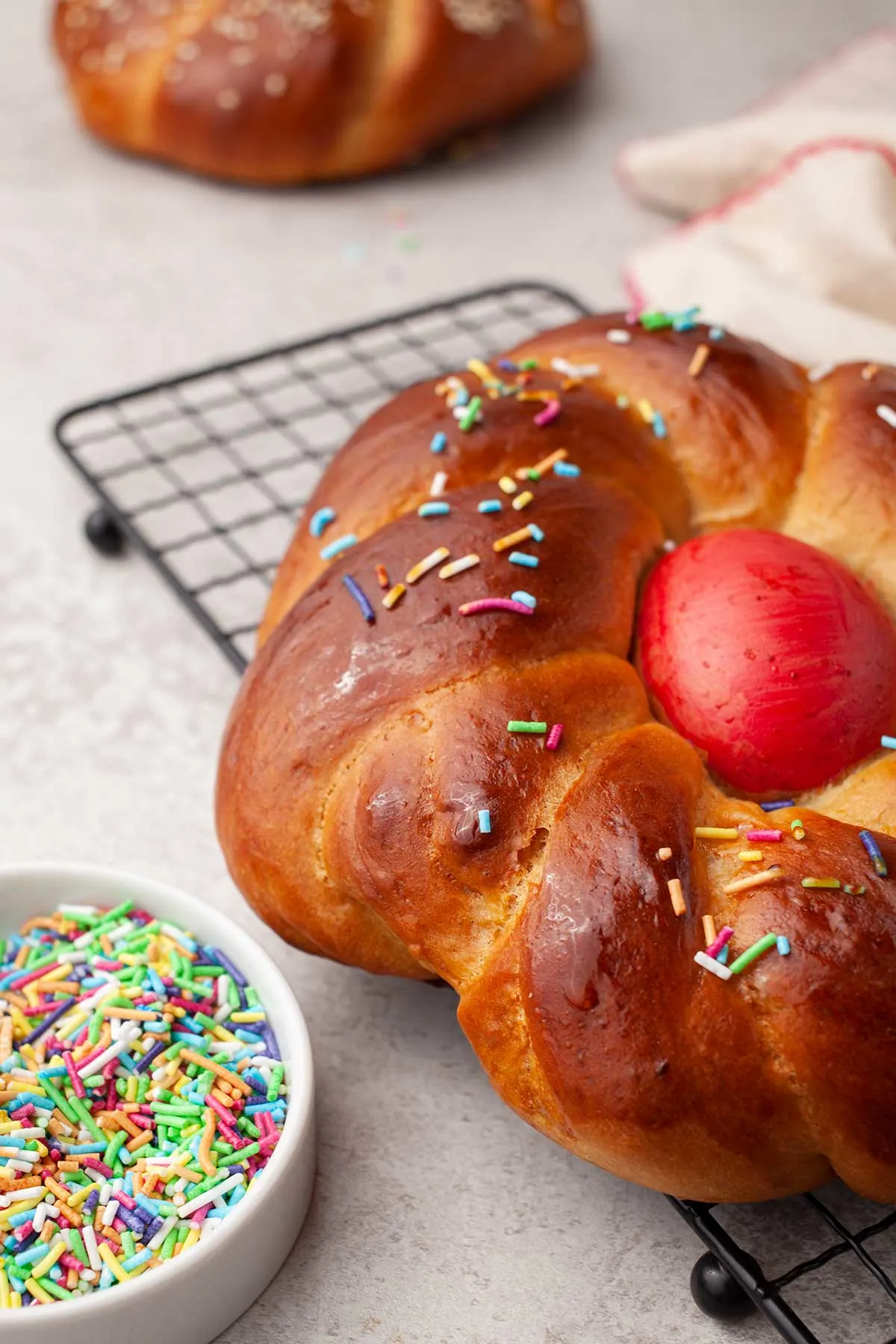 What can you serve Italian bread with on the Easter menu?
To complete the authentic Italian Easter experience, you can serve the bread with other traditional Italian dishes, such as roasted pepper salad, caprese salad or prosciutto with mozzarella. You can also add delicious sauces such as pesto, tomato sauce or olive oil.
For drinks, you can opt for Italian wines, such as Chianti or Barolo, or enjoy an authentic espresso coffee.
Don't forget to serve the traditional Italian Easter dessert, such as Neapolitan pastiera or colomba, a cake similar to panettone, but with orange and raisin flavors.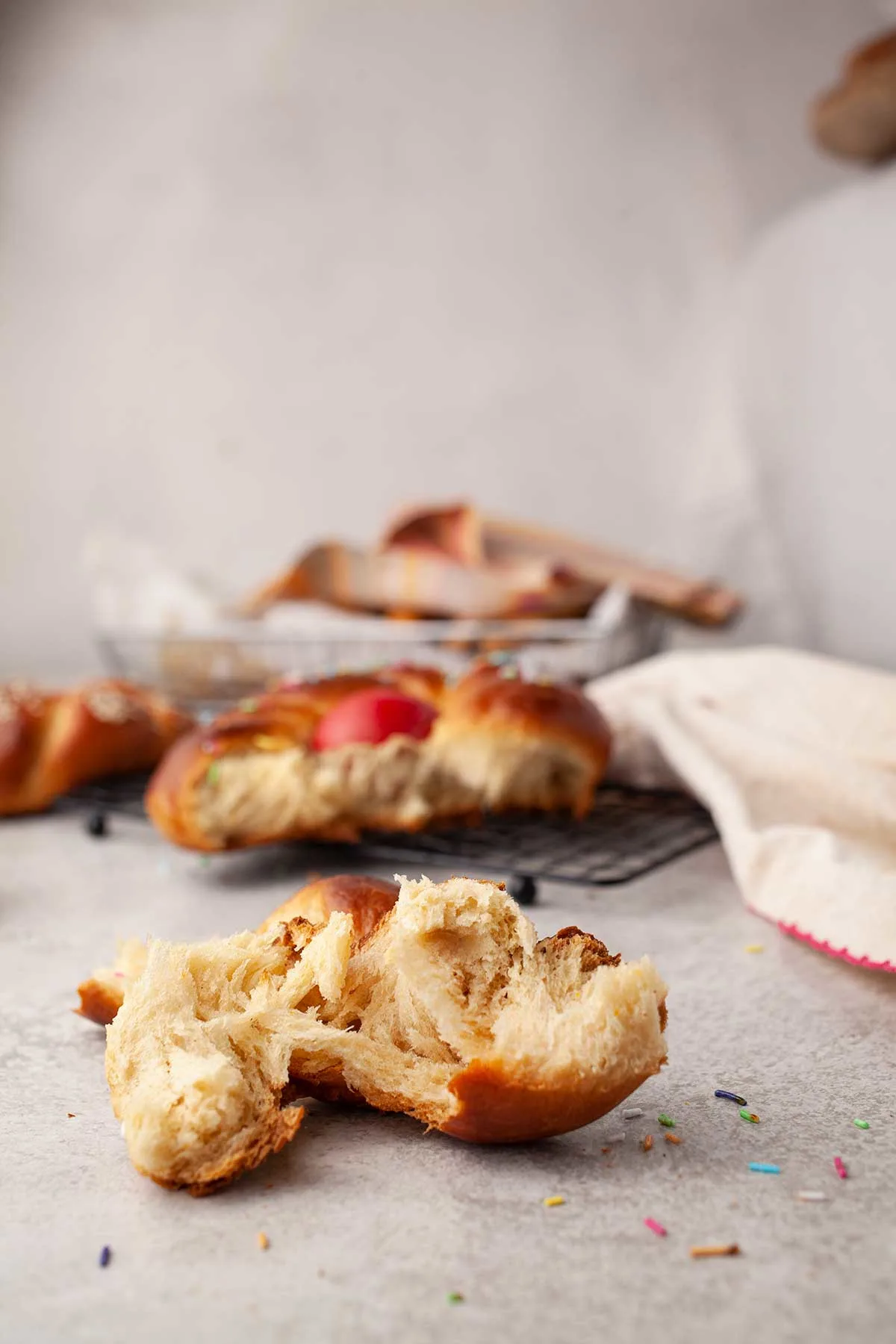 Tips for the best Easter bread
To get a perfect texture and flavor for Italian Easter bread, there are some tips and tricks you should keep in mind:
Try to use high-quality flour, ideally durum wheat flour, which is richer in gluten and will help you obtain a more elastic and fluffier texture.
It is important to mix the dough well and knead it for at least 10-15 minutes to help develop the gluten and form a strong dough structure.
Depending on the recipe, you can add ingredients such as honey, olive oil or eggs to help obtain a rich flavor and a softer texture.
If you use dry yeast, make sure you hydrate it beforehand in warm water before adding it to the dough. If you use fresh yeast, break it into small pieces before adding it to the dough.
Let the dough rest for at least an hour at room temperature or in a warm place away from drafts to allow the gluten to develop and the dough to rise.
Make sure that the bread bakes evenly and completely, and that the crust is brown and crispy. Let the bread cool completely before cutting and serving to obtain a soft and fluffy texture.
Easter bread is an important culinary tradition in Italy, where people spend their holidays with family and friends, enjoying delicious food and special moments together. In addition, it is an easy recipe to customize with your favorite flavors, so that we can create a unique version that represents us and impresses all our loved ones. I encourage everyone to try this recipe and share it with their loved ones, because during the holidays, eating and sharing special moments are the most important things.
Yield: 4 small breads
Italian Easter Bread | Pane di Pasqua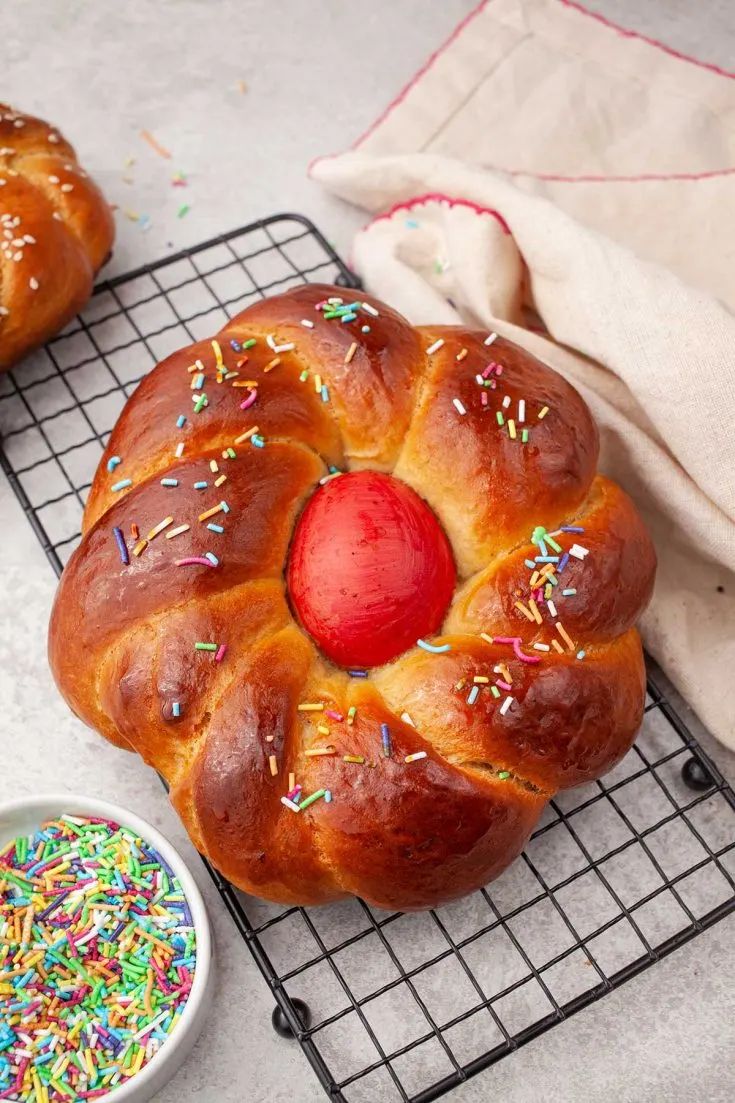 Learn how to make the popular Easter bread, known as "pane di Pasqua", for the Easter gathering this year and impress your guests and family.
Total Time
3 hours
20 minutes
Ingredients
118ml (4 fl oz) warm milk
50g (¼ cup) sugar
7g (0.2 oz) dry yeast
550g (4 ⅓ cup) flour
1 teaspoon salt
110ml (4 fl oz) fresh orange juice
½ tablespoon of grated orange peel
2 eggs, lightly beaten
60g (2.1 oz) of butter, melted and brought to room temperature
½ teaspoon of anise, powder
For garnish:
4 red-dyed eggs
1 lightly beaten egg + 1 teaspoon of milk
Instructions
In a bowl, add warm milk, sugar and yeast. Mix gently, cover with a plastic wrap and leave aside for 10 minutes.
In a large bowl, add 300g of the total amount of flour, orange peel, beaten eggs, butter and anise. Stir well .
Add the yeast mixture, the fresh orange juice - mix until incorporated.
When you have kneaded a liquid dough, gradually add the remaining flour until a denser dough is formed.
Transfer the dough to a table sprinkled with flour and knead it until it becomes elastic.
Put the kneaded dough in a bowl well greased with oil, spread oil on the dough as well.
Cover the dough bowl with plastic wrap and leave it in a warm place, with the windows closed, to rise and double in volume. Around two hours.
After the dough has risen, form the loaves. Transfer the dough to a surface sprinkled with flour.
Divide the dough into 8 equal pieces.
Roll out each piece into a 25-30 cm baguette.
Take two pieces of stretched dough each, and twist them into a spiral. Then join the ends to get a coil.
Transfer the obtained cakes to a baking tray lined with baking paper.
Cover with a plastic wrap and let the dough rise once more.
Heat the oven to 180C (360 ºF).
After 30-40 minutes, when the loaves have risen, brush them with a mixture of butter and milk, sprinkle with colored ornaments or sesame seeds, put a red egg in the middle of each and put them in the oven. Leave them to bake for 15 minutes, until they turn golden brown.
Take them out of the oven and transfer them to the grill to cool.
Nutrition Information
Yield
8
Serving Size
1
Amount Per Serving
Calories

107
Total Fat

6g
Saturated Fat

3g
Trans Fat

0g
Unsaturated Fat

3g
Cholesterol

169mg
Sodium

353mg
Fiber

0g
Sugar

4g
Protein

7g
I strive to keep the information as accurate as possible but make no warranties regarding its accuracy. I encourage you to make your own calculations using your preferred nutrition calculator.