Are you looking for a traditional Easter recipe to impress your family and friends? Try the Italian Easter pie or Pasqualina. Find out below how to prepare this classic dish and bring an Italian taste to this year's Easter celebrations.
The Italian Easter pie, known as "Pasqualina", is a traditional recipe that has a deep meaning for the Italian community. This pie is an important element in Easter traditions, being prepared in families and served with pride during the celebration.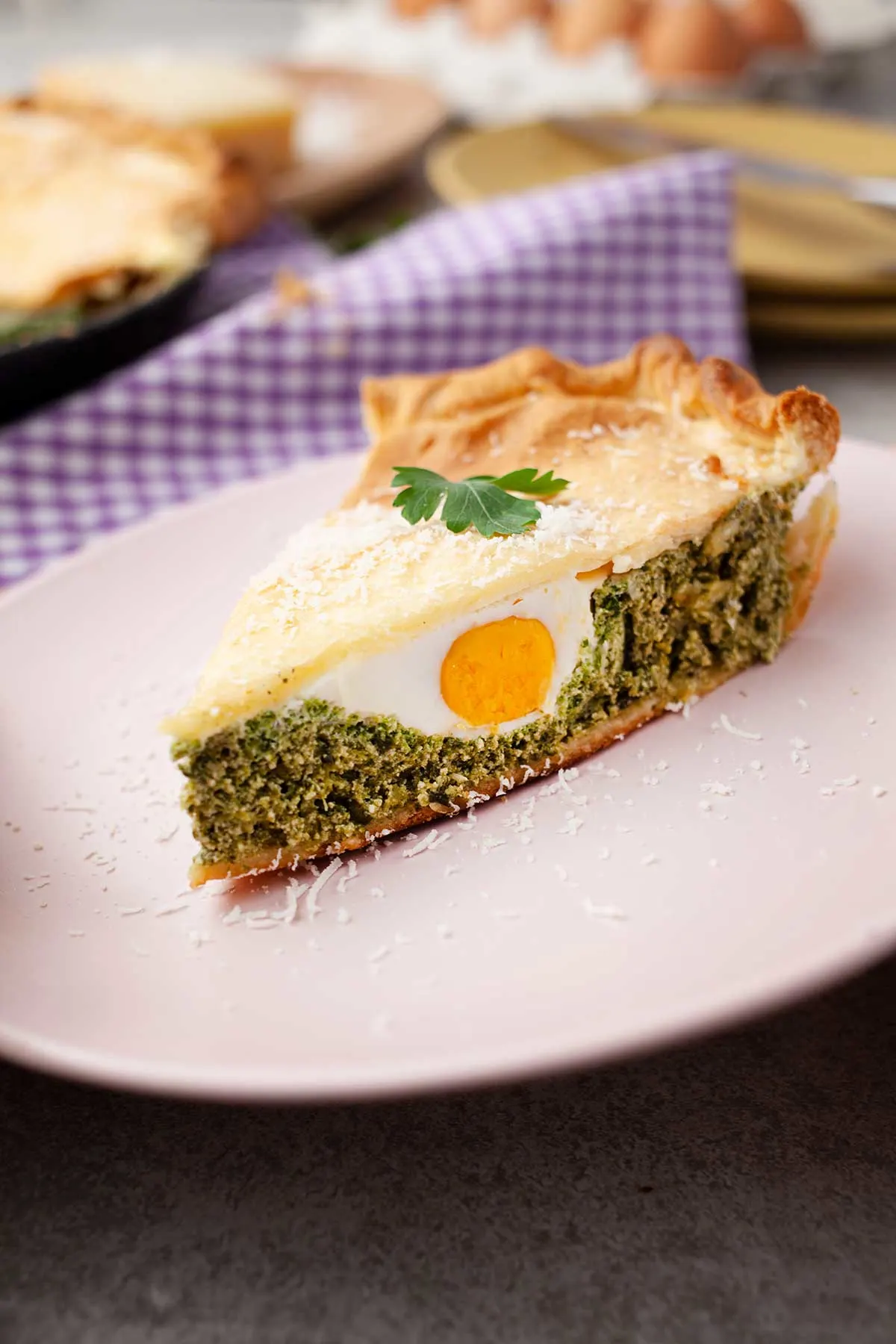 While this recipe can be adapted and improved in various ways, many Italian families prefer to keep the traditional recipe, learned from their grandparents and great-grandparents. The Italian Easter pie is a way to preserve the ties with Italian history and culture, being a perfect example of how food can bring people and traditions together.
History of Torta Pasqualina recipe
Torta Pasqualina originates from the Liguria region in northwestern Italy. It is said that this recipe has a long history, being associated with the Christian tradition of eating Easter eggs. Legend has it that this pie was created by Genoese sailors, who created the recipe to consume their eggs before they spoil, during their long sea voyages. Thus, the pie has become an important element of the Easter table in Liguria, but also in other regions of Italy.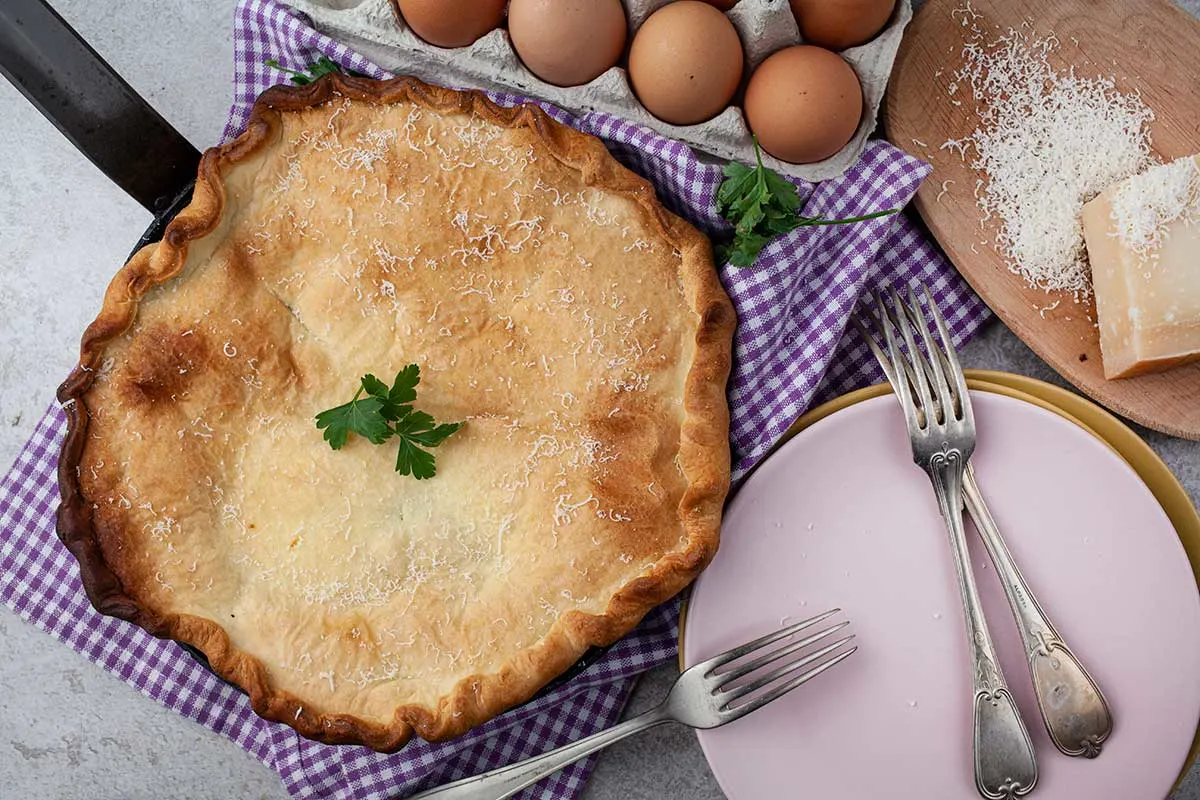 This recipe is also found as Southern Italian Easter Pie, Sicilian Easter Pie or simply put Italian Easter Cheese Pie, as cheese is a key ingredient in this recipe. The recipe for this pie varies from family to family and region to region in Italy, but the result is always delicious. Whether you prefer a spinach Easter pie or a classic ricotta Easter pie, this dish is sure to be a hit at any Easter gathering. Serve it warm or at room temperature with a side salad for a complete and satisfying meal.
Apart from its religious significance, Torta Pasqualina is also an expression of traditional Italian cuisine, which is built around the valorization of seasonal ingredients and local resources.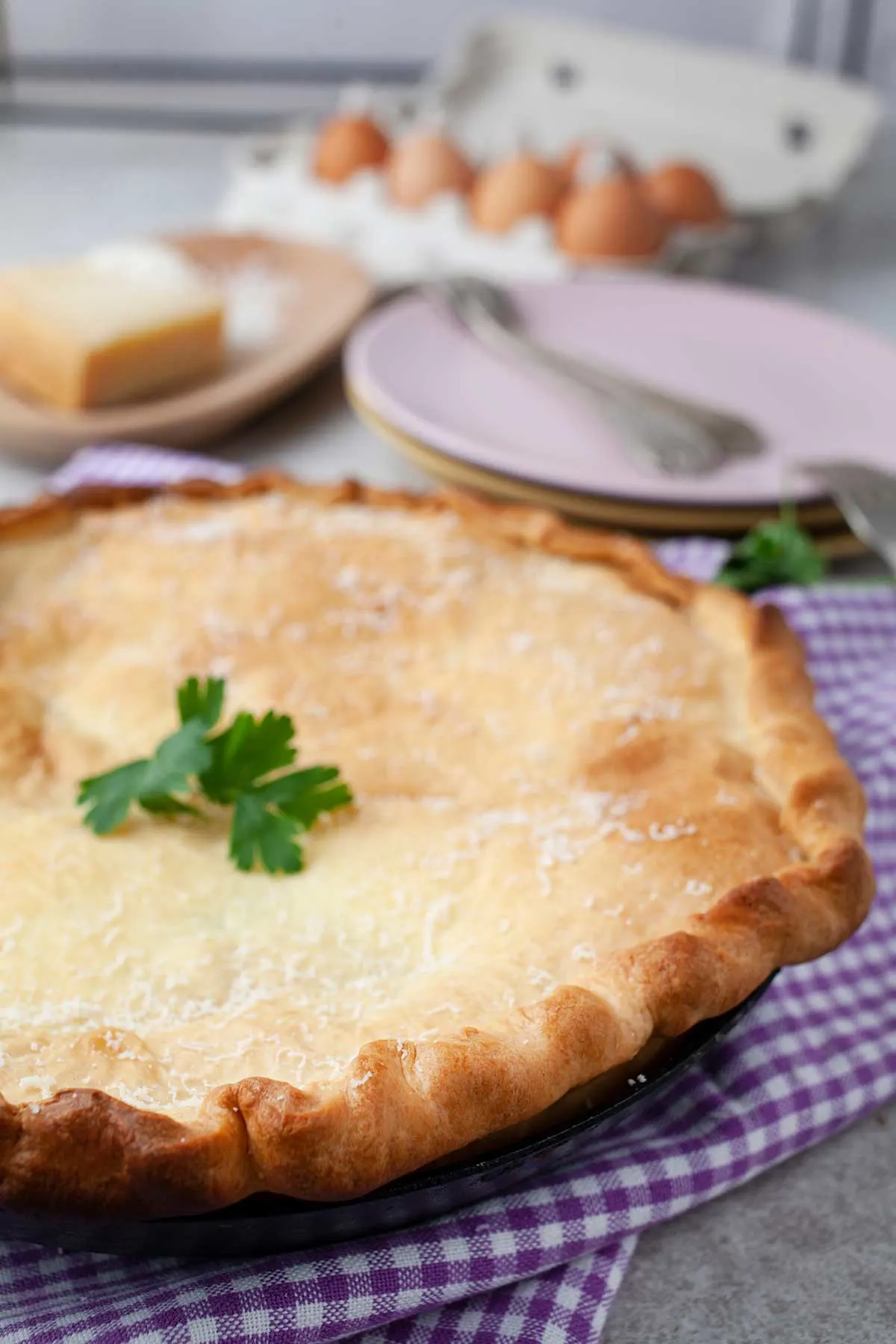 What is Italian Easter Pie made of?
The traditional Italian Easter pie recipe, called Torta Pasqualina, is made with thin sheets of pie dough filled with a mixture of spinach, ricotta cheese and eggs. It can also contain other ingredients, such as green onions, garlic, basil, parsley, mint or leeks. Pie dough is made from flour, water, olive oil, salt and eggs. The recipe may vary depending on the region of Italy and the chef's personal preferences, but these are the basic ingredients used in the traditional recipe.
Variations for the Easter pie recipe
Here are some ideas to add new flavors and customize your own Torta Pasqualina:
Cheese – replace ricotta with other types of cheese, such as feta, gorgonzola or parmesan, to add a stronger and more complex flavor.
Vegetables – apart from spinach, you can add other vegetables, such as mushrooms, peppers or zucchini, to provide more texture and taste.
Meat – if you prefer to add meat, you can use chicken, veal or pancetta, to add a wild and smoky taste.
Herbs – add fresh herbs, such as basil, parsley or rosemary, to add a fresh and fragrant aroma.
Spices – apart from salt and pepper, you can add spices such as cumin, coriander or paprika to add a touch of exoticism and complete the taste of your Italian Easter pie.
Experiment with these variations of ingredients and customize your own Torta Pasqualina to satisfy your tastes and culinary preferences.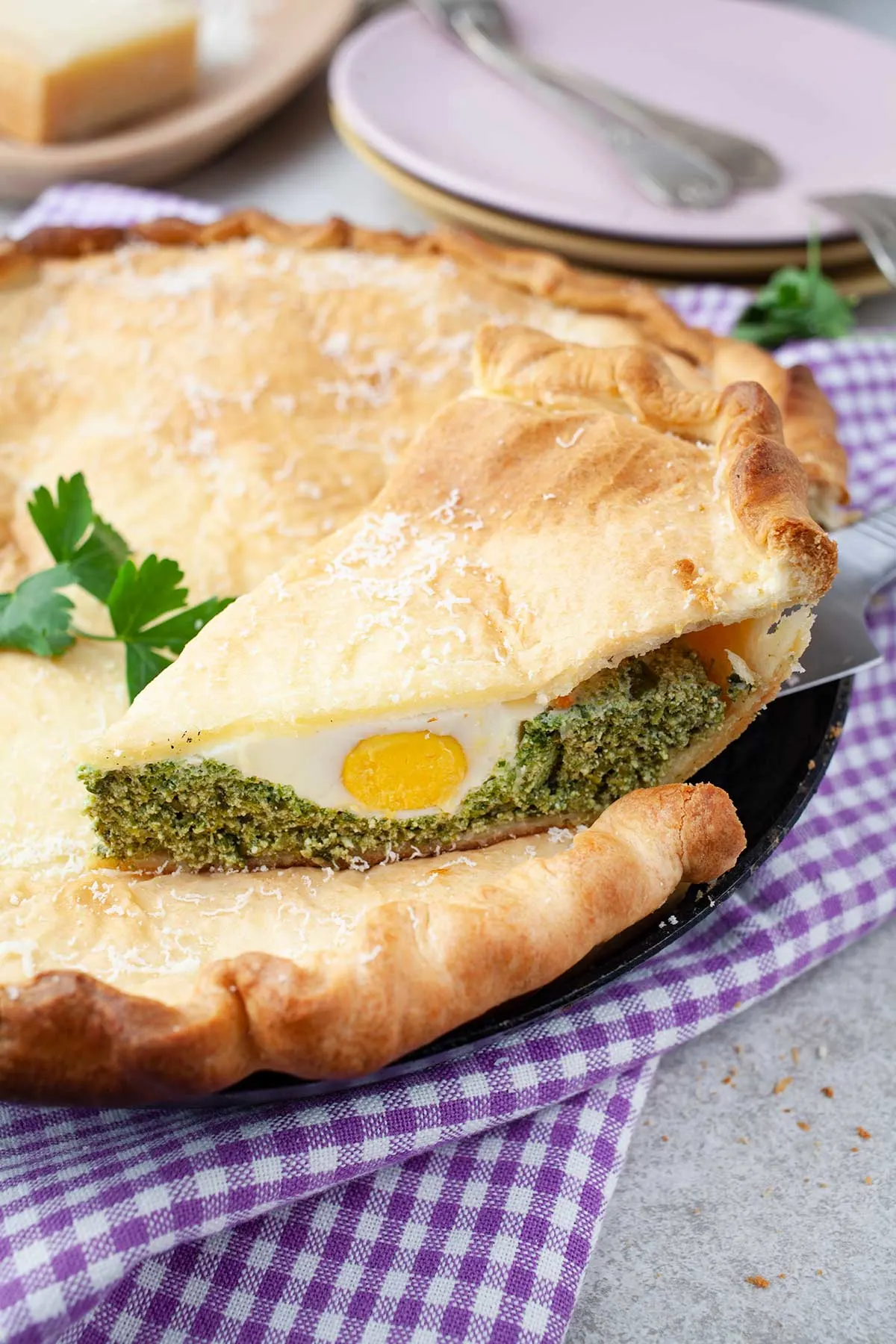 Decorating tips and suggestions for a festive Easter touch
Add fresh basil leaves, tomato slices and olives to create a traditional and colorful look.
Add a row of hard-boiled eggs, thus decorating the pie with the traditional symbols of Easter.
Tips and tricks for achieving the perfect texture and flavor
When preparing the dough, add a little flour until it comes off the sides of the bowl. This will help to obtain a fine texture and a dough that is easy to work with.
Use a pan with the right diameter to obtain a uniform thickness and avoid the dough drying out or burning in some areas.
To improve the flavor of the pie, add a few strands of basil or oregano to the dough or to the filling. You can also try adding vegetables to the filling, such as spinach, mushrooms or peppers for a richer and more diverse taste.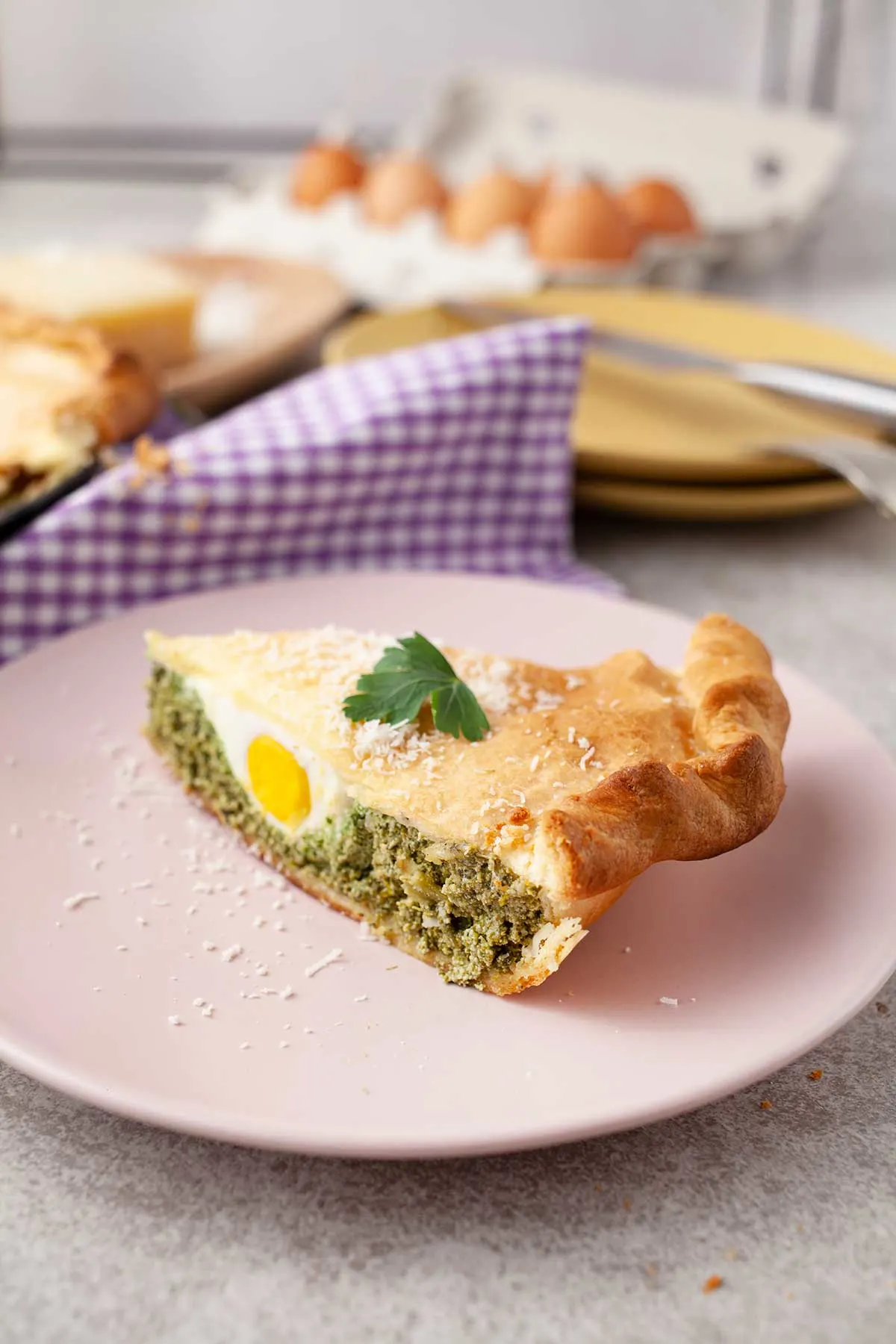 What is the traditional food for Easter in Italy?
Italy is known for its delicious and abundant food, and during Easter, Italians prepare a multitude of traditional specialties. Among the most popular dishes are:
agnello al forno (lamb in the oven)
carciofi alla romana
pasta al forno (pasta with meat sauce in the oven)
pizza rustica (pie with cheese and vegetables)
frittata di carciofi (anchovy omelette)
colomba di Pasqua (pigeon-shaped cake)
and, of course, Torta Pasqualina (Easter pie).
Also, many Italian families prepare dyed eggs and sweet scones or muffins for Easter breakfast.
Finally, the Torta Pasqualina recipe represents an important part of Italian Easter traditions. The pie is both delicious and beautiful, being a real culinary masterpiece. I hope that this story about Italian Easter history and traditions has inspired you to try the Torta Pasqualina recipe and share the experience with your loved ones. I wish you a happy and joyful Easter!
Yield: 6-8 servings
Easter Pie (Pasqualina)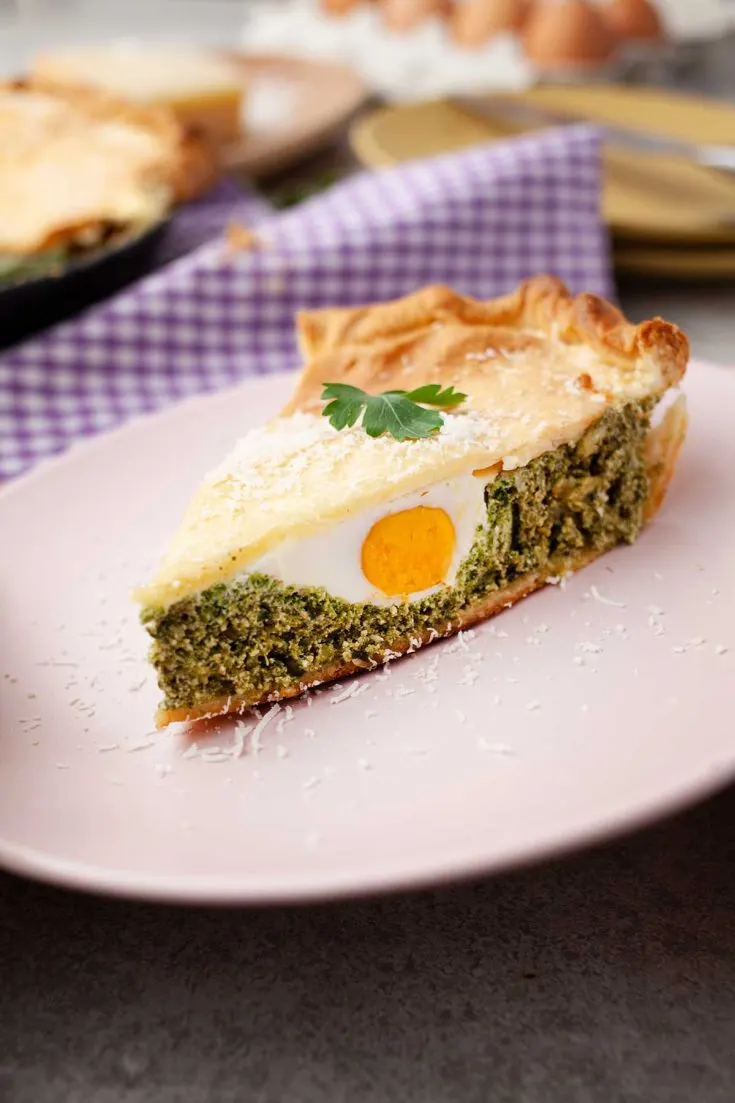 Are you looking for a traditional Easter recipe to impress your family? Try the Italian Easter pie or Pasqualina. Find out how to make it.
Total Time
1 hour
15 minutes
Ingredients
For the crust:
250g (2 ⅛ cup) flour
100g (3.5 oz) of cold butter
90ml (3 fl oz) cold water
pinch of salt
For the filling:
500g (17.6 oz) spinach (fresh then boiled in salted water)
250g (8.8 oz) ricotta
1 egg, lightly beaten
35g (½ cup) grated Parmesan
4 eggs, for decorating the filling
Instructions
Add all the ingredients for the dough in a food processor and mix until a rough and crumbly dough is formed.
Transfer the mixture to a clean surface and gather it into a sphere, to form a firm dough.
Wrap the obtained dough in a plastic wrap and put it in the refrigerator.
Drain the spinach of excess water and chop it.
Heat a pan on medium heat with a little bit of oil, add the chopped spinach and ricotta. Cook, stirring on medium heat, until the excess liquid evaporates and the mixture becomes creamier. Add salt, mix and remove from heat.
Add the Parmesan cheese and let the mixture cool to room temperature, then add the beaten egg and mix.
Leave the filling aside and roll out the dough.
Heat the oven to 180C (360 ºF).
Divide the dough in two and spread it with a rolling pin until you get two round disks. Transfer one onto the pie form, add the filling.
With the help of a spoon, make indentations in the filling and crack an egg into each of the indentations.
Cover with the remaining top, catch the edges of the pie and with a knife, cut a few lines in the top layer, so that the dough does not swell when baked.
Put the pie in the oven and leave it to bake for 35 minutes, or until it turns brown.
Nutrition Information
Yield
3
Serving Size
1
Amount Per Serving
Calories

160
Total Fat

12g
Saturated Fat

5g
Trans Fat

0g
Unsaturated Fat

6g
Cholesterol

322mg
Sodium

226mg
Carbohydrates

0g
Fiber

0g
Sugar

0g
Protein

11g
I strive to keep the information as accurate as possible but make no warranties regarding its accuracy. I encourage you to make your own calculations using your preferred nutrition calculator.