This tsoureki recipe is a traditional Greek version of Easter bread, with a soft and fluffy texture perfect for sharing with family and friends during the holiday.
Tsoureki is a traditional sweet bread from Greece, usually served at Easter and other religious holidays. This has the shape of a crown or braid, and the flavors can vary from vanilla and lemon to anise and cardamom.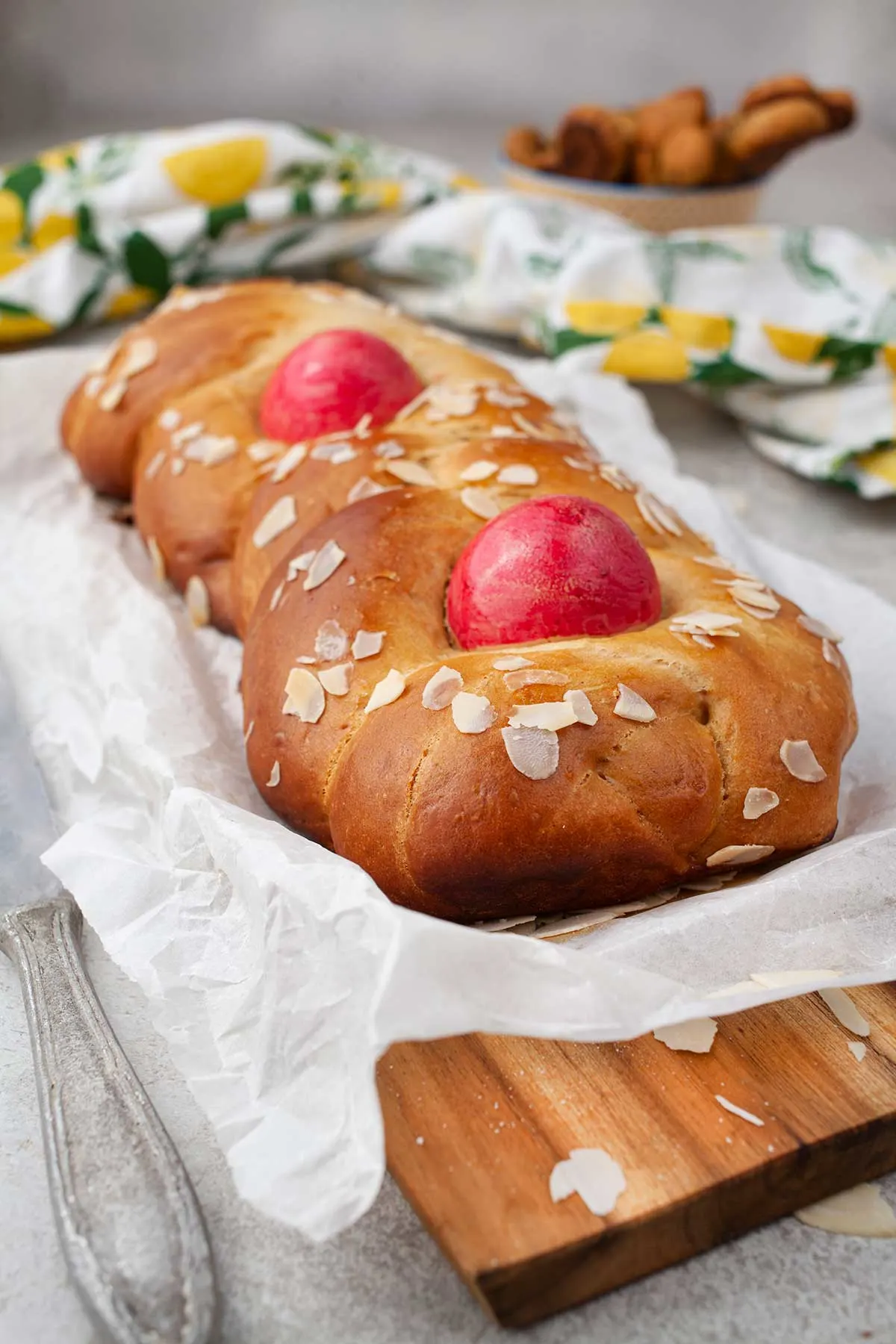 Tsoureki is more than a simple bread in Greek Easter traditions. This is considered to be a symbol of the Resurrection of Jesus Christ and is an important tradition among the Greek Orthodox. It is made with a lot of love and attention, carefully chosen ingredients and respecting all the stages of the preparation process.
During Easter, tsoureki is shared with family and friends, symbolizing unity and communion. It is a special moment, when everyone gathers at the table, celebrating together the moment of resurrection. The preparation of tsourekis is a tradition handed down from generation to generation and is one of the most beautiful Easter traditions in Greek culture.
I hope you enjoy discovering this Easter bread recipe. If you want to try another version, I also recommend the Italian Easter bread recipe.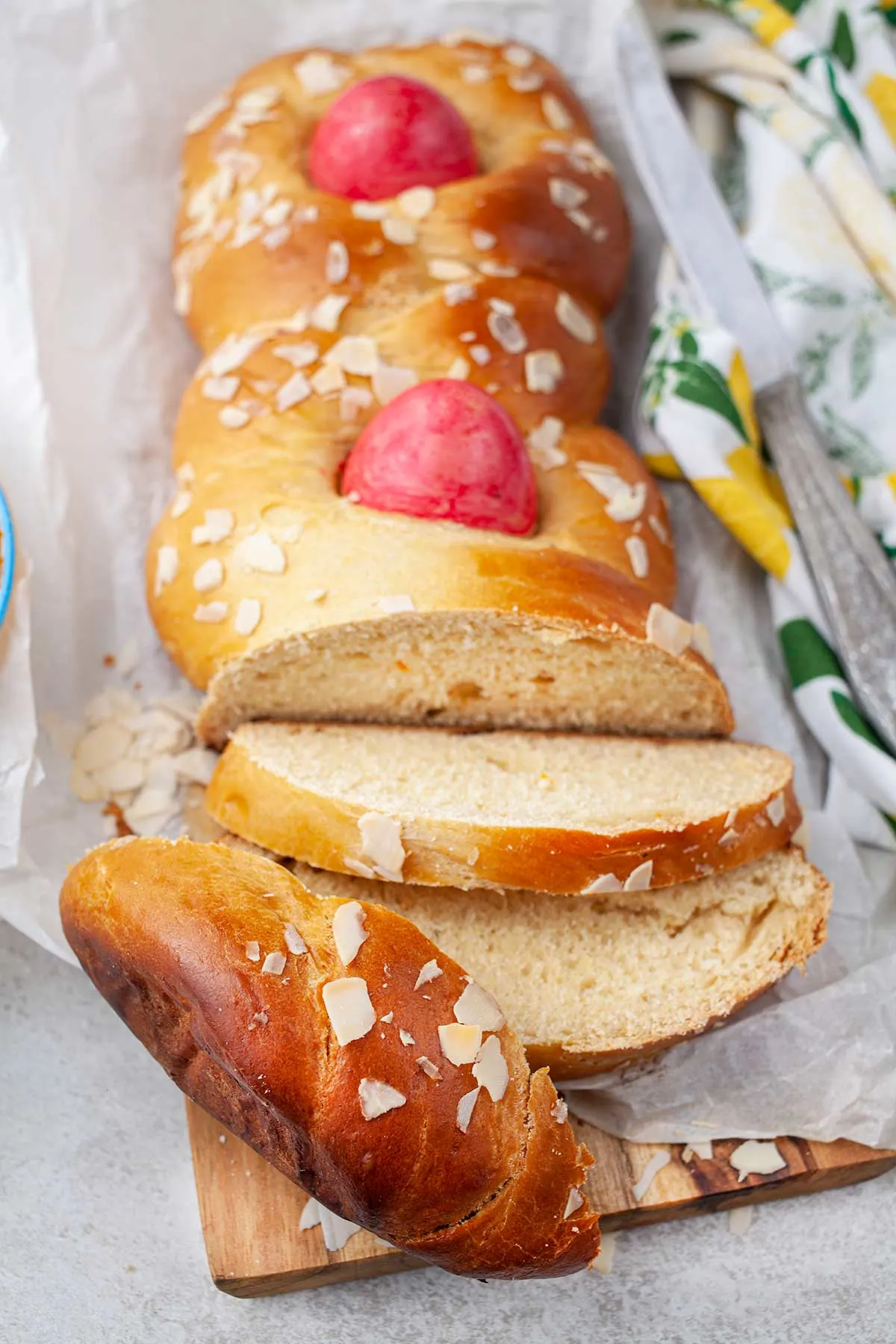 What is the history of the Greek Easter bread?
The history of this bread has been lost in time, but it is known that it was consumed in the Byzantine period and it is believed to have origins in the Ottoman Empire. This bread was considered a symbol of health, fertility and prosperity, being made with precious and expensive ingredients, such as raisins, almonds and mastic.
According to tradition, Tsoureki must be braided in an odd number of threads, symbolizing the Holy Trinity. The bread is sometimes decorated with a red dyed egg, which represents life and resurrection.
During the 19th century, Tsoureki became more and more popular in Greece and is now considered one of the most important Easter traditions in this country.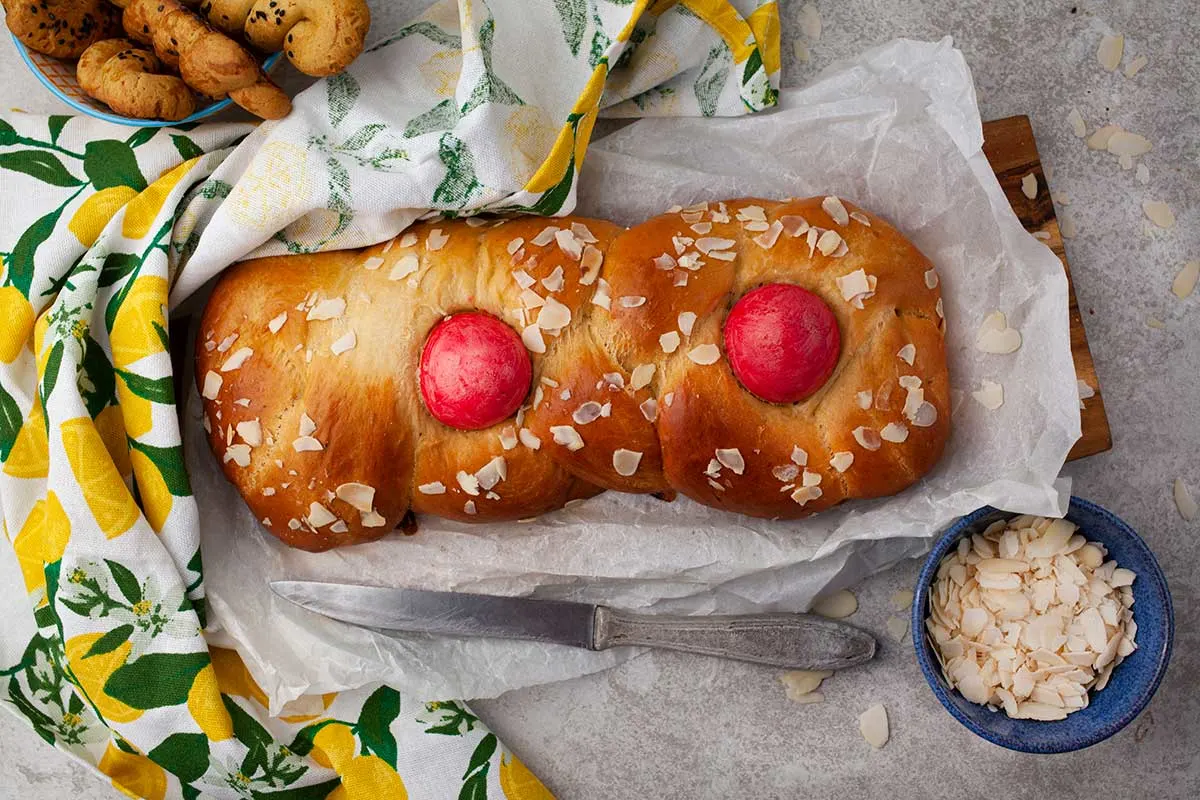 Tsoureki vs. Challah – similarities and differences
Tsoureki and Challah are two traditional Easter breads, originally from Greece and from the Jewish region of the Middle East, respectively.
The two breads have some similarities. Both are baked and braided in a specific shape, sharing a long and thin shape, and are flavored with certain ingredients, such as vanilla and lemon peel.
However, there are also differences between the two breads. Tsoureki is enriched with eggs, milk and butter, which gives it a soft and airy texture. Instead, Challah is made with water, flour, yeast, salt and oil, without eggs and butter.
Also, there are differences in the flavors used. Tsoureki is flavored with Mahaleb, a natural amaretto, and Challah is often flavored with poppy seeds or cumin.
While both breads have religious origins, Tsoureki is considered more of a cultural tradition, while Challah is closely associated with Jewish tradition.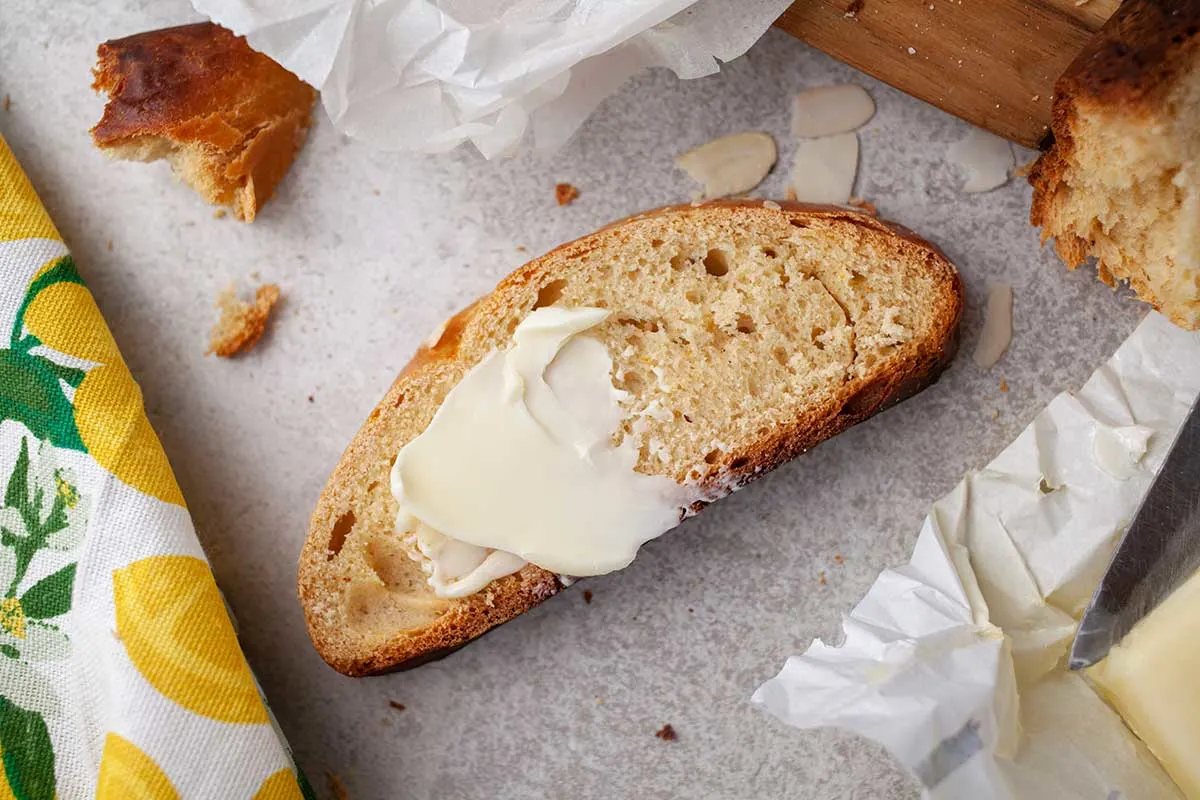 Tips for making the best tsoureki recipe
Here are some tips and tricks to get the perfect texture and flavor of tsoureki:
Use fresh yeast: While dry yeast can be used, fresh yeast will give the tsoureki a better taste and texture.
Mix well: It is important to mix the ingredients well, especially the flour and the yeast, to activate the yeast and obtain a fine texture.
Use quality eggs: Eggs are an important ingredient in tsoureki, and using fresh and high-quality eggs will add the desired flavor and texture.
Let the dough rise well: Let the dough rise in a warm place away from drafts, to obtain a soft and fluffy texture.
Add flavors: Tsoureki can be flavored with vanilla, cardamom or other spices, and adding ingredients such as raisins, walnuts or candied oranges can add a delicious note.
Bake the bread well: It is important to bake the tsoureki well, until it becomes golden and crispy on the outside and soft and fluffy on the inside.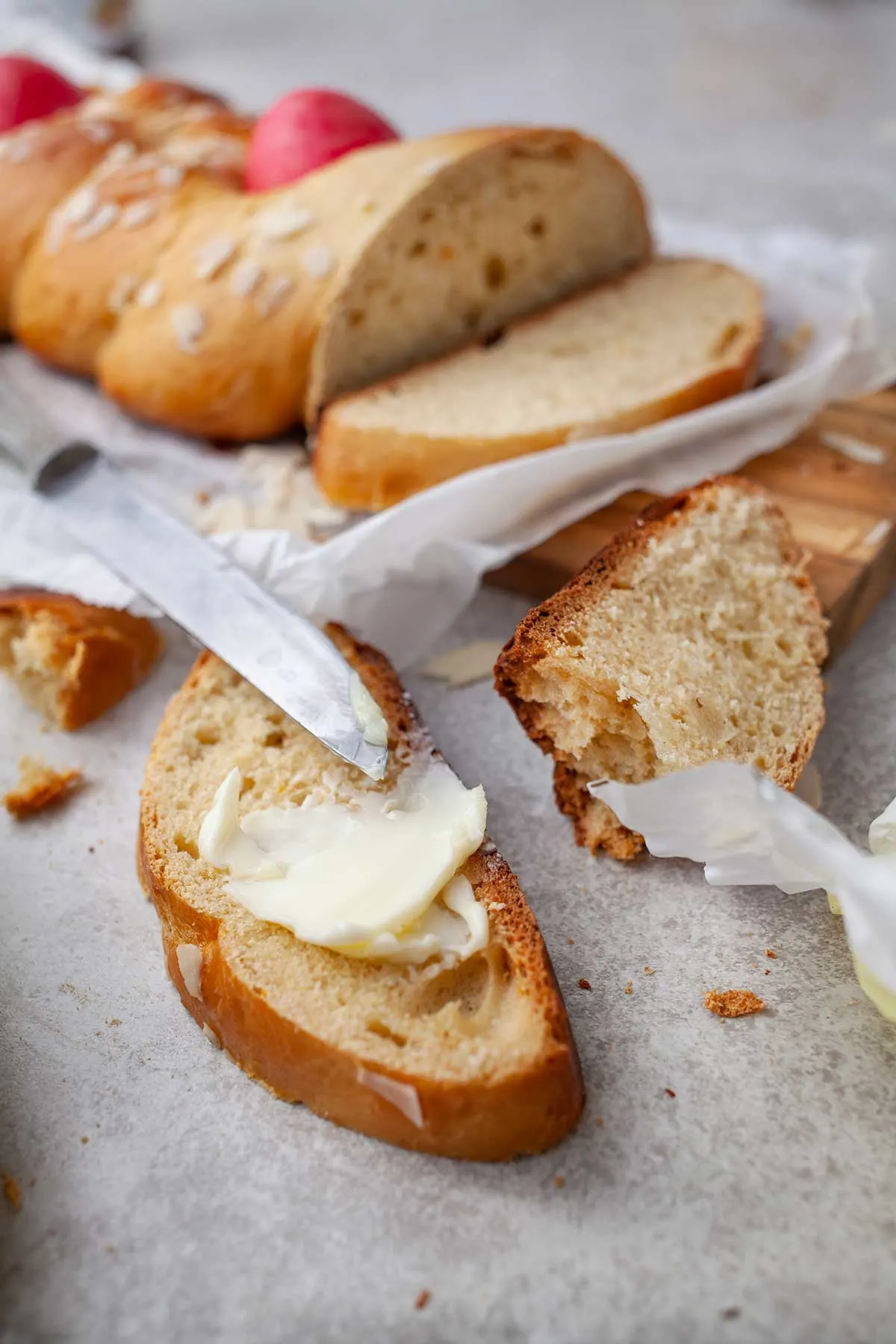 How to festively decorate Greek Easter bread
Tsoureki is often decorated with red-dyed eggs, which are placed in a circular shape around the bread. These eggs can be plain or decorated with special patterns or decorations. In addition, tsoureki can be sprinkled with sesame seeds or sugar, depending on personal preferences. You can also add raisins or other dried fruits to the composition of the bread to give it a sweet note or you can incorporate nuts or seeds to give it a more crunchy texture.
To decorate the tsoureki, you can use sugar syrup or honey, which will give it a beautiful shine and a sweet aroma. In addition, you can add almond or chocolate flakes to improve the appearance and taste.
Another way to decorate the tsoureki is by adding some floral elements, such as ivy or rose leaves, which can be placed around the bread. These elements will give a rustic note and natural beauty to your tsoureki.
I hope you like this recently discovered recipe. Happy Easter!
Yield: 3 loaves
Tsoureki - Greek Easter Bread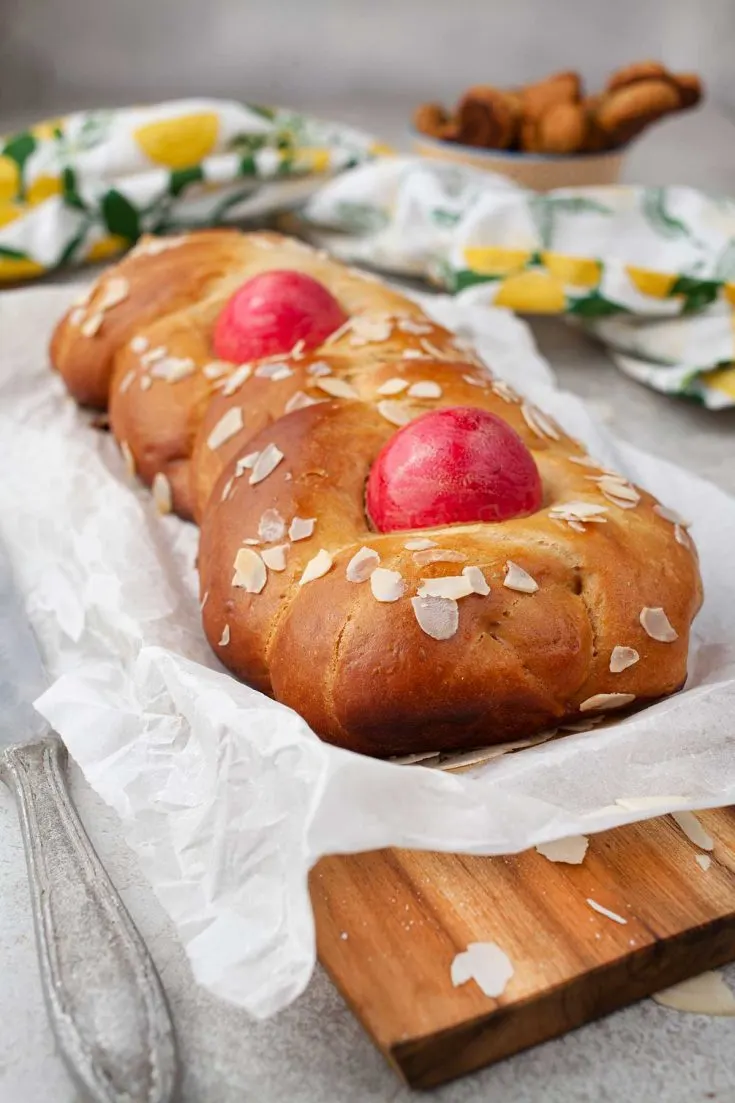 This tsoureki recipe is a traditional Greek version of Easter bread, with a soft and fluffy texture perfect for sharing with family and friends during the holiday.
Total Time
1 hour
2 minutes
Ingredients
For starter:
240ml (8 fl oz) warm milk
38g (1.3 oz) dry yeast
1 Tbsp sugar
30g (¼ cup) of flour
Dry ingredients:
720g (5 ⅔ cup) flour
240g (1 ¼ cup) sugar
1 tsp salt
1/2 Tbsp mahlepi (cherry pit powder) - optional
Liquid ingredients:
2 eggs, lightly beaten
1 Tbsp vanilla
grated peel from an orange
60g (¼ cup) butter, soft at room temperature
For toppings and decorations:
1 large egg
2 tablespoons of milk
6 red eggs
3 tablespoons of almond flakes
Instructions
In a large mixing bowl, add all the ingredients for the starter, mix gently, cover with plastic wrap and keep the bowl warm (kitchen with closed windows)
In another bowl, add and mix the dry ingredients.
In separate bowl, beat the eggs with the rest of the liquid ingredients except the butter.
After the yeast in the starter mixture has activated and started to bubble, add the the mixture of flour and eggs.
Put the mixer bowl in the food processor and let it knead for 8-10 minutes. You must obtain a soft, homogeneous, elastic and sticky dough. Add the soft butter and let the robot knead for another 4 minutes.
Transfer the obtained dough to another well oiled bowl, lightly sprinkle the dough with oil and cover with a plastic film. Leave the dough in a warm place to rise for two hours, until it doubles in size.
Grease lightly with oil so that you can work the obtained dough. Transfer it to a clean surface and divide the dough into 3 equal parts to get three loaves.
One third of the dough is divided again into 3 other equal parts. With the help of your palms, roll 3 equal strips, about 30 cm. Braid them and transfer the braided loaf to the baking tray lined with baking paper.
Repeat with the rest of the dough.
After you have obtained three braided loaves, cover them with foil and let them rise for another 25 minutes.
Heat the oven to 180 C (360F).
After the loaves have risen, remove the foil, brush each bun with a mixture of beaten egg and milk, carefully place two red eggs in each bun and sprinkle with almond flakes.
Put the loaves in the oven for 25 minutes, until they become brown.
Nutrition Information
Yield
14
Serving Size
1
Amount Per Serving
Calories

441
Total Fat

10g
Saturated Fat

4g
Trans Fat

0g
Unsaturated Fat

5g
Cholesterol

152mg
Sodium

272mg
Carbohydrates

74g
Fiber

3g
Sugar

24g
Protein

14g
I strive to keep the information as accurate as possible but make no warranties regarding its accuracy. I encourage you to make your own calculations using your preferred nutrition calculator.